The silver screen story of Cleopatra – one of the world's most colossal, controversial and extravagant films, and fatefully made at Rome's Cinecittà studios - is still making history half a century on. In honour of its 50th anniversary this summer, a restored version of the infamous four-hour film epic has been re-released and recently premiered at the Cannes Film Festival. When the contemporary average Hollywood film costs $75 million to make, the fact that, in 1963, Cleopatra escalated to a staggering $44 million ($320 million plus in today's terms) means it remains one of the most expensive films in cinema history. First conceived as a modest 'mid-range' picture on a $2 million budget, it cost three times more than that other Cinecittà-filmed 'historical epic of excess', Ben Hur, taking its Hollywood studio to the edge of bankruptcy. A record-breaking blockbuster like no other; and thanks to a certain illicit coupling on screen and off, it also became a hotbed for one of the world's first tabloid scandals.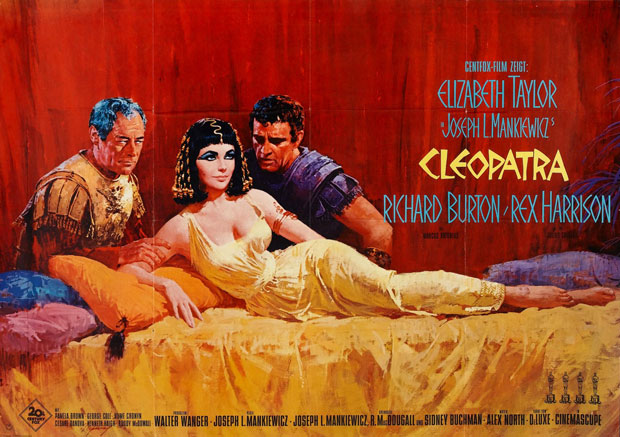 Billed as 'the motion picture the world has been waiting for!', the tumultuous drama of a young Egyptian queen's demands, tragedies and passions fast became a case of life imitating art. Just as Cleopatra's impact on Roman warlords Julius Caesar and Marc Antony led to catastrophic effects, the casting of Liz Taylor in the film's title role would also reap dramatic results. Back in the late '50s, suffering from slack business with one too many of their movie releases, 20th Century Fox was in financial trouble. Their money-making idea was to create a winning remake of a proven hit: Cleopatra, in its archives since a pre-talkies version, seemed the solution. After a long search for a suitable Cleopatra, on a joking whim, Liz Taylor finally agreed to the role for a million dollars. This made her the first actress in history to earn a seven-figure sum for a single film; extended filming meant she eventually received seven times that amount.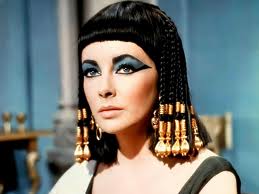 Well cast and beautiful though Liz was, she was to prove a massive liability. Indirectly she would cause a doubling of production costs. In 1960, at her request, filming began in a particularly damp England, provoking her first a cold, followed by life-threatening pneumonia and finally, in order for her to breathe, an emergency tracheotomy. With the damp weather considered detrimental to her health, UK production was shut down, all footage and sets abandoned to be expensively recreated a second time, in the kinder climes of Rome's sunny Cinecittà. Yet more Liz-related problems ensued. Having met actor Richard Burton on set, the on-screen chemistry as her Cleopatra to his Marc Antony soon ignited into an illicit, open and impassioned affair. With both still married and with children involved, they were demonised in the world's press and denounced by the Vatican for their 'erotic vagrancy.' Ironically, however scandalous, their love story probably saved Cleopatra - and was later maximised by studio publicity in billboard pictures of the two. Whether for the historical drama or the stars' electric affair, cinemagoers flocked to watch the film. Such was the interest in 'Liz and Dick' that interest only increased over the next decade as they went on to marry and divorce twice - ultimately good news for worldwide box office receipts.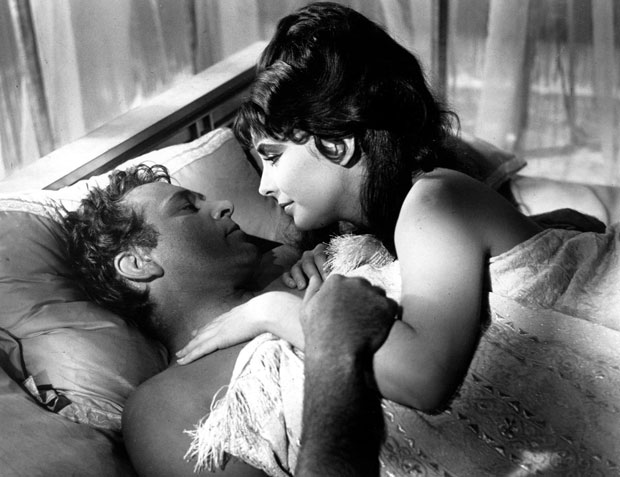 Yet sadly for the Italian film industry, Cleopatra had a negative chain of effect. It has been blamed as one factor in the demise of the Italian crafted 'sword and sandal' epics popular last mid-century. Specialist suppliers on Cleopatra chose to increase their service costs - setting an overpriced precedent for supplies to Cinecittà-made films to follow. This in turn overstretched the budget of Italian producers leading to decline both in production values and audience share. In addition, the sheer scale of the Cleopatra production and its consumption of raw material led to a severe shortage in basic building materials throughout the rest of Italy. Behind the scenes, there was also the matter of cross-cultural differences. As Italian films then were all dubbed post-production, local crews did not readily understand the essence of 'silence on-set.' Director Joseph L. Mankiewicz lost precious hours trying to film against the relentless background noise of carpenters hammering away. Considering the making of the film took some three years, with the noble exception of actor Martin Landau (as Rufio), it did not occur to the majority of cast and crew to learn Italian as an aid to smooth the film process along. All filming appears to have been a feat of endurance. In the days before computer-aided wizardry, each of Cleopatra's 79 production sets were intricate and enormous, decorated with up to 10,000 extras at a time. Filming of Cleopatra's pivotal grand entrance into Rome was one such moment, in which the Queen of Egypt is triumphantly transported in a huge barge. The time-consuming scene in the searing Roman heat had to be re-shot: one of the local extras could be spotted on camera selling gelato to his fellow extras! Casts of thousands meant many costumes – an incredible 26,000 in total. As the star of the show, Liz Taylor's costume changes – including one gown made from 24-carat gold cloth – numbered 65 and created two world records – most costume changes and the most expensive wardrobe for a single screen actor. As for the scantily-clad female extras playing her servants, they went on strike to demand protection from their over-amorous Italian counterparts. It is no wonder that director Mankiewicz said of the film he was himself fired and re-hired on: 'Cleopatra was conceived in a state of emergency, shot in confusion and wound up in a blind panic.' The almost comedic excess was not lost on the host country – the Italian movie spoof,
Totò e Cleopatra
was released the same year. Directed by Fernando Cerchio, it starred Totò as Marc Antony and French actress Magali Noel as Cleopatra, in a wickedly witty parody. Of its many records, Cleopatra still stands as the only film to be the highest grossing of any particular year, yet still run at a loss. Despite its reputation as a huge commercial flop, it did break even over time, and though critical reviews were mixed, it was nominated for nine Oscars, winning four on the visual front. Mankiewicz had visualised his original six hours of footage to be divided and released as an authentic 'tale of two halves' – Caesar and Cleopatra followed by Antony and Cleopatra. This was not to be, as the studios considered that audiences already caught up in the Taylor-Burton affair would neglect to see the first instalment because it would be lacking Burton's presence. Though the pure vision of Mankiewicz has been lost, we can still marvel at the sheer craft and spectacle of today's restored version. Like all the best historical sagas, the tormented love triangle so central to Cleopatra, with all its tragic intrigues, still captures the imagination.
---
Cleopatra: 50th Anniversary Edition
is available on Blu-ray and DVD. Twentieth Century Fox will release the film in select cinemas across Europe from the 12th July.
---