Italian popstar Alessandro Mahmoud, stage name Mahmood, seemed almost destined, in retrospect, to play Sebastian in Disney's The Little Mermaid. Born to an Egyptian father and Sardinian mother, the 30-year-old singer and now actor grew up on the outskirts of Milan but spent his summers at the sea, swimming and scuttling over rocks near the same Sardinian beaches where parts of the new live-action adaptation were filmed. 
"If you had asked me when I was little what I wanted to do when I grew up, I would have said this," he said during a recent press call for La Sirenetta, the Italian version of The Little Mermaid, which opened in Italian cinemas on May 24. Mahmood voices the new Sebastian the crab, Ariel's beloved decapod sidekick, in a role he has been "manifesting since he was five," he joked on social media.  
"I feel a bit like Sebastian. I am Sebastian," Mahmood added during the call, laughing. 
In just a few short years, Mahmood has gone from musical disrupter to beloved Italian mainstay, quietly leading an ethnic and gender revolution in the process. Mahmood has always described himself as "100% Italian," offering up his success as an example of how the definition refuses to remain static. Now, as the son of an Egyptian immigrant voicing a major box office character — and an iconic one at that — he's expanding the meaning even further.  
Mahmood's boundary pushing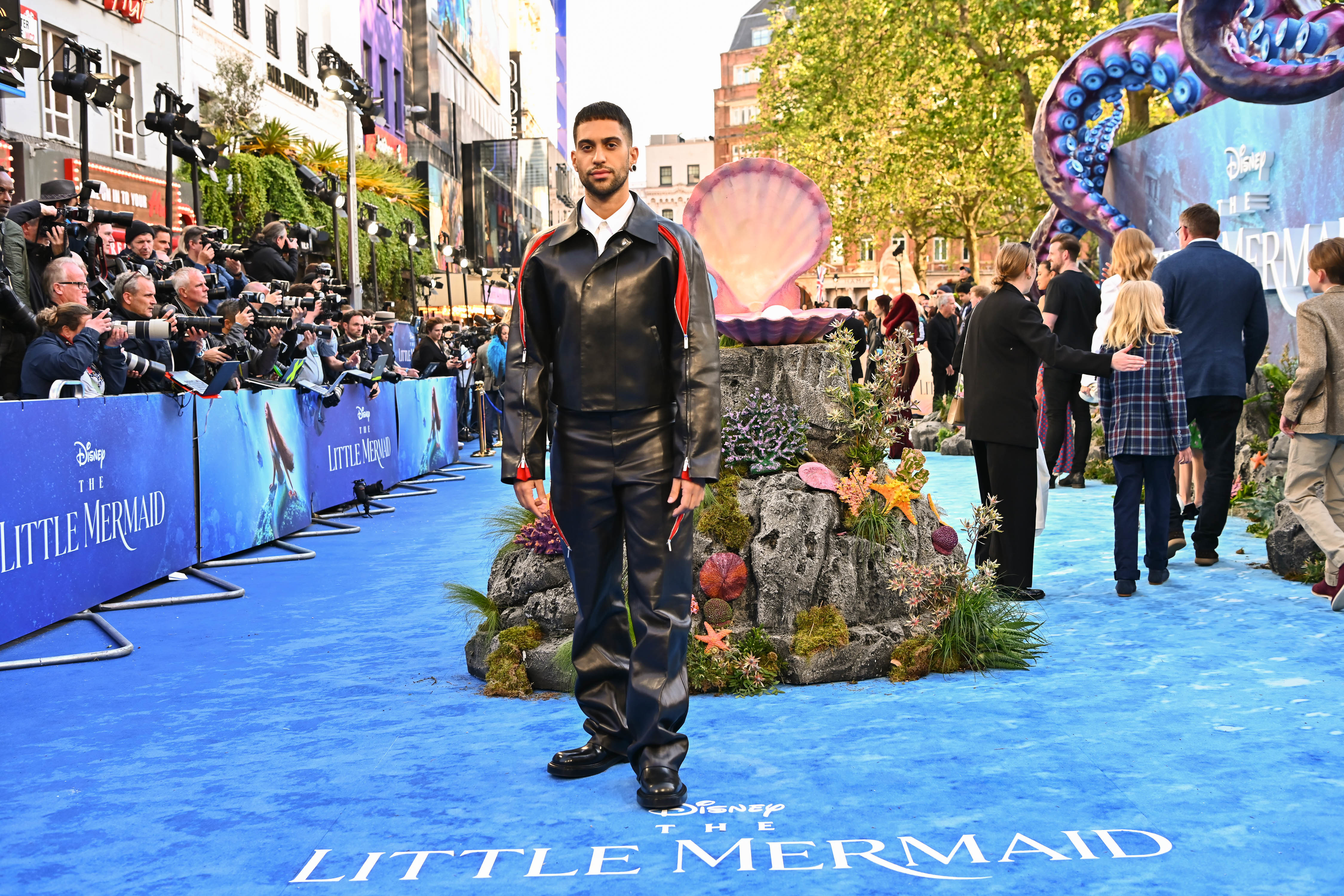 Mahmood first shot to fame with his hit "Soldi," which won the Sanremo song contest in 2019. With an R&B beat, references to Ramadan and lyrics that recalled his father's abandonment — including a couple of lines in Arabic — the song was a clear departure from previous winners. Critics, including then-Deputy Prime Minister Matteo Salvini, suggested it wasn't Italian enough, with some members of Salvini's Lega party calling for limiting foreign songs on the radio.  
Still, "Soldi" reached massive streaming success in Europe, placing second at the Eurovision song contest and earning gold certification. A string of hits followed, including Mahmood's second Sanremo winner, "Brividi," in 2022. A duet about unbalanced love, the song in many ways recalls a classic Italian ballad — except that Mahmood wrote and performed it with another man, the artist Blanco.
In part because of this boundary pushing and in part because I just think the guy is really talented, I've always rooted for Mahmood. But I have to confess: I'm generally not a fan of dubbed films. 
Dubbing skepticism
Here in Italy, it's taken as gospel that Italian voice actors are the best in the world. Any discussion of the overall merits of dubbing must start from this premise, at which point we can then move on to whether — with all due respect to the actors — dubbing might in fact take something away from the original. (I've even been told unironically that the Italian dubbers are better than the original foreign language actors.)
And yet I often find the Italian voices sound artificial and affected. They're almost too smooth, too emotive. It's as if everyone in the film is going around using "radio voice" instead of just speaking naturally. 
Fortunately, there's a cinematic universe in which those exceptionally shiny voices make perfect sense: animated (or partially animated) films, especially Disney movies. As a result, even dubbing skeptics like myself can enjoy Disney movies in Italian. Early in our relationship, my Italian partner and I bonded over Il Re Leone, the Italian version of The Lion King. If ever a character cried out for an artificially bright speaking voice brimming with emotion, it's a cartoon lion cub. 
That said, characters — even animated ones — portrayed by actors of color present an additional dubbing challenge. Although it's impossible to get exact figures, Italian voice artists have traditionally been white, with the same actors dubbing for people of all different races. For example, Viola Davis, Queen Latifah, Toni Collette, Laura Linney and Sofia Vergara have all been voiced by the same Italian actress, Alessandra Cassioli. The actor Francesco Pannofino has done voiceovers for Denzel Washington, Wesley Snipes, George Clooney, Mickey Rourke and Antonio Banderas.  
The Hollywood actors themselves are always gracious toward their Italian counterparts. In 2015, Will Smith was famously "live-dubbed" by the affable Pino Insegno at the Sanremo Music Festival, and appeared to have a great time. But even when the Italian actors' voices fall within the right vocal register, they lack the right cadence, accents and other cultural markers. The result is that even cases of otherwise competent dubbing aren't very authentic for films with racially diverse casts. 
Italian cast feels pressure of racial controversies
La Sirenetta is a welcome change of pace. Mahmood's Sebastian doesn't just speak in the same register as the original 1989 version; he sings and speaks in Italian but with a Caribbean accent. When the new Sebastian croons "In fondo al mar," or "Under the Sea," he pairs rolled Italian r's with laid-back Caribbean vowels. The result is a Sebastian that, compared to the Italian version released in 1990, is far more faithful to the original Sebastian voiced by Samuel E. Wright. 
Mahmood obviously isn't from the Caribbean — neither was Wright, for that matter —  but he and Sebastian speak the same cultural language. African culture shaped Caribbean culture, which in turn influenced R&B and hip-hop. Mahmood, meanwhile, is an Italian-Egyptian artist who coined the term marocco-pop to describe his heterogeneous musical style, which draws inspiration from his Italian mother, Arab father, and his own beloved rap and hip-hop. He brings an international, genre-bending sensibility to the part that enriches the character of Sebastian and pays homage to Wright's iconic role.
 

During the press call, Mahmood described voicing Sebastian as a high point in his life and career — one that came with an added responsibility to give as much to the film as it had given him. Yana C, who provides the Italian singing voice  for Ariel, said she also felt pressure to do justice to the original — especially considering all the racial controversy surrounding the new live-action version. 
When Halle Bailey, who is Black, was announced as the new Little Mermaid in February 2019, the hashtag #NotMyAriel started trending on Twitter as part of a racist backlash. Director Rob Marshall later said he auditioned potential Ariels of every ethnicity and chose Bailey because she was able to embody the strength, beauty, intelligence and spirit the role demanded — all with a beautiful, ethereal singing voice. 
Yana C, who was born in Angola to an Angolan mother and Italian father, said she was worried she would add fuel to this controversy if her performance wasn't up to par. "With this new version of La Sirenetta I feel like I am part of a change in some way," said Yana C, whose full name is Cristiana Cattaneo. To give an emotionally authentic, nuanced performance, she said she tried to focus on every sentence and give each phrase meaning. 
Who gets to speak and for whom is, of course, one of the central themes of The Little Mermaid — a fact that was not lost on the Italian voice actors. The cast of La Sirenetta may not be the first children of immigrants to dub Italian films, but they're arguably the most high profile. In a welcome development, a demographic that is usually spoken about more so than spoken to is now doing the talking.