I have to admit that when I first saw pictures of Domenico Crolla's pizza art, I thought they must have been baked in a "Photoshop oven"! I found the idea really interesting and started looking for more photos. I loved
Verdi's portrait with the top hat to celebrate the 200th anniversary of the Italian composer's birth
and the classic Sophia Loren. Then I saw many others such as Rhianna, Ronaldo and even Vermeer' s
Girl With a Pearl Earring
on pizza margherita and decided I just had to talk to Domenico and find out more about what inspired him to do this.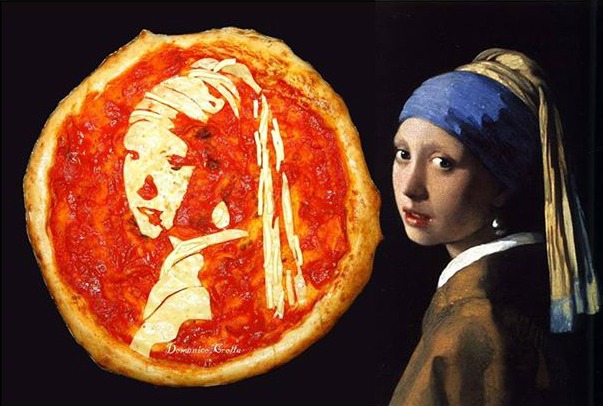 How did you enter the catering business? Was it a choice?
I was born into the industry. I used to help my father and worked with him when I was just 10-11 years old. Then I went into kitchen management and when I got married at 22, I opened my first pizzeria.
Why did you choose to start with a pizzeria rather than a restaurant?
Opening a pizzeria was the easiest way to put a foot into the industry. It required a small investment and I knew that if we kept a high standard it couldn't go wrong. My idea was "I want to make pizza to sell, I want to make good pizza" and from a small pizzeria we moved up until I got my 220-seater restaurant with a full Italian menu.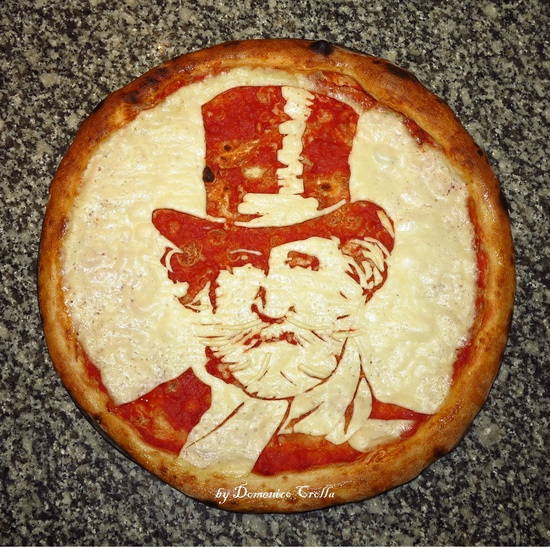 How did you come up with the idea of designer pizza?
When a journalist came to me, the very first time, I realised that to shoot a pizza I had to hold it to an angle for the camera. Then I thought "If I make it more attractive I can get good free publicity!" So I started working on this and in 2006 I entered a pizza contest in London and focused on presentation rather than the toppings.
How did your famous Casino Royal pizza come about?
Then London Pizza Association asked to create a pizza for charity to sell on ebay. The date coincided with the release of Casino Royal, the 007 movie, on the 16th of November. So I decide to make the most expensive pizza and follow the 007 theme, then I called the press. The story went around the world, Russia, China, Italy….I did not expect it. Some chefs think I am a show off. But I make to show off my restaurant and the food we prepare, not myself. The same way you can improve the service and the food you can improve your communication. This is what I am trying to do.
How did you come up with the idea of turning Pizzas into art?
When I went to Vinitaly, in Verona, and then to Hong Kong to do pizza demonstrations, there were chefs who made sculptures with vegetables, so I started thinking how could I make something similar with pizza.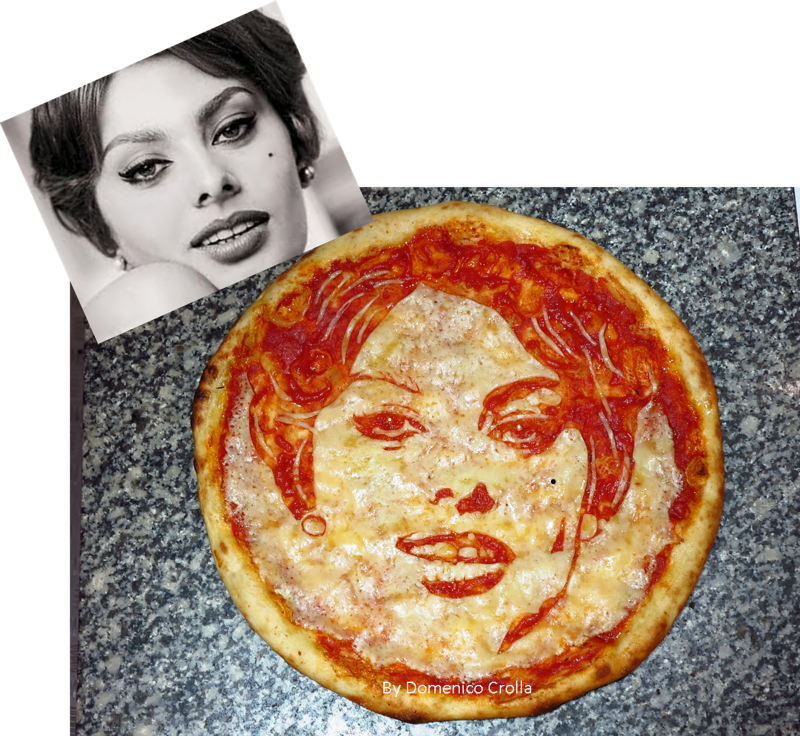 What is the technique, or is it a secret?
It is all in the way you cut the cheese, there is no secret, I am lucky I was always good at drawing. People think I use moulds, but it is just my ability to compose the picture with cheese, no secret in there. Obviously, the oven and type of cheese are important, the way it melts, if it melts too quickly or tends to burn fast, etc… Who were the first celebrities you drew on Pizza and how do you choose them? I started with some classics, Sophia Loren, Totò, then my kids told me "Enough dad! Why don't you do current celebrities instead?" So I asked them to choose two people, my daughter chose Rhianna and my son chose Ronaldo. When I made their portraits they both shared them with their fans on Twitter and Facebook.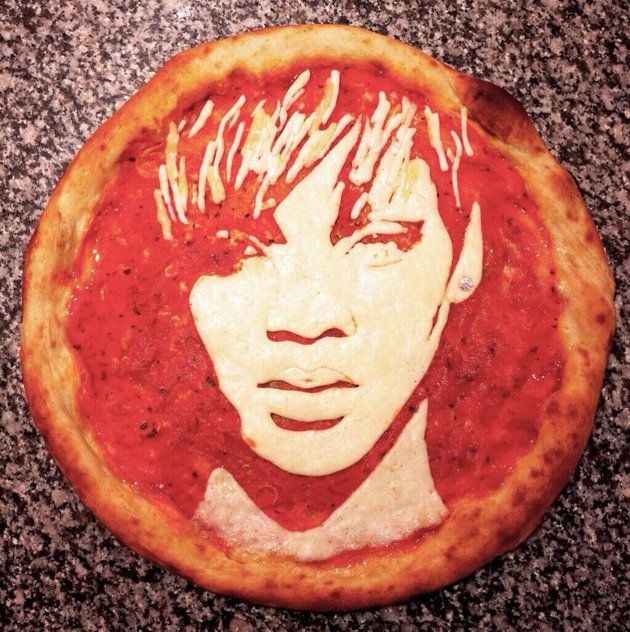 Did any celebrities come to your restaurant?
Yes, I had George Michael and Henry Winkler, you probably know him as Fonzie, the character he played in the sitcom Happy Days.
But what about the taste and the ingredients?
I source everything from Italy, only fresh vegetable and meat are bought locally. Actually, the secret is the quality of your ingredients. My dad always told me that: "If a chef is not that great, but gets good ingredients the food will be fine, if a great chef is cooking with bad ingredients the food will be terrible". And a pizza maker knows that even the choice of salt is important! In Scotland I am lucky, we have great water and excellent salt.
Do you have any dish which tries to combine Italian and Scottish food?
No, I am all about good Italian food! As I said I source my fresh vegetables and meat locally, I have a pizza with Aberdeen Angus, but other than that, I keep it Italian. Scotland offers good fish, good meat, good water for pizza. Even coffee, thanks to our water, is better in Scotland than in England.
What are your plans for the future?
I do not have big plans for expanding the business. At the moment I still love what I do, when we (ed. Domenico and his wife) will get bored we will move on. I would like to make a photographic book about Pizza Art and, maybe, some designer pizza posters. I have no doubts now that Domenico's Pizza Art is just the fruit of his "Italianess", a mixture of creativity, passion, skills, hard work and great business ideas. Bravo!
---
To know more about Domenico Crolla's restaurant, Bella Napoli in Glasgow, please visit http://www.crolla.com To see more photos of his Pizza Art http://instagram.com/domenicocrolla
---