Talking to Joan Collins about Her Italian Connections: Still Living La Dolce Vita
At an age when most grand dames are retiring from the limelight, Britain's best-known diva, Joan Collins, has been recently on the road – at the incredible age of 80. Collins has been celebrating her latest octogenarian status by touring her internationally acclaimed one-woman show, 'One Night With Joan' round the UK.
Age-defying Joan – who starred in a handful of Italian films early on in her career - is best known as bitchy Alexis in the '80s U.S. super-soap, 'Dynasty'. In relation to the role that made her a worldwide star, she has always thanked her Italian contemporary, Sophia Loren, 'for originally turning the part down!'

Tracing her life from starlet past to eclectic present, Joan's show also unearthed some interesting Italian connections. Considered as 20th Century Fox's answer to MGM's Liz Taylor, Joan entered Hollywood in 1955 'when the Golden Age was beginning to tarnish', and around the same time as her peers Sophia Loren and Gina Lollobrigida. Her career has crossed paths with both – especially with Loren, who herself turns 80 next year. With similar sultry looks, all three often found themselves cast in exotic or seductive roles; in Joan's case, in films such as 'Seven Thieves' and 'Land of the Pharaohs'. Joan screen-tested for the lead role in 'Cleopatra' – still the most expensive film ever produced - with Gina and Sophia later considered; all lost out to Liz Taylor. As Loren was partnered with Cary Grant, Collins was teamed with leading men Paul Newman and Gregory Peck in 'The Bravados'. Her Hollywood peak came, she feels, in 1955's 'The Girl in the Red Velvet Swing', originally intended for Marilyn Monroe – who on meeting Joan at a party, warned her about 'big shot producers who were like wolves.'
By 1960, Joan was cast in the popular Italian film genre of 'sword and sandals' epics often filmed at Cinecittà. 'Esther and the King'/'Ester e il Re', co-directed by Mario Bava, was a recreation of the Book of Esther, based on the Old Testament.
In 1968's 'L'Amore Breve', shot in Trieste, she plays the older love interest in a young man's rite of passage; while 1974's 'L'Arbitro', with Landro Buzzanca, was inspired by the controversial life of international soccer referee Concetto Lo Bello. In 1978's kidnapping thriller 'Fatal Charm', Collins starred as a nightclub dancer who helps the Italian private investigator portrayed by Maurizio Merli solve the case. In Italy, almost all of her films were dubbed by Dhia Christiani with the exceptions of Cielia Bernacchi on 'Land of the Pharaohs' and Lidia Simoneschi on 'Sea Wife'.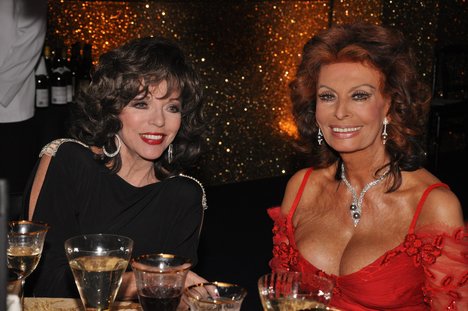 As with Loren and Lollobrigida, for whatever reason, Joan's Hollywood films faded into the '70s. She went on to feature in a run of horror flicks, while looking chic in classic TV adverts for such as Italian aperitif, Cinzano. She caused an international box-office sensation by surprisingly starring in films based on sexy bes sellers by her younger sister, novelist Jackie Collins – 'The Stud', in 1978, and its sequel, 'The Bitch', 1979.
Due to first choice Sophia Loren dismissing the lead in soap opera 'Dynasty', Joan became the award-winning queen of the small screen. Sold to over 80 countries, between 1981-'89, this 'must-see TV' became the top hit international show. Coincidentally, Sophia Loren was then set to star in soap series 'Falcon's Crest' but negotiations fell through, and the role went to Gina Lollobrigida. Joan chose to be the first older female celebrity to pose for American 'Playboy' – aged 49. Not to be outdone some years later, Sophia Loren at 72, appeared scantily clad for 2007's Pirelli calendar.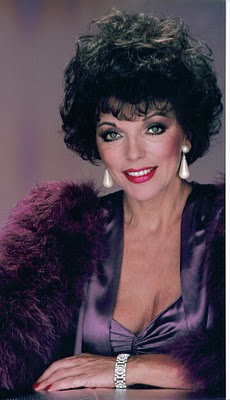 Joan describes her alter ego Alexis Colby, as 'becoming a bitch because of all the disappointments with men and life she'd gone through'. In reality, Joan claims she's more of a pussycat and 'only becomes a diva when hungry!' She echoes Sophia Loren's well-known joke that the latter owed her voluptuous shape to spaghetti. In one slave girl role, the strict censor code entailed Joan wearing a ruby in her navel. 'But my penchant for pasta led the ruby to keep popping out!'
Fashion-plate Joan set a precedent for '80s style – extravagant hats and furs to the concept of power dressing - a look she still loves. 'Those shoulder pads made your waist look tiny - more flattering than an Italian waiter!' Groomed into high glamour by the studios early in her career was a lesson Joan never forgot. 'People today (in Britain) look sloppy and often fail to make the most of themselves.' One of her all-time favourite designers is her friend, Valentino. When starring in, and producing her later glossy mini-series, 'Sins', on location in Venice and Italy, her 85 record-breaking costume changes came courtesy of the style maestro. A loyal client and friend, she appeared in his recent biopic, 'The Last Emperor', while her image trademark is his signature vermilion.
Over the years, as with Sophia and Gina, Joan would be criticised variously from immodesty of dress to marriage matters. Her colourful love life includes first husband, actor Maxwell Reed, apparently 'trying to sell me to an Arab sheik for £10,000 early on in our marriage' to her present 'content' union with husband number five, theatrical manager Percy – 32 years her junior. Of the considerable age difference, she quips: 'If he dies, he dies!'
At the close of her entertaining show, questions posed by the audience are often about her secrets to youthfulness. 'I practice portion control, I exercise a bit, I look after my skin. It's about balance,' she answers, adding a candid insight into how diet and glamour have changed over the years. 'In my starlet days, I always had to live on a diet and, like Judy Garland, was prescribed diet pills now known as 'speed',' she says. 'However, I think the current Hollywood regime's gone to even more extremes. Actresses now live on strange things like cayenne pepper and take 'vampire' facials - (injections of blood from the arm into the face to boost collagen production).'
Living between London, New York and the South of France, Joan describes her life as 'being that of a gypsy.' A fan of Italian culture, she adores the late Pavarotti, and has been a frequent visitor to the country, particularly Portofino, Venice, the Italian Riviera, and memorably in Rome - 'one time, when TVs all over the world first showed a man walking on the moon.'
Over her 60-year career, Joan's 37 awards include the Italian television award, the Telegatto, given in 1986; and in 2008, through the Los Angeles Italia Film, Fashion & Arts Festival, a coveted 2008 Legend award. As well as continued guest appearances in Europe on stage and screen, Joan is also a best-selling writer. From fiction to beauty and well-being, her books are translated into 30 languages – accounting for some 50 million sales worldwide. Her next memoir, 'Passion for Life,' is due this autumn.
Today, radiant and chic in shimmering black Versace style blouson, sleek leggings and stilettos, Joan is a lesson in looking good at any age. She attributes her remarkable energy to 'good genes and passion for life.' As for many of us, she says it's not been all La Dolce Vita, but on her rollercoaster personal and professional life, like a true star, she concludes: 'I don't do misery, and I don't do regrets. When life throws me lemons, I make lemonade.'