It's that merry time of year again, and after so many scaled-back festivities in these Covid-tainted times, some proper Christmas celebrations and holiday markets are finally in order. The customary "Christmas in Italy circuit," which includes the charming wooden huts set up in Florence's Piazza Santa Croce (running until December 18), the warming mulled wines of Bolzano's blockbuster affair (running until January 6, 2023), and the over-the-top nativity scenes on Via San Gregorio Armeno in Naples (visible year-round, but more vibrant than ever during December) are back on, merry and bright as ever. But those who travel to Italy fairly frequently may find they're in the mood for something a little different.
While there's nothing wrong with these old favorites, the schedule of Christmas markets in Italy in 2022 offers much more variety for the seasoned visitor. Myriad Christmas markets and festive rituals beyond the "marquee headliners" offer something for the whole family — and plenty of seasonal spirit.
As always, be sure to check the provided websites for any last-minute changes to these events.
Habsburg Christmas Market
Levico Terme (Trentino-Alto Adige)
Throughout December 
Facebook page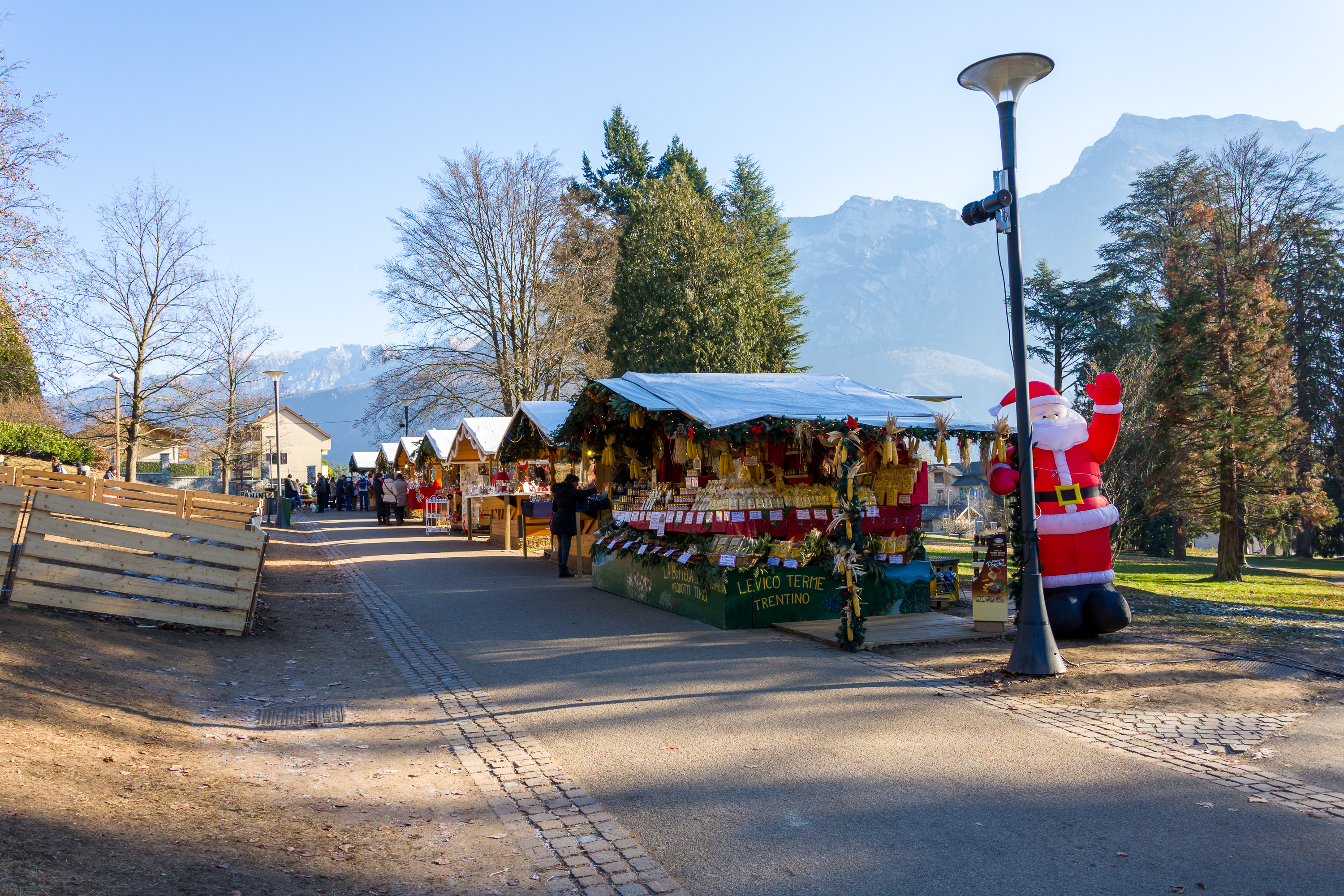 Fit for royalty, Levico Terme's Habsburg Christmas Market reaches its 21st edition this year, held in the Habsburg Secular Park. It runs throughout most of December, and after the requisite big-day break on the 25th, the market will hardly catch its breath before it gets back up and running on December 26, staying open daily until January 6. 
Kids can pay a visit to the elves' village and hand-deliver their letters to Santa. Another standout in the Levico Terme lineup is the nativity scene exhibition, which features some first-class handiwork for families to enjoy together.
Stalls overflow with great gift options, but if you're more after atmosphere than actual shopping, tastings of local products and cheese-making demonstrations will keep you entertained (and full).
The market will be open throughout weekends (and some designated weekdays) in December, including Christmas Eve (though it closes for the big day of the 25th itself). Dates are plentiful but rather erratic, so do check the official website to make sure you don't show up to a quiet park. 
Montepulciano Christmas Village
Montepulciano (Tuscany)
Throughout December
Website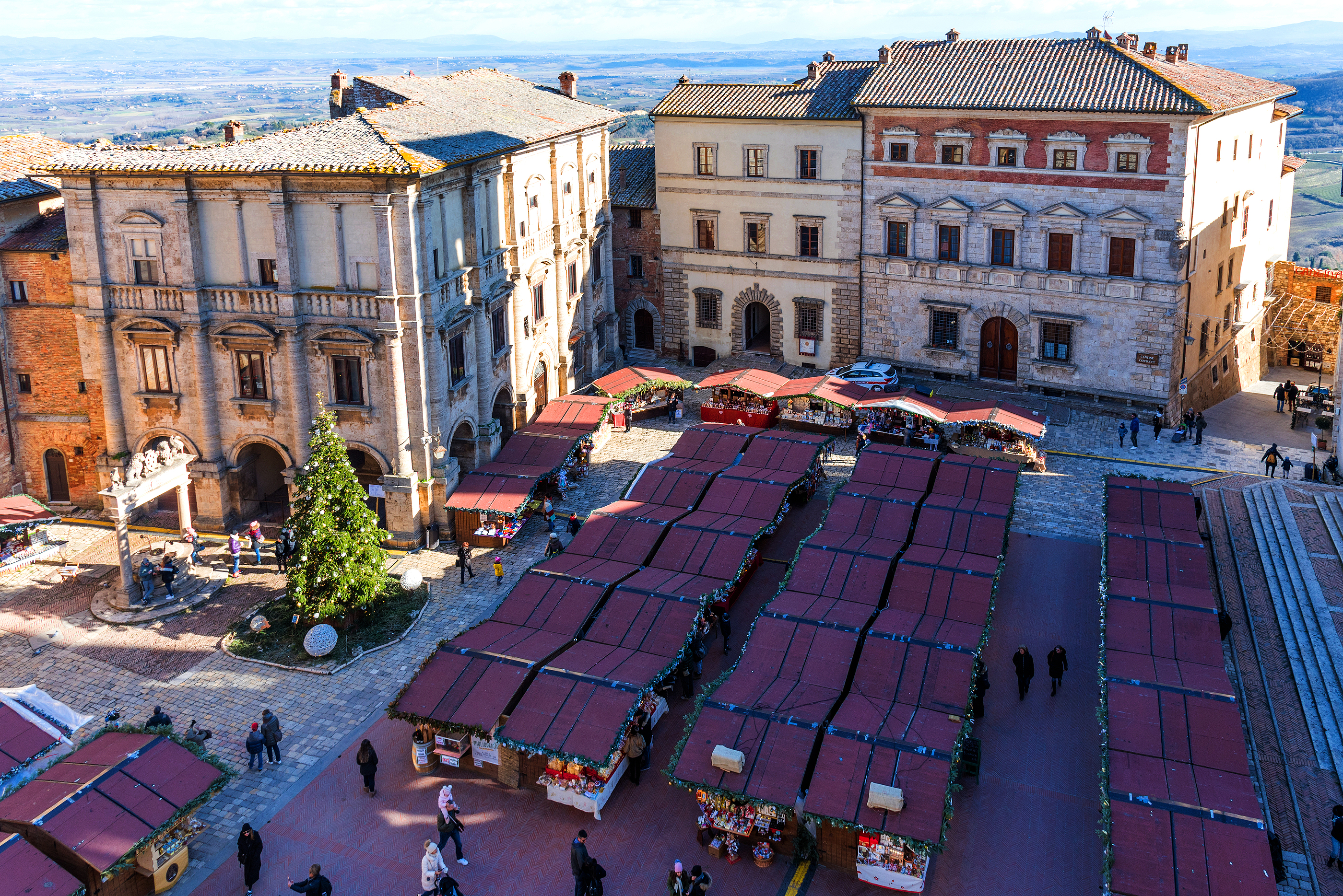 One of the largest festive markets in the country, the Montepulciano Christmas Village is a merry showcase in the heart of Tuscan wine country, dominating Piazza Grande and Via San Donato and fanning out into their adjoining streets.
This massive village packs in everything but the gift-wrapped kitchen sink. Stalls, street food vendors, and entertainment designed specifically for the occasion keep this from feeling like a strictly "Santa-and-kids" kind of affair. 
Gift ideas on offer include handmade artisanal goods, clothes, sweets and leather items, along with a wealth of festive decorations. Hot foods and drinks, of course, are also not in short supply. (Tip: Indulge in a glass of Vino Nobile di Montepulciano or other local ruby reds after a full day of browsing and heckling.)
The village will stay open from 10.30am-7.30pm every weekend in December, and then again daily from the 22nd until January 6. A bonus for all the active types who go a bit stir-crazy on Christmas Day: Unlike other markets in the mix that close for the full day on the 25th, the Montepulciano village will be open in the afternoon. 
Christmas in Gubbio
Gubbio (Umbria)
From December 7
Website
Sure, Perugia may be known for its chocolate — the perennial stocking stuffer — but it's hard to top nearby Gubbio for its composite Christmas offerings. Though they technically don't qualify as "markets," we've included them in this lineup because they're far more exciting than just any old set of standardized gift stalls. 
Two main attractions mark out Gubbio during the holiday season. The first is the massive Christmas tree, set up on the Monte Ingino slopes and said to be the world's largest; at a whopping 450 meters wide and 750 meters high, it's been noted in the Guinness Book of World Records. 
The lighting of the tree on December 7 —  the eve of the Feast of the Immaculate Conception —  is an important part of local winter celebrations, and usually takes place in the presence of at least one buzz-worthy guest (this year's is yet to be announced).
Gubbio's second trademark Christmas event takes place in the San Martino neighborhood, where a life-size nativity scene nearly overtakes the alleyways. Around 120 statues recreate the traditional story of the nativity with help from locals who pitch in to make the occasion memorable.
Green Christmas Market
Milan (Lombardy)
December 17-18
Website
Bing Crosby sang about a White Christmas; Elvis Presley crooned woefully about his blue one. This year, why not go for green for a change? 
It's the question conscientious gift-givers must ask themselves in 2022: Where do the gift materials come from and what kind of impact are they going to have? If, like many, you're considering taking a more sustainable approach to presents and the associated wrapping rituals this year, then a good port of call is Milan's Green Christmas Market, open on December 17 and 18 and held at a historic foundry.
Italy's busy capital of industry and fashion makes an uncharacteristically slow and sustainable pivot at this market, focusing on naturally made and naturally sourced clothes, cosmetics and children's gifts, as well as household goods and holiday decorations that can be used for years to come. Everything on offer is crafted from natural sources and high-quality materials, all designed to meet exacting environmental standards.
La Faglia and Campobasso Christmas Market
Oratino and Campobasso (Molise)
December 24 (La Faglia); throughout December (market)
Website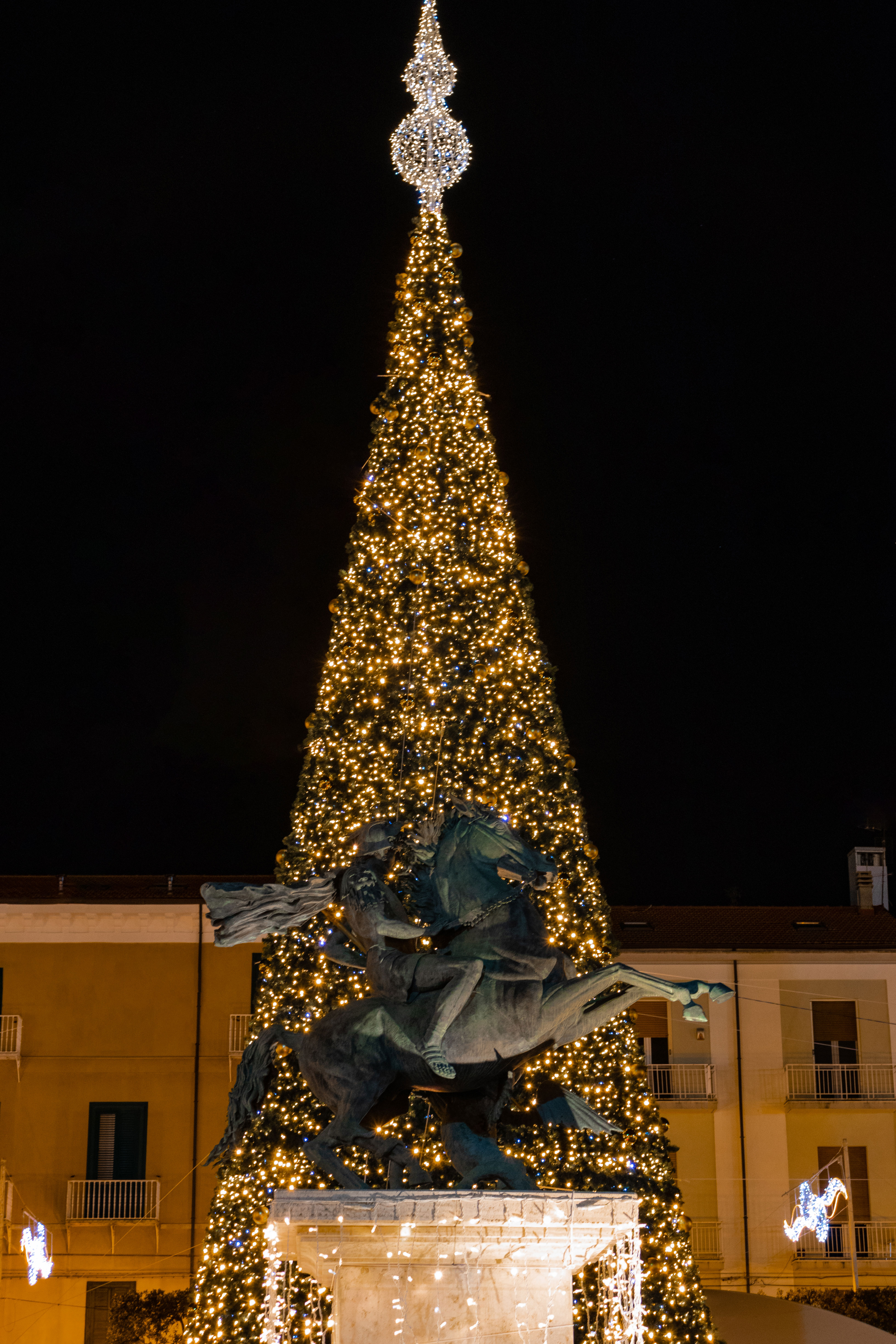 Add this one to the list of quirky Italian holiday traditions you've probably never seen the likes of elsewhere: In small Oratino in the Campobasso province on Christmas Eve, locals ceremoniously light a 13-meter-high reed candle.
The build-up to the lighting is suitably lavish, with an afternoon procession, music, dancing and delicious local dishes, all organized by residents. The candle itself is constructed by local youngsters, and then carried in procession through the town to reach the belltower of the local church.
Different sources are divided on the origins of the tradition, with some suggesting that it dates back to 1251. The ritual itself is said to signify regeneration: Once the candle burns out, it is reborn again.
I concede that attending a candle-centered ritual on Christmas Eve in small-town Molise may not end up on a first-timer's seasonal agenda. But if you're up for an adventure and eager to visit a market that's more attended by residents than international tourists, Campobasso also hosts a splashy food and wine festival with Christmassy twists on various dates throughout December; plus, the town's main piazza (pictured) always gets a good dressing-up.
Tricase's Christmas Village and Living Nativity Scene
Tricase (Puglia)
Throughout December 
Website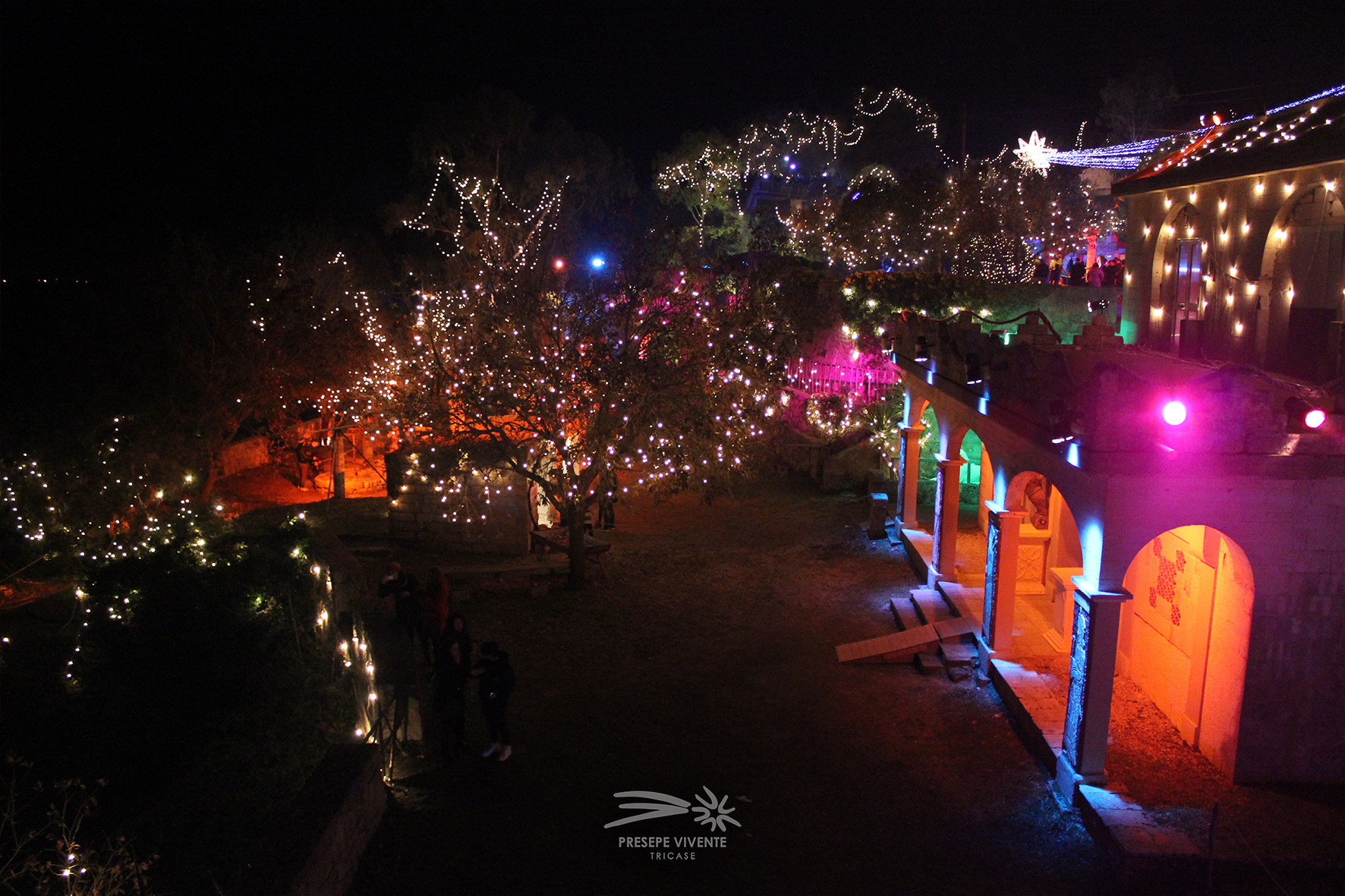 Planning for a holly-jolly Christmas in Puglia? You won't want to miss the twinkle-light-laden Christmas village in Tricase. It's festive and cozy, to be sure, but the main attraction is the live nativity set on the Monte Orco hill. The attention to detail in everything from the landscape to the costuming details is astounding – especially considering that some 200 actors, all volunteers, are involved.
These same actors shepherd visitors around, but when you aren't wrapped up in listening to the umpteenth retelling of the story of Christmas, you can sneak away for a warm beverage and a bite (or a few) of local food.