[Amantea, Calabria.]
Calabria is a favorite summer holiday destination for Italians. While they may stick mostly to the beaches, there are often charming, seaside villages to explore, guarding historic buildings and picturesque alleys, best enjoyed in the late afternoon in the sunset light, after some fun hours at the beach. 
Here are three Calabrian seaside villages to visit. 
Amantea
Amantea's historic center overlooks the sea from the top of a rocky hill, itself overlooked by the remains of an imposing castle that used to dominate the entire valley. The castle, built by the Byzantines, can only be reached on foot, with a rather challenging walk, but worth the effort for the magnificent view you get when on top. 
Amantea is divided into a high section, which is the oldest, perched on the rocky hill, and a lower section, lying along the coast. The alleys and narrow streets of the ancient village, where you can see the contrast between the grand palaces of the aristocracy and the humble houses of the poor, are especially evocative.
Tropea 

Among the most renowned destinations in Calabria is Tropea, famous for its onion, cipolla di Tropea. Located along the so-called Coast of the Gods, also called 'Costa Bella' (Beautiful Coast) for its views and proximity to the splendid Aeolian Islands.The Sanctuary of Santa Maria dell'Isola, perched on a rock right in front of the town overlooking the water, is the symbol of Tropea. Even better is the view of the noble palaces of Tropea dating from the 17th and 18th centuries perched on the cliff overlooking the sea.
July hosts the Sagra del pesce azzurro e della cipolla rossa di Tropea. 
Scilla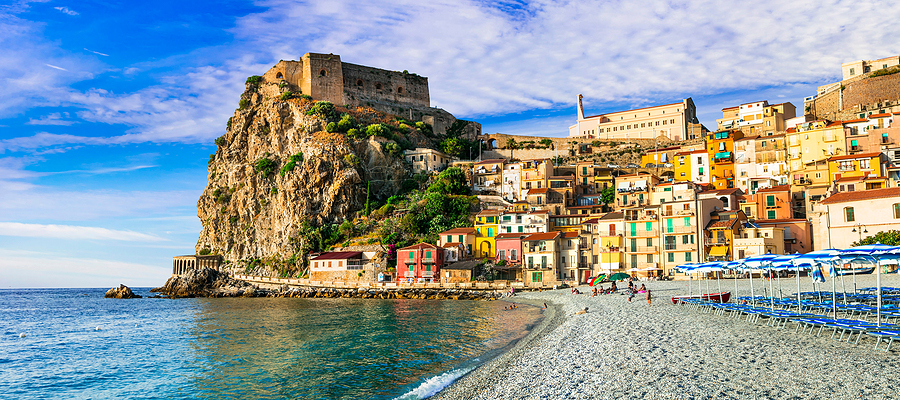 Scilla is a small beach resort on the Tyrrhenian coast of Calabria. It is divided into 3 areas: the oldest section is Chianalea, nicknamed 'little Venice of the South,' with colorful houses that seem to emerge directly from the water located on small alleys; Marina Grande is where the one-kilometer stretch of sand known as 'Spiaggia le Sirene' (Mermaid Beach) is located, while San Giorgio is the residential district. Scilla features a castle perched on a rocky outcrop.