Italy is famous worldwide for its welcoming attitude towards children. In the seven years I've been taking my babies there I can honestly say that our experiences reinforce this!  
Children in Italy are perceived to be a joy to have around. It's assumed your children will be with you everywhere as you come as a unit, not an inconvenience. 
Many times proprietors have come up with bedraggled Peppa Pig toys from a special cupboard for us. Not because my children were unruly but because they love to see the sheer joy on their faces.
So should you choose Italy as a family holiday destination and what can you expect?
Practicalities:
Buggies/Carriers: Do take a baby carrier or light buggy. I would even suggest buying a very cheap stroller (to avoid damage to your own in transportation) if your children are under 4 years old. 
The temptation to travel light is strong, I know! However long days sightseeing or just wandering, sunshine and pasta can mean your children need a few more breaks or power snoozes than usual. You can also use it for putting your bags underneath and save everyone's shoulders. 
The only place that I find a bit of a struggle with a stroller is Venice due to the many bridges with steps. However, even towns with cobbles can be quite useful at making your child drop off for that much-needed nap.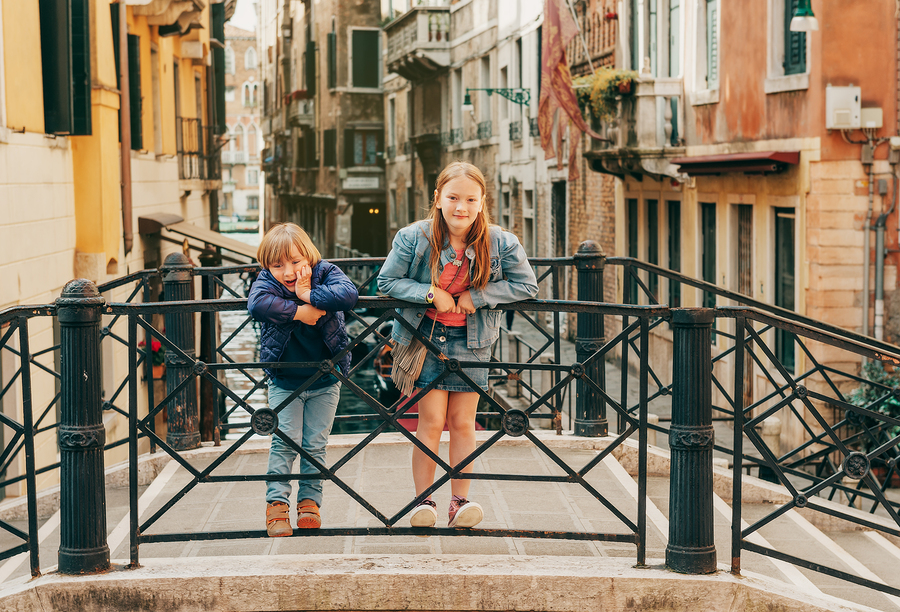 Car seats! If your children are under four years old I would bring your own car seat. Put it in a giant zip up bag bought from Amazon and check into the hold of the plane. Often you can't take them in the cabin on flights now but they are extremely useful when you get to your hire car. 
Car rental companies can charge €15 upwards per seat, per day and you don't know the condition of the seats. Sometimes when you arrive, even if you have booked one they may not have the right seat for your child's age. 
Once your children are over four, I would recommend using a Trunki Boostapak. These are brilliant backpacks which children can take on the plane as hand luggage. They have a compartment for everything they want to take as entertainment and when you arrive they fold out into a booster seat. They have an extra strap which attaches to the car seat belt and positions the belt so it's the correct height across your child's chest.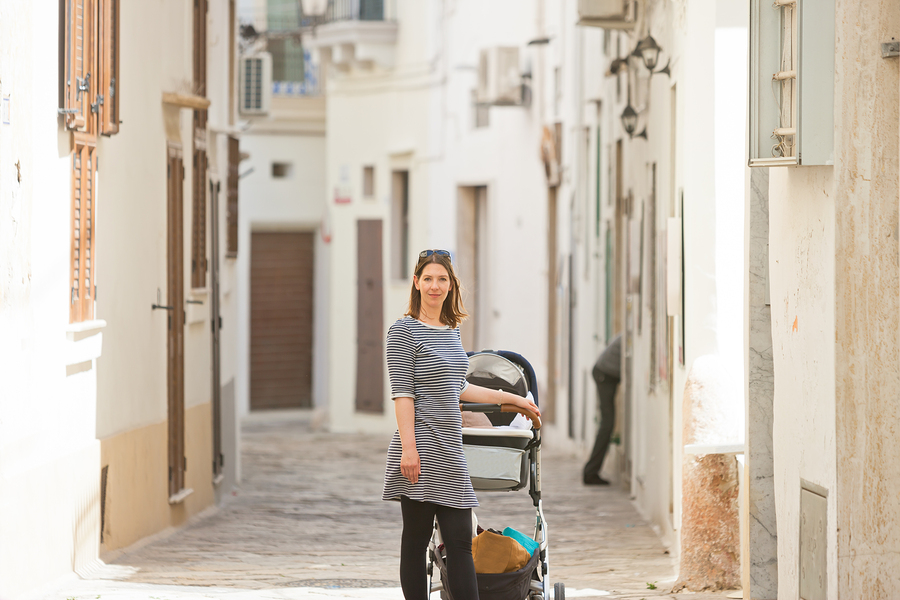 Routines:
We have tried sticking to our routines and throwing them out the window! Although we are huge fans of structure we've found that we actually all have more fun if we go with the flow on holiday.  Otherwise it doesn't really feel like a holiday for you either which is equally important.
The best days for us mean going to visit or sightsee in the morning. Often young children are up early anyway and full of energy at this time. Attractions are quieter, children have more focus for anything you are trying to show them. As soon as they are starting to lag it's almost time for lunch and then they can nap. 
It's also important to note that in most cities many sights/shops will close over midday and open again around 3-4pm. If you match this timing, you can have an active morning, early lunch, go back to your accommodation and all have a nap or break, especially if it's hot. 
In the afternoon head out again with more energy for a passeggiata and gelato. We find sightseeing and visits in the morning with less focused activity such as playgrounds or free play/walks around the piazzas best for the afternoons.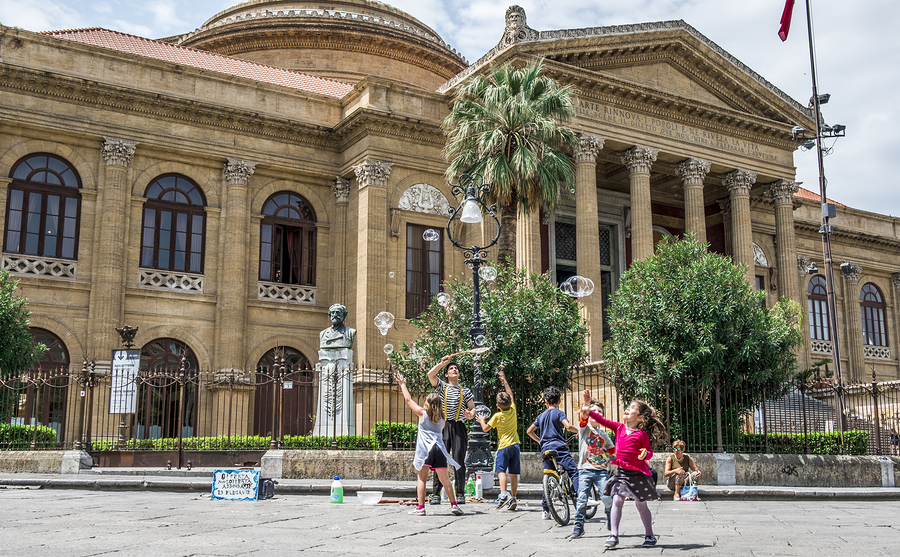 Where to go:
In Italy, you can take in beaches, cities, and mountains and have a wide choice of destinations depending on which you prefer. Do remember to think about what you as an adult, consider a holiday as well. Time away is different after children but you will resent your holiday if you don't make allowances for moments of enjoyment for you too. 
When choosing beaches, always check they are sandy. It's much easier and more fun for small children than pebbles. 
In cities try and choose hotels a short walk from a park, garden or square. Sometimes just a 10 minute run around can placate the more unruly toddler. 
Mountains are our favorite. In Summer kids feel like real life explorers here collecting stones, looking at ant hills and running in the fields and woods. It's also slightly cooler in the mountains in Summer with highs of 30 degrees Celsius in the day and you just need a light sweater in the evening.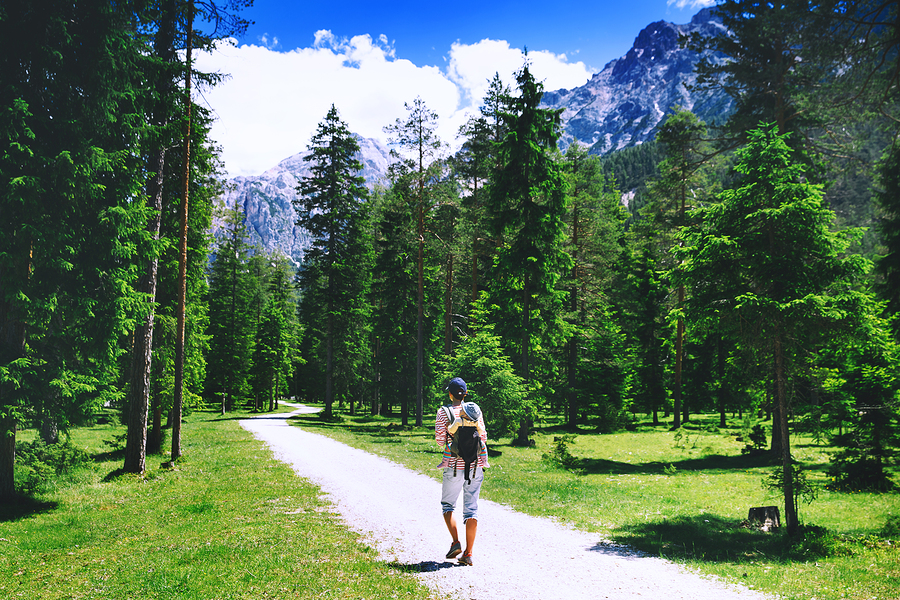 Food:
Dining out in Italy with kids is such an easy experience. You don't often find kids menus but don't let this worry you.
Most restaurants provide a smaller pasta portion (which are always very generous!) with a ragu, tomato or 'bianca' sauce. Pasta bianca is a plain pasta with butter and parmesan. 
Some establishments also offer a mini bistecchina which is a little thin fillet of meat with some vegetables. You can also ask to share a dish. 
If you are looking for something light most cafes offer panini and 'toast'. Toast is not just a toasted piece of bread with butter as we know it in English speaking countries but a toasted sandwich with a choice of cheese, ham & tomato. My children love these, they satisfy the fussiest eaters and they're inexpensive.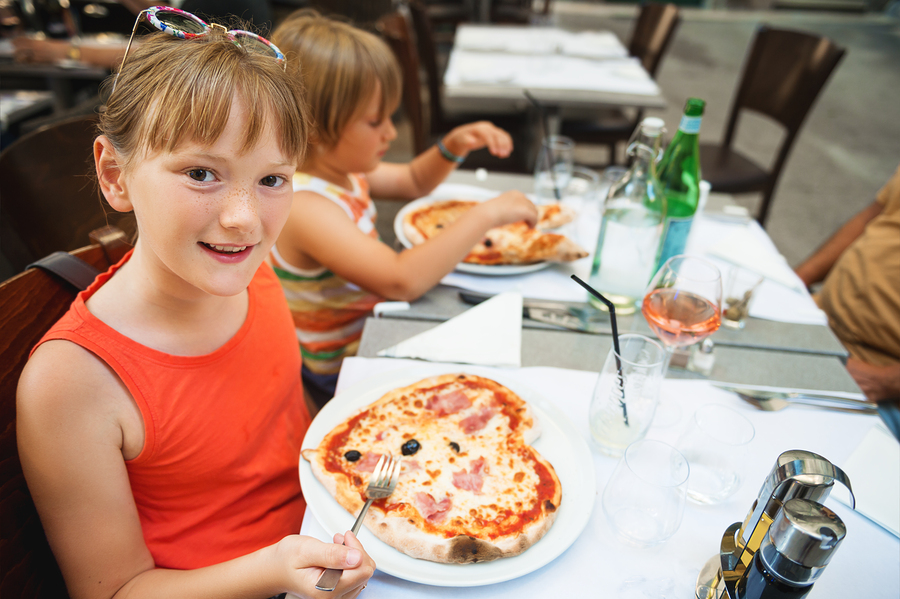 Time for you!
Sometimes as much as you adore your little ones a holiday is quite a full on experience with young children. I always remember our first trip was a bit of shock because it didn't resemble any of the characteristics of a holiday that I remembered! 
If you would like to have a small break while you're away some big hotels offer kids clubs. However, it's always best to book these before you go and ask about them. Often they are mentioned on the website but because it's culturally not something Italians use they often don't actually run. Hotels can also usually find you local babysitters.  
Alternatively 'Arte al Sole' or 'Art in the Sun' is an English speaking kids club in various locations throughout Italy which offers half or full days while you take a break. 
A more cultural experience than most childcare, Arte al Sole take children out and about in their holiday location and teach them about ancient Romans, Venetian mask making, try out soccer with an Italian coach and much more. 
One of our favorite stops during the day is for the aperitivo hour and I encourage you to do this with your children. This gives you the essence of vacations pre-kids and children adore all the snacks that come with your drinks. So much so that it's worth having a second glass! 
Lastly, don't try to fit in too much. You may think your children will marvel at the Colosseum or be mesmerized by Lake Como. Probably as they grow they will! But what they will remember most is that half an hour at the playground with a gelato and how relaxed you all felt.