Topo Gigio has been signed on by Hollywood
The all-Italian mouse puppet who came to international prominence in the 1960s and is still famous all over the world, will be the subject of a movie, as announced by Gary Marenzi, former president of Paramount and MGM: "Topo Gigio is an unmatched character who crosses generational and cultural boundaries. We are working with the best creative talents on this project." Among them, Steve Waterman, whose credits include Casper, Stuart Little and Alvin, will be the executive producer, while Irene Mecchi and Bridget Terry, the screenwriters for The Lion King and The Brave, will pen the script.
And, another talent who will be very much involved in the project is the creator of Topo Gigio herself, Venetian-born Maria Perego, who created the cute little puppet in 1959. She not only came up with the puppet itself, she also wrote most of his stories, for TV and books.
Topo Gigio was very popular in Italy for many years, on TV, in children's magazines, animated cartoons, and merchandising. His popularity spread to the world after being featured on America's most popular talk show of the 1960s, The Ed Sullivan Show, where he became a regular. He made almost 100 appearances on the show, getting on stage and greeting Sullivan with his signature, "Hello, Eddie!", while ending his performances by singing to the host, "Eddie, kiss me goodnight!".
Thanks to these appearances, he became famous all over the world. "When I was called to have my puppet perform at The Ed Sullivan Show in the now distant 1960s, I could not believe it was happening to me," Perego, who was born in 1923, recounts. "It was like a dream. My puppet not only entered Americans' households, I believe he also entered their hearts if such important people in the show business now want him back."
The film, which will mix animation and live action, will feature Topo Gigio, both in puppet and cartoon form, as well as human actors. The theme of the story will be friendship. Gigio will in fact become friends with a gifted little kid. The film is scheduled to be released in 2014.
Not many puppets have reached the international success that Topo Gigio has. His character attracted not only children, but also adults because, despite his childish nature, he often dealt with real-life problems that everyone could relate to.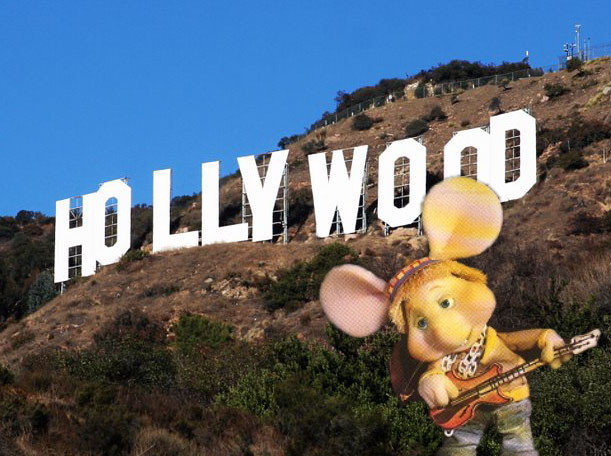 Today, he is often used as a testimonial for ads in many countries around the world, where his shows are still broadcast on TV. He is particularly popular in South America and is the ambassador for Italy in Japan. Michael Jackson was a fan and he has 4 million "likes" on Facebook. He is even the "spokes-mouse" for the United Nations!
"Abroad, Gigio is more respected than in Italy," Perego said. "Here, he's like a character from days gone by. Gigio still appears on Italian television from time to time, but he hasn't been in a series on Rai and Mediaset channels since 2002 and 2005 respectively. I had pitched a new series to Rai, set in a future deprived of culture, with Gigio trying to find it again. They told me I was trying to be too intellectual. I didn't think it sounded so intellectual. I just thought it was a nice idea."
"I am very excited about Gigio becoming a movie" she continues. "But I have to say, I understand now what Collodi meant when he described Geppetto's feelings the moment his Pinocchio sprung to life. At the first animations, I saw Gigio move and it was fun. But at that point, I also knew he was no longer a part of my own self."
Topic: