Over a year ago we asked our readers to help the fundraising efforts of directors Sharon Boeckle and Krista Lee Weller to finish their documentary film Vendemmia, which aimed at exploring the struggle for sustainable tourism in the Cinque Terre in Liguria. Thanks to many people and, also, to some of our readers, the documentary is now finished. Co-Director Krista Lee Weller shares her experience with us. For years my dear friend and co-director, Sharon Boeckle, had been telling me that I needed to travel to Italy with her, but after she returned from the Cinque Terre in the early 2000's, she insisted that we plan a trip. The Cinque Terre's culture was changing, she told me. Maybe even dying. The winemakers were aging and the kids were leaving, looking for futures elsewhere. The tourists – a relatively new phenomenon in this area – were changing the landscape in ways no one had ever anticipated. She wanted me to see it before it was gone.
We had been not only friends, but also writing partners and collaborators, for many years. Sharon had been traveling to Italy as often as she could for as long as I'd known her, often times planning out every aspect of the trip for entire groups of people (sometimes teenagers!). She didn't know it at the time, but she was busy honing her natural producer and director skills. She had fallen in love with Italy and its people the first time she'd visited, and she cared deeply about the culture and history there. I'd been working as a writer and producer for mostly commercial endeavors and was hungry for a film project that had purpose and meaning – a project that would matter. We started really talking about the issues in the Cinque Terre and started formulating a plan to document this "dying culture." Making a film in another country, in a language you don't speak, with money you don't have, is no easy task. But we just knew this story needed to be told. I got busy looking for funding. Sharon immediately started doing research, which led her to the first of what would be a very fortuitous string of events in the daunting, yet exciting, task of making of this film. She came across Rick Gush, an American writer living in Rapallo, Italy, who had written an article about the Cinque Terre's "Adopt a Vineyard" program. Rick has been an invaluable resource in the making of this film, not only orchestrating interviews with key people, but also helping to bridge the gap between Italian and American culture and audiences. We found out, with Rick's help, about some extraordinary measures being taken to not only preserve the culture and landscape in the Cinque Terre, but to educate and keep its young people living and working in the area.
It was early 2008 before we were able to actually pull together the resources to travel to Italy and start talking to people about what was really happening in the Cinque Terre. We learned that there was so much more to the story that we initially thought. Tourism was rising in the Cinque Terre at an alarming rate, spurring the economy and bringing visibility to a once-isolated region of Italy, but at the same time threatening the landscape in ways never imagined before. We hired a crew to film the vendemmia – the wine harvest – in September of 2009, and made plans to return in late May of 2010, which would put us there for Sharon's 40th birthday on June 3rd! For Sharon, there could be no better birthday gift. About a week before we were supposed to leave, in a freak accident, Sharon tore some ligaments in her ankle. We had to postpone the production until September. We had no way of knowing at the time how fortuitous this would turn out to be.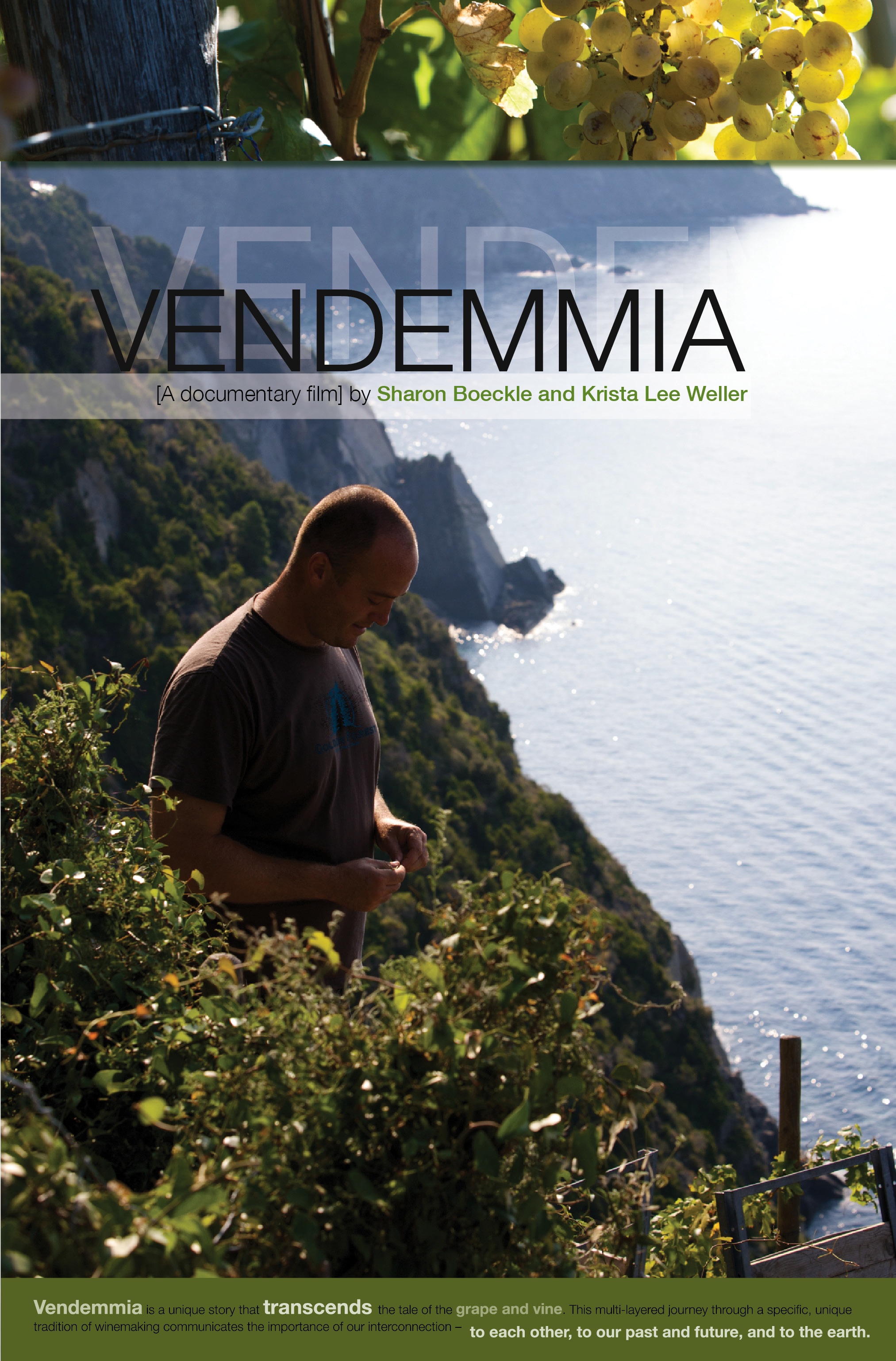 We organized as many interviews and locations as we could from the United States prior to leaving. I was, however, having trouble getting any young winemakers lined up for interviews. In the meantime, I wanted to arrange a special surprise belated birthday luncheon for Sharon in a vineyard overlooking the sea. I enlisted the help of friends in the Cinque Terre, who helped me arrange a beautiful luncheon in Heydi Bonanini's vineyard – one of the young winemakers carrying on the traditions of his ancestors – which led us unknowingly to one of the key interviews in our film. We found out later that Heydi Bonanini was the son of Franco Bonanini – the controversial president of the Cinque Terre National Park. We were also fortunate enough on that trip to get the opportunity to film one of Franco's last interviews just before his arrest and removal from office. In the years after our 2010 production trip, the story has continued to change in drastic and unexpected ways. We returned again in 2012 to document a community fractured by conflicting goals, political upheaval and environmental disaster, but determined to rebuild as a community and move forward. We hope this film sheds light on the extraordinary challenges the residents of the Cinque Terre are faced with in preserving their culture and heritage in light of the millions of tourists who, despite their good intentions, take an enormous toll on this delicate landscape – and why the Cinque Terre's story is such an important example to communities around the world who are striving to do the same.
---
Sharon and Krista quickly became both friends and collaborators after meeting in a graduate level writing class. Fifteen years, two screenplays, and now a documentary film later, they share a love of film and an appreciation for the human experience which binds us all. Sharon's travels to the Cinque Terre and the discussions with Krista that followed quickly planted the seed for VENDEMMIA, as both quickly realized that the restoration of the aging vineyards and the preservation of a small community's culture, heritage, and traditions would serve as an outstanding subject for documentary film. Sharon's experience as a producer and writer includes multiple screenplays, one of which, The Single Chick's Guide to Italy, has now been adapted into a novel. Her work as a videographer and photographer includes numerous clients in the travel industry, including travelchannel.com. Her most recently documentary film project, currently in production, showcases the plight of racehorses discarded by their owners, only to meet their demise in slaughterhouses, and one family's commitment to end this inhumane practice. Sharon and her production company, Sila Productions, feature a commitment to meaningful, life-changing and life-affirming stories that seek to elevate and honor the human experience. Krista has worked as a producer and writer on both local and national television commercials, campaigns, and shows, and is currently in production on a documentary film about art students working with critically sick children and the transformative effects this has on these young artists afterward. Krista's company, LightHorse Productions, is producing the film. She is also working on a feature-length screenplay based on the family of Robert E. Lee. Krista's passion is creating character-driven, personal stories that give people an emotional connection to the people and places featured in them. To know more or buy the documentary please visit: http://www.harvestfilmsproductions.com
---