by: Sonia Castaneda Piacente of A Texas Mom In Torino
Traveling to Italy with kids can be an overwhelming experience. Especially when you're not familiar with the city you're visiting. The biggest question that comes to mind is probably: How can we enjoy this experience together? (aka: How can I keep these kids entertained so I don't go crazy?)
Visiting Turin with kids can be such a rewarding and fun experience without having to sacrifice culture. Considering it's lavish beginning as Italy's first capital, Turin is still under the radar which is good news for you. See the sights and mingle amongst the locals without having to fight massive crowds. Below are a few ideas on how you and your family can enjoy Turin on your next trip.
MUSEUMS
Turin is home to some of the most famous and interesting museums in the world. If you're traveling with older kids then the newly renovated Egyptian Museum is for you. It houses the second most important collection in the world, Cairo being the first. Marvel at the scrolls, artifacts, and the real mummies on display. Little ones would fair better at the National Cinema Museum located in the Mole Antonelliana. Walk through the history of cinema beginning with marionettes all the way through modern technology. 
Parts of the permanent exhibition are tactile and interactive which are perfect for those busy bodies that need to touch something. Originally meant to be a synagogue, 'La Mole' is Turin's most well known symbol.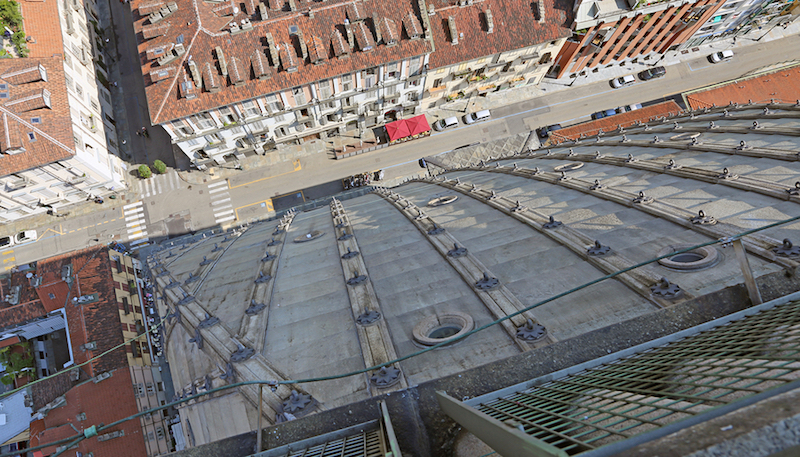 A bird'eye view from Mole Antonelliana
After your tour, why not take the lift to the Panoramic deck for a view of the city. Car enthusiasts will love the National Automobile Museum. You can take a trip back to the days of early model Fiats or marvel at the stylish sleek design of a Ferrari. 
Museo Egizio, Via Accademia della Scienza,6 10123 Torino. 
Museo Nazionale del Cinema, Via Montebello, 20, 10124 Torino. 
Museo Nazionale dell'Automobile. Corso Unita' d'Italia, 40 10126 Torino. 
SIGHTSEEING
Turin is the fourth largest city in Italy and there is a lot to see. While you may think walking around centro storico will be ok, a lot of the 'must see' sights are spread throughout the city. The City Sightseeing buses are an easy way to rest and enjoy the sights. Not a fan of the bus? The Turin Eco City Tour tram will take you on a quick tour of the city center for a more intimate feel. Turin 
Segway Tours are great for families with older kids. Up for an adventure? Try the Turin Eye! A ride on a hot air balloon will get you some fantastic views of the city. Not to worry, it has a support cage and you're lifted into the air while still anchored. 
TurinEye, Piazza Borgo Dora,1 Giardino Cardinale Pellegrino 10152 Torino. 
CHECK OUT THE LOCAL SCENE
It isn't difficult to absorb the local flavor of Turin. After all, it's a city with a small town feel. Getting out and doing as the locals do is easier than you think. Make your way out of the city center and into the neighborhoods. Crocetta is not only popular for it's neo-gothic and art nouveau architecture but also for it's mercato. If you're looking for some serious fashion finds, this market is for you. The Porta Palazzo market is known as Europe's largest open air market and worth a visit. However, if you're little one is in a stroller, it can be a pain to maneuver around the crowds especially on a Saturday. Try a smaller market such as Racconigi or Corso Brunelleschi. Both excellent for quality products and price and easily accessible with Turin's metro line. The markets are open daily from 7am to 1pm and all day on Saturdays.
Crocetta & Crocetta più Market, Corso De Gasperi, Largo Cassini, Via Marco Polo, 10129 Torino, (Crocetta piu is open on the second Sunday of the month). 
Porta Palazzo, Piazza della Republica, 10122 Torino 
Brunelleschi Market, Corso Francia/Corso Brunelleschi, 10141 Torino 
Racconigi Market, Corso Peschiera/Corso Racconigi, 10129 Torino 
PARKS AND PLAY AREAS
Let's face it, kids need to run and jump. They (and we) can only handle so much sightseeing. Parco Valentino is known to locals as the central park of Turin. Our haven from the hustle and bustle of the city. Marvel and the majestic fountains or take a trip back in time to the Medieval era by visiting the Borgo Medievale.
If you're looking for a playground with swings and slides, the city center has several hidden giardini con area giochi. Make sure you look for that key word 'area giochi', otherwise a giardini is just a patch of green.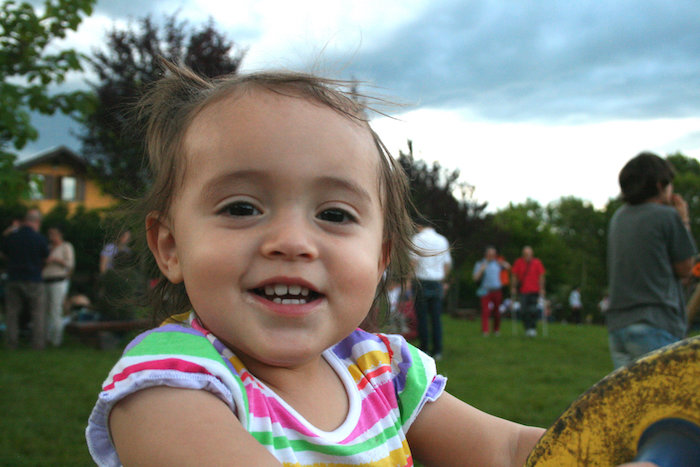 Say hello to Elisabetta! 
Borgo Medievale, Viale Virgilio 107, Parco Valentino, 10126 Torino. 
GET OUT OF THE CITY
Your trip to Turin may be a just a short visit but if have to opportunity to stay a few days, I suggest you rent a car and treat yourselves to some fun with nature. Since the city is nestled near the Alps, you're just a quick trip from some of the most beautiful lakes and towns. Avigliana is located 25km west of Turin which makes it the perfect day trip destination.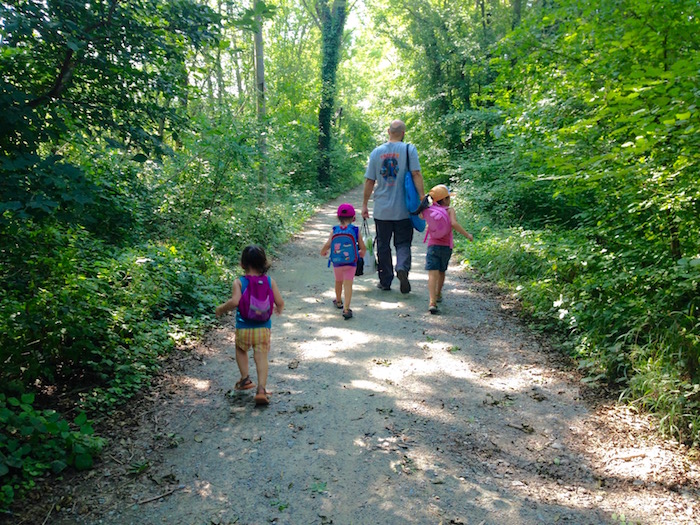 It's well known for it's Lakes and Nature park. Perfect for hiking, swimming or just relaxing. Did you know there is a nearby zoo? Located nearby in Cumiana, ZOOM is a zoo and amusement park. If you're visiting in the summer, take a break from the heat with a visit to Bolder beach. A small low water pool that allows you to "swim" with the penguins.
If you're looking for something closer to the city then an Agrigelateria might do the trick. These working farms cater to families. With animals you can get up close and personal with to the freshest gelato you'll ever have. From fresh milk to fruits, all of the ingredients are grown and produced on site. If there's every a time to splurge on the whipped cream, this is the place to do it. You won't regret it.