I often see surprised faces when talking about how close Abruzzo, dubbed as "the greenest region in Europe", to Rome is. Just over an hour-drive from the Eternal City and you are surrounded by ancient villages, dramatic mountains, dense forests and hundreds of hiking trails. With three national parks and 38 natural reserves hikers and nature lovers are really spoilt for choice. Here is a short guide to my favourite places for walking in the region, which will give you a flavour of what to expect.
Abruzzo, Lazio and Molise National Park
One of the most visited national parks in Italy, it welcomes almost two million tourists every year. Spread over 50,000 ha, the park has rivers, waterfalls, beech forests, spectacular valleys and stark mountain ridges.  There are 150 well-marked walking trails to choose from most of which are easy and accessible for active people of any age or level of fitness. I love hiking here in September-October when autumn paints the mountains red and yellow.
What makes it special: the Abruzzo National Park is home to some rare animals, so you are likely to see red and roe deer, chamois, and, if you are lucky, you might catch a sight of grey wolves. However, the king of the park is the brown marsican bear and there are about sixty of them roaming in the area.
My favourite hike: An easy trail goes from the town of Pescasseroli up to the refuge Jorio that sits at an altitude of 1835 metres. From up there you can see almost the entire territory of the Abruzzo National Park stretching into the horizon and it is a great spot for bear watching. If you are patient enough to sit and wait quietly at sunrise or dawn you might see a bear peacefully grazing on the mountain slopes. If you do not feel like stumbling into a bear alone, you can join one of the bear watching tours organised by Ecotur.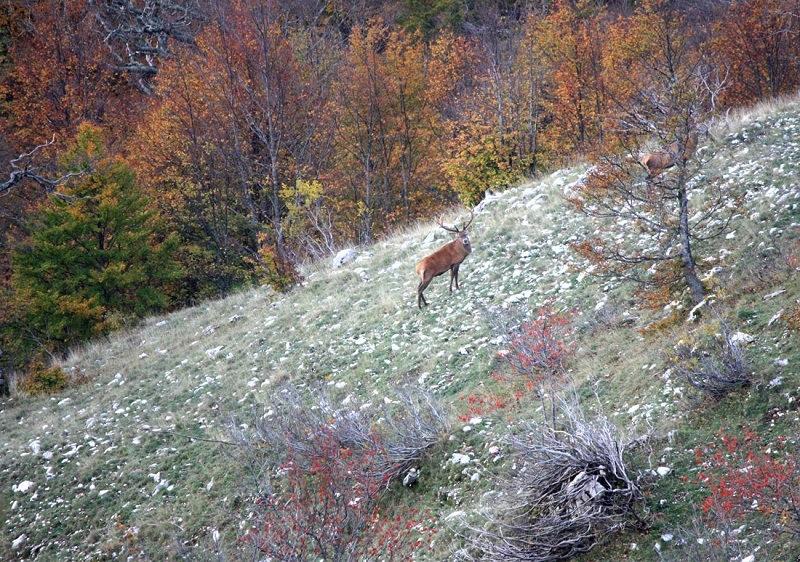 Abruzzo national park, photo credit: Anna L. 
The Majella National Park
More than 700 km of walking paths run through dense forests, caves, gorges, rivers, mountain peaks in the park. Half of the park's territory rises above 2000 metres, so there are plenty of higher altitude hikes if you are looking for something more challenging. Nature lovers can admire small groups of chamois living on the steep rocky slopes of the Focalone and Acquaviva mountains.
What makes it special: I may be biased as I live in the heart of the Majella national park but I would describe it as a magic place, which perfectly combines nature, spirituality and history. There are a few long hikes that can be done in 3-4 days. One of them is the 85-kilometre long Spiritual Trail that follows an ancient pilgrim route and links several Celestine hermitages and abbeys. Within the park, you will also find traditional centuries-old dry stone huts built by shepherds who used them as shelter during transhumance, the seasonal migration of sheep flocks. All walking trails can be found on a smart phone app "iMajella" that is available in Itallian and English.
My favourite hike: If you are visiting the park for the first time, head to the hermitage of San Giovanni all'Orfento, one of the most spectacular and least accessible of them all. Chipped out in the stones it can only be entered by crawling on your belly through a narrow opening. The hermit Pietro da Morrone, who later became Pope Celestine V, lived in this beautiful isolated spot for almost nine years.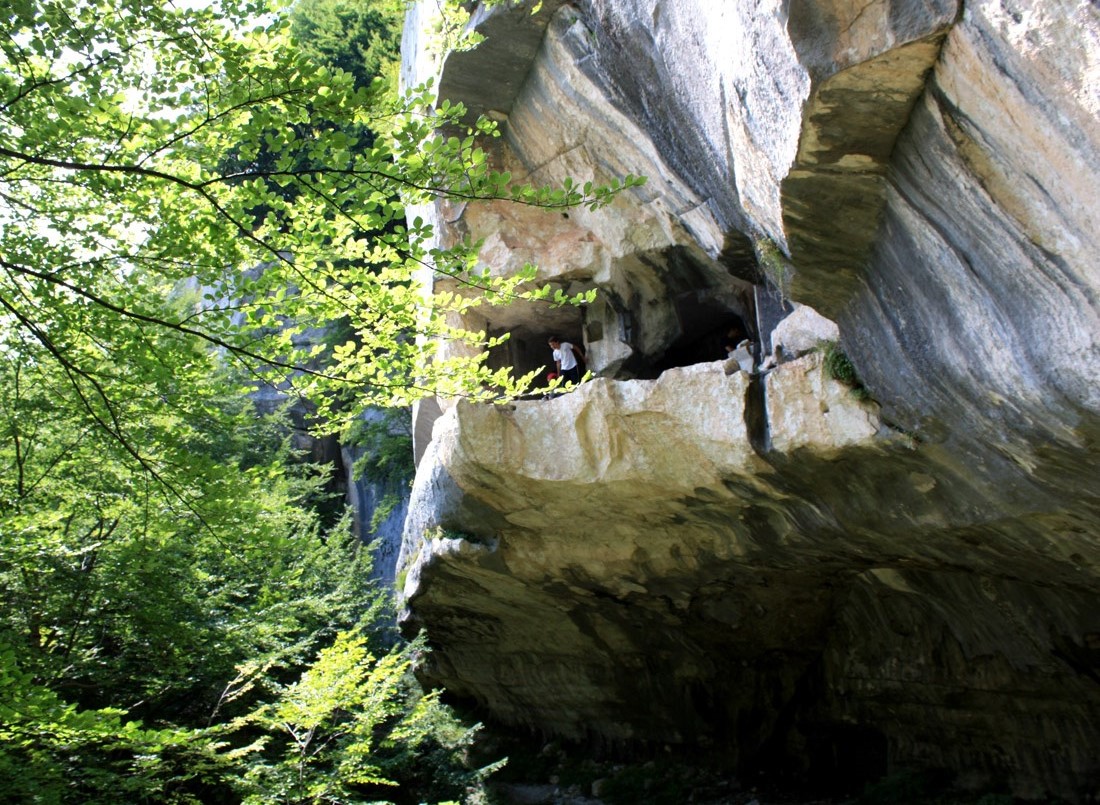 hermitage of San Giovanni, photo credit: Anna L. 
The Trabocchi Coast (Costa dei trabocchi)
The beauty of Abruzzo is that the sea is only a short drive away, no matter where you are. For super-easy walks, I love going to the Trabocchi Coast, a stretch of the Adriatic in the south of the region, dotted with traditional wooden fishing platforms on stilts.
What makes it special: walking through the dunes you have the Adriatic Sea on one side and the dramatic Majella mountain range on the other. If you are feeling peckish, you can always pop in to one of the local restaurants that serve excellent freshly caught fish. In summer months, some of the trabocchi are open for visits and meals.
My favourite hike: I love walking in the Punta Aderci National Reserve following the six kilometre trail that runs from the Punta Penna beach to the Punta Aderci with its elegant trabocco. The area is also great for birdwatching as many protected species nest here. 
...
Have a look at our walking Italy series, a list of articles suggesting itineraries for people who enjoy hiking in some of the country's most beautiful locations.