President Emeritus of the Italian Republic, Giorgio Napolitano, died at a clinic in Rome on Saturday, September 22, at 98. The announcement of his death came from the presidential palace, where he served as head of state for nine years.
On Tuesday, September 26, Napolitano's life was celebrated in Rome at the first-ever secular funeral service for a former Italian president, held in parliament. Many dignitaries, including Italian Prime Minister Giorgia Meloni and French President Emmanuel Macron, were in attendance.
Napolitano will be buried at Rome's Protestant Cemetery (sometimes referred to as the English cemetery or the non-Catholic cemetery) in the Testaccio neighborhood. Other high-profile figures laid to rest on those grounds include the English poet John Keats and the influential Italian theorist and intellectual Antonio Gramsci. 
In a statement to the press, current President Sergio Mattarella acknowledged his predecessor as a tireless activist for the laboring class, stating he was "devoted to the cause of workers; his action to combat the spiral of deaths at work was inexhaustible. I am deeply saddened by his death."
Though many believe the role of the President of Italy to be mostly ceremonial, the framers of the Constitution of Italy actually charged the office with numerous important powers, such as declaring wars, calling for elections and referendums, appointing prime ministers, cabinet ministers, and justices, and accepting the resignation of governments — something that occurred many times during Napolitano's lengthy tenure. 
What was Giorgio Napolitano known for?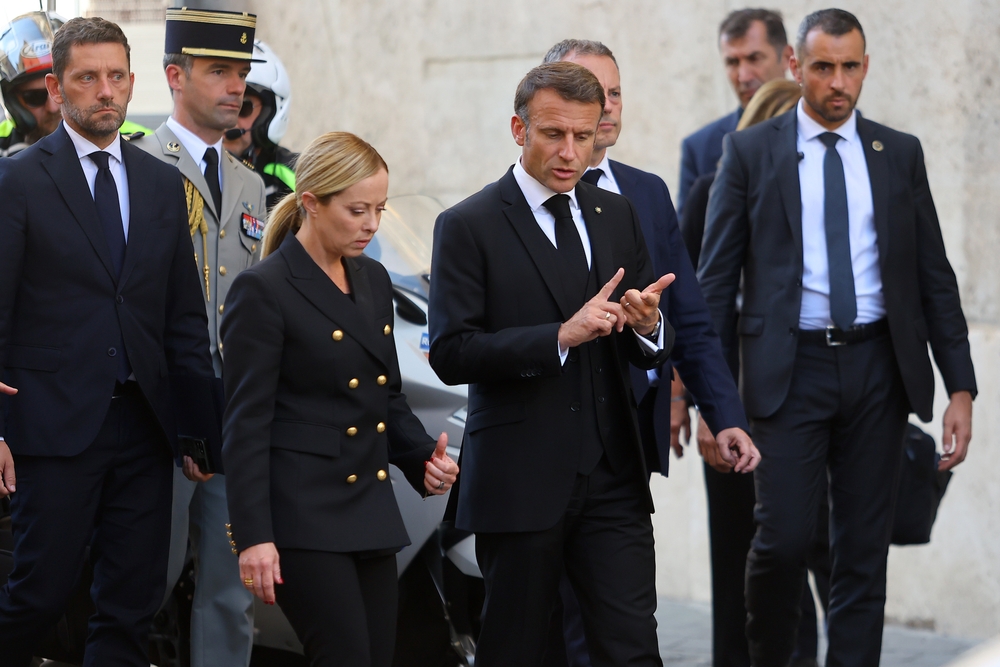 Largely scandal-free, Napolitano was widely respected for his steady disposition, though some commentators referred to him as Re Giorgio (King Giorgio) as a critique of his long influence and presence in Italian politics.  
Napolitano was the first reformed communist to become President of the Republic of Italy and the first person to be re-elected to the post. Henry Kissinger once called him "my favorite communist." Describing his left-leaning stance, the Italian national newspaper La Stampa once called Napolitano "the least communist Communist [sic] that the party ever enlisted."
Mr. Napolitano held his post from 2006 to 2015 — announcing his resignation to the nation during a traditional year-in-review TV address on January 14, 2015. The speech didn't end his political career, however. After leaving office at the age of 87, he resumed his position in the Italian Senate until his death. His was a political career that spanned nearly four decades, and he served under three prime ministers: Mario Monti (2011-2013), Enrico Letta (2013-2014) and Matteo Renzi (2014-2016).
Condolences poured in from leaders around the world, including the current Prime Minister, Giorgia Meloni, Pope Francis, and Vladimir Putin, with whom Napolitano was surely at political odds.
Mr. Napolitano is survived by his wife of some 64 years, Clio, sons Giulio and Giovanni, and two grandchildren.
Life of Giorgio Napolitano: a timeline
1925: Born in Naples on September 29, 1925, to mother Carolina and father Giovanni Napolitano, a lawyer and poet.
1942: Entered university in Naples and joined the Italian Communist Party. 
1947: Received his law degree.
1953: Elected a member of the Chamber of Deputies of the Lower House, representing Naples.
1959: Married Clio Maria Bittoni.
1960s: Held various party and government positions.
1978: Became first leader of the Italian Communist Party to be granted a visa to the U.S.
1992: Elected Speaker of the Chamber of Deputies.
1996: Served as Minister of the Interior.
2006: Elected President of the Republic by Parliament.
2011: Named economist Mario Monti to Prime Minister after Berlusconi's resignation.
2013: Re-elected for another term as President.
2015: Resigned as President.
2015: Re-occupied his seat in the Senate.
2023: Died at age 98.