It's described as the most spectacular and challenging trek in the whole of Europe. 
While I'm not for absolute statements and I certainly haven't done all of the amazing treks available in Europe, I can definitely say that Sardinia's 'Selvaggio Blu' was - for me - the most spectacular, thrilling and, indeed, wildest trek I've ever done (and I've done plenty, including in the Dolomites, which, if you're familiar, you know how incredible they are).
The island of Sardinia, located to the west of mainland Italy, is mainly renowned for its coast and Caribbean-like beaches. It's not the first destination that comes to mind for a hiking vacation - unless you're an avid hiker like me; then chances are you've heard of 'Selvaggio Blu' (it literally translates as 'Wild Blue'). 
Selvaggio Blu is a five-day trek that takes place in the area of Sardinia known as Ogliastra, between the mountains of Supramonte di Baunei and the the gulfs of Arbatax and Orosei, along the eastern-central coast of Sardinia. It is 50 kilometers long, beginning in the beach town of Santa Maria Navarrese and ending at Cala Sisine beach. You hike amid the sights and scents of the Mediterranean scrub and centuries-old giant holly oaks so big you stop in awe, perceiving their vibrancy; you marvel at the dizzying views of the coast below from precipitous cliffs; you learn about the pastoral culture of Sardinia, which is still very much alive in this part of the region, by visiting old sheep pens found along the trails.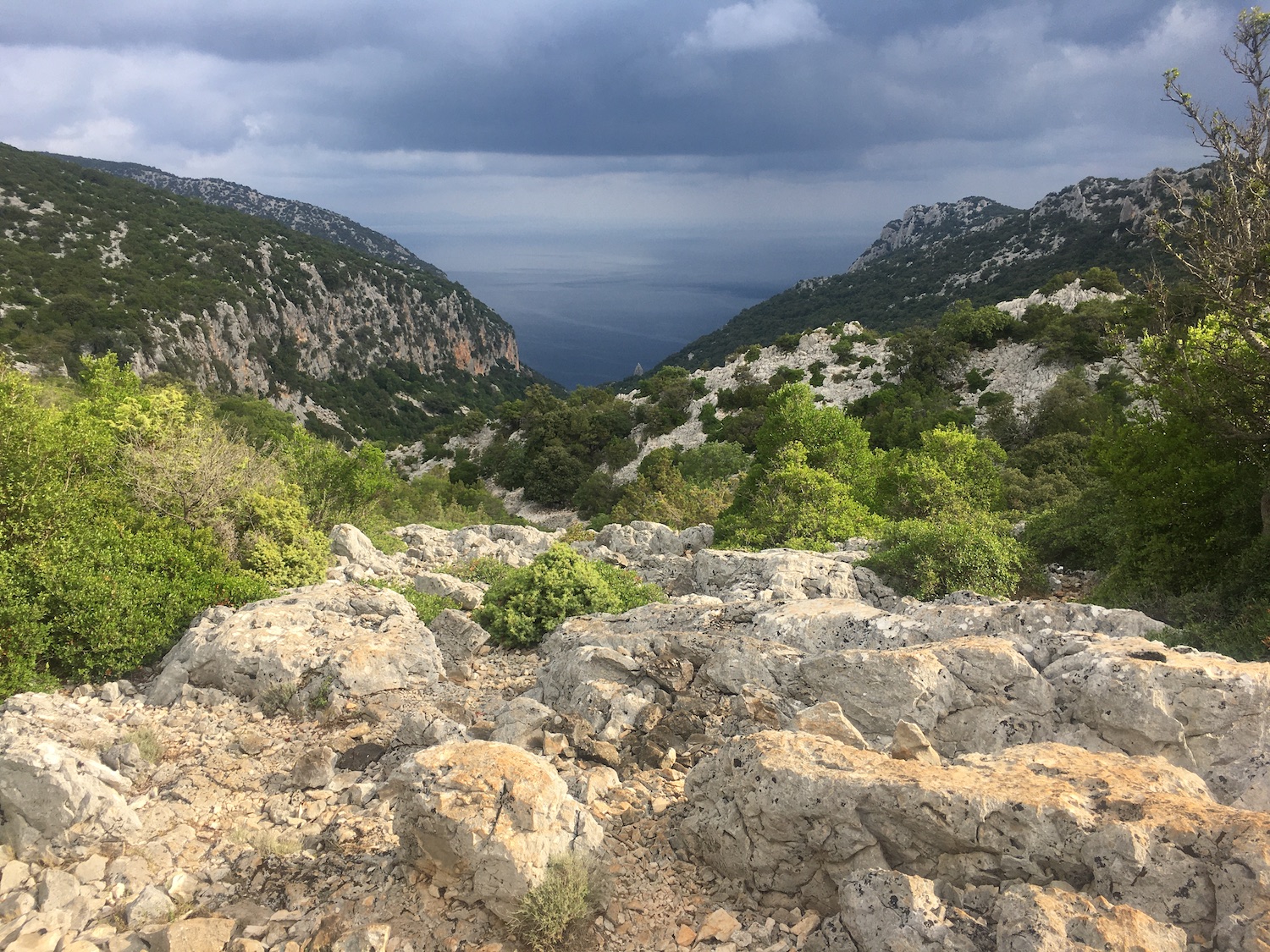 Selvaggio Blu was created in the late 1980s by two alpinist friends who were traveling and climbing in the area (Supramonte di Baunei is a favorite of climbers who revel in the vertical spires and cliffs overlooking the sea); enraptured by the beauty of the unspoiled territory they were visiting, they decided to restore and salvage the old trails used by shepherds and charcoal workers, otherwise destined to disappear taken over by nature, and unite them in one itinerary.
They called it 'Selvaggio Blu;' in its original version, it includes climbing stretches, some rappelling, and you sleep under the stars every night, in tents set up on the beach, in the woods or by sheep pens. 
For those who don't climb and prefer to sleep in a hotel, it's possible to do a softer version - as I did - where you walk a different leg of the itinerary every day with variations that allow you to avoid the climbs and you go back to the comforts of your own room (with bathroom!) at night.
This doesn't mean that, in its softer version, Selvaggio Blu is an easy trek. First of all, hiring a local guide is absolutely recommended. The trails are scarcely marked and it's very easy to get disoriented in the intricacy of trails and Mediterranean vegetation (in the one week I was there, we heard of two lone hikers who disappeared - only one was eventually found). Second, you have to be comfortable walking for many hours on terrain that is often rocky and bumpy, so you have to be constantly alert, especially on the long descents to the beach, which can be quite steep at times. Third, while on the easier version, there are no real exposed traits, some parts may bother you if you suffer from vertigo; on certain legs of the itinerary, you have to descend juniper stairs that may seem unstable, but are actually quite sturdy, an ingenious way devised by shepherds to traverse the seemingly inaccessible mountains.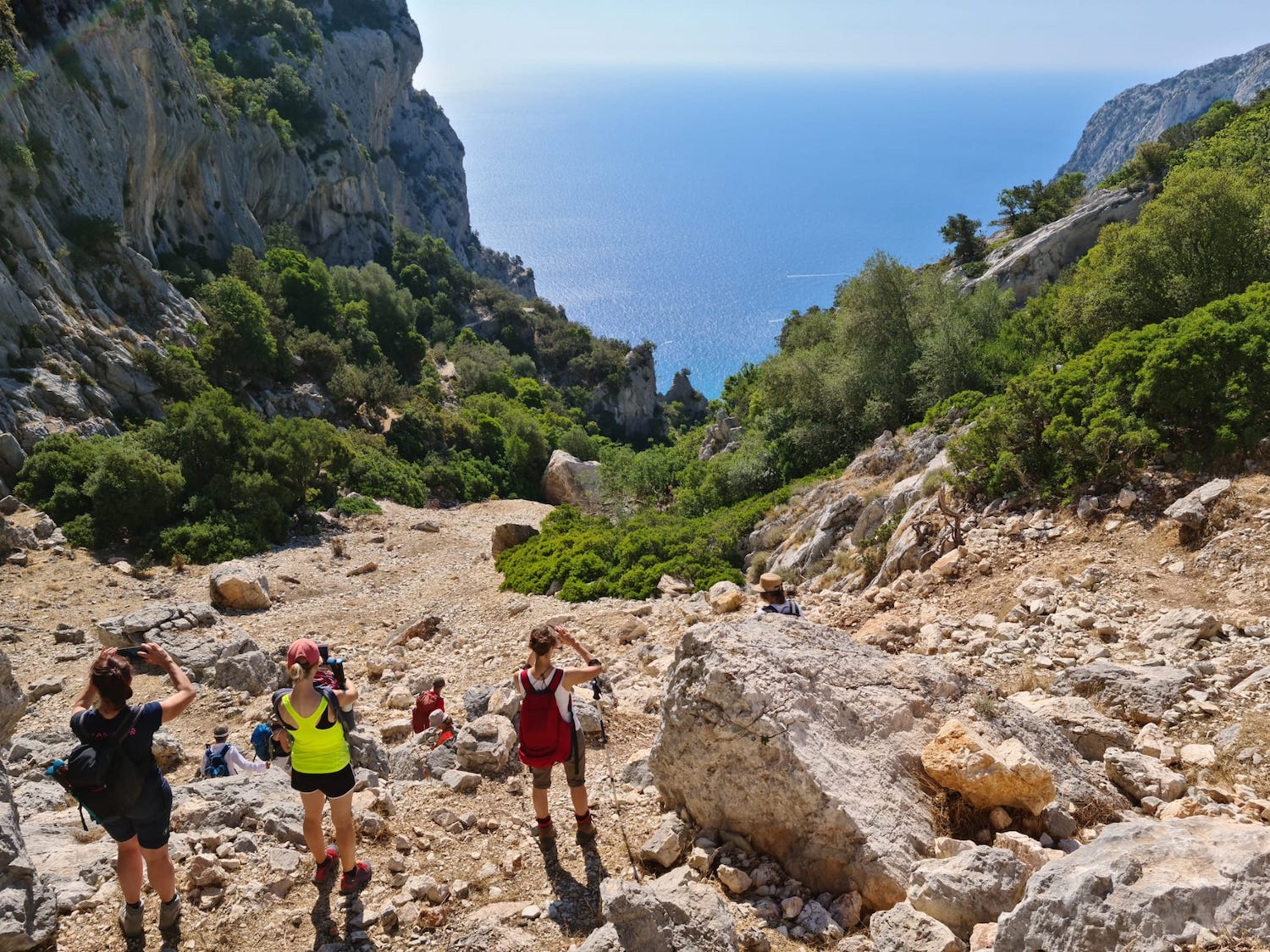 The rewards are endless though. You get to bathe at coves that are considered among the most beautiful in the entire Mediterrranean: Cala Mariolu, reachable only by boat (too easy obviously, and too encouraging of mass tourism, with all the negative consequences on such a fragile environmental wonder), or via a long descent that includes the juniper staircases mentioned above. After walking for hours without meeting anyone, the contrast with the crowds of bathers on the beach can be unsettling, but luckily most of them were gone by 3:30 pm (because Cala Mariolu is just up against a cliff, the sun disappears early in September), and my group and I had this marvelous beach all to ourselves before our return by rubber boat.
Another amazing beach you get to see is Cala Goloritzé, which imposes a limited number of visitors a day. It can only be reached on foot through a 3.5 km trail, although our guide opted for a more challenging and longer route which took us to one of Selvaggio Blu's most panoramic spots, Punta Salinas. Cala Goloritzè is overlooked by the celebrated calcareous pinnacle of Monte Caroddi, beloved among climbers - as we sunbathed on the beach, we could see two making the ascent. The turquoise waters at Cala Goloritzé are so transparent, gushing from submarine karst springs, I had to force myself out as I wanted to spend the entire afternoon swimming in them - but we had to continue.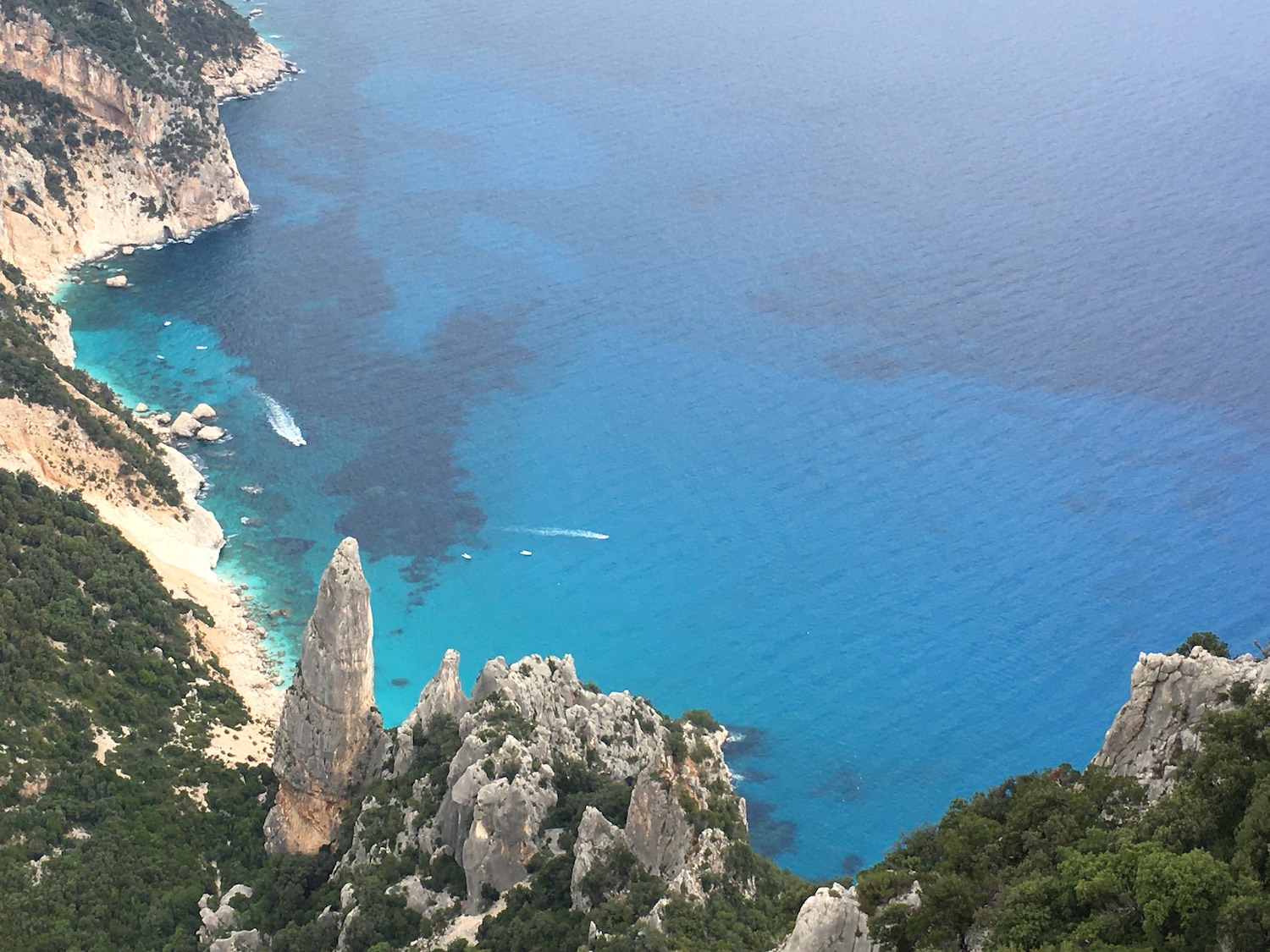 My favorite day of the trek however didn't include any famous beach. It was what corresponds roughly to the first leg, which we did in reverse as compared to the original Selvaggio Blu. We arrived at a little-known beach, almost empty (reason more to like it), but what I especially enjoyed was the descent, which was varied, and the return along a trail that flanked the mountain and delighted us with views of the coast and sea at sunset. 
On this particular day, we were also able to learn a bit about the world of shepherds. As you hike Selvaggio Blu, you'll come upon old sheep pens built with rocks and juniper wood that give you a glimpse into a lifestyle that was predominant until recently, when shepherds lived for months in the mountains far from home to look after goats (incidentally, many Sardinians nowadays, even if they're not shepherds, possess a few goats and donkeys).  We stopped at Us Piggius, a renovated, lovingly looked after 'ovile.' From time to time, you may also see charcoal pits, where holm oaks and other trees were burned by Tuscan and Piedmontese workers (the 'carbonari') to be transformed into precious coal to be shipped to mainland Italy, which they carried down to the coast for ships to collect, hence the myriad of trails.
What I loved the most about Selvaggio Blu was the absolute wilderness and the feeling of being in unexplored places, something you get to experience very rarely these days. I also loved going for a swim in the beautiful Sardinian sea after a long, sweaty hike. The creators of the trail picked the name 'Selvaggio Blu' - the wilderness of Sardinia's Supramonte and the deep blue of the sea are always with you as you hike - no other name could have been more appropriate.