ITA:
Panettone o Pandoro?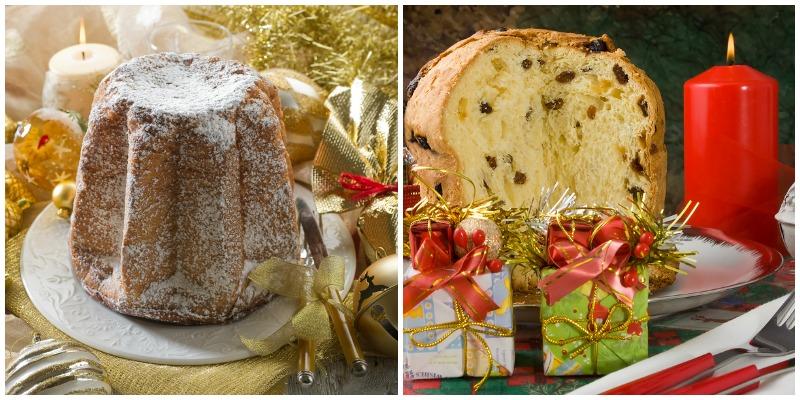 English
This is the time of the year in Italy when the usual Christmas cake skirmish rages on: are we having Panettone or Pandoro?
Originally from Milan, panettone has a domed shape, with a soft and airy interior beneath a dark exterior. The cake dough requires several hours to make because it must be cured in a way similar to sourdough, rising and falling three times before being baked. Traditionally, it contains candied orange, citron, and lemon zest, as well as raisins.
Pandoro hails from Verona. As its name suggests – golden bread – it is the product of the ancient art of breadmaking. Sweet breads enriched with eggs, butter and sugar were reserved for nobility and were known as "golden bread".  Pandoro has an eight pointed-star section shape. It is often served dusted with icing sugar.
Panettone and Pandoro are the classic Italian Christmas cakes. If you're in doubt, just get both, you won't be disappointed! 
Italian
Questo in Italia è il periodo dell'anno in cui imperversa la solita scaramuccia relativa ai dolci di Natale: compriamo/serviamo il Panettone o il Pandoro?
Inventato a Milano, il panettone ha una forma a cupola, con un interno morbido e soffice e una parte esterna scura. L'impasto richiede diverse ore perché deve lievitare tre volte prima di essere cotto in forno. Tradizionalmente, contiene arancia candita, cedro, scorza di limone e uvetta.
Il pandoro proviene da Verona. Come suggerisce il nome - pan d'oro - è un prodotto dell'antica arte della panificazione. Il pane dolce arricchito con uova, burro e zucchero era nel passato riservato alla nobiltà e conosciuto appunto come "pane d'oro". Il pandoro ha una forma a stella, a otto punte. E' normalmente servito spolverato con lo zucchero a velo.
Panettone e Pandoro sono i classici dolci italiani natalizi. Se siete in dubbio, semplicemente comprate entrambi, non rimarrete delusi!
More Dual Language Articles...