Wonders of Italy: Villa Carlotta on Lake Como
ITA:
Meraviglie d'Italia: Villa Carlotta sul lago di Como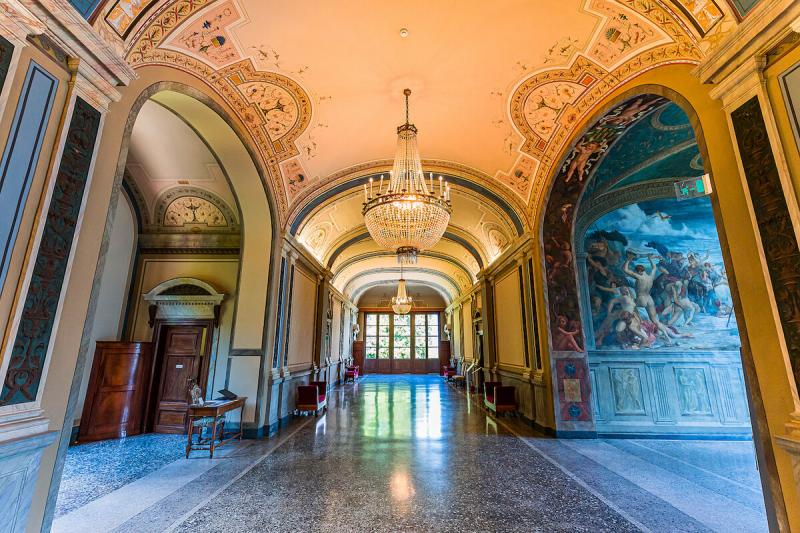 Use player to listen to Italian version

English
"Art walks side by side with nature," at Villa Carlotta, a 17th-century villa surrounded by a large botanical garden, located on the shores of northern Italy's Lake Como. 
Facing the Bellagio peninsula in Tremezzo, Villa Carlotta was built for the Milanese marquis Giorgio Clerici in 1690 and extends over 17 acres.
In 1801, the last descendant of that noble Milanese family sold the villa to the wealthy Giovanni Battista Sommariva, an Italian politician of the Cisalpine Republic and a passionate art collector. Sommariva purchased some iconic works of art, such as The Last Kiss of Romeo and Juliet, painted by Francesco Hayez in 1823, inspired by Shakespeare's tragedy, and the original plaster model of the Muse Terpsichore, a masterpiece by Antonio Canova. 
The villa's museum contains part of Sommariva's collection in a stunning display that begins with the Marble Room, where Sommariva, especially fond of sculpture, exhibited its most famous statues together; now, only the Venus and Mars group, made in Rome by Luigi Acquisti in 1805, remains in its original position in the center of the room. Other statues are on view in different rooms of the villa.
In 1843, the villa was purchased by Princess Marianne of Nassau as a wedding present for her daughter Carlotta, after whom the villa is now named. Visitors can admire the private apartments, furniture and objects that belonged to Princess Charlotte on the second floor. 
Around the villa is an Italian garden which dates to the time the villa was built, with steps, fountains and sculptures, including some by Antonio Canova and Luigi Acquisti. There is also a Romantic Garden, with hydrangeas, English roses, azaleas and more.
French writer Stendhal was a guest in 1818 and mentioned the property in the opening pages of his famous novel, La Chartreuse de Parme. 
For more information, visit the Villa Carlotta's website.
 
Italian
"L'arte cammina fianco a fianco con la natura" a Villa Carlotta, una villa del XVII secolo circondata da un grande giardino botanico, situata sulle rive del Lago di Como, nel nord Italia.
Affacciata sulla penisola di Bellagio a Tremezzo, Villa Carlotta fu costruita per il marchese milanese Giorgio Clerici nel 1690 e si estende per 17 acri.
Nel 1801, l'ultimo discendente di quella nobile famiglia milanese vendette la villa al facoltoso Giovanni Battista Sommariva, politico
This is Premium Content
Subscribe today for unlimited access to all our exclusive Italy intel and much more...
...for less than the cost of a cappuccino a week!
More Dual Language Articles...