This week we are talking with Dawn Cavanagh-Hobbs, founder and director of fractional ownership company Appassionata together with her husband Michael. They offer lucky buyers who are seeking the slow Italian lifestyle we have all come to desire the chance to buy a five-week share in a luxury property in Le Marche that has been lovingly renovated by Dawn's curated eye. This year Appassionata celebrates their tenth anniversary and Dawn speaks with us about how she makes so many dreams come true for Italophiles around the globe looking for their own slice of Italian sun. 
Ciao Dawn, thanks for talking with us today. It has been 10 years since you and Michael have started Appassionata. Can you briefly remind us again how it all began? Walk us through the properties that Appassionata has renovated and sold over the years. 
Our first project was Casa Giacomo, this was the most challenging one, but not from a construction point of view.  We had just arrived in Le Marche, we didn't really speak the language and we had to weave our way through a lot of red tape. It took time to find the best building team and then I had the challenge of sourcing all the furnishings and materials. This was a new build, originally the site of a small farm building.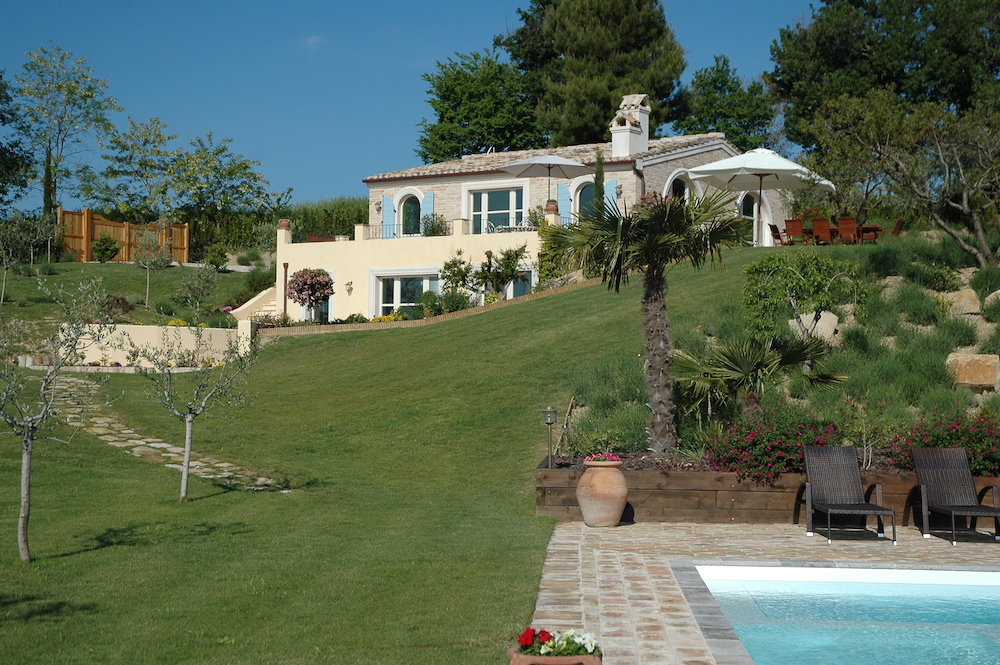 [Casa Giacomo]
Our next project, Casa Leopardi was a large abandoned farm house next door to Casa Leopardi. We wanted to create a country estate within the ample grounds of both properties. During the restoration of both houses we replanted a vineyard, olive grove and lavender plantation for owners to reap the benefits of having their own wine, olive oil and lavender oil.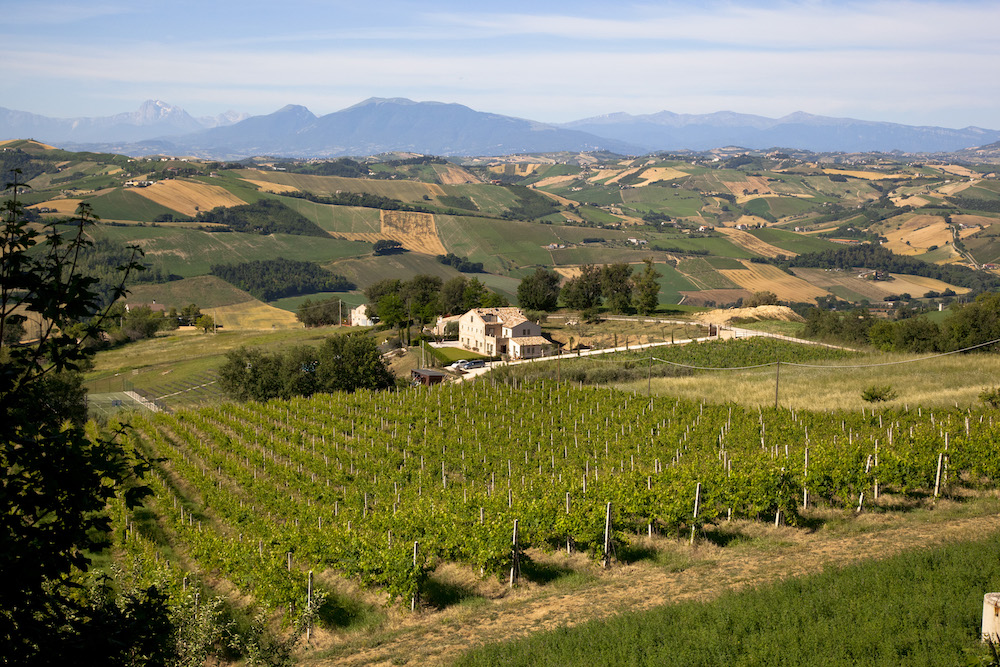 [The Estate vineyard in Montefiore dell'Aso]
We built an all weather tennis/basket ball court and two swimming pools. Both these properties are situated on the outskirts of Montefiore dell Aso and just a short walk upto the town.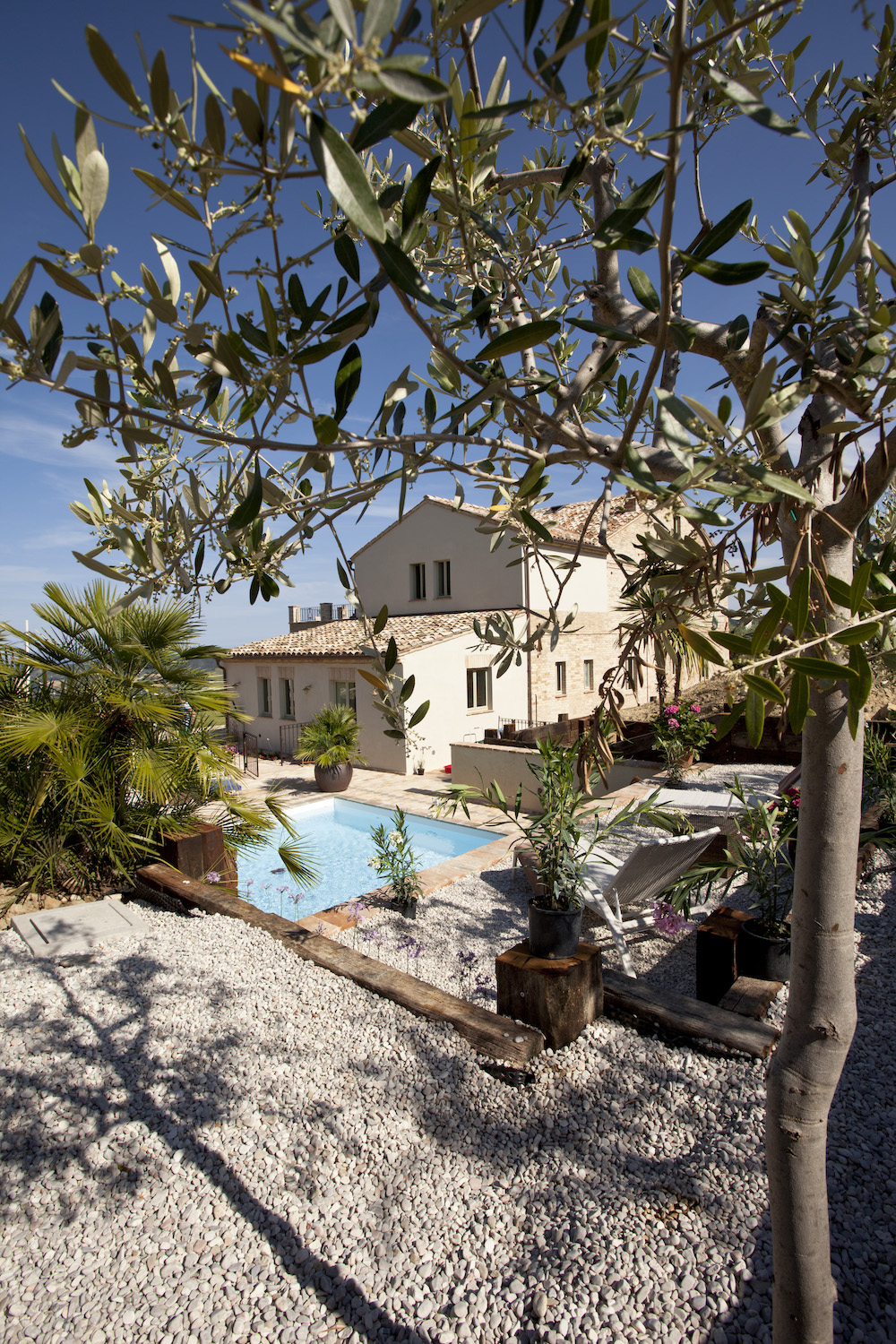 [Casa Leopardi in all of its glory]
Our third project, Casa Tre Archi, is a town house built alongside the medieval town walls of Petritoli. A very different type of property, but we always envisaged creating an eclectic mix of properties for our portfolio.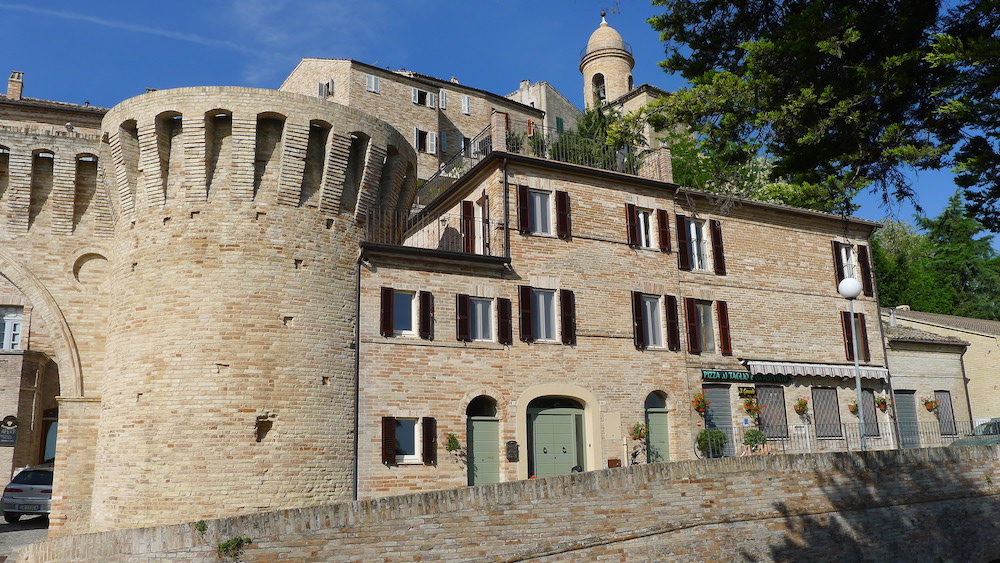 [Casa Tre Archi in Petritoli]
Although this property doesn't have a pool, the outside space and far reaching views are breath taking, especially from the roof terrace. Many of our owners prefer to buy a share in a property right in the town and feel part of the community. Often it's an advantage to be able to walk to the local shops, bars and restaurants. Others like a more relaxed vibe and enjoy the peace and quiet of the countryside.
[View from the terrace at Casa Tre Archi]
Il Riposo, our forth project is situated in the small  Borgo of Patrignone, which was once a famous artist colony.  Local amenities are still within walking distance and just a short drive away there are other larger towns. This feels like a real Retreat from the hustle and bustle of everyday life.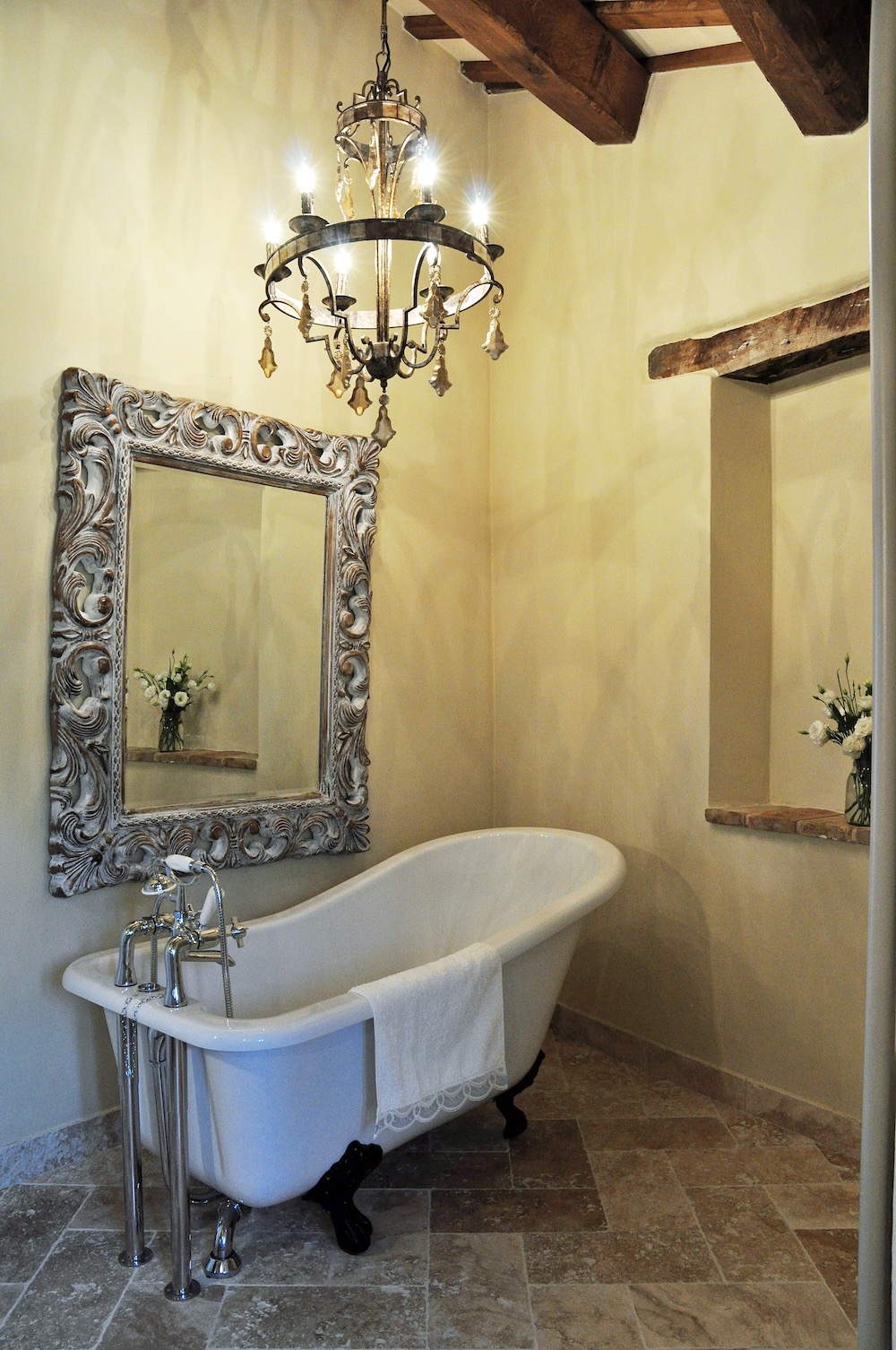 [Il Riposo bathroom]
We are just adding the final touches to our fifth property, Villa Veneto, and this is quite a different property again. 
Is there one in particular that you and Michael are really drawn to? If so, why? 
That's a tricky one.  It's almost like asking us which of our four children we prefer!! We take great care in choosing all of our properties and restore them with love, respect and passion. I honestly love them equally and they all have something unique to offer.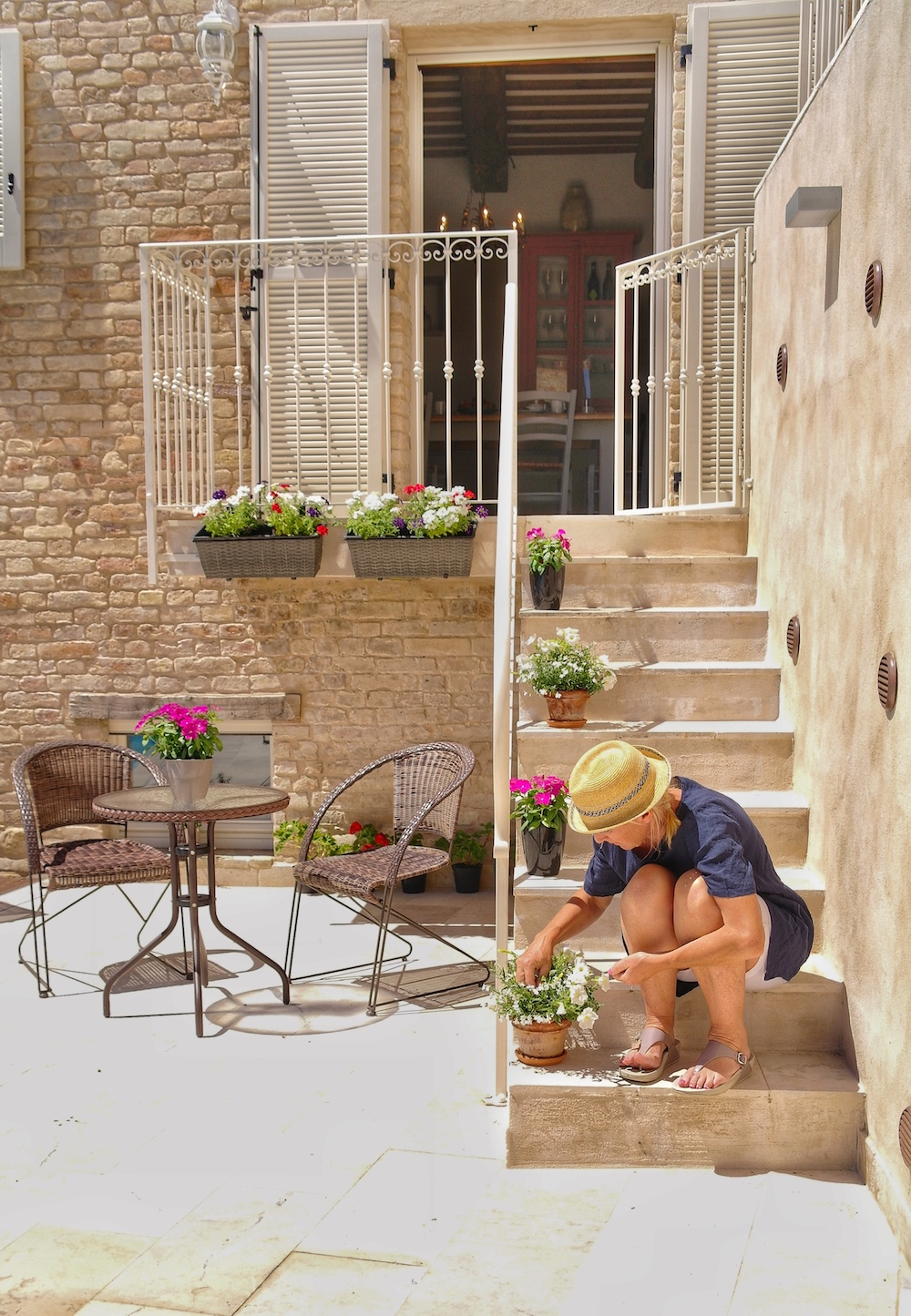 [Dawn busy planting before the photo shoot at Il Riposo]
I can absolutely respect that, every single one of the properties has a unique vibe. That being said, I am certain that after 10 years' renovating properties for your business you both have learned a quite a bit in regards to working locally and anticipating your owner's needs. Can you share a little more on that regard for us property-curious folk? 
We always wanted to offer something unique and luxurious. We were never interested in a cookie cutter approach.  Our owners really appreciate the time, effort and energy that goes into each property.  I tell them all about the local artisans I work with and how important it is to support the local businesses.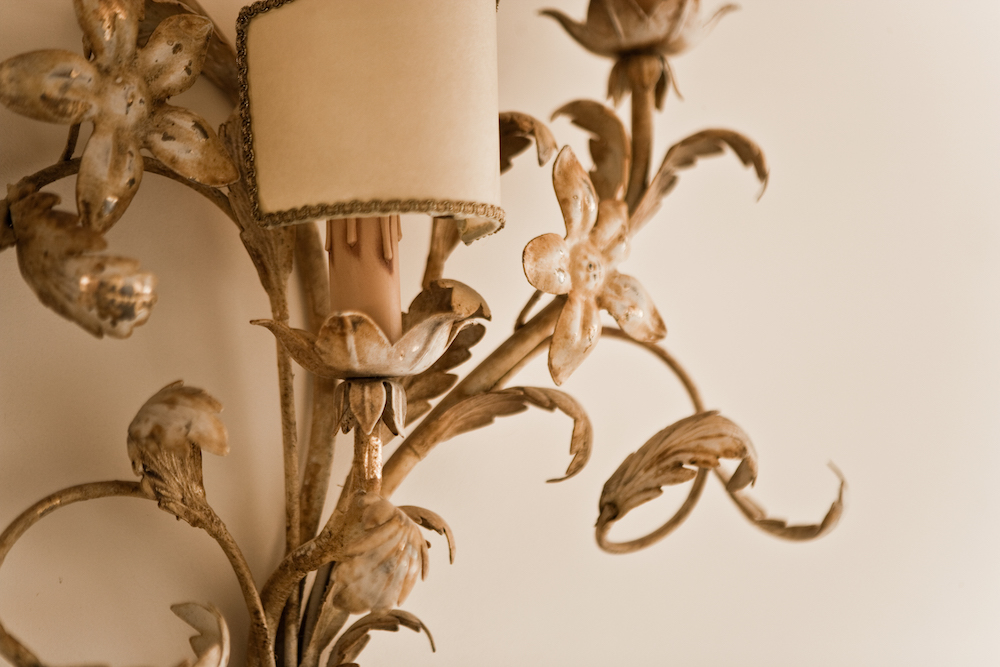 [Hand made wall lights by a local artisan]
They love all the individual pieces I find on my travels and the bespoke pieces I have made by the local craftmen. It is so rewarding to restore a house which has been abandoned for years and carefully bring it back to life all while repecting the history of the property. Our owners love to see the before and after photos of their home. Our after care service for all of the owners is managed by our daughter and son in law is also a very important part of our family business.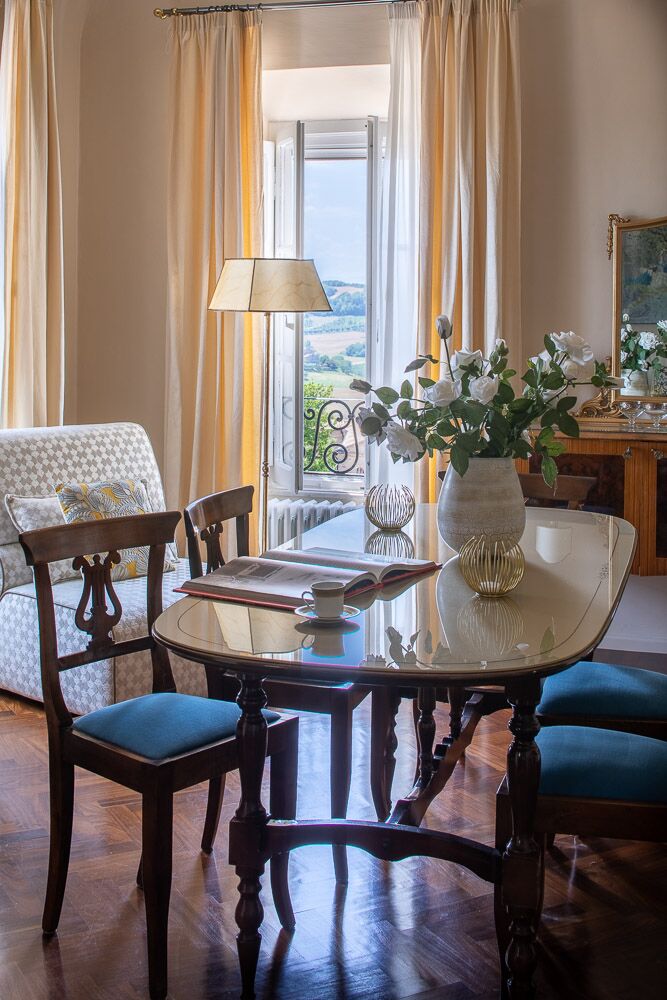 [The dining room of Villa Veneto]
Would you say that the way people think about buying vacation property is different than when you've started? 
I think the concept of fractional ownership has definitely become more popular over the last few years. Our owners often tell us they would never use a holiday home in Italy for months at a time and they don't want the worry, hassle and expense of it. They all appreciate beautiful homes and high end furnishings and want their holiday home to reflect this. 
In reality what they want is a hassle free holiday home in this stunning region of Le Marche which they own for five weeks a year. They know it is professionally managed and maintained throughout the year and they can just arrive, relax and indulge themselves in the Italian lifestyle.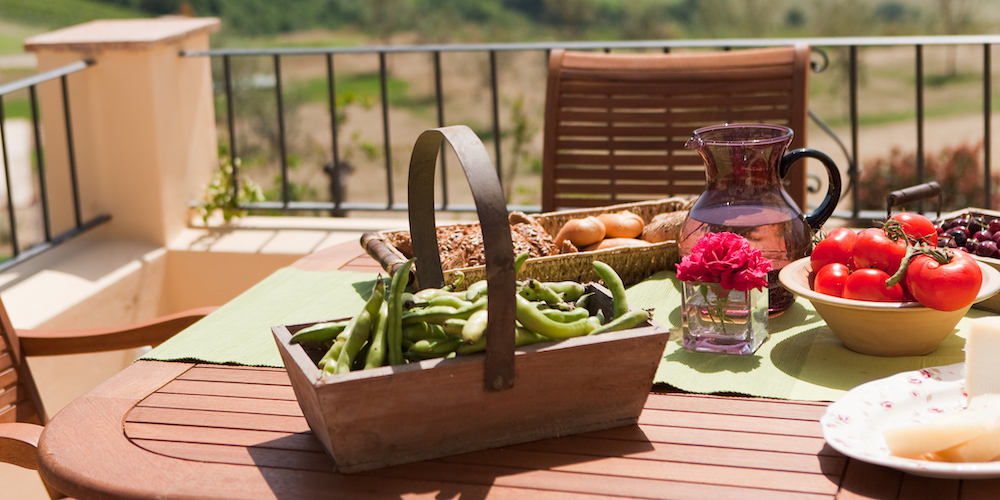 [Fresh, local produce from Le Marche]
Tell us about some of the owners who have made Appassionata properties their own, we love personal stories. 
We have so many wonderful owners from all across the globe.  Many of them have become great friends and we love to meet up with them when they are here. Over the years we have watched our owners children grow up, celebrate birthdays, marriage proposals and anniversaries.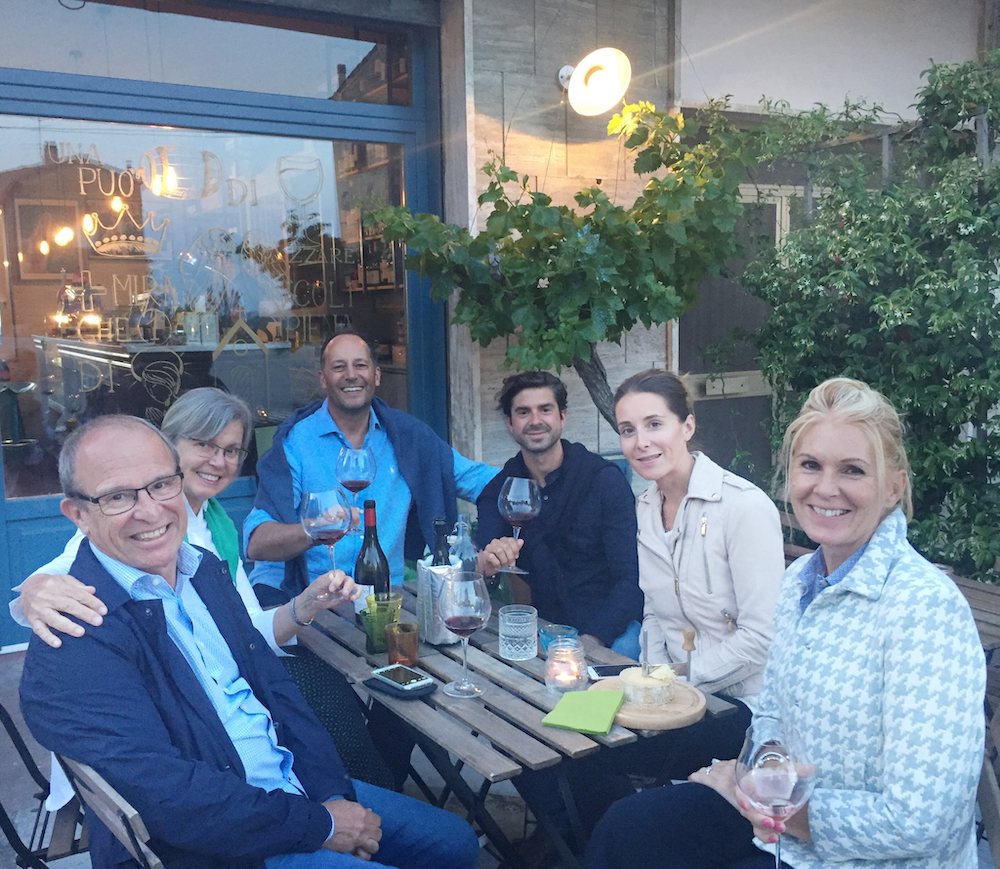 [The Appassionata team enjoying a night out with some of our owners]
One particular couple loved the local olive oil here so much that they now import it to the US and last year it won an award. Another family couldn't decide which property they preferred the most so they bought a share in both properties. 
One couple whose children are spread all over the world use their weeks here to arrange family get togethers, this is the place they all love to meet up.
Some owners love to explore the area and are always on the move, they've discovered places even we didn't know about. Others like to relax on one of the many sandy beaches with a glass of prosecco and a good book. Most of our owners love Italian food and in this region it is pretty exceptional. They also enjoy learning how to make pasta, pizza and ice cream and taking part in the olive and grape harvest.
A couple of owners have bought the property share in their childrens names, a wonderful legacy to pass down through the generations. Another owner bought his share through his company so both his family and his hard working employees can enjoy the benefits of his beautiful Italian home.
Do you feel as if Le Marche has gotten more popular since you have arrived? How has the local landscape evolved and do you think this will always be a haven for those who seek to be away from mass tourism is more popular areas of Italy? 
This region remains very authentic and unspoilt by mass tourism. It is rich and culture and history and has strong family values. This was the reason we chose this area. We have easy access to all the major cities and there is an excellent public transport service. We can hop on the train down the road and get off at the Grand Canal in Venice. 
A frequent bus service to Rome also gives us that big city fix when we need it and a new road en route to Florence has shortened this road trip to around three and half hours. This is a big horticultural region and the rolling hills are dotted with vineyards, olive groves and sunflowers. The building regulations are very strict here and these vistas will never change.
In our last article, we talked about your latest renovation, Villa Veneto, how is the property looking now and what can new owners look forward to? 
We are in the final stages of completing Villa Veneto, this has been a very exciting project and I have always wanted to restore a Liberty style property from the 1930's!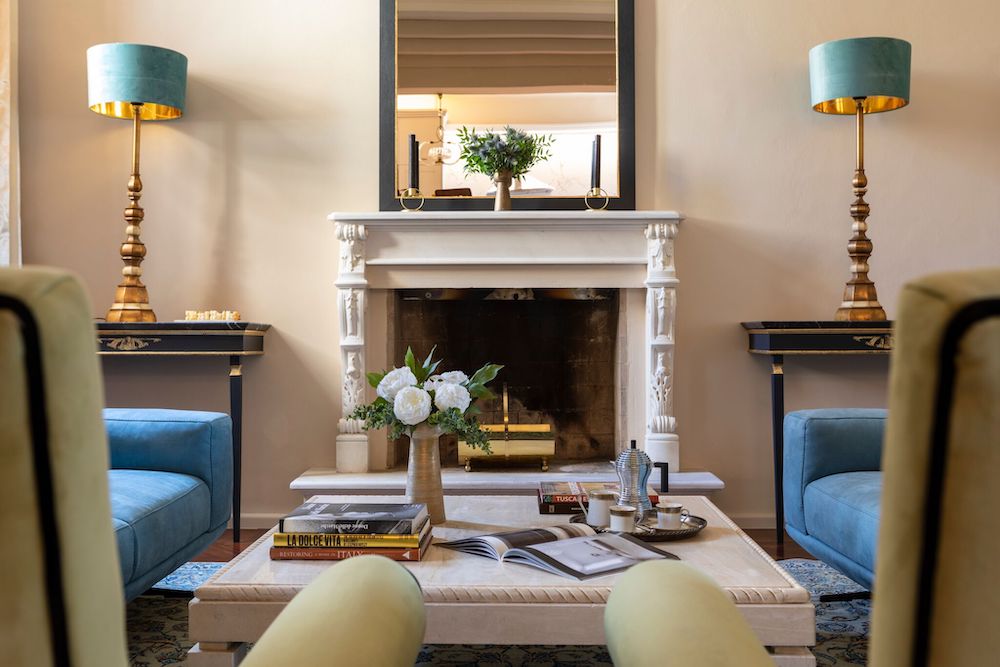 [Living area in Villa Veneto]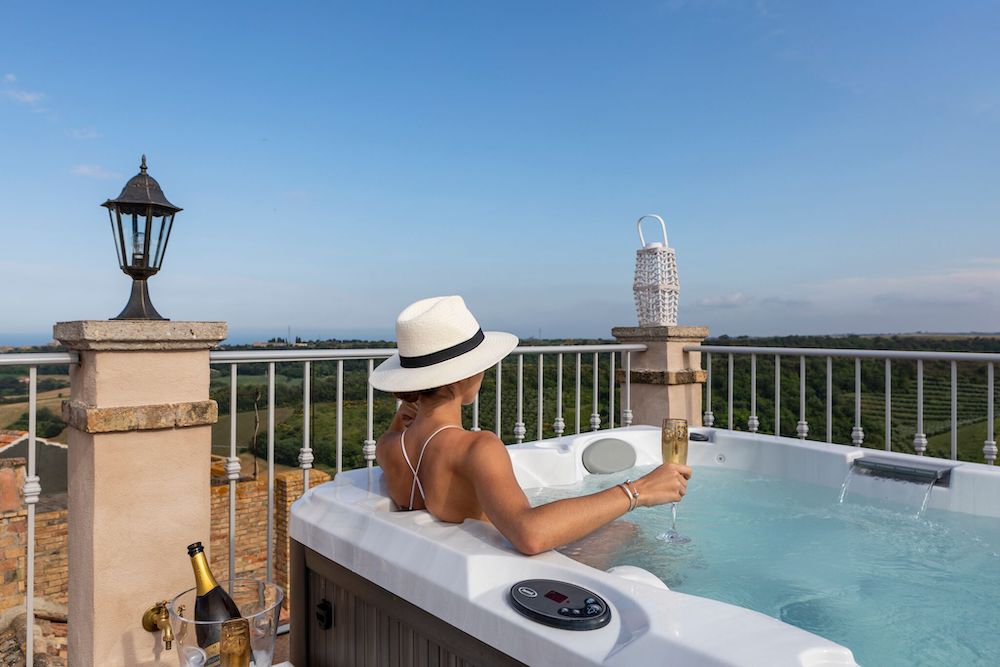 [A jacuzzi with a view on Villa Veneto's roof top terrace.]
It has four floors over  415mq / 4467sq ft and three outside terraces including a roof top solarium with a jacuzzi spa and breath taking views of the sea and mountains. A lovely extra for the new owners will be an historic underground cellar where they will be able to store their wine at just the right temperature.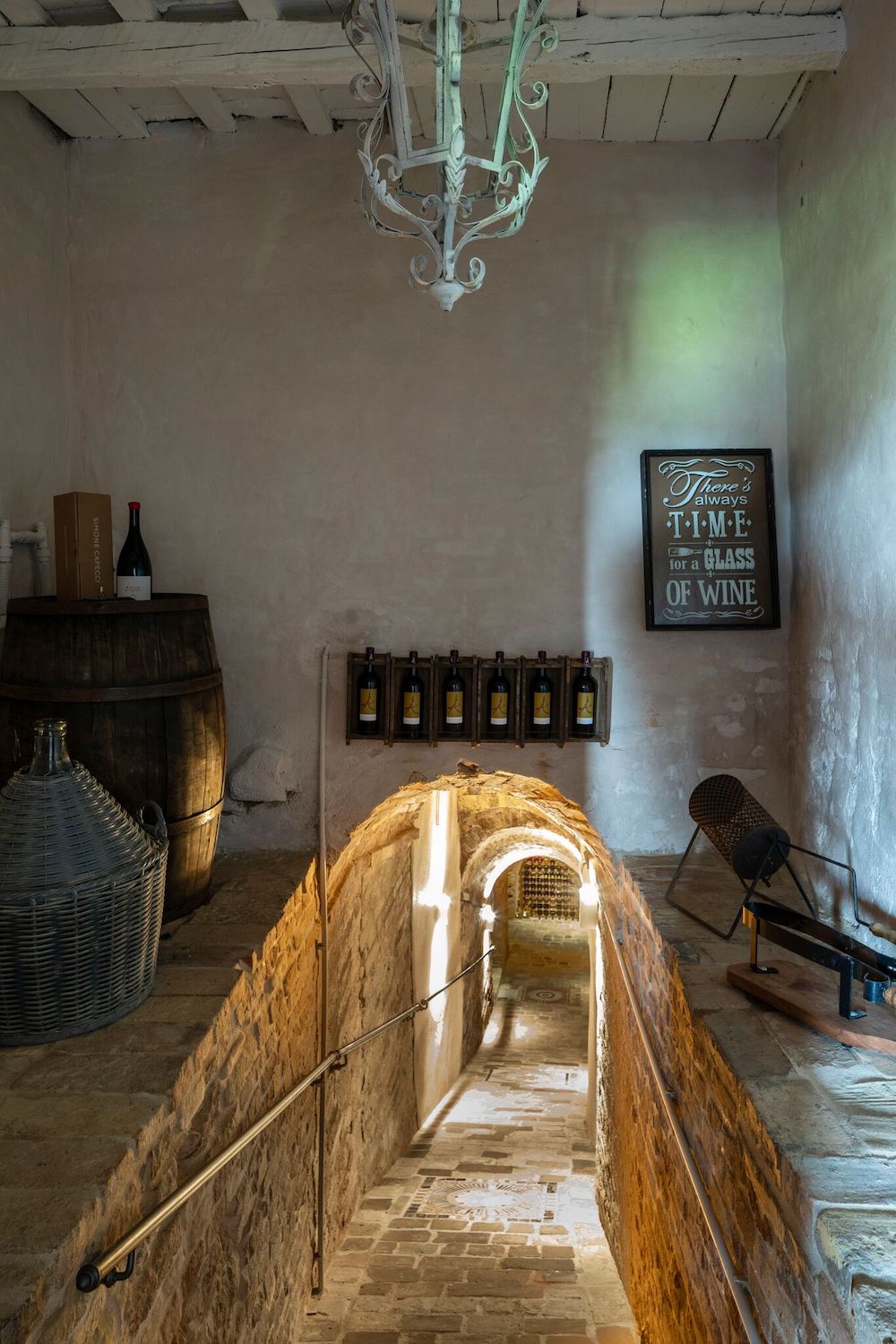 [The newly restored cellar in Villa Veneto]
The large open plan living space, original marble fireplace and high ceilings add to the elegance of this beautiful property and is one of the main reasons I instantly fell in love with it. I really enjoy searching for the perfect lights and this property was crying out for a large chandelier in the entrance hall. I found the perfect chandelier from one of the oldest companies in Italy, Barovier and Toso and I can't wait to hang it from the high ceiling.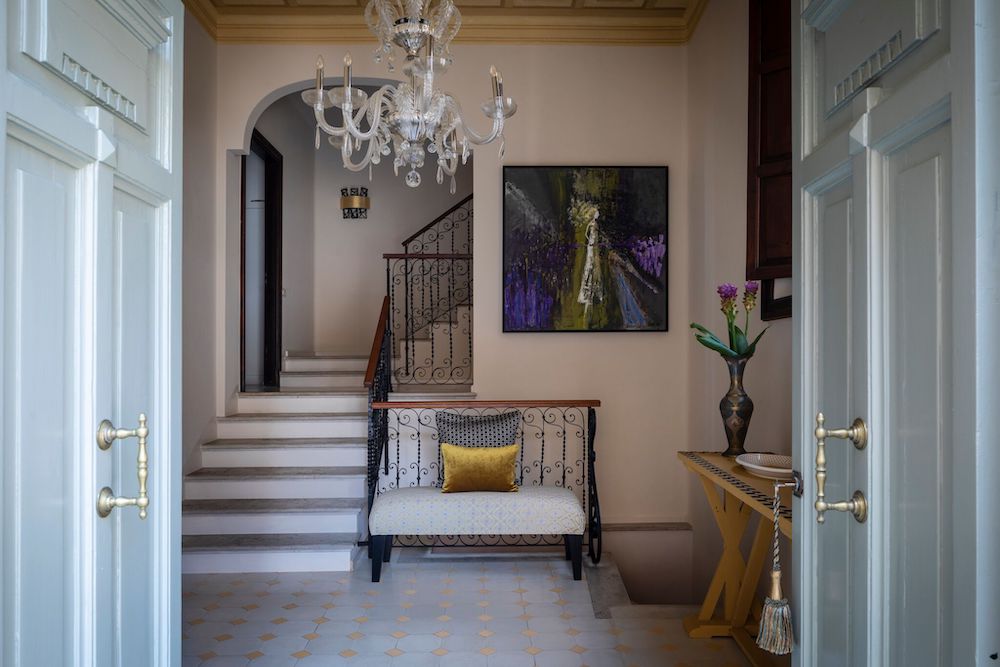 [Villa Veneto hallway]
This home is situated just a short drive from the coast in the historic town of Lapedona, with lots of amenities close by and offers owners the chance to own a very unique property in the perfect location. We are offering the first two shares at a special price of just €134,000 euros or $150,000 dollars.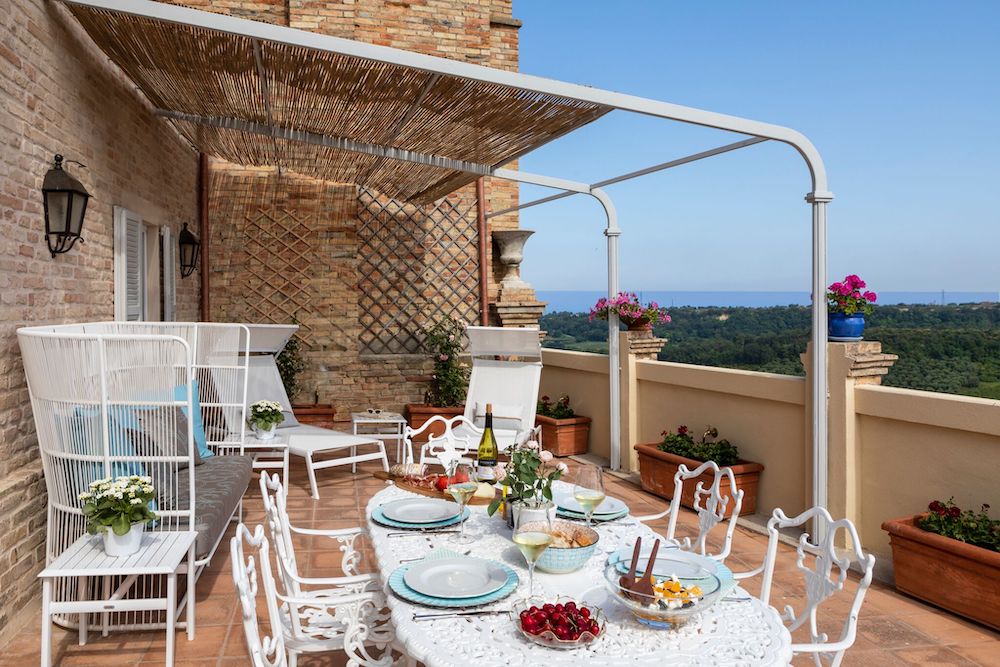 [Dining alfresco on one of the terraces at Villa Veneto]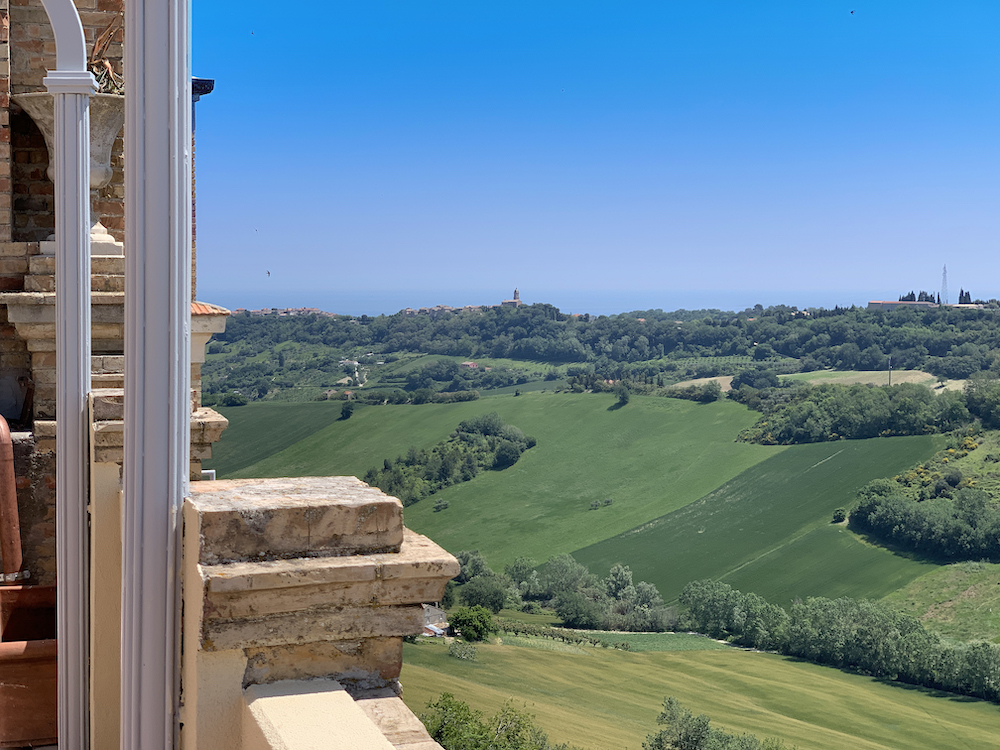 [Villa Veneto view from the terrace]
So I have to ask, would you have changed anything in these last 10 years? 
I honestly don't think I would. 
 Every morning I wake up and really appreciate how lucky we are to live and work here.  To be surrounded by medieval towns, wonderful countryside,  amazing food and  friendly people. I am doing a job that I love and we have met so many interesting people. It really does feel like stepping back in time, a more authentic time, and  there is nowhere else I would rather be.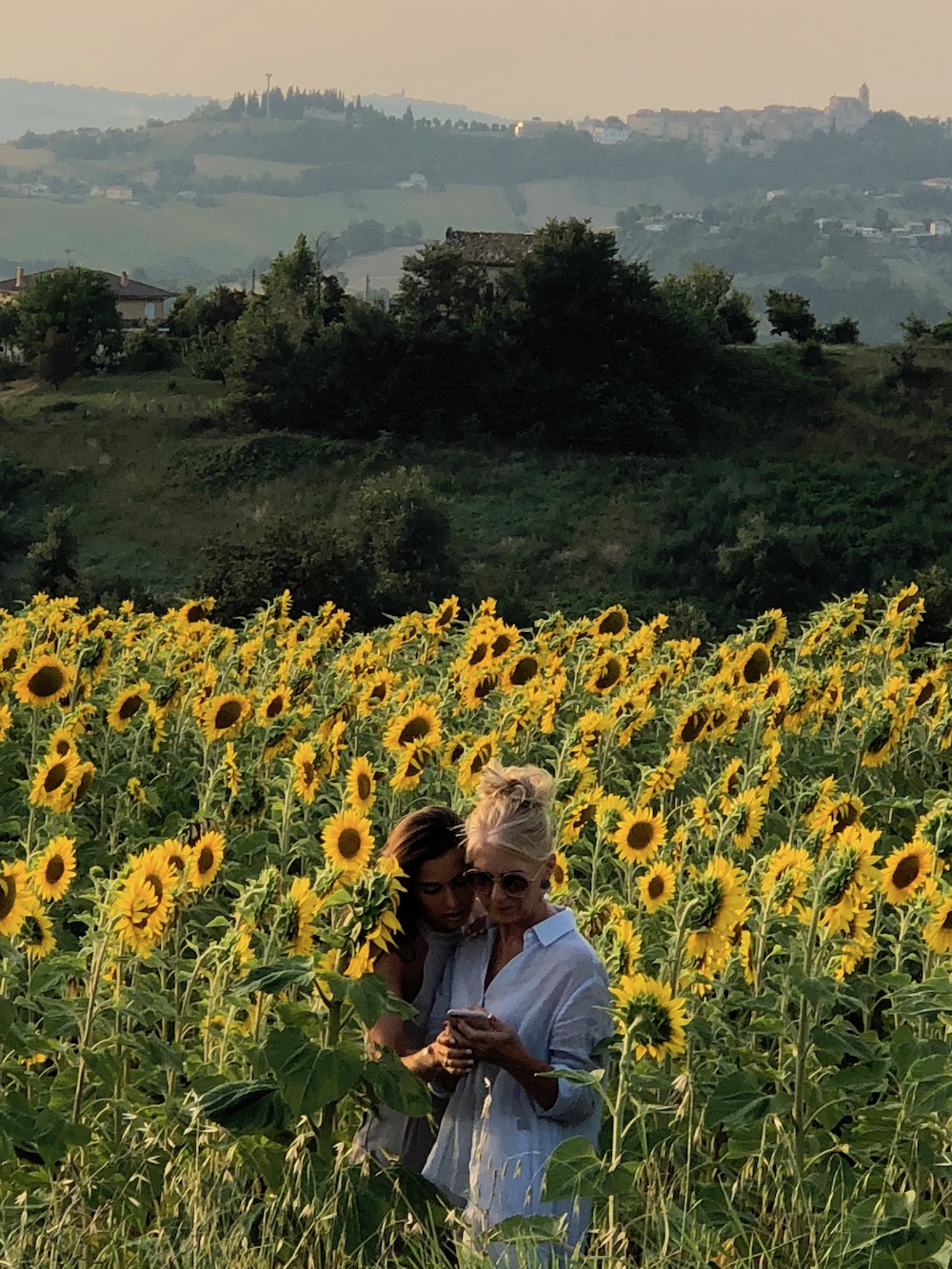 [Two girls checking out the local fields of sunflowers]
Fractional ownership is fast becoming the smartest way to enjoy the benefits of owning a luxury holiday home in Italy at a fraction of the cost of buying a holiday home outright, learn more about Appassionata's properties in Le Marche and contact them to arrange your discovery visit today!