Liguria's coastal resorts are holiday meccas in summer but in spring and fall (or any time) the borghi of the region's hilly and mountainous surroundings make for great destinations. Here are five towns and hamlets, all listed among I Borghi Piu Belli di Italia, to check out now. They run from the Riviera di Ponente near the French border to a little north of the Cinque Terre on the Riviera di Levante.
APRICALE
With a medieval castle perched on a mountain and a spherical spill of stone houses blanketing steep slopes, Apricale's fairy tale setting has drawn artists for centuries. The town's strategic location in the Nervia Valley, an important and ancient trade route, also drew attention of powerful overlords like the Grimaldi of Monaco fame, who fought in the town in the 16th-century and Napoleon who annexed it in 1796. Despite all the power plays, the town remains a beautifully preserved time capsule, whose caruggi (narrow streets) and arched passageways lead to the main piazza, site of many performances and exhibitions, ranging from contemporary art shows to the Festa Patronale a multi-day festival (anchored by the Nativity of Mary feast day on September 8th), which turns out the village for processions and concerts with tables set up for the making (and sampling) of pansarole, the very local dessert which is a fritter-like cake served with warm zabaglione. Apricale is also known for its fine olive oil, made from trees bearing the Taggiasca olive, and a hearty red wine, the Rossese, which Napoleon described as nectar. The Castello della Lucertola, home to the town's history museum, was once owned by the counts of Ventimiglia and the powerful Doria family, whose members included six Genoa Doges. (To get there: Apricale is approximately 12 kilometers from Ventimiglia.) 
[Photo of Apricale By Berthold Werner from Wikimedia Commons]
Like this article? Don't miss "Why You Shouldn't Miss These Seven Gorgeous Apennine Hill Towns on Your Next Trip to Italy."
SEBORGA
A mountain village with a little more than 300 inhabitants, Seborga declared independence from Italy more than five decades ago. The rationale for the split was that when the royal house of Savoy purchased the fiefdom in the 1700s, the transaction was never registered, and so, the reasoning went, remained invalid when Italy was unified. Giorgio Carbone, a former flower grower and lifelong resident of the town, was behind the push for independence; in 1963 he was elected to lead the new micro-nation  and opted for a princely title rather than a more traditional government honorific. Prince George, also known as His Serene Highness or His Tremendousness, took on his royal duties with gusto, spearheading the development of a national currency, flag and tiny standing army.  While Italy has yet to recognize Seborgan independence, some 20 countries have. Queen Elizabeth even received Prince Giorgio's non-dynastic successor (and current leader), Prince Marcello in 2011. Seborga's unique recent history has drawn a steady stream of visitors; this tiny outpost offers great views of the nearby Italian and French Rivieras. There's a well-restored main square, Piazza San Martino; a 17th-century church with frescoed exterior; the adjacent Palazzo dei Monaci, once the town's headquarters; and an antique musical instrument museum in the Palazzo Comunale. (To get there: Seborga is 20 kilometers northeast of Ventimiglia.)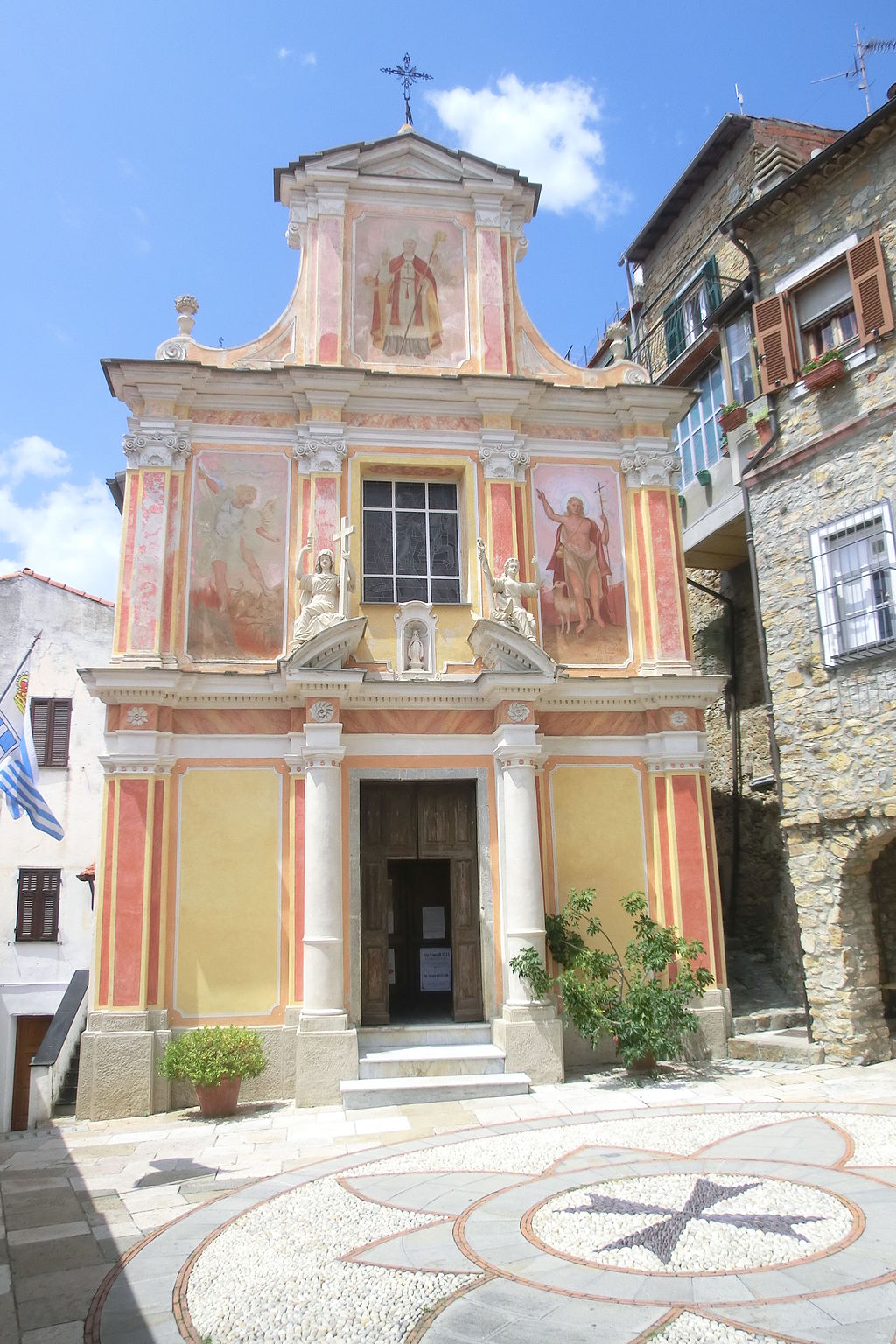 [Chiesa di San Martino in Seborga By Jose Antonio [Public domain], from Wikimedia Commons]
CERVO
You have a twofer with Cervo—the lures of a medieval hill town—lofty views, car-free streets, a jigsaw of interlocking stone houses—combined with the attractions of a Riviera sea destination. The hamlet perched on a rocky cliff sprawls down to the sea where there's a nice-sized beach below the Via Aurelia. Settled in pre-historic times, Cervo was a prize for invading tribes like the Saracens, who plagued the Ligurian coastline, causing villagers to retreat to the fortified part of the town. Cervo's castle of Clavesana (where there's an ongoing exhibit highlighting the women of Liguria) was built in the 13th century; it was owned and fought over by noble families in the area. Cervo's many charms have survived to the present—the cobbled streets, arched passageways framing views of the sea, house facades painted an Easter-egg palette of colors, the beautiful Baroque San Giovanni Battista church, and the Romanesque Oratorio di Santa Caterina with frescoes from the 16th to 18th centuries. Music lovers know Cervo—the annual International Chamber Music Festival is held here in July and August. (To get there: Cervo is 9 kilometers from Imperia.)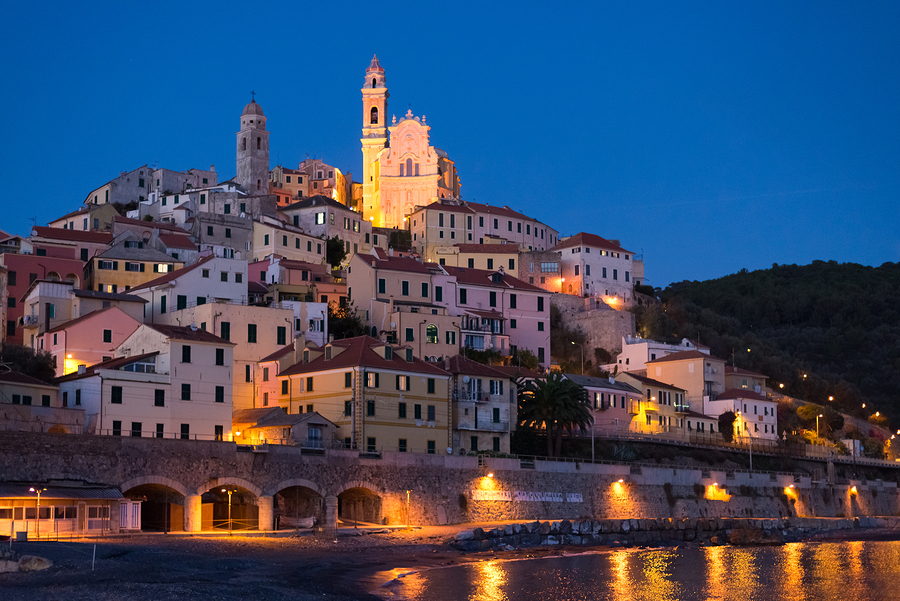 FINALBORGO
This town within a half-hour walk to the sea offers a trove or architectural gems—
Renaissance and Baroque palazzi, including the Cavassola Palace, once a home to Pope Pius VII, and a 15th-century fortress castle (Gavone) perched atop Becchignolo hill.
Because of its strategic location—inland and at the nexus of two rivers—Finalborgo was established to provide a safe haven from Saracen invaders. It became the headquarters of the marquisate of Finale, an independent Ligurian state, and later fell under under Spanish, Genoese and French rule. Despite the constant change in overlords, Finalborgo's medieval structure remains intact with a well-preserved town square; buildings and archways with frescoed exteriors, and terra-cotta-colored walkways. A tour developed by the Comune will help you get to know the town's food specialties, like the honey produced by the Padri Benedettini Abbey; such DOC wines as Vermentino and Pigato; and even a variety of beer. Try the candies and jams made from the locally grown Chinotto, a bitter orange; and the extra virgin olive oil produced from Taggiasca  and Pignola olives. (To get there: Finalborgo is 1.4 kilometers from Finale Ligure.)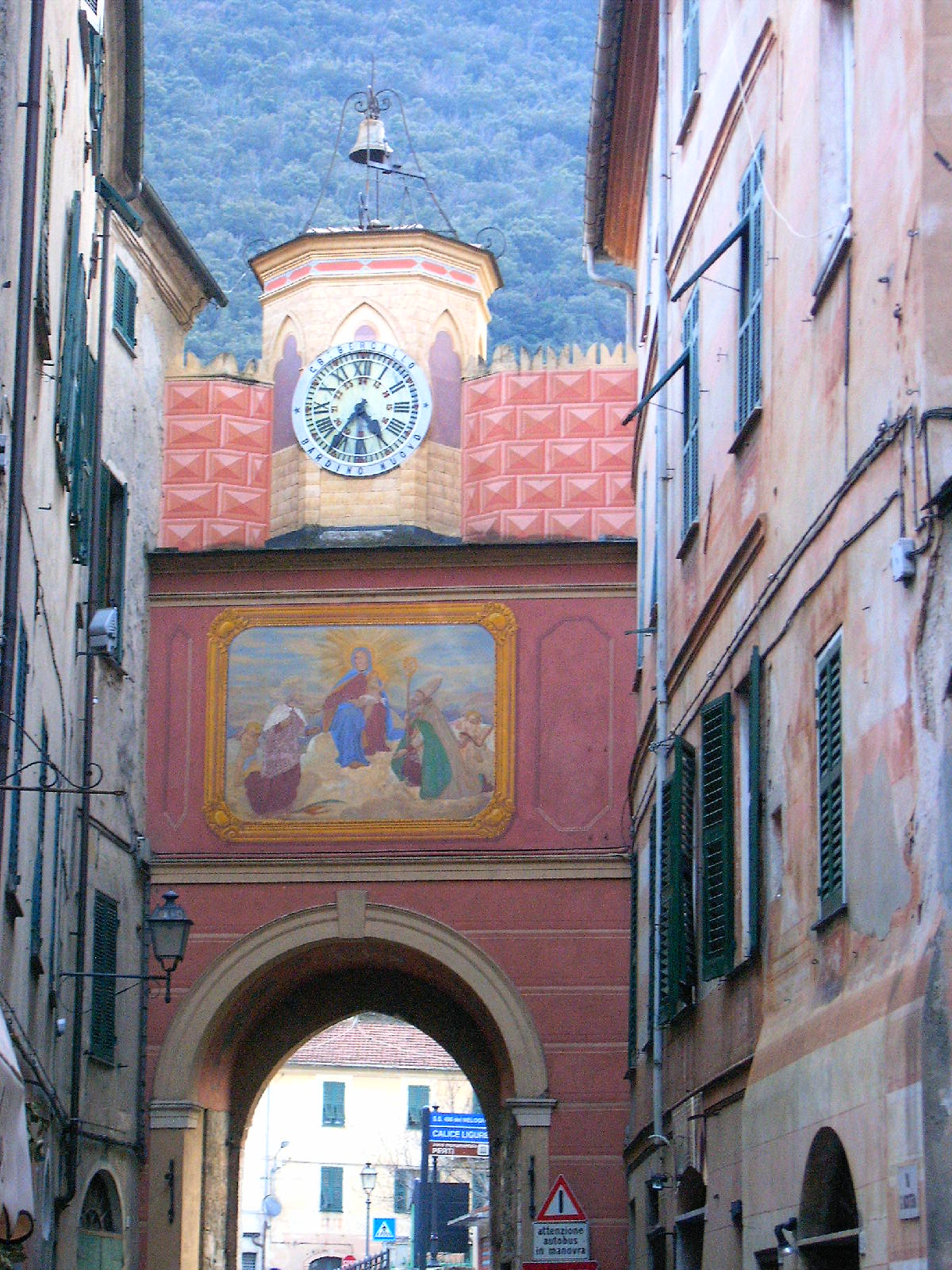 [Finalborgo archway via Wikimedia Commons]
FRAMURA
Framura is a collection of five hamlets (Anzo, Castagnola, Costa, Ravecca, Setta) about an hour's drive north of Italy's most famous quintet—the Cinque Terre. It's low-key Liguria, far from the crowds, the yachts and the designer labels. Anzo, nearest the coast was a favored retreat of the Genoese aristocracy; houses here seem to grow strait out of the vertiginous rocks by the sea. The beautiful Bay of Arena, which can be reached by footpath from Anzo, is wide with gorgeous deep blue and green waters. There's notable architecture, too, for example medieval watchtowers in Costa (from the 9th century) and Setta (15th century); Costa is also where you'll find the Chiesa di San Martino, built more than a thousand years ago. It houses a Bernardo Strozzi painting, a medieval baptismal font made with red marble from the area and a Baroque pulpit. Framura has a range of hiking and biking trails—a popular one begins in Castagnola, Framura's most inland hamlet, threading through Costa, Setta, Ravecca and then to Anzo and the coast.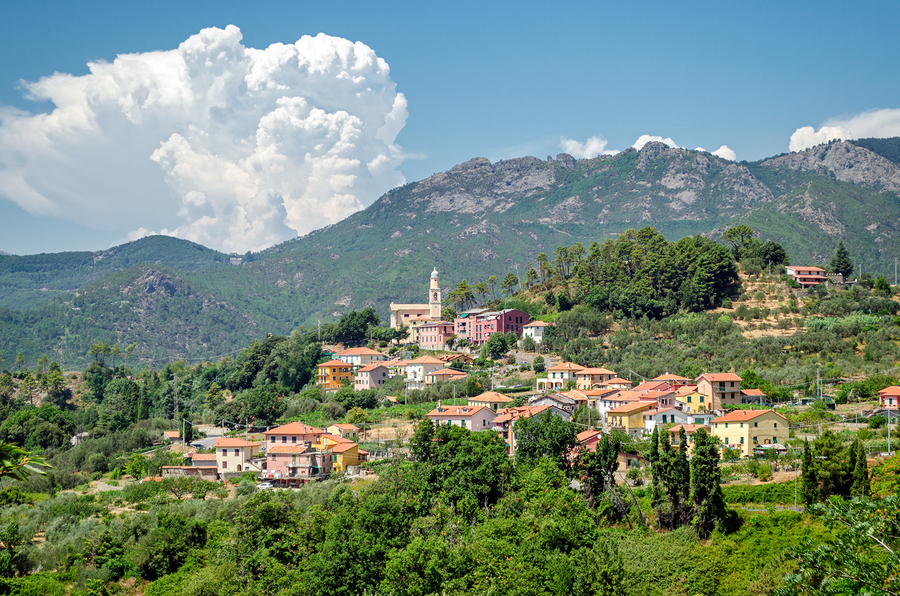 [Castagnola, Framura's most inland hamlet]
This roughly 90-minute trek is a great way to work off the local specialities like focaccia made with cheese, pasta with mussels and trenette al pesto, while taking in great views of the sea. (To get there: Framura is 50 kilometers from Portofino.)