Is Sorrento on the Amalfi Coast? The answer, according to longtime local Francesco Monti, might surprise you. 
Monti, whose family has run the Hotel Mediterraneo in Sant'Agnello outside of Sorrento for four generations, spent his college summers working at the hotel and now works as its events and food and beverage manager. During a recent press stay on the property, Monti recounted to me how the private home built in 1912 evolved into a luxury hotel — but it was his asides about Sorrento's geography and the gray areas of Amalfi that held my attention. 
Sorrento, Monti explained, has a coast of its own. And its name doesn't include "Amalfi."
It's a common misconception that the shoreline that's considered the third best place to visit in Italy includes Sorrento and its neighbors. The area from Sorrento to Amalfi, plus the Campanian Archipelago (Capri et al.) is often grouped as the Amalfi Coast by the travel industry. Cliff-hugging Highway 163 Amalfi — a scenic Hail Mary-inducing 31-mile road running from Sorrento to Salerno, also called Amalfi Drive — contributes to the mixup.
Studying a map, the Amalfi Coast, which overlooks the Gulf of Salerno, starts at Positano and includes 12 other towns heading east (such as Amalfi and Ravello) reaching Vietri sul Mare, just before Salerno. The Sorrento Coast begins at Castellammare di Stabia — about 30 minutes outside of Naples — and overlooks its bay. Seven other towns, along with the namesake city of Sorrento, make up this "secondary" (but no less worthwhile) coast. The two coasts are part of the Sorrento Peninsula, dividing the Gulfs of Naples and Salerno. 
If you're considering a vacation around the Tyrrhenian Sea this summer, the most crucial difference between the Sorrento and Amalfi Coasts is not only geography, but the crowds. The Sorrento Coast is less overrun with tourist-priced menus, lemon trinkets and slide sandal shops than its southern neighbor. You'll still have the endless sea that inspired Lord Byron and Charles Dickens in the 19th century and villas (like the Hotel Mediterraneo) balancing on limestone cliffs, but with extra breathing room.
Here's what to know about some of the Sorrento Coast's star areas.
Sorrento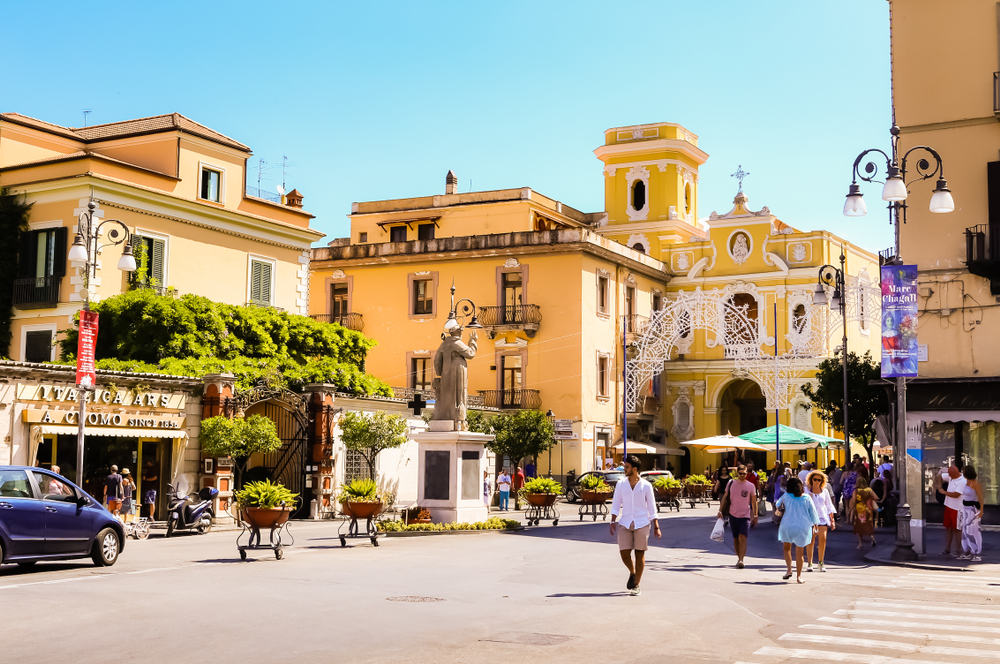 A former Roman resort, Surrentum, and the birthplace of 16th century poet Torquato Tasso, Sorrento is the coast's hub and makes an easy gateway to the Campanian Archipelago, with ferries running from its Marina Grande. While the main streets around Piazza Tasso are filled with souvenir shops, there are pockets of quiet, such as at Villa Comunale, a park which overlooks the Bay of Naples. From there, take steps down to Marina Piccola, where ferries also depart for the islands. About a 30-minute walk west from the center of town, Bagni Regina Giovanna, is a cove that's accessible only by foot or boat, where you can dive under a natural stone arch in the spot named for Giovanna D'Angiò, former Neapolitan Queen who swam here with her lovers, according to local legend.
Sant'Agnello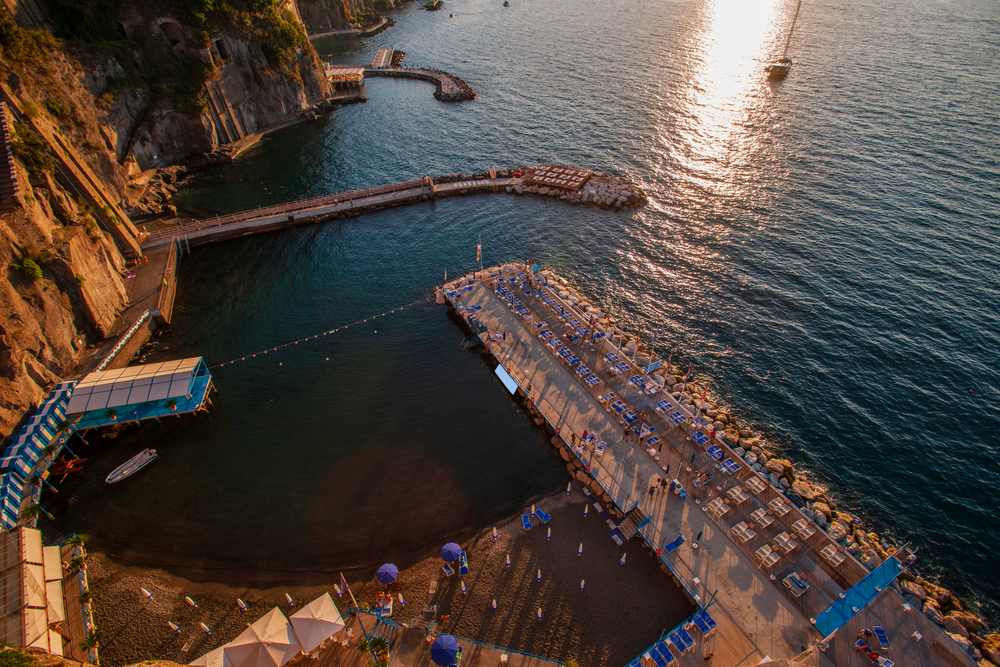 This 8,000-person town that is about a 20-minute walk east of Sorrento, is in a convenient and calm position to see the main town and make day trips. Spiaggia La Marinella and Piazzetta Marinella are two of the best viewpoints for sea views. Just above the piazzetta, the rooftop at Hotel Mediterraneo, Vista Sky Bar, is a perch to drink a Spritz while watching the sunset over Naples.
Termini and Massa Lubrense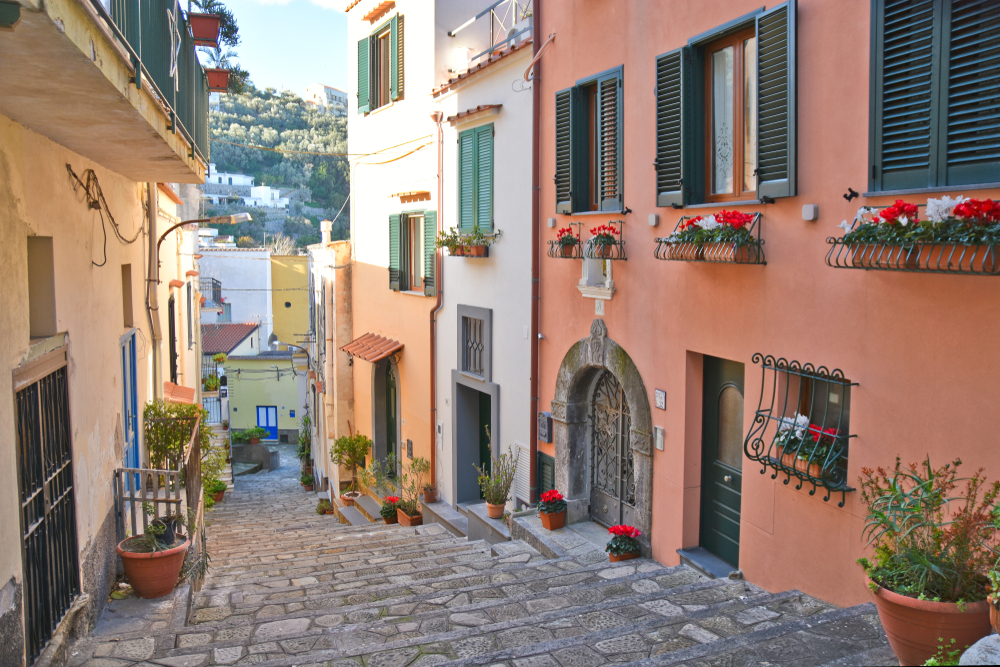 For a spectacular panorama of Capri head for Termini or Massa Lubrense and to Punta Campanella. The villages (Termini's population is around 700 and Massa Lubrense's is about double that) are access points for the hike on a paved path along the Sorrento Peninsula. From Termini, the hike is about 45-minutes each way, mostly downhill to the end point and uphill on the way back. Walking along the coast's edge, you'll reach a lighthouse and lookout tower that was built in the 14th century on the site of a temple dedicated to Minerva. During the downhill walk, Capri is only three miles away. Stop at Fossa Papa for lunch to hang out with donkeys and goats and sample the agriturismo's wine, fresh tomatoes, mozzarella and grilled meats.
Vico Equense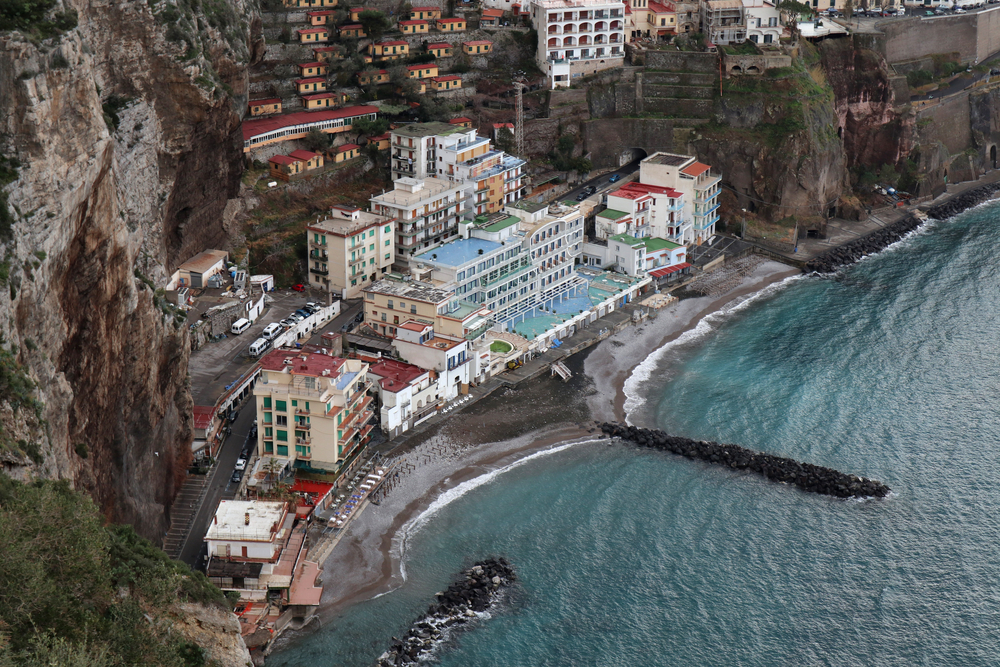 About half a mile northeast of Sorrento, 45 minutes south of Naples, and 30 minutes south of Pompeii, Vico Equense is positioned well and has about a half dozen Blue Flag beaches for a lazy afternoon reading under a beach umbrella. Turtle Beach (Spiaggia della Tartaruga) is named for a large rock formation that resembles a tortoise and is swimming distance from the shore. Bikini Beach lets you reserve a sunbed and umbrella online and even pick your position on the beach up to one month in advance; with the option to plan ahead it's possible to avoid searching for a place to relax during peak season. 
If the goal of your vacation around Campania is to get away from it all, at least part of the time, the Sorrento Coast could be your next destination, now that you know where it is.
Ed.: The writer's stay in Sorrento was hosted by Hotel Mediterraneo. Italy Magazine and its writers do not accept gifts or compensation in exchange for positive coverage.