[Photo: Pamela McCollough traveled to Abruzzo to search for her relatives...and found them!]
Pamela McCollough, a retired modern language educator, traveled to Italy with her husband, adult son and his girlfriend last fall to search for her grandfather's roots in Abruzzo.
This posed some difficulties because Pamela's grandfather, Donato DiPasquale, had passed away almost 90 years earlier and Pamela's mother was no longer alive either, while connections to the Italian side of the family had been lost.
It didn't deter Pamela from doing her research, as she began looking through old photographs and her grandfather's documents, as well as on ancestry.com, until she finally made the "dream trip" to Abruzzo, where she was helped in her search by Fabrizio Lucci, the owner of the Abruzzo-based company Italia Sweet Italia. Indeed Fabrizio planned a wonderful surprise, as Pamela and her family were able to meet the second cousins, who welcomed them in their home for "a marvelous dinner." "They had only found out we existed a week before. We didn't know of them until that day," Pamela recalls.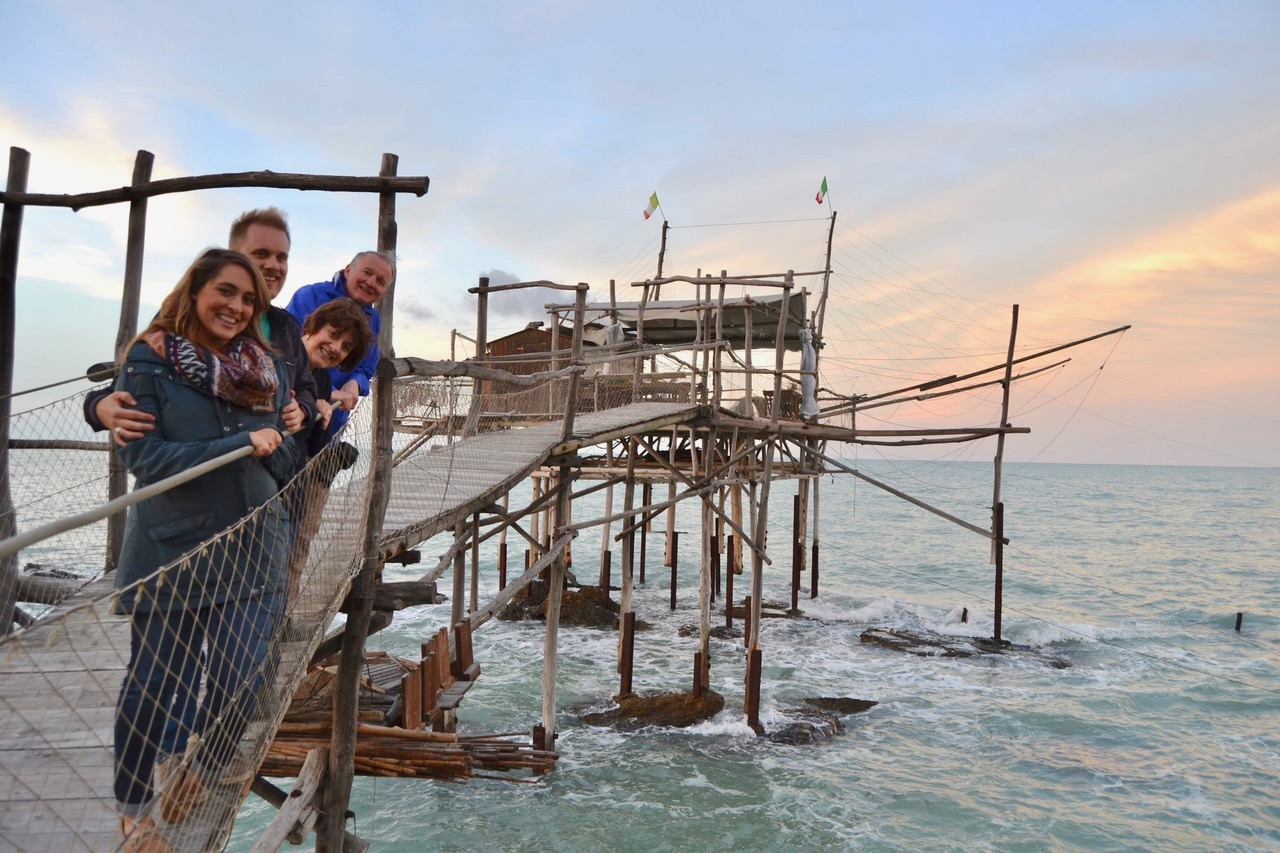 ["We loved sightseeing with Italia Sweet Italia in Abruzzo!", says Pamela, here with husband Wayne, son Jordan and Jordan's girlfriend Gabriella, at Trabocco Punta Tufano last October.]
1. Pamela, what prompted you to begin your search to trace your Italian roots?
The family mystery: what had become of my grandfather's family in Abruzzo after 1950, when communication stopped? Did my mother have cousins in the ancestral village, Villa San Giovanni, (Rosciano, Pescara)? How had they fared?
I'd  been tracing them forever by listening to family stories, looking at family photos, building a tree on Ancestry.com, doing DNA testing and communicating with others doing the same.
2. Please describe the process. Did you already know your ancestral town? If not, how did you find it? Who or what was your first resource when you started your search for your ancestral town and Italian relatives (a relative, an office, an online service, etc.)?
The process was not straightforward. And the remarkable thing is that Donato DiPasquale died in 1930, mom only knew him until she was nine years old!
When I got a gift of Ancestry.com from my husband in 2011 things got exciting as I built my tree and uncovered documents and facts sometimes in my mom's things, sometimes online. Many times, I didn't understand everything I was uncovering, like my grandfather told my mom he was from San Juan Abruzzo. I first had to realize Juan, Gioan? Was in dialect for Giovanni. Whoa! The number of San Giovannis just in Abruzzo! Then on his passport it said Rosciano, TE! It took a long time to realize that Villa S. Giovanni was a frazione of Rosciano, then later that the zoning had been changed and Rosciano was a part of Pescara. So, where should I go to search?
My mother Camilla DiPasquale (1921-2012) was my first source; family photos taken in Chieti and a few documents were my second; Ancestry.com including 'Antenati from IT' was the third and finally, after my mother died, letters from my great aunts in Abruzzo between 1945-1950 were immensely helpful.
I also poured over online sites, even Wikipedia, and I joined every Abruzzo group on Facebook including the Abruzzo and Molise Society of Washington DC. This last led me to Italia Sweet Italia and Fabrizio Lucci.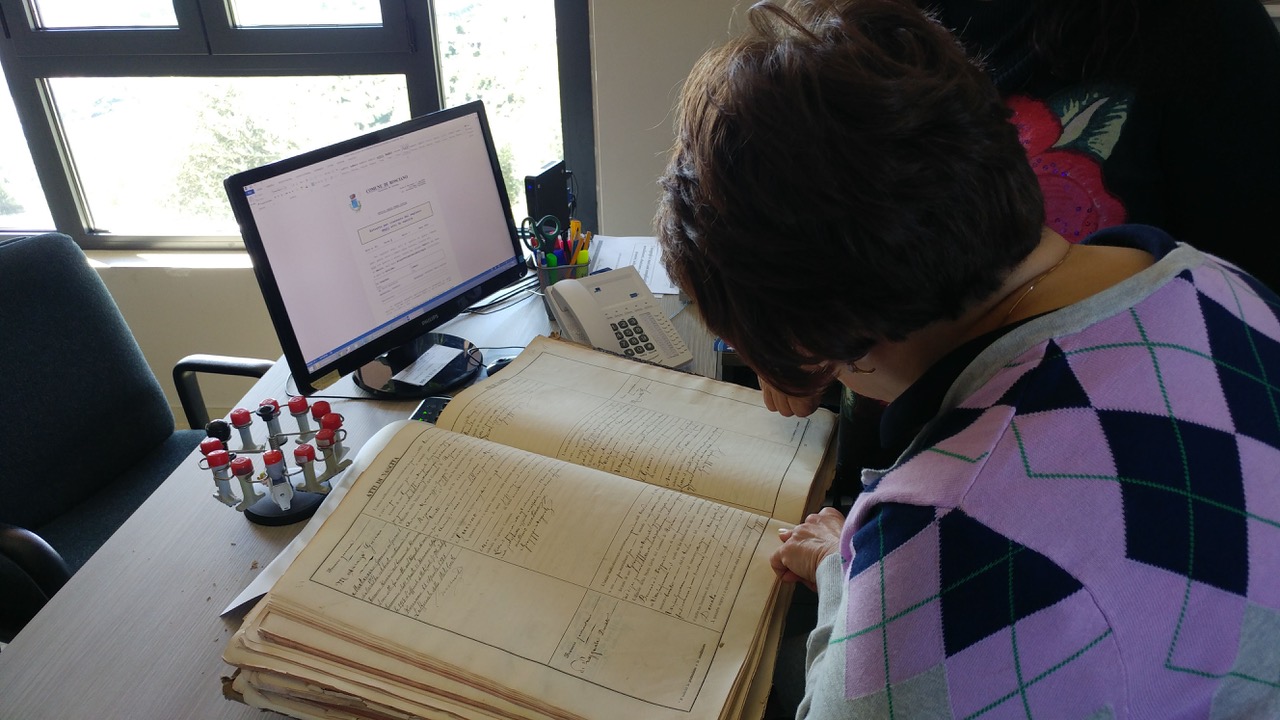 [Looking at the birth record of Pamela's grandfather, Donato DiPasquale, born in Villa San Giovanni in 1895.]
3. What were the obstacles, if any, during the process of finding your relatives and then getting in touch?
The biggest block to my searches turned out to be not knowing my great aunt Domenica DiPasquale's married name. She wrote letters, signed her family name and never wrote her husband's name or her sons' and I couldn't find them anywhere. Not on Ancestry or Antenati of Pescara, no record of her other than her birth. Antenati of Pescara is still transferring records online.
I only learned these missing names when Fabrizio Lucci of Italia Sweet Italia took me to Rosciano on October 30, 2018 to meet my cousins. He did the research at the Municipio (town hall) there a week before. Luckily, the clerk there, Luanna DiPentima, knew the Belli family and called them to ask permission to search the family records. They said yes.
I mentioned another obstacle above. The truth is I started looking for San Giovanni on a National Geographic map years ago because I didn't know much and things got so much easier as everything went online. I even looked over these places on Google maps many times. The reality was so much more beautiful.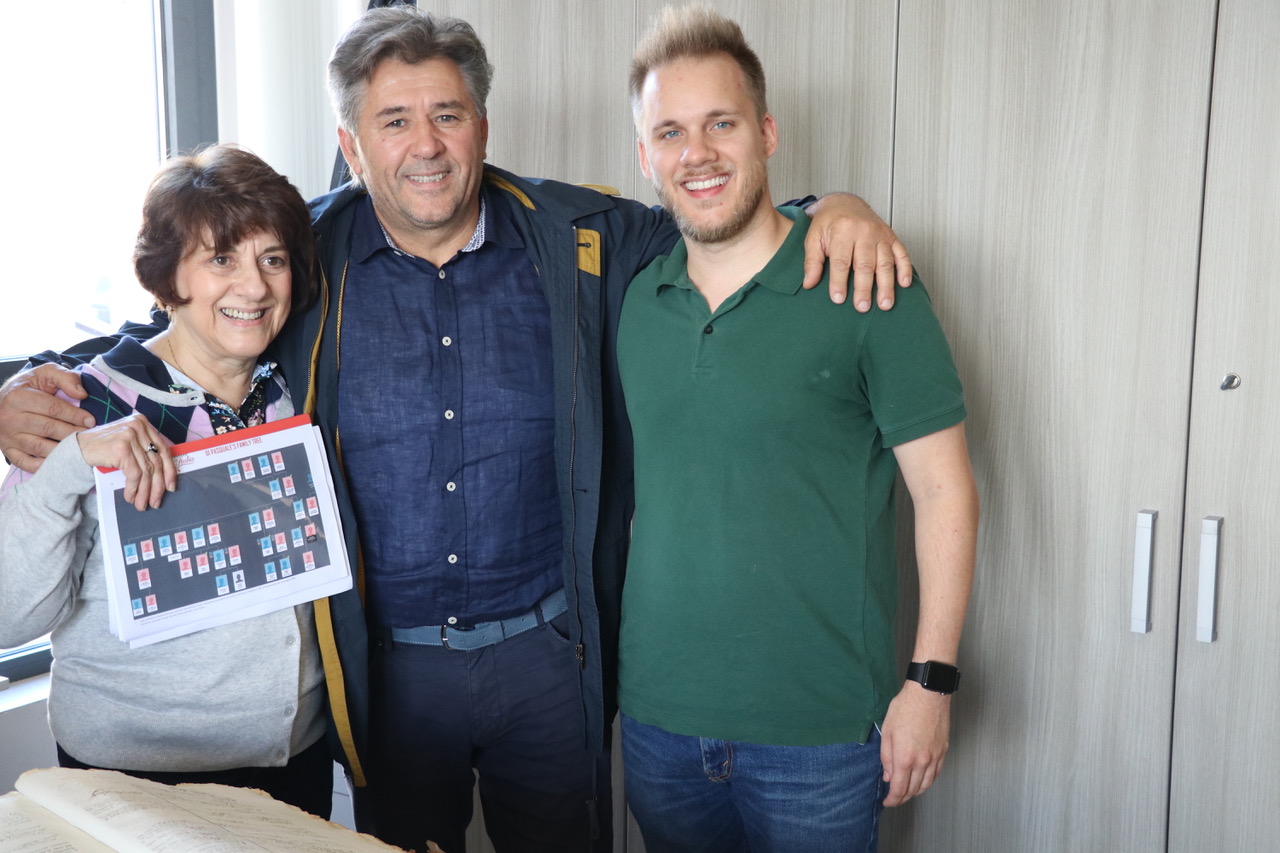 [From the left, Pamela, cousin Angelo Belli from Villa Oliveti and Pamela's son Jordan. In this photo, they had just met and Pamela is holding the DiPasquale family tree. Angelo's grandmother Domenica was the younger sister of my grandfather Donato.]
4. Please describe the moment when you first met your Italian relatives. How did you feel?
I had no idea who we were going to meet last fall as we approached Rosciano with Fabrizio, he wanted to surprise me. We entered the Municipio and we were looking at the record books when Angelo Belli, grandson of my grandfather's sister Domenica entered the room. I was so overcome, it was surreal. It was a beautiful day, a heartwarming meeting and the time of my life. Grateful to know him and later his brother Carmine, their wives and mother, Maria. I'm still savoring those feelings.
5. Please describe how you felt the first time you walked the streets of your ancestral town.
While walking the streets of Villa San Giovanni, Rosciano and Villa Oliveti, where the cousins live in the same home where Domenica and Angelo Belli lived, I felt like it was a lovely dream and yes, I looked at the cobbles and imagined my grandfather walking those same streets with a cane just as I do. [We believe that the muscular neuropathy I inherited came from Donato's DNA. We found no physical evidence that any of Domenica's line inherited the disease. Family stories have Donato using a crutch as a child.]
I tried to imagine how tough it was to leave, although his parents were dead by the time he was 13. I think my emotions are visible in all the photos.
And I was just so happy to have realized this dream and to know my cousins. It's a small family here and in Italy. Only 5 children survived of my great-grandparents' marriage. My grandfather left a widow and 4 siblings in the USA and of those 4 only two had children. One cousin, John DiPasquale Jr., and I survive in this generation. One other male cousin left male descendants. My grandfather's branch is the only one that left male descendants, carrying the DiPasquale name. There are no male descendants in Italy carrying the name from my grandfather's family.
There are plenty of DiPasquales in Abruzzo that must be related further back.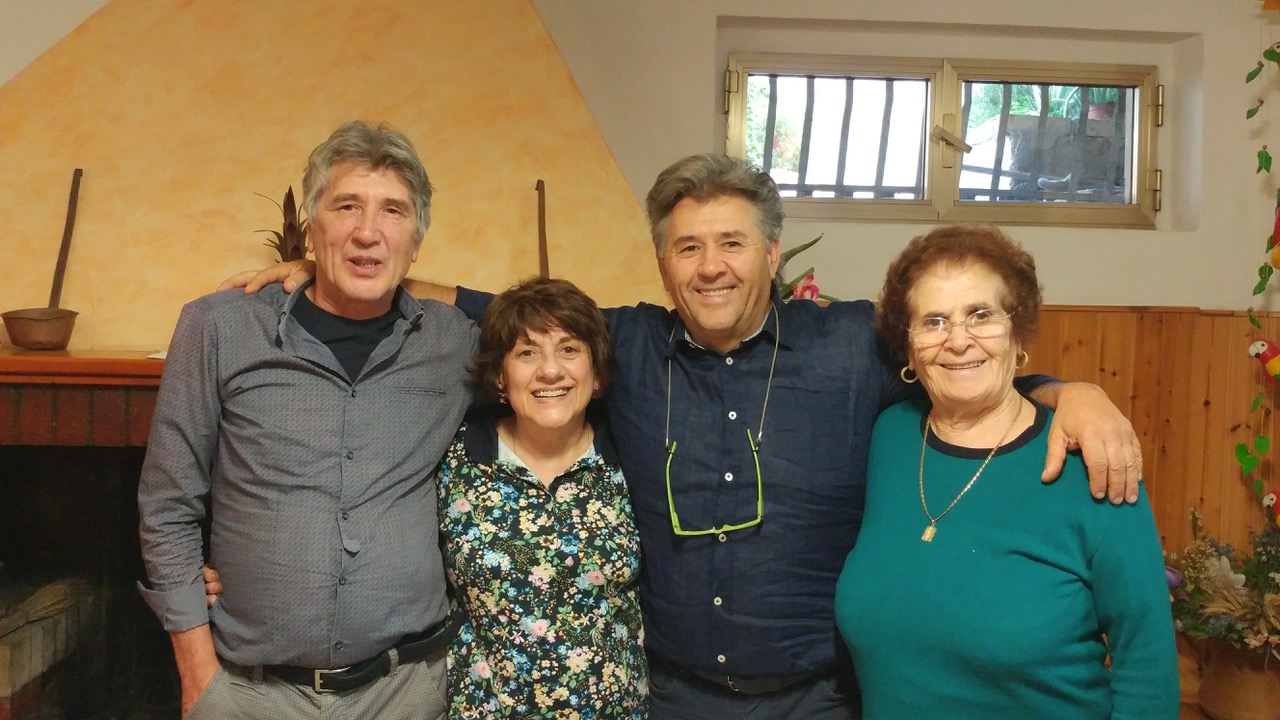 [Pamela with Carmine, Angelo and Maria Belli, her newfound cousins.]
6. Ultimately, what has the experience of reconnecting to your Italian roots meant to you?  
The whole experience of finding my cousins after a 70 year separation was amazing for me. The warmth and hospitality of this family toward me, granddaughter of the brother who left, and toward my husband Wayne McCollough, son Jordan and his girlfriend, Gabriella Ferrari (who, incidentally, has relatives in Poggio Pacentre she would like to visit on another trip). This whole reunion was a dream come true for me, learning that the family in Abruzzo had managed well after WWII and even thrived. I love that we are now connected and are able to keep in touch through technology.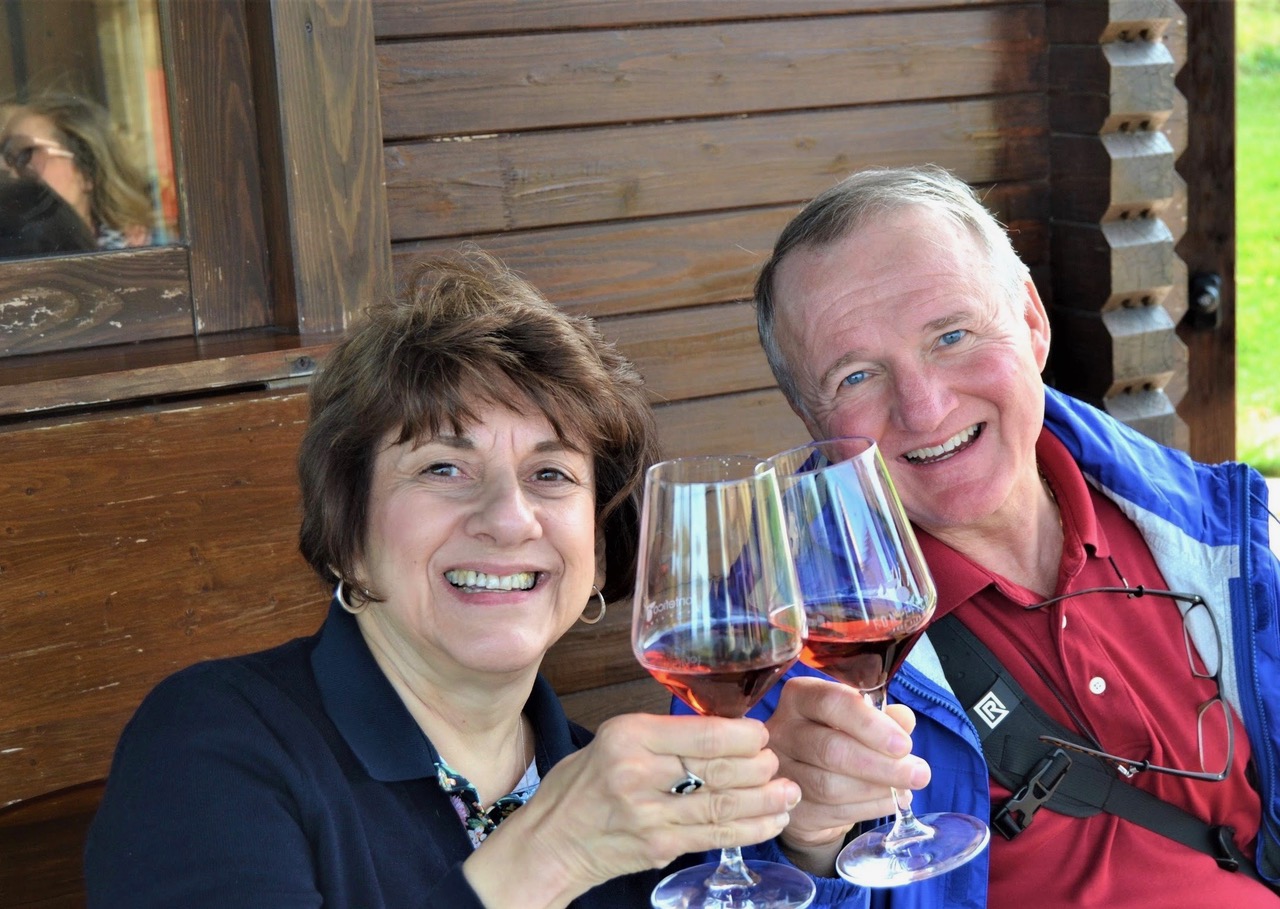 ["Arrivederci Abruzzo!  We will return." Pamela and husband Wayne at Fontefico Winery near Vasto.]
Thank you, Pamela, for sharing your story.
Photos courtesy of Pamela McCollough.
For more stories in our series Back to Your Italian Roots, click here.