[The Di Guglielmo Family from the New York area on a multigenerational trip to Abruzzo organized by Italia Sweet Italia last summer. Photo credits: Tony Di Guglielmo.]
Experiences are more valuable than things: as more and more people come to this realization, they see travel as one of the most worthy pursuits. If, then, you travel with the people you love the most, the experience has an even added value.
That may be why multigenerational travel is a fast-growing trend. According to a survey released by Virtuoso, the leading international travel agency network specializing in luxury and experiential travel, multigenerational travel - a trip with three or more generations of family - was the top travel trend in 2016, while traveling with one's immediate family was third.
The top family travel destination, according to the survey? Italy, of course! While Italy seems to be a perennial favorite for everyone, it is especially suitable for family reunions and multigenerational trips because it offers something for everyone, with a wide range of activities to choose from, suitable for every age.
Multigenerational travel is about sharing an experience above all – the more authentic and unique, the more cherished the memories. That's perhaps why families traveling together seek out off-the-beaten track destinations.
In the case of Italy, such an unconventional destination could very well be Abruzzo. Located approximately 80 km (50 mi) east of Rome in central Italy, Abruzzo has retained an authenticity that over touristy destinations have too often lost.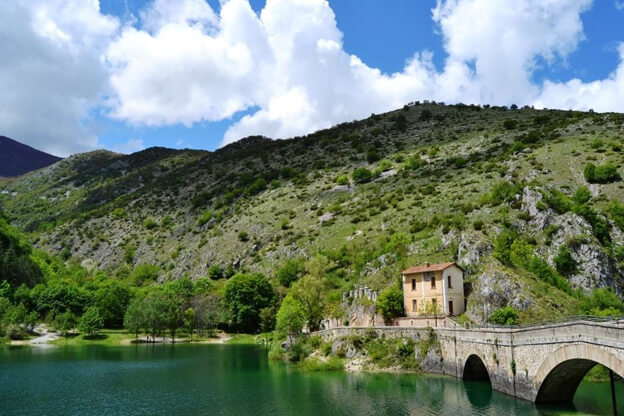 [The amazing location of the Hermitage of San Domenico in Abruzzo.]
Of course, multigenerational travel has its challenges, first of all when it comes to the organizing part. That's why it makes sense to be assisted by a travel expert, someone who knows how to handle the logistics, who is passionate about the location and knows it inside out. 
Someone like Fabrizio Lucci, the founder and tour guide of Italia Sweet Italia, a tour company based in Abruzzo specialized in authentic travel experiences. A born and bred Abruzzese, Fabrizio wants his guests to gain a deep insight into the region's lifestyle, culture, and traditions – all while having a great time. "Our clients are not tourists," he says. "They are travelers and explorers and become our friends during the tour."
Thanks to the diversity of its landscapes and its rich traditions, Abruzzo offers a wide range of activities, which means it is perfect for a family trip. Nature lovers and active travelers will appreciate the three national parks, one regional park, and 38 protected nature reserves which have earned Abruzzo the title of "greenest region in Europe". Within a few days, you can travel from the beautiful mountains of the Gran Sasso National Park to the beaches of the Adriatic coast.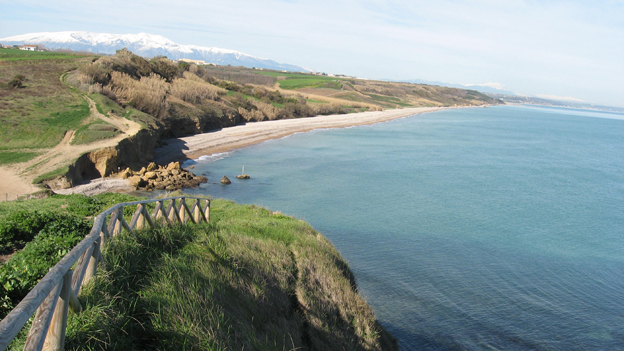 [Two views are better than one: the Apennines as seen from the Adriatic Sea.]
Traveling with older relatives? Not a problem. As Fabrizio suggests, while the younger ones go on a hiking excursion or bike through the Majella National Park, grandparents can relax in the wellness center close to the farmhouse deep in the mountains where, on a typical multigenerational trip, the entire family gets to spend a few days.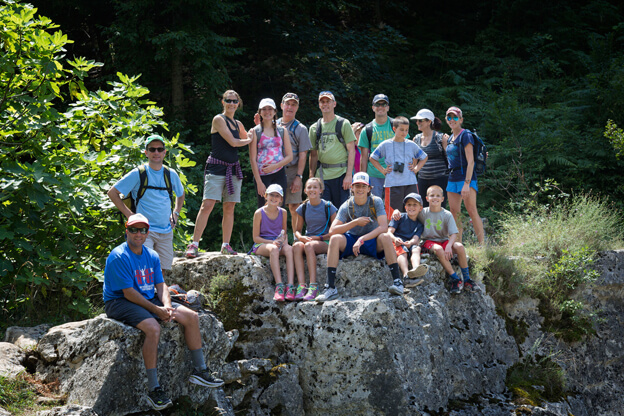 [The Di Guglielmo family exploring Abruzzo's natural beauty. Photo credits: Tony Di Guglielmo.]
Of course, there will also be time to do things all together, such as visiting the many charming little villages that dot the region and meeting the locals. Indeed, a big part of the travel experience is to get to know the locals in a genuine way: how they live, what they value. Fabrizio has teamed up with passionate Abruzzesi like him who are eager to share their traditions, their ways of life. Take Berardino for example: a fourth-generation farmer (his 74-year-old father still wakes up at 5 am every day to take care of the animals), he'll be happy to open the doors of his farmhouse so you can experience how a traditional family of farmers live in Abruzzo – and learn a few cooking tricks as well. After all, food is a big part of Italy's way of life, and taking a cooking class is a fun experience for the entire family, from bambini to nonni. 
Or how about experiencing the trabocchi, something unique to Abruzzo? Trabocchi are large, spider-like fishing platforms, made of wood, ropes and nets, found along the coast of Abruzzo. Let Rinaldo, a traboccante - the owner of a trabocco – and fisherman,  tell you the story (along with a few legends!) of these unique structures, invented in the 18th century to allow farmers to hunt for fish without having to face the dangers of the open sea. 
"Lunch on the trabocco was a once-in-a-lifetime experience," writes Della, a past client, on Trip Advisor, where Italia Sweet Italia holds a five-star rating.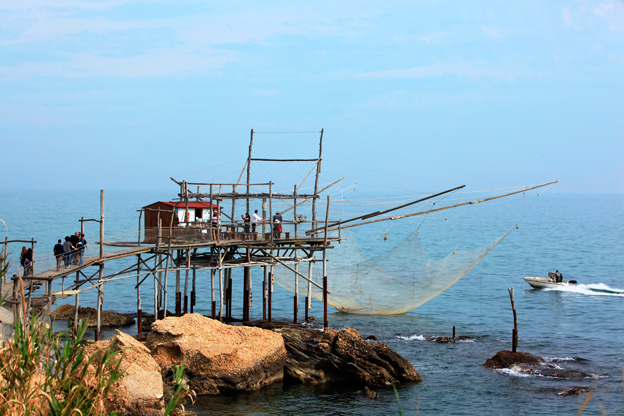 [Trabocco, a unique fishing platform found along the coast of Abruzzo.]
There are many more locals you'll be able to meet on a trip with Italia Sweet Italia: from Adele, who can teach you all about the region's culinary traditions to winemakers Nicola and Emanuele, from Ettore, whose art farm will fascinate children (and the child within all of us), to olive oil producers Giovanni and Elio.
"I came away from this tour with a strong appreciation for Abruzzo and its people," writes Nick of his experience with Italia Sweet Italia last summer. "I especially enjoyed getting out to the National Park and visiting the hermitages, and strolling along one of the world's most magnificent beaches."
Time to relax is also very important on any type of vacation; what better place to relax than at the beach? The ancient Roman town of Vasto is the perfect base from where to explore the Adriatic coast, or simply lounge on the beach, widely ranked among Italy's most beautiful and cleanest beaches, glass of wine in your hands, while the children go for a dip into the azure sea.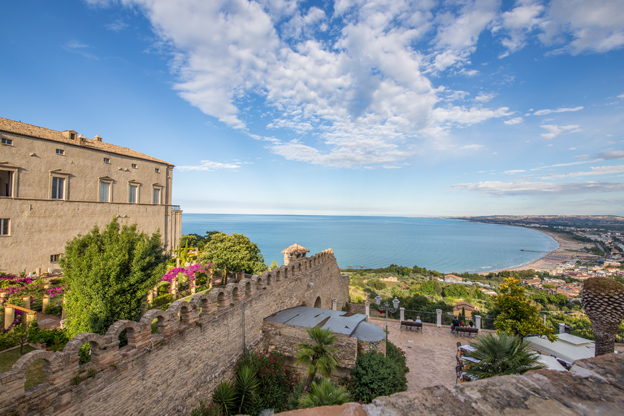 [A view of the golden gulf of Vasto from the medieval city center.]
In addition, Abruzzo's proximity to Rome means that you don't have to skip the Eternal City, a must on every traveler's list. Fabrizio has thought of this too, and his customizable multigenerational trip includes a stay in Rome, with time for some guided tours as well as leisure time on your own.
Your family doesn't have to be big to take part in such immersive experiences. You may opt to join one of Italia Sweet Italia's many tours, varying from a cooking holiday to an ancestry tour – researching your Abruzzese roots.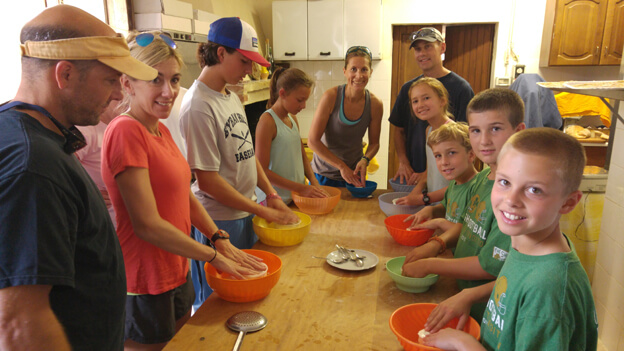 [Fun cooking class for the entire family.]
"One of the most rewarding aspects of my job is to share people's happiness while they experience our traditions," says Fabrizio. "On a recent trip, for example, as grandparents were making pasta with their grandchildren, the looks on their faces were heartwarming. I could see how happy they all were to be together, taking part in a fun trip they'd remember for the rest of their lives. It made me feel so happy as well."
People no longer want to be passive travelers. They want to genuinely connect to the destination they are visiting and share something valuable with the people they love. If you're one of those people, a multigenerational trip to off-the-beaten-track Abruzzo can provide that connection and a way to strengthen those important family bonds.
For more information on the wide range of tours on offer, visit the Italia Sweet Italia website.
*Get a taste of Abruzzo before you travel there! Learning the traditional recipes of Abruzzo is the perfect introduction to this beautiful region in the heart of Italy. Italia Sweet Italia is happy to donate Italy Magazine readers a free pdf copy of their exclusive cooking booklet with the most authentic recipes from Abruzzo. In addition, when you download it, you'll get a 10% discount promotional code for all tours booked by 15th March 2017.
Click here to get these gifts!