Lake Maggiore, meaning the 'greatest' is often overshadowed by its beautiful neighbour Lake Como. 
We are inundated with images of the glamour and fame associated with Lake Como but hear a great deal less about Maggiore. This is an equally stunning location under two hours away from Como and approximately an hour's drive from Milan Malpensa airport. 
I'm a huge fan of Como having married in Muronico, one of its tiny villages ten years ago, however, I now appreciate that if you have children Lake Maggiore is actually a better spot for your vacation.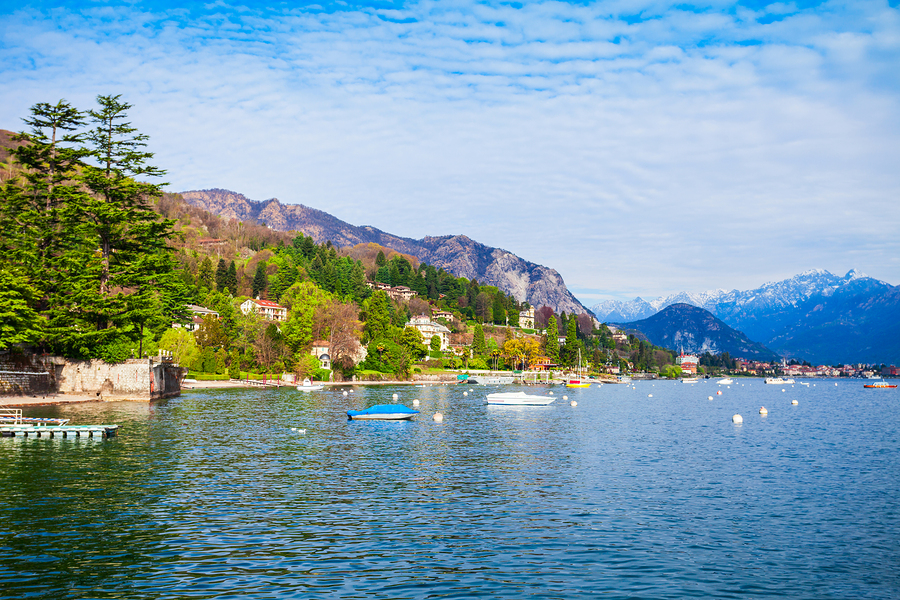 [Stresa town near the Lago Maggiore Lake waterfront]
Partially this is due to geography, Lake Como has steeper mountains surrounding it. This means less flat areas to run around and not so many places to safely enter the water. Como also has a great deal of shopping and eating opportunities but fewer activities and access to nature unless you trek into the hills. These are wonderful, but also a bit more suited to older children and adults.
Lake Maggiore, however, has gentle hills surrounding the lake. Green, wide, flat areas to explore. You can enjoy swimming, camping and base yourself close to the shore. 
This lake is wilder, less busy and just as breathtaking as Como. You feel closer to nature and further from the crowds here. You can allow your children that extra space to run around without worrying about their safety. 
There is also most importantly a great deal to do here for all ages. 
[Credit: Mammaprada. Taken on the shore at Maccagno]
Markets
If you enjoy getting lost in an authentic Italian market, there are plenty to explore. The gorgeous village of Cannobio has a market every Sunday and on Wednesdays, Luino hosts the biggest weekly market in Europe. 
Our children loved Luino as there were so many enticing products and local cakes and fruits on display. There's also a very family-friendly cafe/ristorante 'I Segreti del Caffe' (The secrets of coffee) in the heart of the market through a little archway. They served a variety of classic pasta dishes and a play area with toys and dollhouses outside to keep the little ones happy. 
Lidos
For those days when you just need to cool off and relax, there are great lidos at both Locarno and Lugano. Locarno and has a waterpark and beach club feel. There are inflatable water slides and it's set back against a beautiful natural landscape of grassland and trees. 
Lugano Lido is a little more functional but does have a great cafe and fine sandy beach.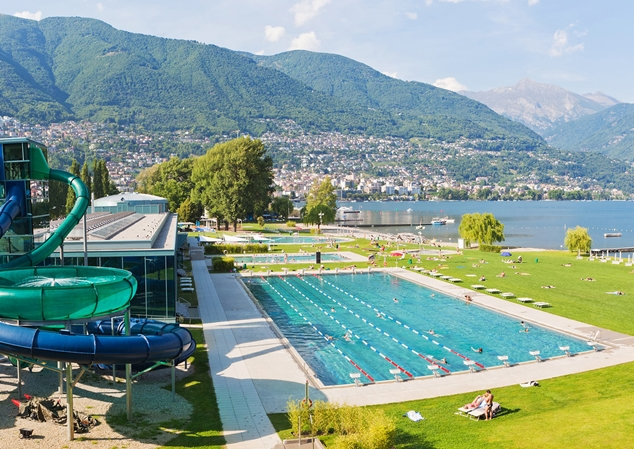 [Credit: Lido Locarno]
Swiss Miniatur 
An amusement park in miniature, Swissminiatur is a brilliant, intricate mini-village of Switzerland. Complete with delicate houses, a mascot and activities for children. 
The backstage tour is particularly good with behind the scenes access to how each little setting is created and maintained from trains to trees!
Swiss Miniatur is based a short drive from Lake Maggiore beside Lake Lugano.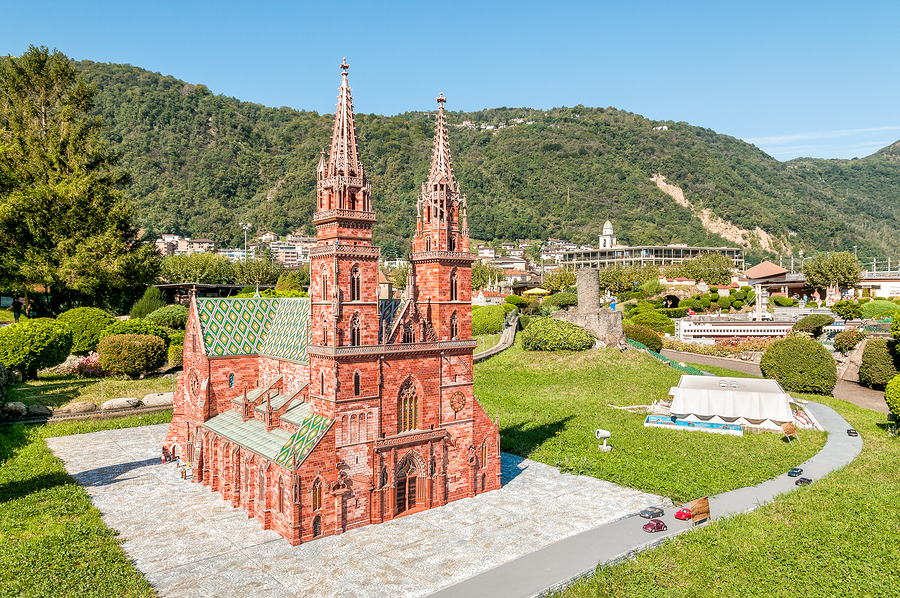 [Swiss miniature park in Melide, Lugano]
Alpyland
For the thrill-seekers, Alpyland is a bobsled roller coaster at the top of the Mottarone mountain! Here you can enjoy wonderful views over the Lakes of Maggiore, Orta and Mergozzo. It can be a real highlight of your trip, especially for older children. Although it's a family attraction there are some height restrictions for younger children. 
Verzasca Dam
Why would you trek up to the very north of Lago Maggiore? Well if you're a film buff you may want a glimpse of the famous bungee jump scene from James Bond's 'Goldeneye'. Who could forget that opening scene as he jumps into the enormous dam? 
Here you and you little spies can visit the Verzasca dam and you can even bungee jump into it!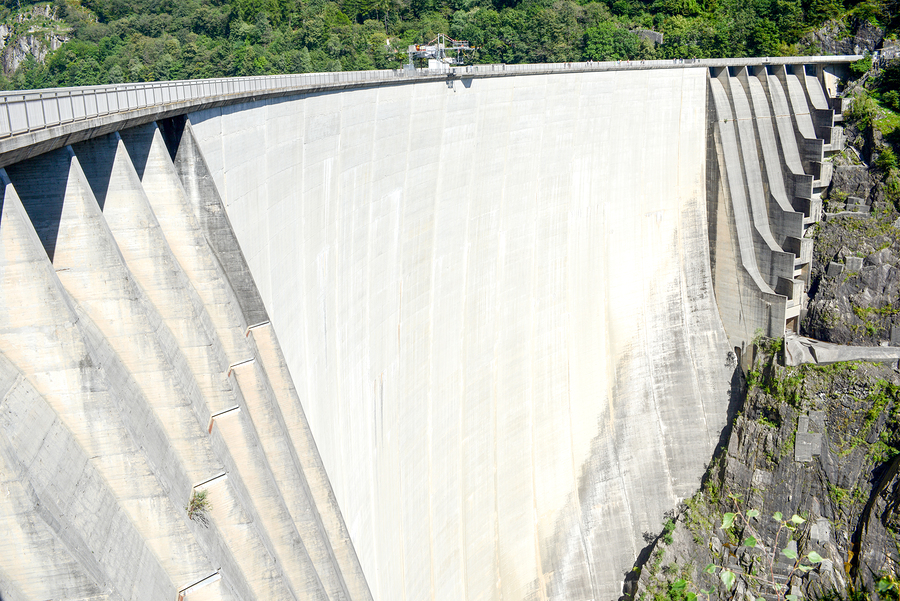 [The dam of Verzasca on the Italian part of Swtzerland]
Parks & villas
Villa Pallavicino near Stresa is a beautiful stately home with parkland. It has wonderful gardens and a zoo with over 40 different species of animals. The wide, open lawns are perfect for children to run around and slightly less daunting than Alpyland!
One of the main attractions is the rare black swans but if your little ones would like something more exotic they also have zebras and kangaroos! 
The most famous gardens and villas of Maggiore are based on the incredible Borromean Islands. 
Isola Bella, Isola Madre, Isola Superiore dei Pescatori and Isola San Giovanni. They are all accessible from Stresa by boat. 
If you can't visit them all, choose Isola Bella an island with an exceptionally beautiful palace, distinctive gardens and white peacocks. In contrast, Isola dei Pescatori has continued to function as a little fishing community and has excellent seafood restaurants.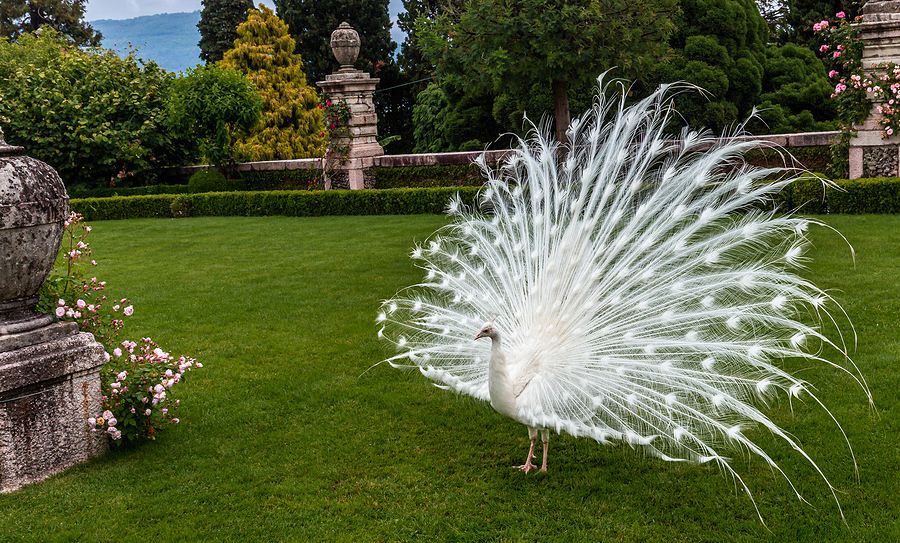 [White peacock in Palazzo Borromeo, Isola Bella]
Watersports
If you would love to try canyoning and rafting, this can be booked in Locarno through Indepth Outthere Adventures. They safely guide you through the canyons and hidden valleys. The minimum age for children is 6 years old. 
For the kite and windsurfers you can find your thrills at Pino-Trozano the windiest spot on the lake. La Darsena School offer lessons and hire of equipment. 
Should you want something more relaxing, you can hire a motorboat through most local hotels. We booked ours through the resort of Golfo Gabella, in Maccagno. We found this wonderful lakeside accommodation through Lake Maggiore specialists 'Bookings For You'. 
As you can see there is a huge amount for families of all ages and interests to do around Lago Maggiore. I hope you're inspired to try a lake off the beaten path for your next family vacation.