This week's featured blogger is not one, but two girls, Gemma and Cristina, who are Italian-born and very fashion minded. In fact, they created the website Le Conqui, where they blog about the latest fashion trends, friendship, travel and lifestyle. For those visiting Italy looking to 'fit in' with the locals, their blog is a great resource to see what people are wearing, even in the rain! They were also the esteemed winners of the 'Best Fashion and Design Blog' in our 2013 Italy Magazine Blogger Awards. We got to know them a little better and share some of their insider tips on fashion from Italy. 
Girls, where are you both from originally? 
We are both from North of Italy. Cristina is from Biella, a charming small city near Turin, and Gemma is from Brenzone, the gorgeous place on Lake Garda, the biggest lake in Italy.
What are your favorite travel destinations in Italy and why?
Except our native cities, there are lots of nice places to visit in Italy, but Milan is our favorite travel destination. Milan is the city that in Italy dictates the rules of fashion, but is not limited to this: walking through the streets of downtown you can find historical and artistic wealth. There are many restaurants, theaters and museums to visit. The Duomo is the symbol of the city, we love discovering the different shades of marble with the passing hours or standing on the terrace of this monument to watch the sunset over the city. It's a great experience!
We want to know more about Le Conqui, what do you blog about?
"Looking for a flatmate" was the beginning of all: LeConqui.com is not only a blog about fashion, beauty and travel but above all it is a story of a great friendship born by chance from an online message. During these years we shared a pied-à-terre, some pillow wars, travels, events, experiences and adventures… but above all a passion for communication, all that glitters and new trends. LeConqui is nothing else than the sharing of our lives, a window into everything that we like and fills our days: fashion, beauty and travel, thanks to which we can see how beautiful the world is.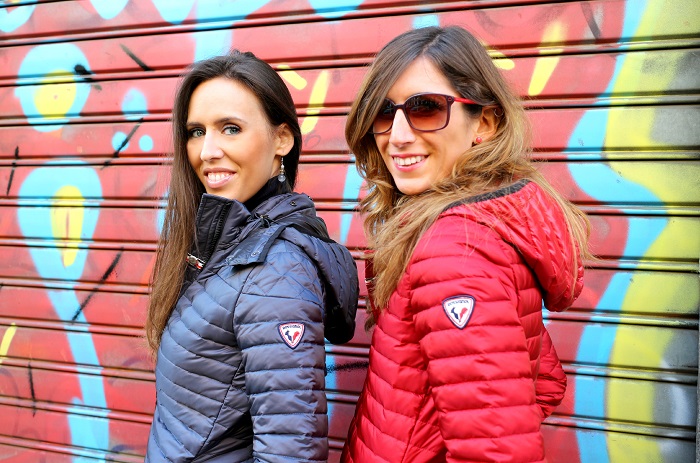 When and why did you start your blog? Can you tell us more about the "Looking for flatmate" message?
We started to blog in March 2013 in 4 languages: Italian, English, Russian and Chinese, because we would like to communicate with different cultures. At home, near the door to the entrance there is a label affixed to the wall with this sign: "Sisters by chance, Friends by choice". This is the real sense of the "Looking for flatmate" message and this is the base of the content of our blog.
You won our 2013 blog award for 'Best Fashion and Design Blog', congrats! Of course this means we have to ask you what you think about Italy's fashion trends today. Favorites, stand out stars to watch?
We think that fashion trends, especially for women, should be able to meet every style and every need for each of us. From the office to leisure, or attending dinners and parties…the most important thing is to feel good with our outfits.
Talking about chief fashion trends that we observed during the latest Milan Fashion Week, we loved the abstract art inspiration of Fendi, the mosaic color block collection of Puglisi, Missoni and Tod's, and finally the blanket statements of Roberto Cavalli, Etro and Ferragamo.
Who follows your blog? Tell us about your readers.
Different audiences follow our blog, generally they are women between 24 to 45 years old. We usually write about lifestyle and travel is part of what we do, so some guys too love to read our tips.
We are very happy when they contact us to ask suggestions for some particular outfit for a holiday destination.
Many people want to know how to dress when visiting Italy. What fashion advice can you offer our ITALY readers?
Choose basic clothing and play with accessories during the day, but don't forget a pair of heels for women and a nice shirt for men, in order to truly embrace the crazy and glamourous nightlife.
All your blog posts are interesting, but can you recommend one or two especially for ITALY Magazine readers?
We recommend our post about how to survive in the fashion jungle, where we tell our readers how to recognize a real Louis Vuitton bag from a fake one with some tips and recommendations. 
Thank you for talking to ITALY Magazine, girls! Happy blogging.
Keep in touch with the girls of Le Conqui via their blog (in four languages), Facebook, Twitter or Instagram.