Christmas lights on city streets, trees and bagpipes in the piazzas, quaint Christmas markets, the smell of roasted chestnuts crackling on large pots on the sidewalks, the Nativity scene in churches and homes…and of course lots of good food. Italians know how to celebrate Christmas, and if you too want to celebrate like an Italian this holiday season, here are five rituals and traditions you can follow (well, one only applies if you are in Italy, but the others you can do even if you are abroad!).
Remember, the Italian festive season officially begins on December 8th (Day of the Immaculate Conception) and ends on January 6th, the Epiphany. Buone feste!
Prepare the presepe on December 8
Most Italians will decorate their homes with a Christmas tree and a presepe (nativity scene depicting the birth of Jesus - Mary and Joseph in a manger with the Baby Jesus). The traditional day to do this is December 8, which is a national holiday in Italy, the Day of the Immaculate Conception, or Immacolata. This is the official start of the holiday season in Italy. You can find trees and presepe decorations, including statuettes of the holy family and of all the figures who made up a traditional village of the past, at Christmas markets and even supermarkets nowadays.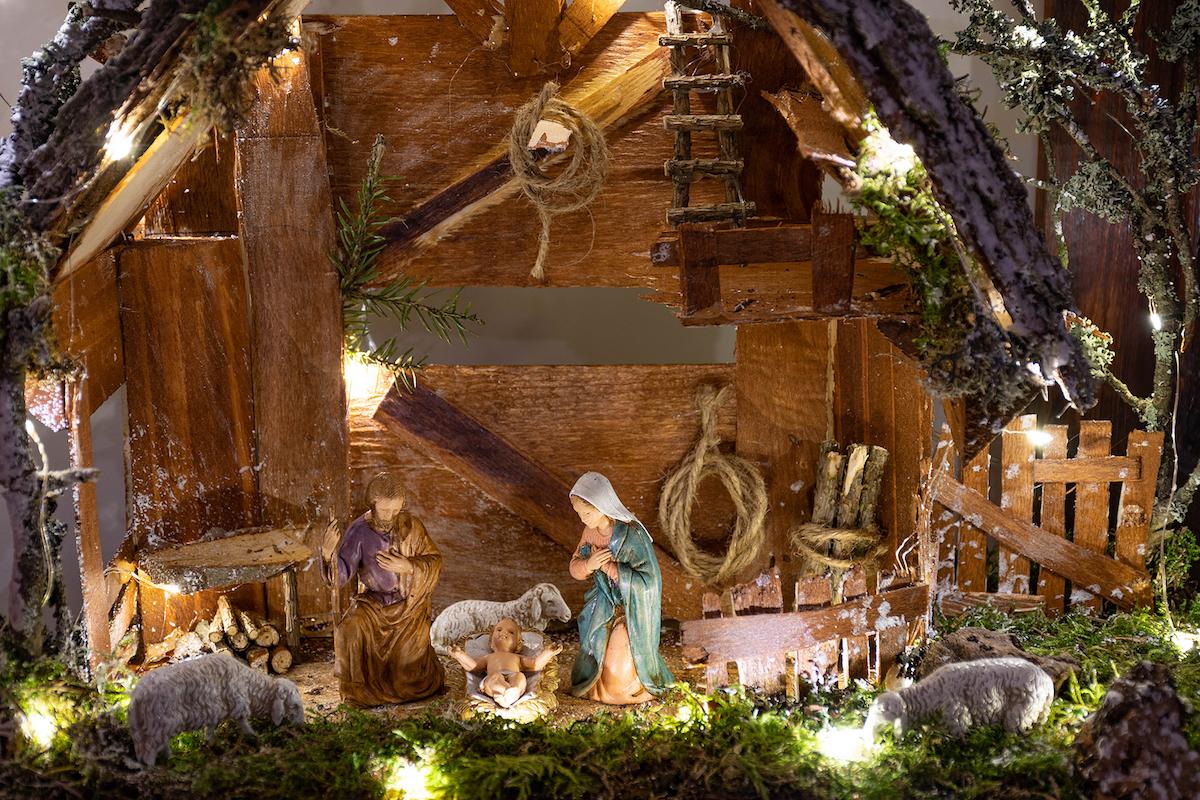 Experience the Christmas tree lighting in an Italian piazza
Around the beginning of December, many Italian cities and towns light up with festive decorations and the illumination of a large Christmas tree, which is often placed on a main square. Italians usually gather to admire the show, as city centers are filled with people strolling, drinking hot chocolate, eating chestnuts and doing Christmas shopping.
Spend Christmas with your family 
There's a famous saying in Italy that goes, Natale con i tuoi, Pasqua con chi vuoi (you spend Christmas with your family and Easter with whoever you want). This is definitely the case, and it is rather uncommon not to spend Christmas at home (your family may disown you). Most Italian families gather on Christmas Eve, Christmas Day and also the day after Christmas, which is a national holiday in Italy, St. Stephen's Day.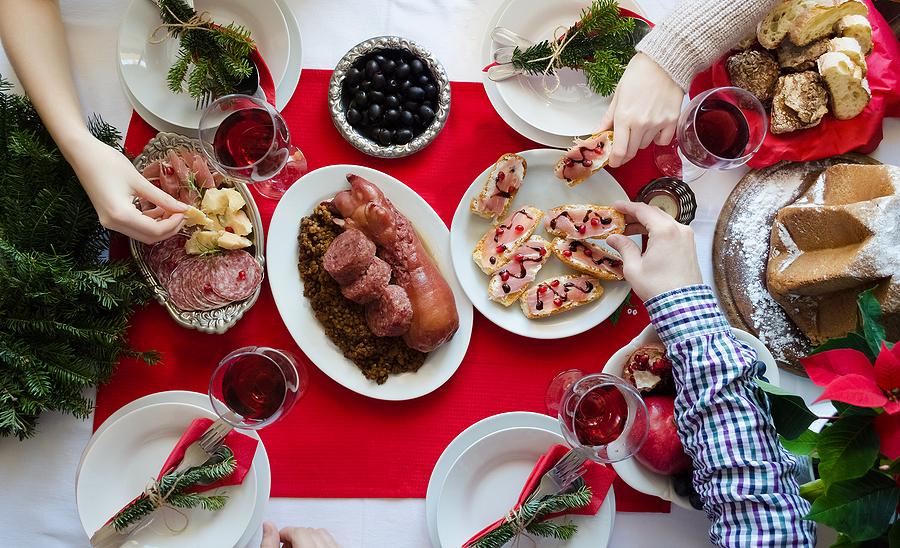 Go meatless on Christmas Eve
Most Italian households skip meat on Christmas Eve and eat seafood instead. The long tradition of eating seafood on Christmas Eve dates from the Roman Catholic tradition of abstaining from eating meat on the eve of a feast day. As no meat or animal fat could be used on such days, observant Catholics would instead eat fish. On Christmas Eve, this is common even among non-observant because it has become part of the general tradition.  
Eat lots of food
A big part of the Christmas festivities in Italy is to gather around the table with family and friends for hours, eating, drinking and being merry. 
It's not uncommon to start planning for your Christmas meals weeks in advance. And if you want to celebrate Christmas like an Italian, the quality of the food is of utmost importance. After all, are we not what we eat?  
For quality guarantee, the safest way is to buy from local food artisans and producers, which is also a great way to support the patient work they do, thus ensuring traditional methods are carried on. 
This holiday season, ITALY Magazine has partnered with the slow travel experts at KMZero to offer our readers a carefully curated gourmet box that comes straight from Tuscany. It is full of organic products made by local, award-winning producers and farms, and will help you make a super 'bella figura,' both if you use the ingredients to prepare a Christmas meal that will amaze your guests or if you gift the box to the Italy lover in your life. 
A traditional Italian meal would not be considered so without pasta. However, not all pasta is created equal and we favor artisanal pasta such as the 'Pasta Artigianale Toscana Grani Antichi,' made with 'ancient grains' following a painstaking, manual process by family-run Mulino Val d'Orcia, a small pasta mill located in beautiful, Unesco-inscribed Val d'Orcia. 
In keeping with the tradition of going meatless on Christmas Eve, you may use a simple tomato sauce, a classic that never goes out of style and makes it easy to please everyone, adults and children alike. The box contains a basil-infused homemade tomato sauce made in Maremma that will make your guests go wow. Nobody is going to miss meat!  
Actually why eat just one pasta course, make it two by using the other sauce contained in the box, the Tuscan version of pesto, also vegetarian friendly: organic black kale pesto that comes from Radici, a sustainable farm in the Val D'Arno. This delicious sauce is especially suited to winter days. 
And how about spicing it all up with Profumo di Chianti, a "very fine sea salt with a mixture of sage, lavender, thyme, rosemary, bay leaf, fennel flower, juniper and bay leaf" prepared by none other than famous Tuscan butcher Dario Cecchini, featured on Netflix's "Chef's Table". It is great on all types of dishes, including sprinkled on toast along with extra-virgin olive oil.
The best way to dress any Italian dish is indeed with extra virgin olive oil and we all know Tuscan olive oil is recognized as being one of Italy's best. Enjoy the pungent, buttery taste of freshly pressed olive oil coming from two of the best oil mills in Chianti, Torrebianca and Pruneti. You get to enjoy olio nuovo from one of the two, obtained from this year's olive harvest.  
To end your Italian-inspired Christmas meal, have a slice of panettone. The one contained in the box is produced by Opera Waiting, an award-winning artisanal bakery located just outside of San Gimignano.
We hope the suggestions above help you make your Christmas a bit more Italian and help you feel a little closer to Italy if you cannot make it in person to the Bel Paese this year!
*Exclusive offer for ITALY Magazine readers: buy the gourmet box described above and also get a one-year premium subscription to ITALY Magazine. Find all the details here.