[Photo credit for lead image: Terry M Costigan @tmznews.]
Perseverance and determination run in the Mosconi family. It is those character traits that led Pietro Mosconi, an immigrant boy from Emilia-Romagna, to become the renowned Italian American chef he is today, and those very same traits that led his daughter Joanne, many years later, to publish a book about him, "The Chef of Greenwich Village". 
Part recipes, part stories, the book is a work of love, a tribute to the accomplishments and hard work that Joanne's father embodies and all that he has taught her.
"It is no understatement to say that this cookbook contains my heart," says Joanne. "I now feel like I have a way to talk to my father for the rest of my life - by accessing his techniques, recreating his flavors, and preparing his wondrous, remarkable dishes."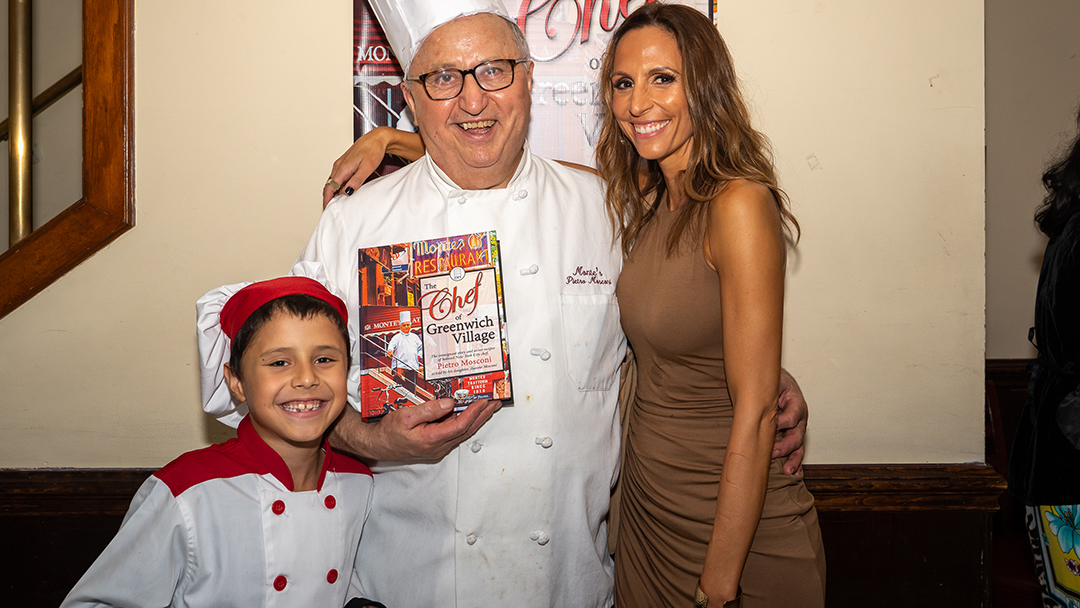 [Chef Pietro Mosconi with his daughter Joanne and grandchild Pietro.] 
Before she could complete the book, it took Joanne several years of chasing after her father in the kitchens of the two restaurants he owns in Greenwich Village, Villa Mosconi and Monte's Trattoria, so she could be let in on the secrets behind his successful recipes. In fact, when I asked Joanne what was most challenging in writing this book, she replied, "Getting my father to tell me everything. He did not want to tell me all his secrets, and in some ways he didn't! I had to figure them out myself!"
Just like her father in his drive to success, she would not relent, traveling back and forth from her home in Malibu to spend as much time as she could with her father, even attending culinary school in New York. The decision to write the book came after Pietro suffered a heart attack. Realizing her father would not be with her forever, Joanne made a promise to herself to write her father's story and capture his famous recipes for all before it was too late.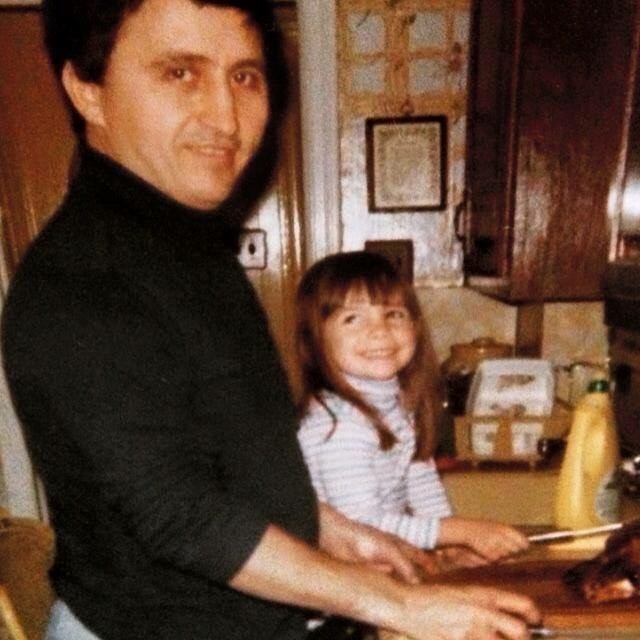 [A young chef Pietro and Joanne as a little girl.]
The numerous recipes contained in the book, which include homemade pasta, ossobuco, pollo alla Mosconi, risotti, stuffed artichokes, and many more, are preceded by six chapters that tell Pietro's story, accompanied by photos that help paint a picture of chef Pietro's formidable life, but also of the Italian immigrant story.
Arriving in New York in 1966 from a rural village near Piacenza at the age of 17, Pietro, along with his father Paolo, began working multiple jobs so they could bring the rest of the family - his mother and six siblings - over to America.
"To this day, my Dad's eyes will tear up when he recalls how the Michelangelo [the ship he traveled on from Genoa] heroically steamed its way up the Hudson river for the final minutes of the journey of his lifetime," Joanne recounts. "His memory is vivid as he describes the Italian passengers disembarking, worn from their journey, but exuberant to begin the new lives that awaited them in this unique land of promise, The United States of America."  
Pietro soon realized working hard was not enough. He needed an education. Just a year after arriving in New York, he had saved enough money to enroll at New York City Technical College, where he immediately gravitated toward culinary courses.
"Food in our family has always been so important and is deeply rooted in our history, self-expression and, of course, love for family," says Joanne.
In the meantime, Pietro's mother and three sisters had been able to join him and his father in New York in 1967.
"What had Pietro most excited was the fact that he once again was able to enjoy his mother's cooking," says Joanne. "Sometimes, in an ironic twist, his mother would be so excited to see what Pietro was learning in culinary school, that she would demand that he cook for her instead!"
Pietro knew then he wanted to become a successful chef in New York City, a pursuit that became even more inspired when, suddenly, only two years after arriving in America, her mother died of a heart attack.  
"Fueled by the inspiration of his mother's strength and passion for cooking, in life and in her premature passing, Pietro was true to his word: he became a successful chef," Joanne says. "But more than that, he planted his family's heritage, rooted in the bold Italian tradition of the family dinner table, in one of the few places in the world outside of Italy where these traditions can flourish for decades, even generations: Greenwich Village."
[Watch below Chef Pietro's emotional reaction upon first seeing the book about him.]
I asked Joanne, who spent a lot of time in Greenwich Village growing up, how Italian Greenwich Village still is, especially as the book is also a tribute to the famed Italian American neighborhood of New York City. 
"Today, more than 50 years from my father's arrival in the U.S., and more than four decades since the founding of Villa Mosconi, so much has changed and continues to change, at an accelerating rate," says Joanne. "Greenwich Village is rapidly becoming something different. Coffee houses, cafes and speakeasies are being replaced by juice bars and organic, vegan restaurants. Affordable apartments and co-ops are being replaced by the stark glass and steel of designer multi-million-dollar condos. Distracted by the technology or maybe by perceived differences, the long-standing neighborhood relationships that bound communities together seem to be dissolving."
"My father and our family restaurants have been one of the few constants in an ever-changing Greenwich Village," Joanne continues. "New Yorkers understand this is something worth celebrating; and, since 1976, whether from the Village, Brooklyn, Midtown or the Upper East or West Side, they've been coming (and returning) in droves to visit Chef Pietro on MacDougal Street for a glass of Prosecco, a bottle of Barbera d'Alba, their favorite pasta, veal or fish. 
Why is Chef Pietro sought out by so many? Yes, he's an award-winning Italian chef, but it's more than that. He radiates the very spirit that made New York, and the United States, such an amazing, unique place in all the world. His boundless warmth, energy and drive are contagious and his creativity and mastery of flavor and texture are as unique as the Village itself.
I am touched, honored and so very proud to be connected to that legacy - the legacy that empowered Villa Mosconi and Monte's Trattoria to thrive and grow over so many decades. More importantly, that legacy allowed our family to create environments where all are welcome to enjoy the warmth of friendship and community along with truly remarkable Italian food - all as inspired by the magic of that hillside in Emilia-Romagna so many years ago."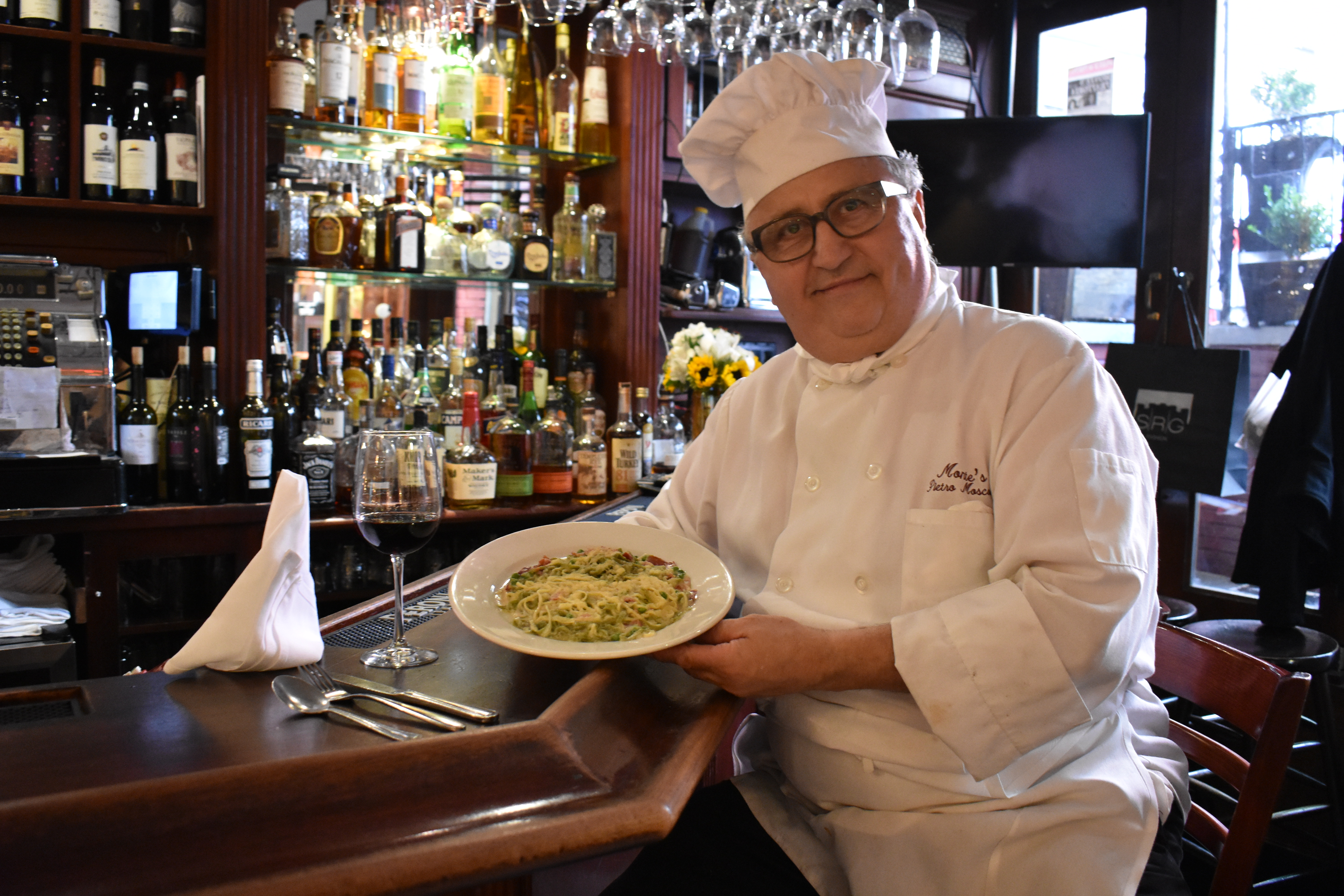 You can buy The Chef of Greenwich Village cookbook here. 
Monte's Trattoria is located at 97 MacDougal Street; Villa Mosconi is located at 69 MacDougal Street. 
You can catch up with chef Pietro and daughter Joanne on Instagram, where they host Coast to Coast Kitchen, sharing mouth-watering recipes weekly.