The Ciclovia del Sole, a large, traffic-free, pan-European cycleway, has just inaugurated a new section in Emilia-Romagna. Stretching from Mirandola in the province of Modena to Osteria Nuova in the province of Bologna, the 45-kilometer cycleway is entirely flat and mostly paved, making it an easy ride accessible to families, couples or anyone who fancies a bit of touring in the countryside. I road-tested it on an unusually hot day in late May and found it a pleasant escape from the commotion of the city. 
Before you start
In Bologna, the Extrabo office in Piazza Maggiore usually has a couple of bikes to rent, or you can try Travel Hoo (Via Caduti di Cefalonia 4/b) or Sport Lab (Via Santa Margherita 1), both just off the central square. 
Trains run regularly from Bologna Centrale to Mirandola. As well as a passenger ticket, you will need to buy a bicycle ticket, which costs €3.40. Rather annoyingly, the bike ticket can't be purchased on the app or website, so you'll need to buy a paper one from the automated ticket machines in the station and validate it before you board the train. Once validated, it can be reused as many times as you like within a 24-hour period.
The Po Valley has notoriously harsh summers and winters. I would not recommend attempting the route in late July, August, December, January or February unless you have some experience cycling in those conditions and know what you're in for.
Understanding the route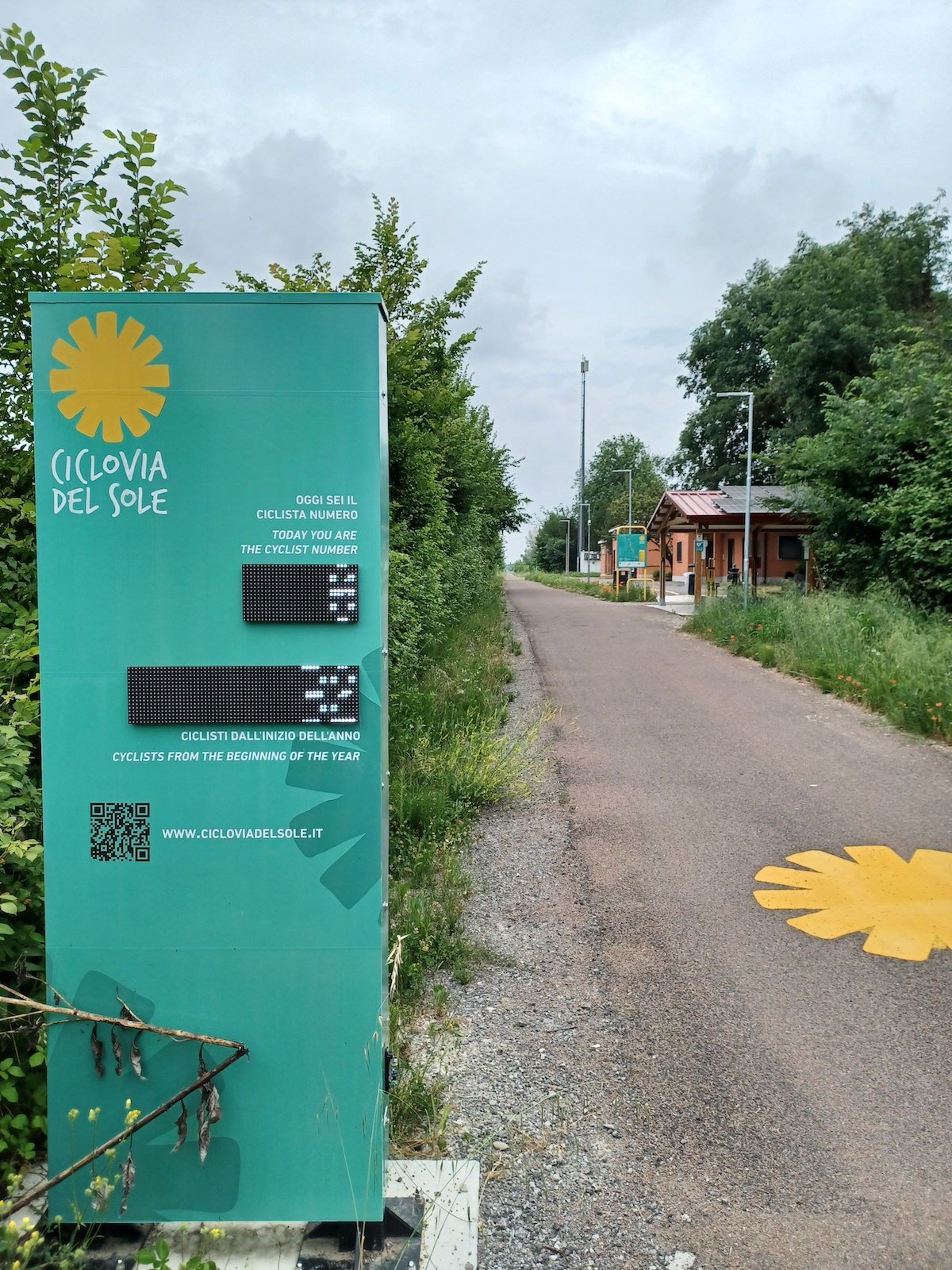 The route is well sign-posted and mostly paved, passing through the typically flat, farming land of the Po Valley and stopping at the historic towns and villages of Mirandola, San Felice sul Panaro, Camposanto, Crevalcore, San Giovanni in Persiceto and Osteria Nuova. Each town along the way has a station, meaning you can start and stop and should feel no pressure to complete the whole route. The cycle way also connects (via minor roads) to the established Mantova-Peschiera, Verona-Brenner and Bologna-Casalecchio cycle ways.
The landscape itself is evocative without being exhilarating, but does give you a taste of rural Emilian life. More interesting are the settlements themselves, which are more substantial than you might assume, with centres packed with historic castles, palazzi, churches and more. This is everyday Italy, far removed from the tourist hotspots, but still beautiful and full of workaday charm.
Back in 2012, this area was the epicenter of two devastating earthquakes which killed 27 people and left around 45 thousand homeless. The evidence of this is still visible in the plaintive sights of collapsed buildings throughout the route. But there are also positive signs of revival, with many historic buildings having recently been restored to their former glory. The inauguration of the Ciclovia is itself a symbol of the spirited recovery here.
Cycling the route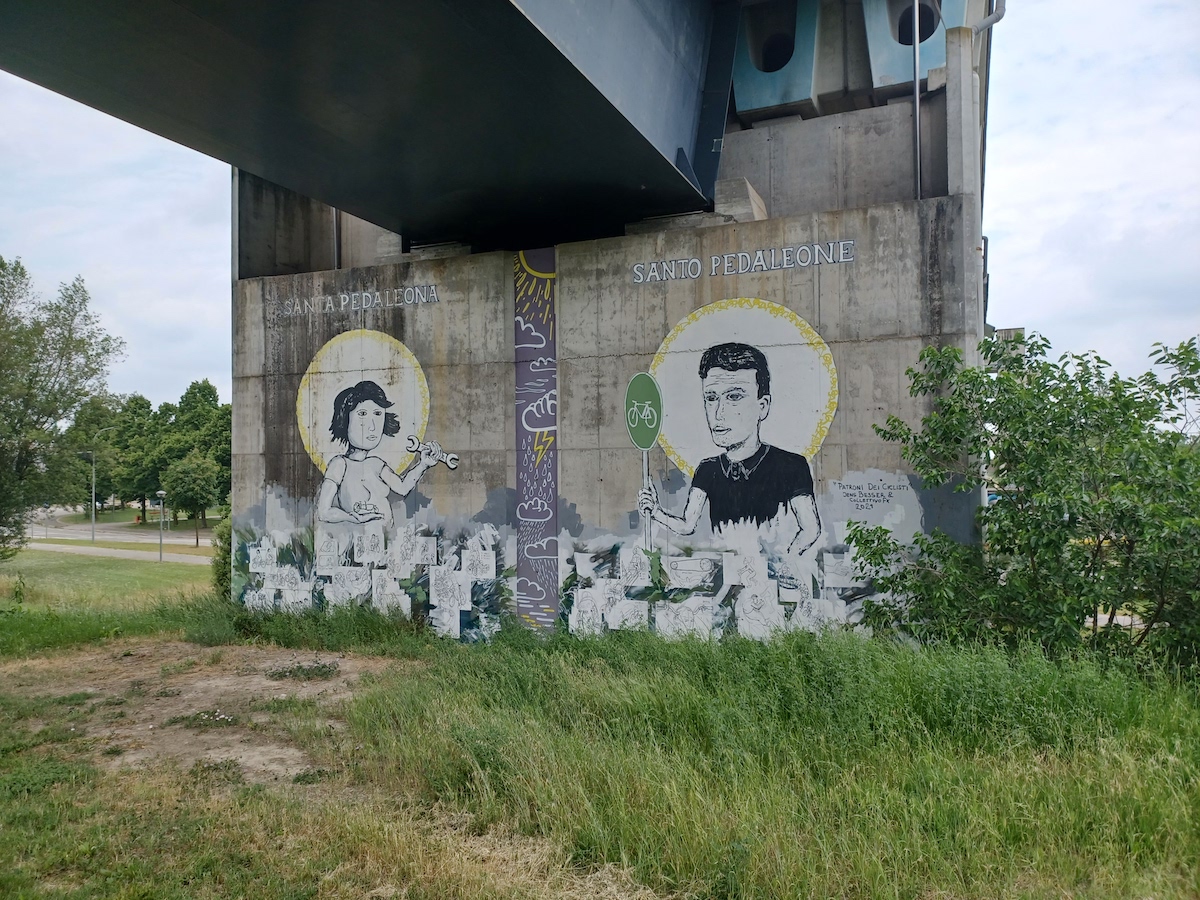 Mirandola, in the province of Modena, is a handsome place with grandiose architecture and a remarkable number of gelaterias. It was also one of the epicenters of the 2012 earthquakes, the scars of which are still visible as I cycle around. The town's historic church is still in ruins and the fifteenth century town hall is hidden behind scaffolding. But the town castle has recently been restored and it's here I stop for my obligatory cappuccino and cornetto breakfast. The castle overlooks the main street, which is as wide as a Parisian boulevard despite this being a town of just 20 thousand people. Another surprise are the numerous signs written in Mirandolese, the local dialect, a reminder of the town's strong local identity which goes back to the Renaissance period when Mirandola was a prosperous city-state belonging to the illustrious Pico family. It's recovering well and there's a distinct bustle to the morning here.
After breakfast, I leave Mirandola and set off down the cycle road. It follows an old railway line, with the disused stations now converted into cute rest stops equipped with pumps and tools for cyclists. It's an attractive, poppy-lined path, with views over the endlessly flat expanse of the Po Valley. After 30 minutes, the path leads me into San Felice sul Panaro, straight past the town's castle and neoclassical war memorial, both stunning despite ongoing restoration. Shortly after San Felice train station, there's a slightly confusing U-turn which takes you down an unassuming gravel road to rejoin the Ciclovia. If in doubt, make sure your path has a large yellow sun painted on it — the symbol reappears every so often to reassure you of the route.
A little later, I roll into Camposanto, a pint-sized community enlivened by some wonderful murals painted just off the cycle road. There's something so evocative about cycling from one rural vignette to another, each new village bringing a thrilling sense of discovery, exploration and ordinary life with all its incidental beauty. 
Detours and dining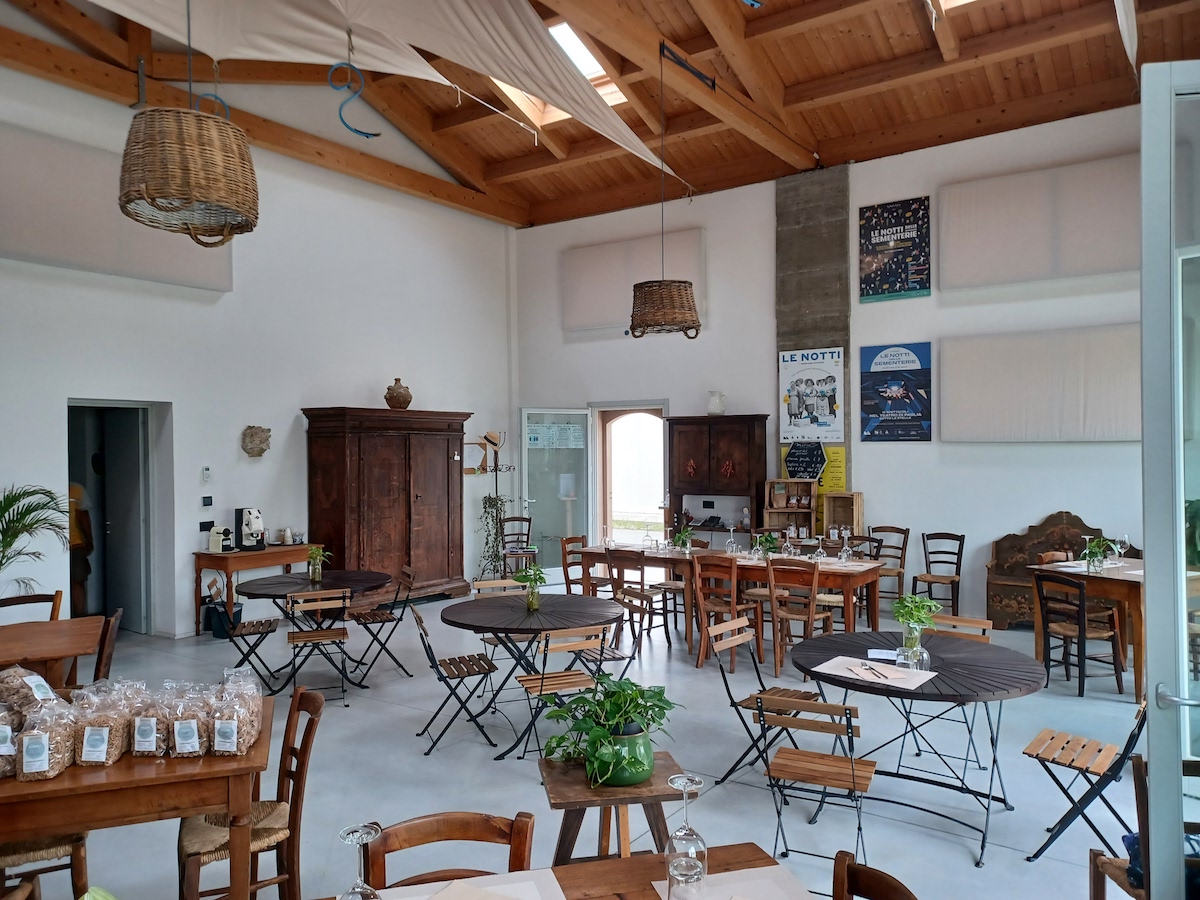 After Camposanto, we're now in the province of Bologna. It's also 1pm and I'm feeling hungry and rather hot, so I take a small detour to Valle Torretta, a rustic agrotourism ranch run by Steven Uthayakumar and Caterina Traldi. Steven grew up in Bologna to a farming family of Sri Lankan heritage and is a font of knowledge on food cycles and sustainable farming. Wanting to do something interesting with Bolognese cuisine, he set up his farm and restaurant here in the countryside, serving a farm-to-table menu of pastas, gnocchi and focaccia.
As we chow down on gnocchi and cheese, Steven tells me about his ambitions for Valle Torretta. More than just a farm and restaurant, he wants it to be a place for "social agriculture", his 18 beds hosting overnight guests interested in a hands-on experience of horticulture, vegetable and fruit picking and sustainable farming. Together with his guests, he explores the farm-to-table process, runs tagliatelle- and focaccia-making workshops and offers guests the opportunity to create and then eat their own food. Before I leave, he pops out and returns with some cherries from his orchard. I tell myself I'll only have a couple, but I end up consuming the whole bag. They're some of the tastiest cherries I've ever had.
Replenished, I cycle into Crevalcore, an attractive town of grid like streets, porticoes and ornate, red-tinged palazzi that make it look a bit like a mini-Bologna. It's also home to what is claimed to be the world's smallest museum, the Leo Preti Puppet Museum, featuring about a hundred masks and devils, animals, wizards, witches and fairies crafted by local puppeteer Leo Preti (1903-1969), as well as a colorful collection of backdrops, harking back to the rich theatrical tradition of commedia dell'arte in this region. And it is indeed very small, just enough room for a few paces before you need to step out again!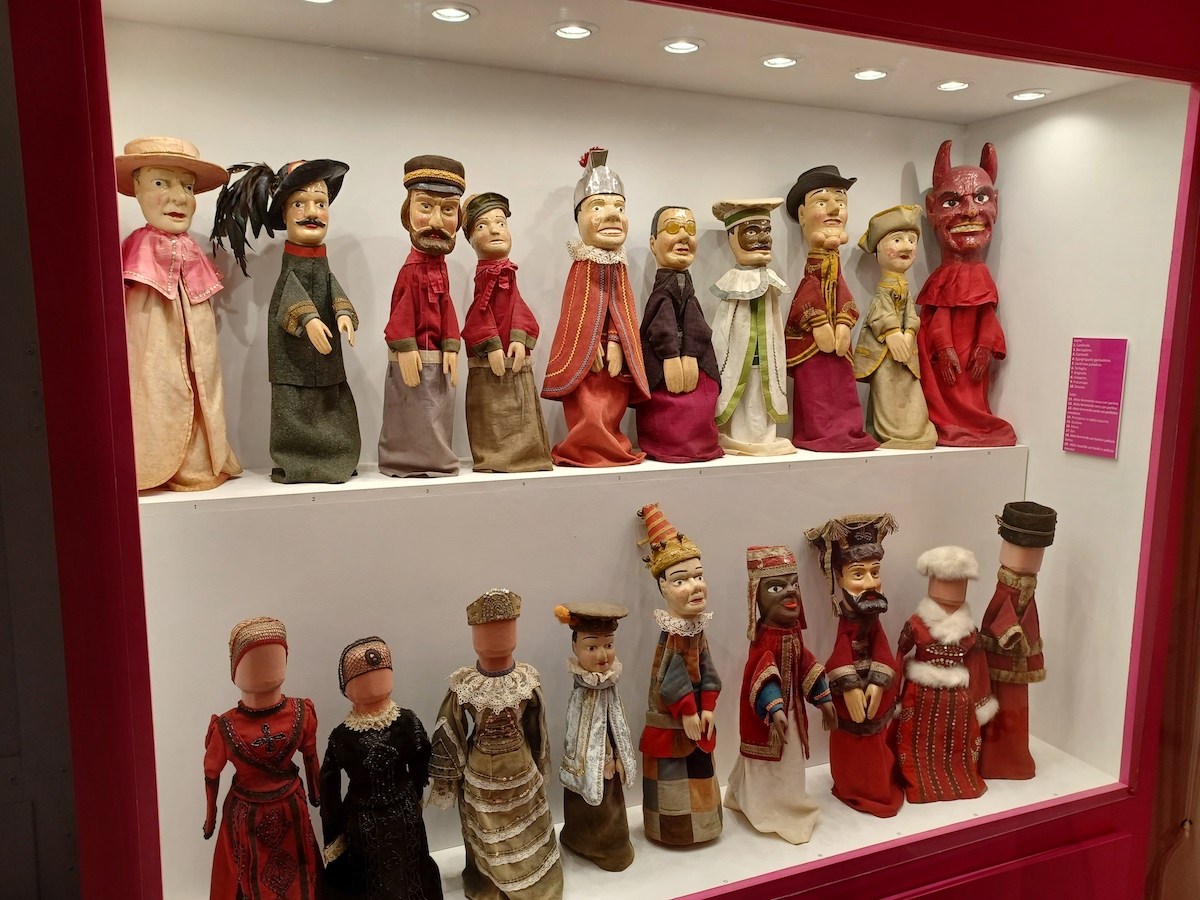 The Ciclovia from Crevalcore to San Giovanni in Persiceto is a bit of a snoozer, to be honest — much of it along a straight, shadeless road with little in the way of scenery. But it's worth it to reach San Giovanni in Persiceto, an impressive town that has all but recovered from the earthquakes. In contrast to the orthogonal streets of Crevalcore, San Giovanni is laid out in a series of concentric circles radiating from its beautiful central square, though its most spellbinding sight lies in the northern fringes of the town. 
Piazzetta Betlemme, also known as Piazzetta degli Inganni (Square of Deceptions), is the creation of Gino Pellegrini (1941-2014), a Hollywood set designer who worked with Alfred Hitchcock and Stanley Kubrick before returning to Italy and settling in San Giovanni in Persiceto. Piazzetta Betlemme was his final gift to the world, a collection of murals painted in trompe-l'œil style, full of colorful characters, animals and flights of fancy — a kind of magical realist take on rural Bolognese life. The joyous paintings are full of little details and easter eggs that will have you poring over them for a long time.
One of the region's best restaurants, Osteria Mirasole, recently given a stellar Michelin review, is easy to reach from here. And, were I more of a motorhead, I might have taken a detour to the town of Sant'Agata Bolognese, home to the Lamborghini factory and museum.
Instead, leaving San Giovanni and rejoining the Ciclovia, I pass through a surprisingly dense stretch of woodland. This is the Bora, an oasis of wilderness that comes as a relief after the deforested, monotonous landscapes before. It was established in 1990 as a nature reserve and it's worthwhile stopping here to wander its bayou-like terrain full of turtles, beavers and birds.
An optional detour takes you to Sala Bolognese, home to the 11th-century church of Santa Maria Annunziata and San Biagio, but I decide to head straight onto Osteria Nuova and catch the train back to Bologna from there. After 45 kilometers of cycling, I feel like I've done enough today though it's possible to continue to Bologna along minor roads, which is an enjoyable way to finish if you want to make a two or three day trip out of it.