With its quiet atmosphere and beautiful environment, Molise has so much to offer. John Bensalhia investigates some of its key aspects including architecture, food and festivals...
Sometimes, there's nothing better than the quiet life. Get away from the hustle and bustle to find some peace and tranquillity. There are some truly stunning examples of this kind of natural ambience in Italy, and one of these is Molise.
Molise has an unusual history. Technically, it's the baby of the big Italy family. Up until 1963, it was a part of Abruzzie Molise, joined to Abruzzo. But the decision to split the region meant that Molise became a region all of its own – and the official divide didn't actually occur until 1970.
This central Italian region is also small. It measures in at 4,438 sq km and has a modest population total of around 300,000. Which makes it an ideal choice of destination to get away from it all – and taking that on board, tourism has increased over time to accommodate the demand for this kind of getaway. For example, the mountain centres have become home to small holiday resorts.
Despite its relative youth and modest size, Molise has a great deal to offer even though it happens to be the least known region in Italy. The natural scenery (including mountains and beaches) is simply breathtaking, the architecture is stunning, and the food is out of this world! So here then is a quick guide to all things Molise!
SKIING IS BELIEVING
If you're a ski fan, then you must check out Campitello Matese. It's believed to be one of the ski resorts that has the most snowfall in central-southern Italy.
This mountain plain is found on the inside of the Massif of Matese. Situated behind it are mountains including Mount Miletto, Monte Croce and the Gallinola. What Campitello Matese offers is a sizeable network of slopes that make it an instant hit for anyone wanting to ski or enjoy Winter sports such as snowboarding. The added bonus is that the fresh snow and beautiful woodland scenery add up to the ultimate skiing destination.
And when the snow has melted, it's still worth a visit – enjoy the beech forests and woods in all their sunny glory. All in all, a great place to visit and stay – it's certainly a popular one for the tourists.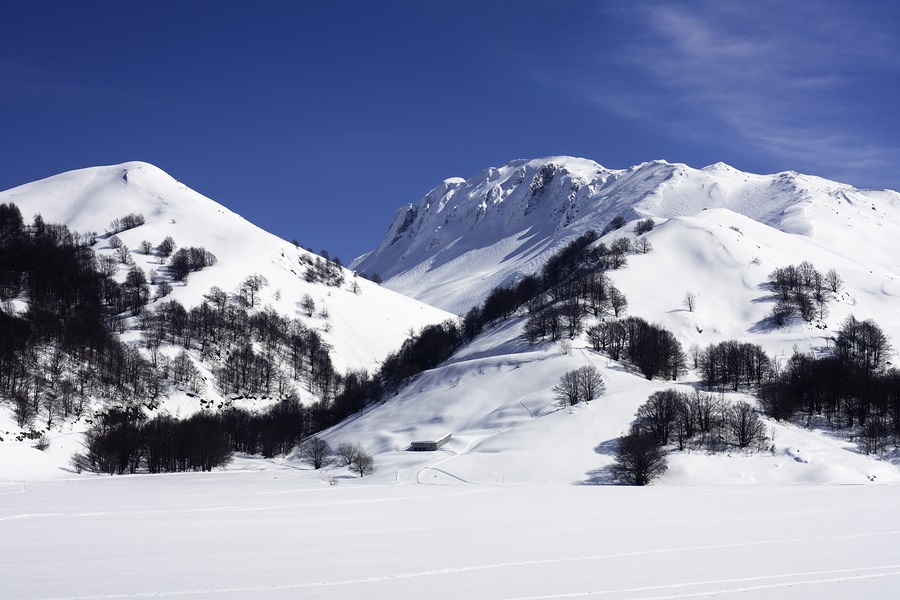 COAST OF THE TIMES
The quiet pace of life makes the Molise coasts a tempting destination. While the Molise coastline isn't as lengthy as others, it's peaceful, calming and tranquil.
One of the best locations on the Molise Riviera is Termoli, a clean, unspoilt paradise. If you visit the Coast of the Trabocchi, then you will be able to see what's called a Trabucco. This is a large structure made from wood that comprises a platform with stretched out support arms and a meshed net over the water.
Other great beaches in the area include the Beach of Sant'Antonio, a traditional-style locale that offers relaxation, a cool blue sea, a bar and some cool snack bars. The Beach of Rio Vivo is a good destination if you're looking to take part in water sports such as sailing. The sea is good and the reduction in wave force makes this a perfect venue for sports activities in the water.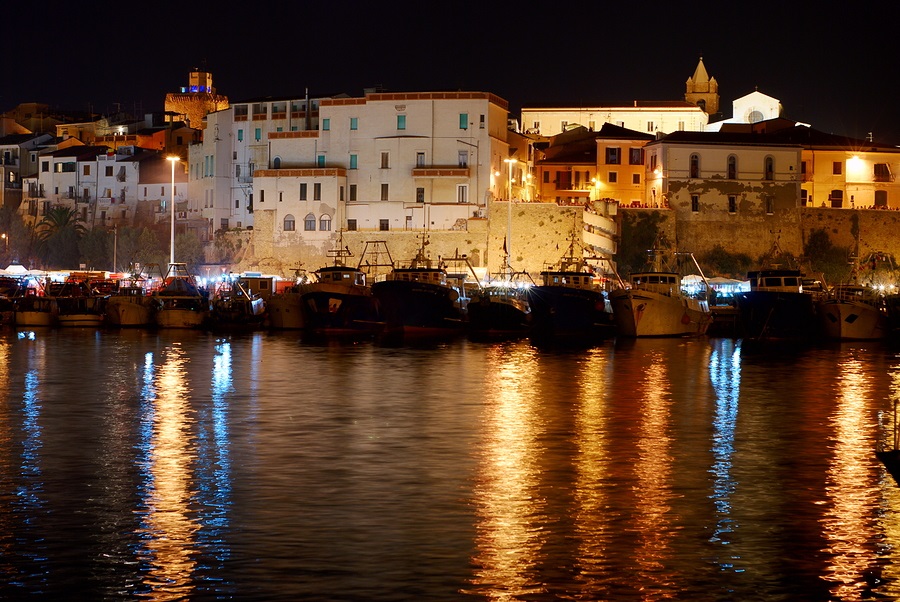 Termoli by night 
EXPLORING THE TOWNS
Molise packs an awful lot into its compact frame, and there are many towns to explore and of course, many sights to see!
If you like the sound of bagpipes – or you're a Scot on holiday, then you'll love the town of Scapoli, which is a location well known for this instrument, to the point where there is actually a museum devoted to this classic music piece!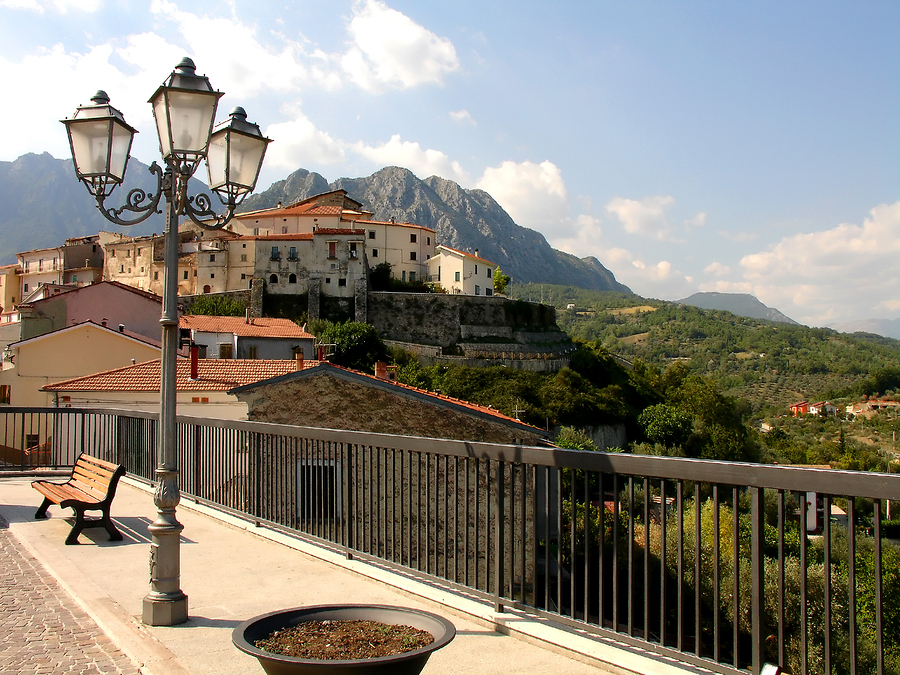 Another good museum to pay a visit to is in Campobasso. The Provincial Samnite Museum hosts displays of priceless exhibits from past civilisations, from the era of proto-history through to the Samnite era.
Agnone is well worth a look, it's known for bell making, producing bells for some of the most prestigious churches in the world. Meanwhile, in Venafro, there is much to see, including the medieval Pandone Castle and some notable Roman and pre-Roman discoveries and artefacts.
PARK LIFE
Parco Nazionale D'Abruzzo Lazio e Molise is undoubtedly worth a visit. It's a national park full of natural wonders. It's divided into four different zones: Integral Reserve (which is a strict protection area); General Reserve (which mainly comprises forests and meadows, which are good places to go collecting truffles or mushrooms); Protected Landscape and Development Zone.
There are lakes and rivers to see, as well as visitors' centres that include all kinds of animals and museums to look at. These include bears, red deer, roe deer, a wolf museum and special enclosures.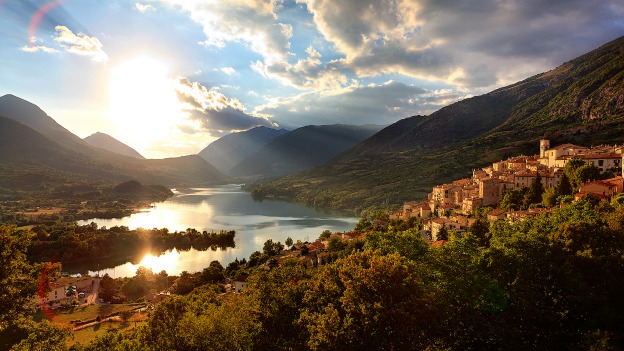 SIGHTS TO SEE
The region of Molise includes some fabulous architecture. There are two amazing churches to see. One of these is the San Francesco Church, a Roman Catholic church and convent originally built in the 14th century and then later in the 18th, refurbished and rebuilt. Among the renovations added are marble, stucco and iron decorations on the inside. Artist Paolo Gamba contributed much to the style with works including the large fresco of The Glory of St Francis and the work, The Evangelists adorning the Cupola roof.
The Larino Cathedral runs along similar lines as it too has enjoyed renewals of different styles – again, including the transition from medieval to baroque style. Having said that, while this particular change in style was overseen by Bishop Giovanni Andrea Tria, in the 19th century, Bishop Francesco Giampaolo moved the architectural style back to a renewed appreciation of the medieval, Romanesque and Gothic eras.
Larino also plays host to a Roman amphitheatre, a structure that was built into a natural decline in the terrain. It's said to have been built in the 1st century AD with a seating capacity of 12,000.
Another notable building is Palazzo Ducale. It's rumoured to have started out life as a Norman castle and includes three distinctive façades. The first one has the structure of the original castle. The second has a flavour of the Renaissance and was used to house the town rulers. The third shows neoclassical influences with larger bricks, and is said to date back to the 18th century.
MAY TIME FESTIVALS
Molise plays host to two key festivals, both of which take place in May.
The town of Larino pays its respects to the saint and martyr, San Primianus on and around 15th May. It's a sombre celebration that remembers the day of the saint's martyrdom and his ascent up to heaven. There are many activities taking place to mark the saint, including a procession through the streets and squares of Larino, Holy Mass, prayers and songs. Additionally, there are light-hearted initiatives that include fireworks displays, street performers and illuminations.
The Patron Saint Pardo is also honoured in Molise, and this historic celebration occurs around the dates between 24th and 27th May. One of the most memorable aspects is the parade. It features around 130 specially decorated ox carts that are showcased in this event. There's a good party atmosphere to this one with songs, sights and sounds, although there is still time for some more serious contemplation at Mass.
It's a hugely popular event that attracts equal amounts of locals and visitors from other towns and other countries.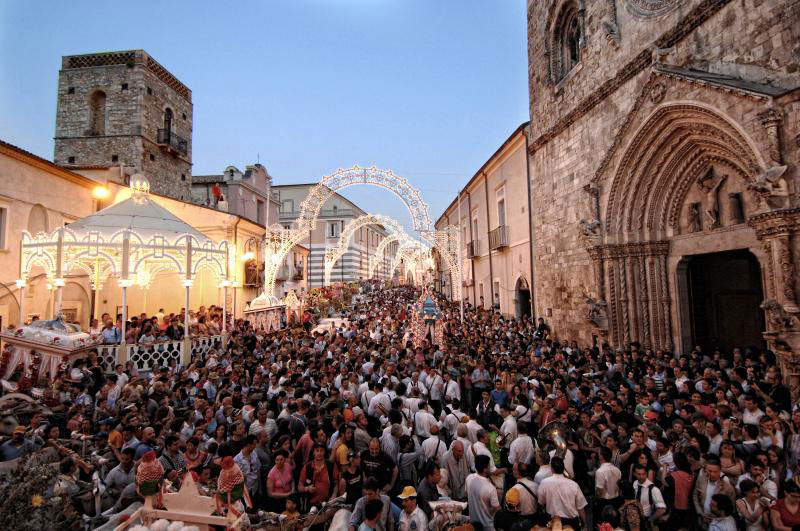 Larino, Photo Credit: unplimolise.it
HUNGRY FOR MORE
Molise cuisine is highly regarded and of course, absolutely delicious!
A good instance of unique Molise food is Pallotte. Round balls of egg and cheese, it's a similar sort of deal to meatballs, but with vegetarian ingredients. The balls are fried and then simmered in tomato sauce.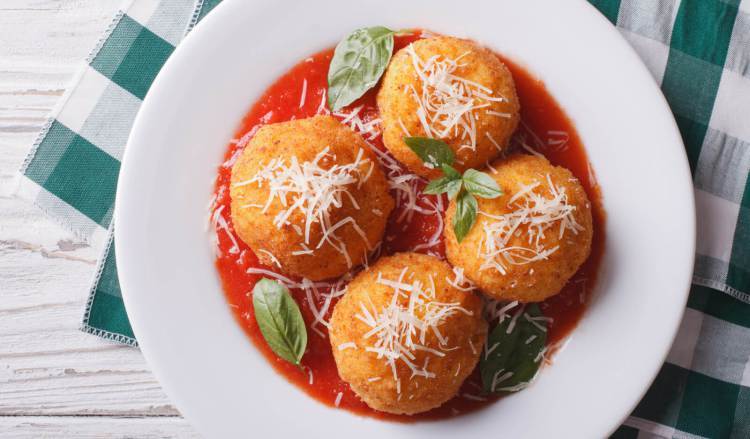 Pallotte by http://www.foodinitaly.com/
While it was possibly devised as a good method of using up leftover bits of cheese and dried bread, today, it's a good, tasty vegetarian dish that can be enjoyed in its own right.
Molise is well known for its egg pasta, Maccheroni alla chitarra (also known as spaghetti alla chittara). The name of the pasta comes from the instrument that is used in the process. It's a little like a guitar in appearance (having been devised in 1890) and effectively gives the pasta that unique look.
If you're a cheese fan, then Molise will see you right. Some good examples include Caciocavallo, Stracciata, cow's milk and buffalo Mozzarella, Burrino and Pecorino sheep's cheese.
The thick, savoury-sweet condiment Mostarda d'uva is a good catch-all spread that can be enjoyed with whatever you like! Toast, sandwiches, polenta, boiled meats... Mostarda d'Uva goes well with all of these and more. The ingredients that go into this mix include Barbera wine grapes, fresh quince, pumpkins, nuts, pears, peel from oranges and lemons and a dash of spice.
Popular sweets include Caveciuni (also known as Cauciuini) which are sweet fritters containing chickpeas, walnuts and honey). These are commonly eaten over the Christmas period and also on the Feast Day of St Joseph. Filled wafers are also enjoyed by many in Molise – Ostie Farcite packs in a simple but scrumptious mix of honey, sugar and almonds. Another classic, enjoyable Molise dessert!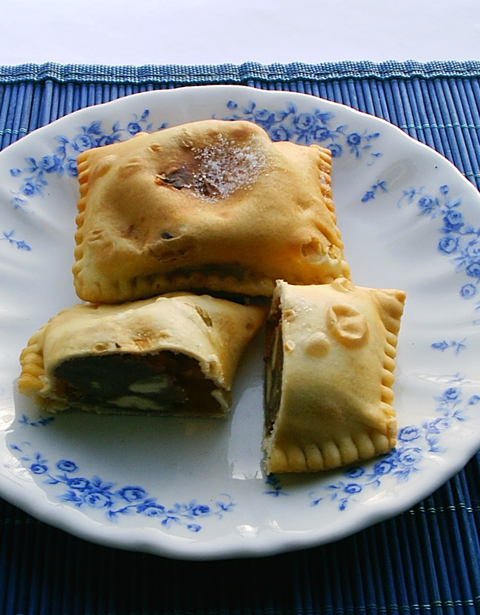 Caveciuni, By Pauline Fresco via http://www.italyrevisited.org/