Whether you've been to Sicily a dozen times or have never set foot on Italy's largest island, you're sure to discover something new about this captivating region in the pages of Bellissimo. The winter 2021/22 edition of our quarterly digital magazine is dedicated to all things Sicily, from its unique culture, spectacular shorelines, and ancient architecture to its cuisine, which reveals thousands of years of cross-cultural influences in every delicious bite.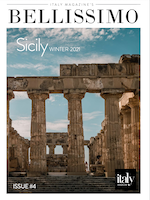 In more than 120 pages of insider info, you can plan your next visit or just indulge in a little armchair travel. Find famous and little-known sights to see and delightful places to stay, and brush up on the region's tempting food and wine offerings. 
Here are just a few highlights of the current issue: 
Take a ride on one of Sicily's iconic train rides, complete with local food and wine.
Learn the meaning behind the iconic 'trinacria' — the three-legged woman who is the symbol of Sicily.
Try a recipe for authentic Parmigiana di Melanzane.
Discover La Zisa, a Palermo castle that's one of the most beautiful legacies of the Norman-Arab presence. 
Dive into the beautiful islands that surround Sicily — we challenge you to pick a favorite! 
Go on a wine-y adventure to some of the best vineyards in the region.
Here's how to enjoy Bellissimo: 
If you're a premium subscriber to Italy Magazine, you can download Bellissimo for free as part of your membership benefits. Just make sure you're logged in to download your free copy.
If you're not a subscriber, you can sign up here, and download current and back issues of Bellissimo, as well as enjoy the many other perks of premium membership.