Tiny Sperlonga lies exactly halfway between Rome and Naples in the Gulf of Gaeta on the glorious Tyrrhenian coast.
A perfect haven for visitors exhausted after the rigours of the art cities, it tends to have a siren effect – and it's easy to understand why: two divine golden sand crescent beaches stretch out from a picture postcard perfect Mediterranean village, a stack of tiny white-washed shuttered houses with to-die-for roof terraces, heaped up one on top of the other on a soaring limestone promontory.
Sperlonga is regularly awarded the prestigious environmental rating 'Bandiera blu d'Europa' (European blue flag) for its beautifully clean sea and wonderful beaches which extend for miles. (This is thanks to its distance from big cities and the absence of any large-scale industry in the whereabouts.)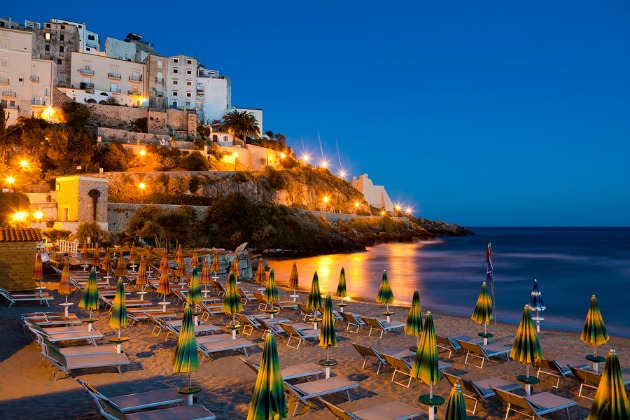 Another factor to its advantage is that summer here lasts at least six months. So even in October, long after Italy's northern Adriatic resorts have folded the last of their deck chairs and disconnected the flashing lights of the beachfront discos, Sperlonga continues to cater to international sun and sea lovers.
Celebrities Past and even further past!
This charming village was 'discovered' in the 1950s by the Italian film set, who would drop in for a relaxing break from shoots at Rome's Cinecittà studios. Heart throb Raf Vallone was the first to come, enchanted by the special atmosphere.
'For over 30 years I invited many famous friends who fell in love with the place. Albert Camus, who was of African origin, was bowled over: for him the little white village resembled his homeland.' Vallone recalled other memorable guests including Arthur Miller, Marlene Dietrich whose elegance and style left a lasting impression on the locals, not to mention sex kitten Brigitte Bardot in the sixties.
Nowadays the population split of original residents to outsiders is about 50/50 as many Romans take year-long rents, and a growing number of foreigners are buying properties.

However, Sperlonga was known to celebrities much earlier – rumour even has it that the legendary hero of ancient Greece, Ulysses, dropped anchor here to take on much-needed water for his crew. Despite a recent escape from the clutches of the bewitcher Circe (resident on the nearby peninsula), here our ill-fated hero became embroiled in local affairs and ended up having to take on the dreadful Laistrygonian ogre cannibals – an incident that entailed sacrificing one of his trusty men.
Grotta di Tiberio
The place was also beloved of Roman rulers. In fact a leisurely stroll to the end of the northernmost beach is rewarded by the extraordinary remains of what was once a multi-storey classical villa sprawling up the rocky hillside.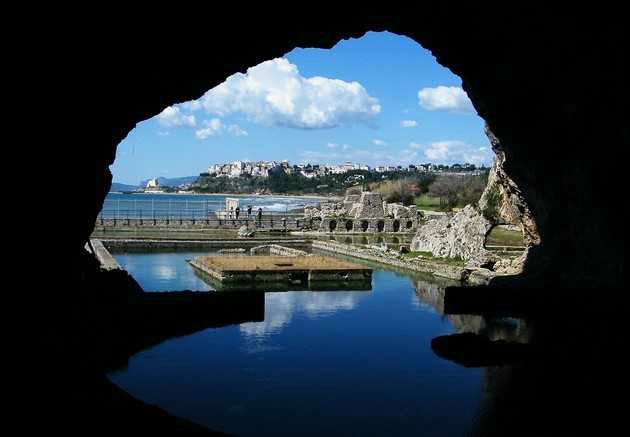 An unequalled creation, even by breathtaking Roman standards, it reached a remarkable height on the flank of Monte Ciannito. Only rediscovered in 1957 during roadworks, it was the brainchild of Emperor Tiberius from the 1st century AD. It appears that the great man used to throw sumptuous banquets on the lower, sea level – guests would recline on couches and rock-gouged beds in a vast limestone cave complex, entertained by expert musicians.
A contemporary chronicler left a record of an incident from October 26, AD: 'While a banquet was in progress in a natural cave, the
entrance collapsed unexpectedly and several servants were buried.' The emperor himself was saved by the timely intervention of a friend.
Other marvellous reports of merrymaking refer to huge platters of food floated across artificial pools. These doubled as fish breeding ponds, and visitors in the 21st century can still admire the sleek carp which swim freely here. Moreover a wealth of stunning statues, valuable mosaics from ancient floors, pottery and marble wall panels from the villa's extensive rooms are on show in the adjacent museum premises.
And of course it is here at the 'Grotta di Tiberio' that the origin of the name Sperlonga becomes clear – spelunca namely cave, grotto. (In English we have 'speleology' that means 'the study and exploration of caves'). So the pristine village on the rocky headland took its name from a gaping rock cavity.
Magical Blend
Modern-day visitors to Sperlonga can expect a magical blend of ancient and modern, relaxation and cultural experiences. The culinary front is headed by a superb range of scrumptious gelati, however delicious fish meals accompanied by fruity white wines from the hinterland come a close second.
Linguine allo scoglio (thin ribbon pasta with crustaceans) or spaghetti con frutti di mare (spaghetti with seafood) are a good choice unless you go for the tasty traditional soups with lenticchie (lentils) or ceci (chick peas). A curious type of greens is scarola, lightly sautéed in oil with black olives and chilli.
Finally, memorable sunsets across the Tyrrhenian take in the islands of Ventotene and Ponza, as well as the twin peaks of the Circeo peninsula. Be warned, you might be tempted to come back again and again…