With more and more established artists embracing the house concert phenomenon, is it really a new concept to have professional musicians perform for an intimate gathering in your home?
The idea of using your home to stage a musical or theatrical event has been around for centuries; during the Renaissance and Baroque periods, many noble families would have secular music performed in a chamber for visiting guests, resulting in the phrase 'Chamber Music', which is still used today.
A resurgence in home performances began several years ago in the US and their popularity has spread into Europe and the United Kingdom, enabling people to experience professional performers in intimate settings.
In the town of Ripa Teatina, Abruzzo, the concept has been embraced by Valeria Ruggiero and has proven popular - so popular that demand for tickets has exceeded expectations.
Like previous performances, the December 20th concert featuring NYC-based singer/songwriter James Maddock and English act Fabian Holland was due to be staged at Ms Ruggiero's home, however, it attracted so many people that an alternative venue had to be sourced, and thankfully the town's council came to the rescue allowing the concert to be staged in one of the town's halls.
The event began with a buffet dinner and fine wines being served and hosted at Chiostro del Convento S. Maria della Pietà, and it was very soon evident that the audience was going to be quite large. The atmosphere was cordial and the mild evening temperature meant that people were able to meet and greet outside the impressive portico of the cloister.
During the dinner, Valeria explained to me her involvement with the Light of Day Foundation, the U.S. charity based in New Jersey that stages concerts to raise awareness and funds for finding a cure for Parkinson's disease. I asked her what the motivation was for staging the house concerts in a small Abruzzese town. "It's not about making money," she said. "I enjoy music and house concerts are a great opportunity to bring together different people and cultures."
The concert took place in a hall at the council offices and the rows of seats were quickly filled as people took the three-minute stroll from the dinner venue through Ripa Teatina's narrow streets.
After an introduction by Valeria, the show opened with a set by English singer/songwriter Fabian Holland and, before he introduced himself to the audience, which was an eclectic mix of ages, fellow artist James Maddock leaned to me and said of Holland, "He's an amazing guitarist."
Holland opened the show with faultless performance of the historic gospel/blues song Nobody's Fault but Mine. This was quickly followed by the traditional song Doctor Price, about the Welsh doctor known for being a pioneer of cremation in Britain and his involvement in Chartism and Neo-Druidry.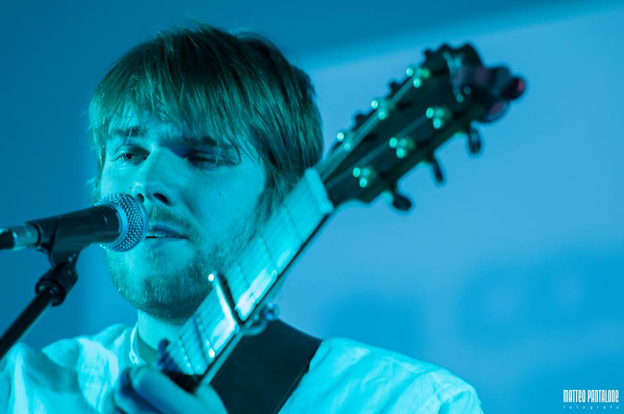 Fabian looked very much at home upon the stage and his pop star good looks belie his 28 years. Between each song, he was playful with the audience as he introduced the next with a smattering of Italian language and the flash of a smile. In fact the boy who, at the age of seven, picked up his first guitar is no stranger to Italy, having spent several years in Abruzzo perfecting his skill, and it was during the instrumentals that he demonstrated his virtuosity. During the first, I watched as two teenagers became so engrossed in his playing that they put their mobile phones away and, open-mouthed, they sat watching him as his fingers danced over the fret board.
Before the concert, I asked Fabian if we are going to see him on a TV talent show like The X Factor any time soon, to which he responded, laughing, "No. I think that kind of instant TV success never seems to have the substance required to sustain a career."
Fabian certainly has the talent and attitude to sustain a long career in the music industry. Signed to Rooksmere Records, his self-titled first album was released back in October 2013 with the lead single being Home. His follow-up album, A Day like Tomorrow, is due for release in April 2015 and there's also talk of his touring Italy with the world renowned Italian guitarist Franco Morone.
Fabian's guitar playing has a natural fluency and his version of Summertime would have had Gershwin on his feet leading the applause that he was so deserved of this evening.
Fabian was followed on stage by a short set by New Jersey born Laura Crisci, who played songs from her album, All is Well. The Nashville twang and thumping backbeat gave the evening a different slant and, during the song, Catch Me if You Can, she had the audience singing along.  
Sadly for myself, my aversion to the sound of a harmonica meant I did spend much of this set outside talking with locals who were enjoying the show. One young man in his twenties told me, "I like live music from other countries and this is a great opportunity to hear it in my hometown." Another commented by saying, "The concert is a great chance to enjoy different music." When I asked a group of teenagers if they thought the evening was a success their response was a united, "Certo."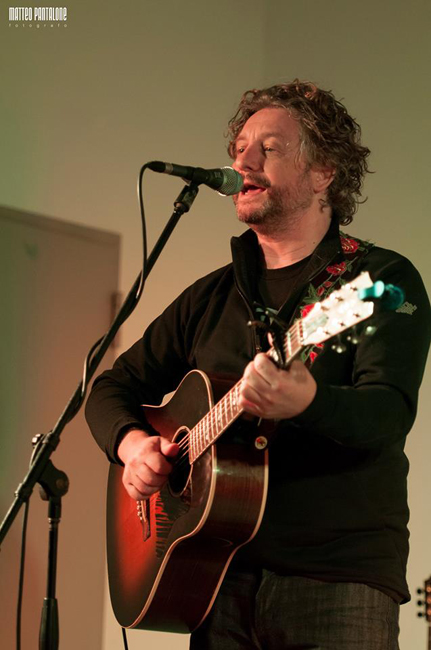 The final act of the evening was UK born and now NYC resident James Maddock. Fresh from taking part in the Light of Day tour, he is playing several Italian dates to promote The Green, his fifth studio album which has already been released in Italy. "I think it's my finest collection of songs and I'm incredibly proud of it," James said.
James was accompanied for his set by Alex Valle, whose lighting fast finger plucking complimented Maddock's rhythmic guitar playing. It became apparent within the first few chords of their opening number that the audience was going to warm to Maddock; his personality is infectious and the bounce of his curly hair gives him a rock star presence without any pretentions. It would be easy to pigeon hole him as a singer with a gravelly timbre, but that would be lazy journalism; his voice has a more mellifluous quality, with a wide range of light and shade suited to his style of song writing.
James isn't your average song writer relying upon a simple verse, chorus, middle eight, and chorus structure - his songs are stories, obviously well thought out and written so that every single word is as important as the next. In fact, so notable are his song writing abilities that the new Waterboys album, Modern Blues, features three songs penned by Maddock including their first US single November Tale and Beautiful Now.
Maddock's performance is an intimate collection of songs including the 2013 single Another Life mixed with friendly banter giving it a fluidity lacking in many less confident performers, and it's easy to see why James is well respected within the music business.
The evening ended with rapturous applause and, as the audience left, there was an air of something important having just happened in this small Abruzzese town. Earlier, I had asked Valeria if it was difficult to attract established musicians from overseas. "No, not difficult at all," she said. "I have connections with many artists and I know promoters and agents here in Italy, so we have a pretty good circuit for house concerts. There are so many of American singer/songwriters that would love to come over for a gig and enjoy our territory and our good food!"
James Maddock's new album will be released in the US in the spring of 2015 and he is scheduled to return to Italy for 12 shows starting on May 5th in Milan and ending in Bergamo on May 15th. Check out his official website for up-to-date information.
Photographs courtesy of Matteo Pantalone