The green region of Abruzzo, where I live, remains off-the-beaten track despite its proximity to Rome. It takes just over an hour by car or bus to reach its borders with Lazio yet very few travellers make that journey. It is certainly not a destination for everyone: no big splendid cities with Renaissance treasures on each corner, rows of souvenir kiosks or restaurants trying to lure customers in with tourist menus. There are coastal resorts here with the usual high season stampede, however, most inland villages in Abruzzo have managed to retain their genuine character that appeals to the conscious traveller. To appreciate the soulful beauty of the region you need to slow down and see the finer details and simpler pleasures that make Abruzzo irresistible. Here are a few of my insider's tips on travelling slowly in the region.
Visit small mountain villages
Abruzzo's charm is in its small borghi precariously clinging to mountain slopes or hiding in dense forests. Unfortunately, public transport linking them with major routes is slow and infrequent, so you will need to have a car to explore them or allow yourself plenty of time for hiking ancient trails that connect some villages. Start your day early if you want to check out local bakeries, markets and churches as most of them are open only in the morning. Scanno, one of the most photographed villages in Italy, is a fascinating maze of narrow streets with excellent small restaurants, shops selling traditional artisan gold jewellery, and shabby old palaces. Here older women still wear traditional costumes daily and you can watch some of them making bobbing lace outside their homes. Santo Stefano di Sessanio is among the most beautiful villages in Abruzzo where you can admire elegant archways built during the Medici rule, take in stunning mountain views and sample delicious soup made with locally grown lentils. In Villetta Barrea you might run into Oreste, a stag that frequents the village in search of cuddles and treats and is loved by locals so much that they gave him a name, Oreste, and declared him the village mascot.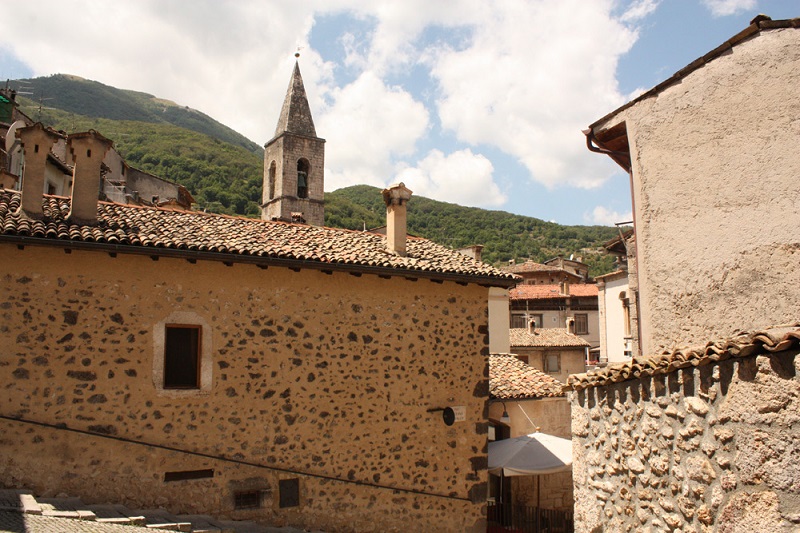 Scanno. Ph. by Anna Lebedeva
Eat local produce and typical dishes
The variety of traditional dishes in Abruzzo is astonishing and each of them tells a story from the region's past. Almost every town and village has at least one unique recipe perfected over centuries. In Lama dei Peligni you will find a local pastry, sfogliatella, which originates in the 19th century. Le virtù and lessagne traditional soups can be traced centuries back and are still served in some restaurants in Teramo and Chieti in May. The small sponge cakes with pastry cream naughtily called "sise delle monache" ("nun's breasts") have been made only in Guardiagrele since the 1800s.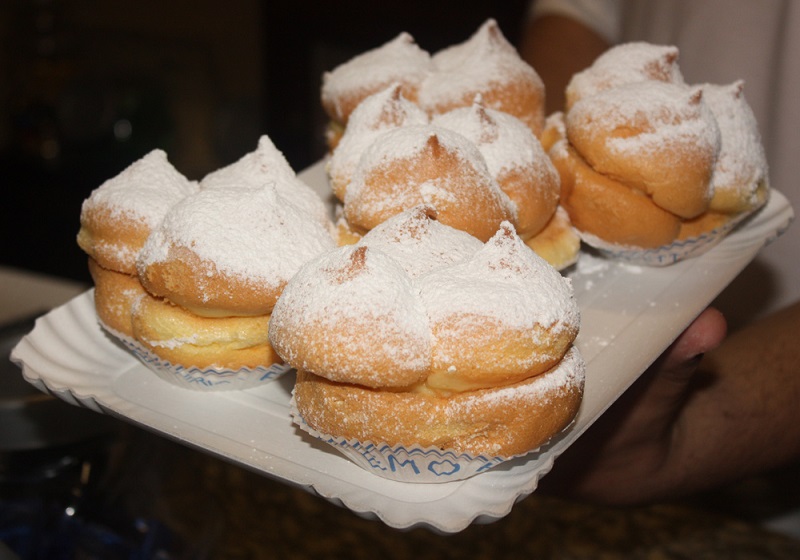 sise delle monache. Ph. by Anna Lebedeva
Look out for pecorino di Farindola and canestrato di Castel del Monte cheeses, excellent salami ventricina del vastese or mortadella di Campotosto, pasta made with ancient grains saragolla and solina. All these are created by small-scale producers who devote their lives to the best of Abruzzo's gastronomic traditions.
Discover hidden gems
Do your research before heading to Abruzzo. There are many hidden gems scattered around and you might want to plan your trip as some of them require time to reach or only accessible on certain days. The oratory of S. Pellegrino in Bominaco is called sometimes the Medieval Sistine Chapel yet there is no queue to see its stunning frescoes. Three local women take turns to open the doors to visitors and you might have to call the phone number indicated on the gate to ask to be let in. The region is known for its hermitages that were built by monks between 10th and 13th centuries, most of which can only be reached on foot and offer a fascinating glance into the history of Christianity and Abruzzo. One of my favourite hermitages is carved in rock San Bartolomeo in Legio, not far from my home, where the famous hermit Pietro da Morrone spent two years in the 13th century before becoming Pope Celestino V. Rocca Calascio and Campo Imperatore offer Tibet-like panorama, old fishing machines called trabocchi along the coast in the province of Chieti, numerous castles and medieval churches, - the list of treasures little-known outside of Abruzzo is long.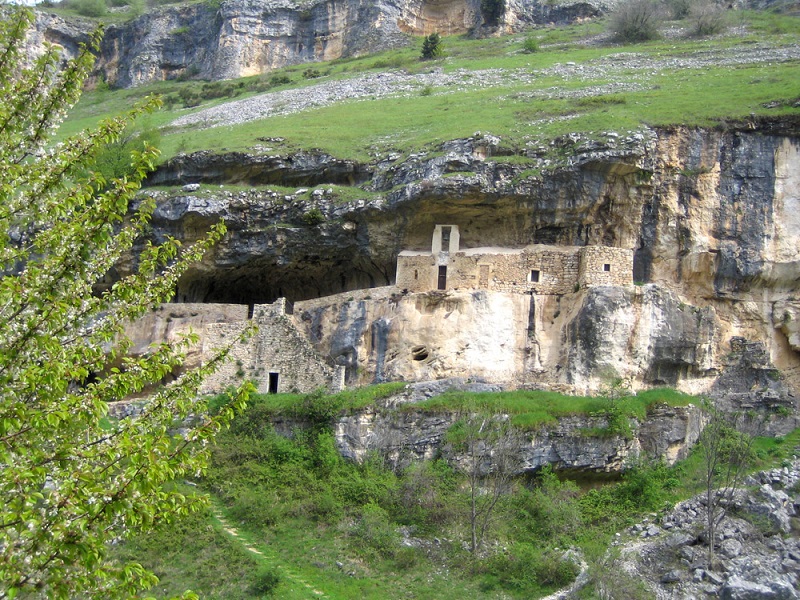 hermitage san bartolomeo, Ph. Anna Lebedeva 
Enjoy Abruzzo's natural wine
Natural wine means pure grape, without any fancy technologies and special effects added. The natural wine movement is gaining momentum in Abruzzo with some organic wineries going back to basics. Producers such as Praesidium, Cirelli, Emidio Pepe believe in traditional artisan methods that have existed in the region for a long time and refuse to manipulate their wine. Can there be a better drink to enjoy by a slow traveller than Montepulciano d'Abruzzo or Cerasuolo made with the utmost respect for the land?!
Go on a bear watching tour
The nearly extinct Marsican brown bear (Ursus arctos marsicanus) is a true symbol of Abruzzo. There are only about fifty of them left in in the Central Apennines, mainly in the Abruzzo National Park.  Local conservationists do a fantastic job trying to save the bear. If you are lucky, you might spot one or two elusive giants while hiking in some remote areas. However, it is better to go on  organised bear watching tours, which are run from June to September by a small local company Ecotour. Meeting the Marsican brown bear can never be guaranteed but you will certainly see their tracks and get familiar with the environment where they live, spot deer, wild boar and, perhaps, wolves. During these tours, you will visit some restricted areas that are accessible only with a guide and stay in a simple mountain refuge overnight.
Take the historic train
Dubbed "Italy's Trans-Siberian" the old railway from Sulmona to Castel di Sangro is the second highest line in the country after the Brenner line. Old trains run as part of a nationwide network of the Italian State Railway's historical foundation. Thematic itineraries take visitors to less-visited parts of Abruzzo and Molise to see gastronomic and folklore festivals, Christmas markets and archaeological sites. Breathtaking views are guaranteed!
Anna Lebedeva is a food and travel writer based in Abruzzo. She runs Green Holiday Italy, a blog about sustainable travel in Italy, and Abruzzo With Gusto, an enogastronomic tours company.