Exploring Hidden Gems in Gallura
Monday, August 15, 2016 - 23:21
By: Diana Simon
Gallura, a region situated in northeast of Sardinia, is renowned for its remarkable natural beauty and the acclaimed Emerald Coast, which has been the playground for the rich and famous since the early 60s. While its beaches draw all the attention, there are many fascinating aspects to the region: it's steeped in history, rich in traditions and boasts wonderful dishes highlighting local products.
Together with Instagramers Sardegna, we were in Gallura to discover its lesser-known gems, which largely took us to the countryside and to meet with locals for insights on the many facets of the region.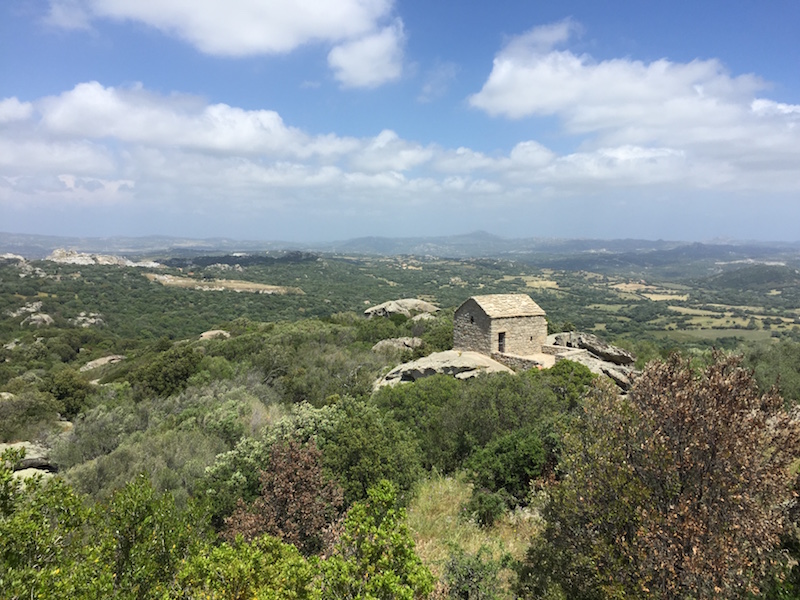 View from Balaiana Castle
Treasures of the land in Gallura
Vermentino di Gallura DOCG
Certainly one of the treasures of the region is the Vermentino di Gallura DOCG, Sardinia's only DOCG appellation that received this status in 1996. Vermentino vines have thrived in the region thanks to the granitic soil that is rich in potassium and the windy and warm temperate climate.
During our visit, we had the opportunity to learn more about this prestigious wine when we meet with Daniela Pinna of Tenute Olbios, who is deeply passionate about keeping with traditions, dedicated to the territory and yet open to modernity. I love their philosophy, as they are not solely producing for the market but all for creating quality wines that they themselves would like to drink. 
Hers is also an inspiring story that goes back three generations as the farm belonged to her grandfather. Challenging times befell them yet Daniela's mother, who was a widow with three children, remained committed to the farm and turned away offers for the purchase of the land.
It was only in 2003, when Daniela, together with her husband started Tenute Olbios, an ancient Greek word meaning "happy, rich, and fertile land". You feel that positive and renewed energy as you drive onto their property, a 60-hectare estate where you'll not only find vines but also bushes of  wild lavender, a lake, wild pear trees, cork oak trees and the splendid view of the island of Tavolara.
When we arrived, we were warmly welcomed by Daniela and treated to a refreshing glass of Cavè, their rosè wine on the terrace of the beautifully restored stazzo, a typical rural Sardinian dwelling. Following that, we had a feast for lunch featuring a plethora of local dishes, from cheeses to cold cuts that were served together with their wines, including their Vermentino di Gallura Superiore DOCG named Lupus in Fabula.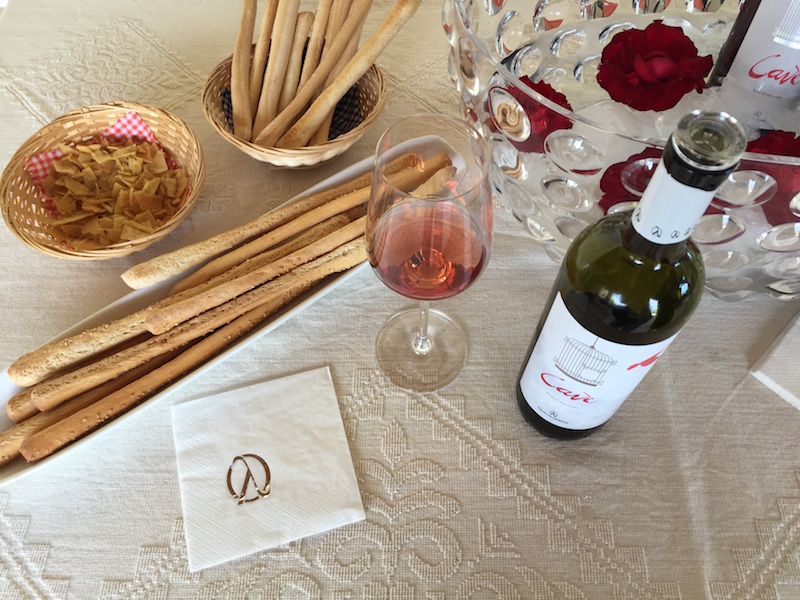 Cavè, rosè wine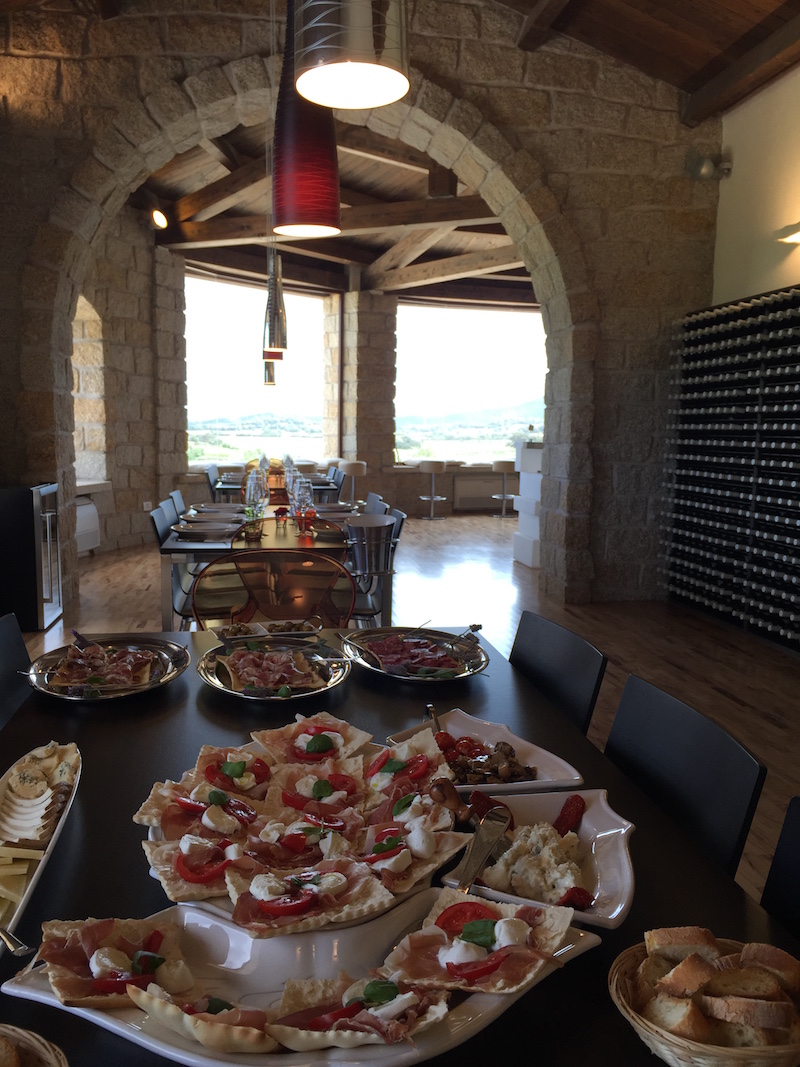 Lunch at Tenute Olbios
This wine, made of 100% Vermentino grapes, is usually hand-harvested in the middle of September and pressed without being destemmed. The fermentation takes place in stainless steel tanks that are housed in the stazzo, the same building where we had lunch, and then aged in the bottle for another 8 months. 
What I found interesting were the names of the wine and you'll be surprised to know that there is a fascinating story behind the name and label of each wine produced by Tenute Olbios.
Take for example another wine they produce "In Vino Verita", a Vermentino di Sardinia DOC. The name is a Latin phrase that translates to "in wine, there is truth", suggesting that you're likely to speak your mind after a few sips. The design on the label for this wine is "The Mouth of Truth" and according to Daniela, they are confident that the distinct quality of the wine doesn't lie and the reason for naming it as such. 
However, it was Bisso, the name of the sparkling wine that got my attention. Bisso is sea-silk, a natural fiber produced by a particular type of Sardinian mussel.  So you are probably wondering how that is even relevant to sparkling wine?
In 2004, Daniela decided to experiment with producing vino Spumante metodo classico and as a result of the silky taste of the sparkling wine, Daniela decided to name the wine Bisso, and Tenute Olbios is only the second wine producer in Sardinia to produce Spumante.
Cork Production
Yes, that thing to seal wine bottles is a multi-million industry in Sardinia. How fascinating can cork production really be? It's more fascinating than we could have imagined and we got insights on this industry from Giovanni Passella, the fourth generation in his family to be involved with cork (sughero) production.
Cork is the bark obtained from a cork oak tree that is at least 30 years old. This operation involves extractors using a hatchet to make two horizontal cuts, one at the base and one at the top of the tree trunk, followed by two vertical cuts. Next, the handle of the hatched is wedged into the cuts to remove the cork bark.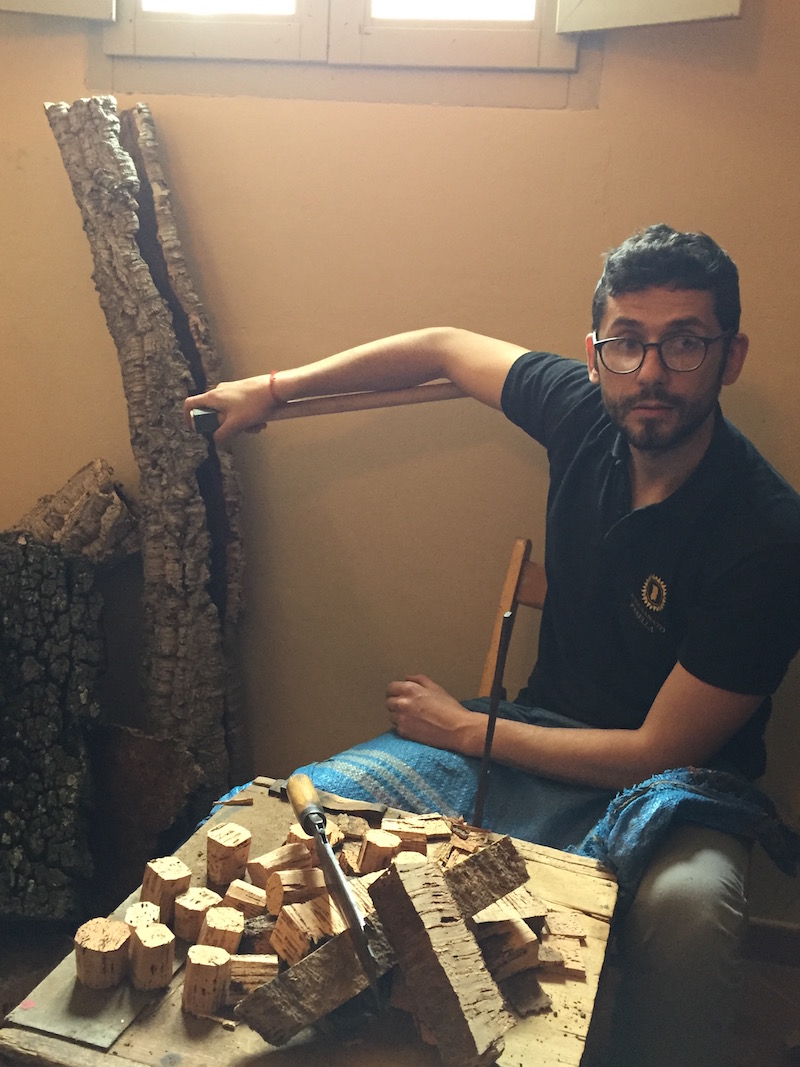 Cork – Giovanni Passella
The first extraction from the bark is so-called the male cork, which is too poor of a quality to be used for corks as it's rough and stiff. It's only 10 years later when you harvest the bark again, known as the female cork, which is used in the cork industry.
A cork oak tree lives up to 300 years old and harvest of the bark happens only every 9-10 years during summer months (May-August).  The extraction of the bark is a delicate process as care has to be taken to ensure the bark and the tree are both not harmed. Giovanni mentioned that the cork industrial is a sustainable one as the leftover corks not used for wine are often grounded to make champagne corks and then eventually into sheets as insulators for homes.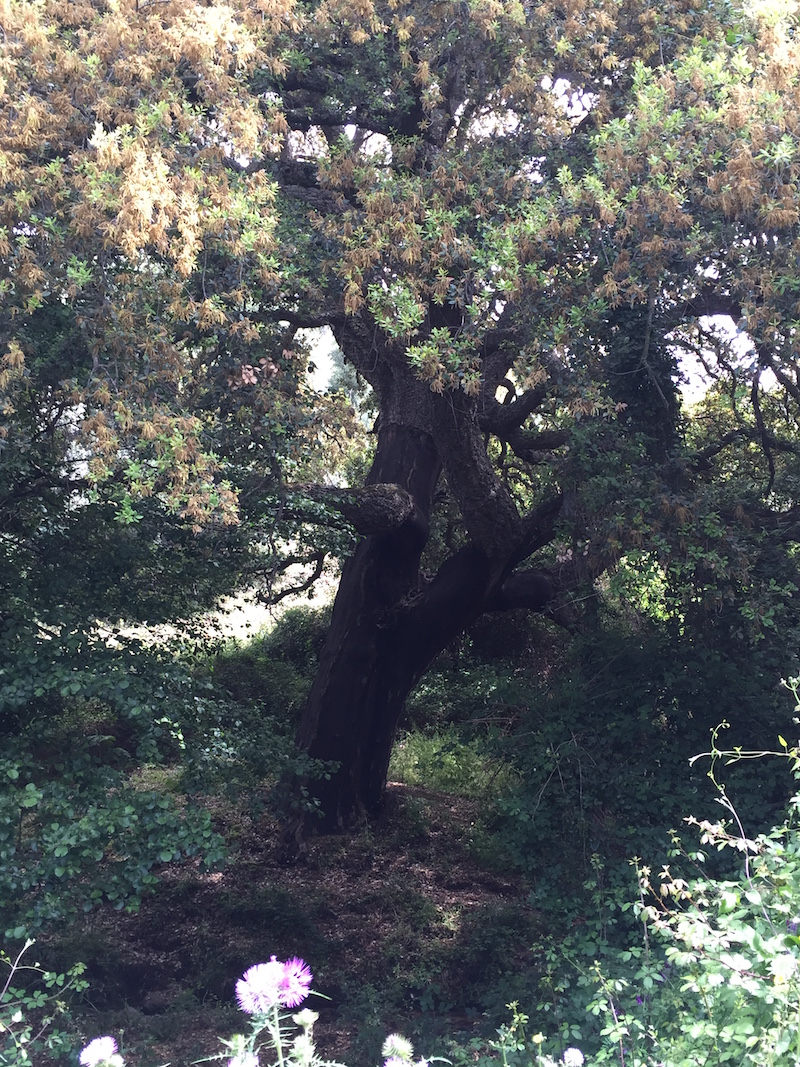 Cork oak tree
While we didn't get to see the extraction of the bark from the cork oak tree, Telemaco Murgia of Mediterranea Adventure brought us to see the massive cork oak tree of Crisciuleddu, which is 20 meters tall and has a girth of 385cm. 
Off-the-beaten path in Gallura
A short distance from Crisciuleddu is the town of LuogoSanto (Sacred Place), most likely named due to it religious ties and to the 22 rural churches scattered in the area. In town itself, you'll find the Basilica di Nostra Signora, its foundation the work of Franciscan monks dating back to the 13th century, and a short drive away in the countryside is the Hermitage of San Trano, which has an intriguing story.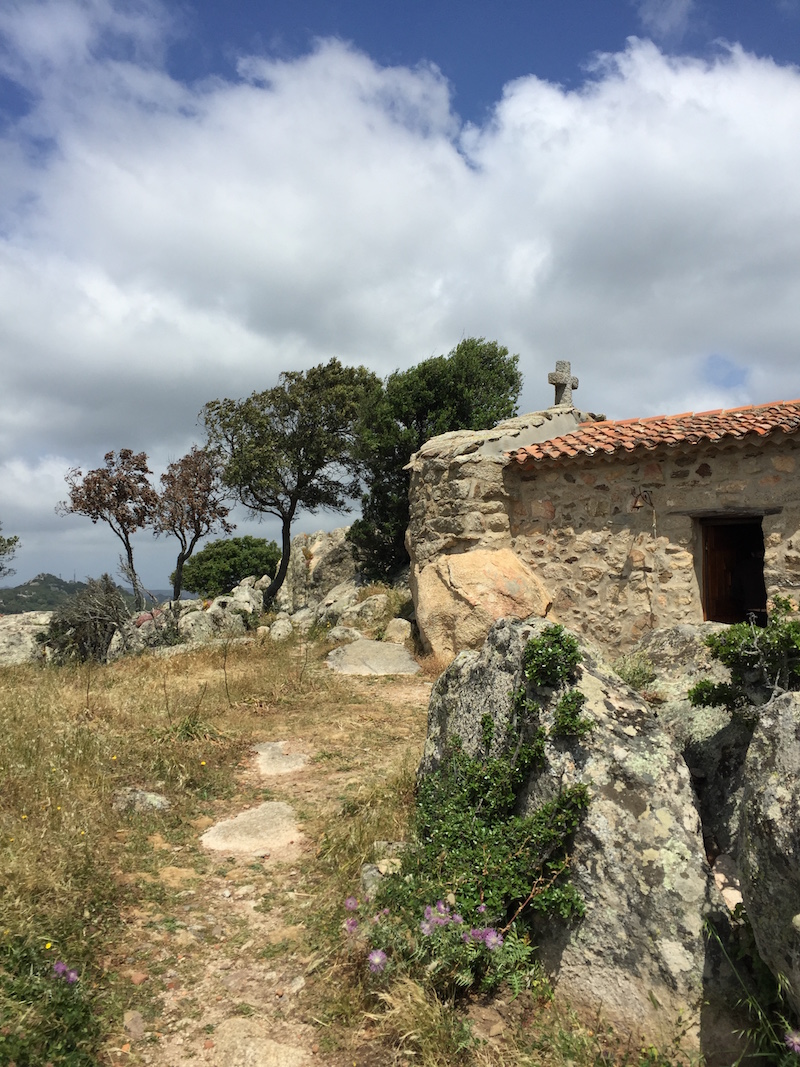 Hermitage of San Trano
Tradition has it that the Virgin Mary appeared in a dream to two Franciscan monks and gave them directions to the discovery of the relics of Saints Nicola and Trano, hermits and martyrs from the 4th century. The relics were found inside a rock in the countryside and a simple one room church made of granite blocks and wooden beams was later constructed here and dedicated to the two saints.
To get to this hermitage built on an imposing block of granite, you walk past some remarkable rock formations and from this vantage point, you can enjoy sweeping views of the area.
Another site that boasts fabulous views is Balaiana Castle and the Chapel of San Leonardo. A set of uneven granite stairs take you all the way up to the fortified building but the effort is well rewarded with a stunning 360-degree view.
The castle probably served as the summer residence for the Judges of Gallura in the Middle Ages and was likely to be in used until the arrival of the Aragonese in the first half of the 15th century. In the nearby granite outcrop is the chapel of the castle, Chapel San Leonardo, which is considered one of the smallest Romanesque buildings in Sardinia.
Taste of Gallura
Thanks to Geovillage, we had incredible dining experiences at both their restaurants, La Tavolara and Sa Mesa.
We also got a cooking lesson from Chef Manolo Leoni on how to make chuisoni (gnocchi galluresi), a typical pasta from this region that only requires two ingredients: semolina flour and water. He then expertly shaped them by using the other side of a grater to obtain the bumpy surface on these cylinder pasta that are about 3-4cm in width. Now that we have seen them made, it's actually easier than we expected.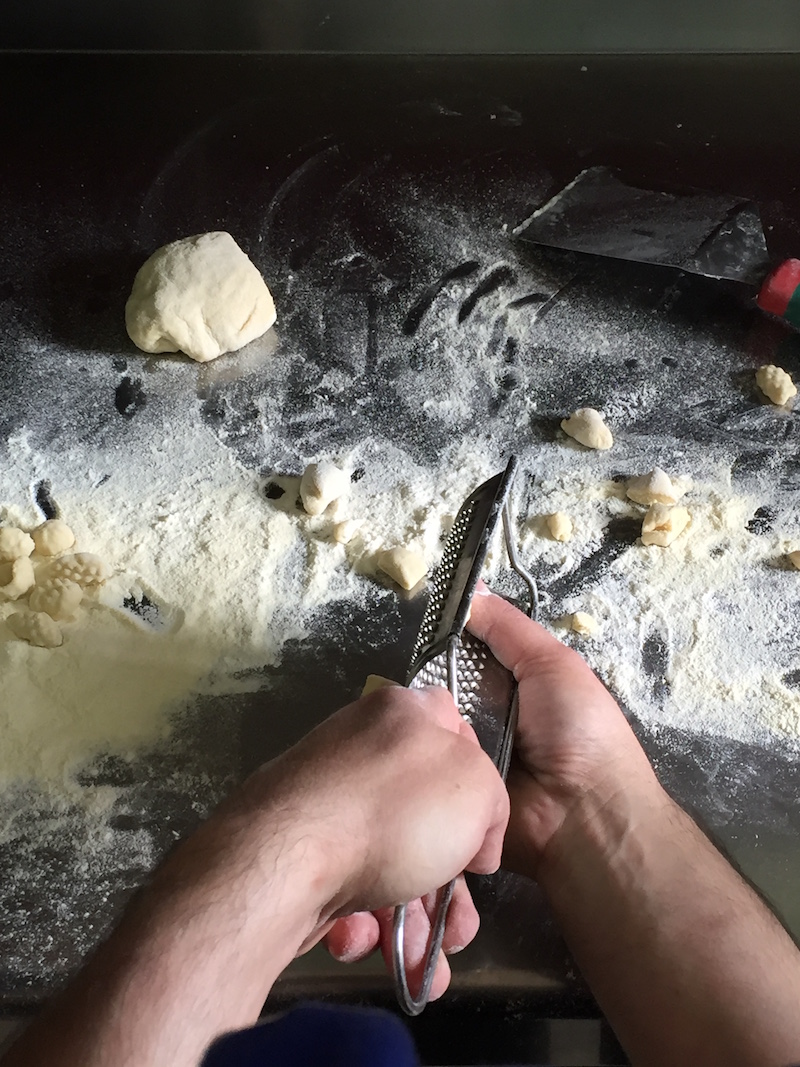 Gnocchi making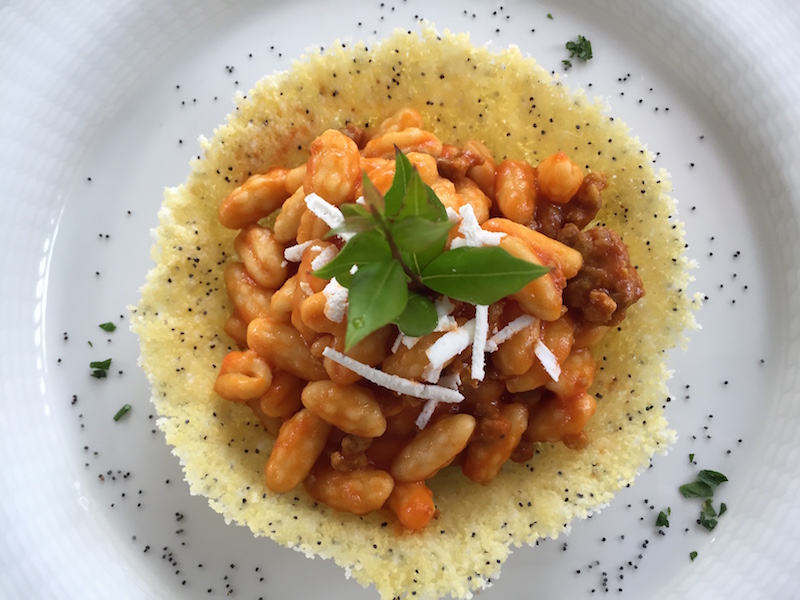 Gnocchi galluresi
While we didn't get the chance to try our hands at making them, we did, of course, get to taste them. Once the chiusoni were boiled they were served with tomato sauce, purpuzza brasata (braised pork), wild fennel and saffron. A lovely and hearty dish we all happily savored.
An interesting and refreshing dessert that Chef Manolo prepared was a semifreddo alla Pompia. A what? We learned pompia is a variety of lemon that is found in Sardinia, where only the rind can be used, often to make desserts, jams and honey.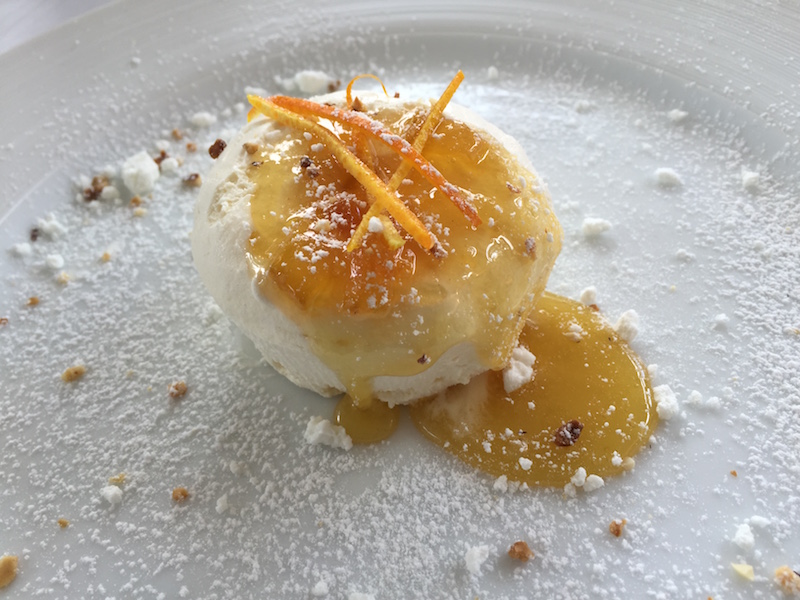 Pompia dessert
Fortunately, those weren't the only dishes that we indulged in. We also got a taste of the typical dishes from Sardinia prepared by Chef Germano Orru' of Tavolara restaurant, also located in Geovillage. We were served succulent porcheddu (roasted suckling pig), as well as an exquisite dish of toasted fregola with seafood served on a crispy basket made of pane carasau.
Fregola is a kind of pasta mainly made of semolina flour and water, shaped into small pellets and toasted. And of course, we had the famous Sardinian dessert seadas, similar to a ravioli that is filled with pecorino (sheep) cheese, fried and with honey drizzled on top. Heavenly.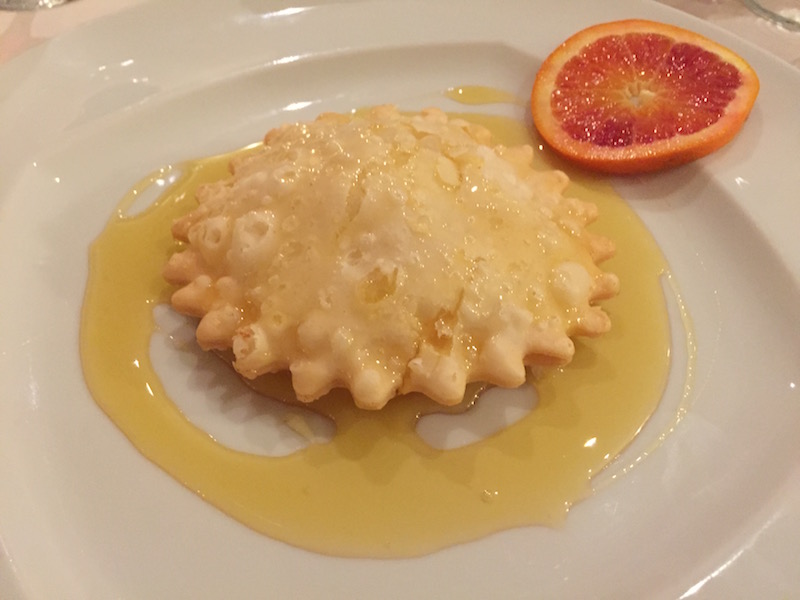 Seadas
Beaches in Gallura
A trip to Gallura wouldn't be complete without at least stopping by a few of the stunning beaches. As our trip took place in mid-May, I was looking forward to all things summer and the first thing we did when we got to Olbia was a stop at Pittulongu beach, just 8 kilometers away from the city.
When we got to the beach, it was close to deserted, likely because it was still too cold for a swim. I couldn't resist the urge to take off my shoes and feel sand beneath my feet. With such a lovely setting, easy to reach, and clear, shallow waters perfect for families with young children, I could see why it's a popular beach with locals and visitors alike. This stretch of fine sandy beach is actually made up of four beaches that together span 0.8 miles (1.3km), all boasting a view of the imposing Tavolara island.
Slightly further north, we stopped in Cala Sassari together with the Instagramers Sardegna team in our buggy rental from Albuggy. Although dark clouds were overhead, that didn't stop us from having a fun and exhilarating ride. The beach here is smaller than Pittulongu but nonetheless as beautiful with its crystal clear water and also the sight of Tavolara island in the distance.
We've seen my share of dazzling beaches in Italy and abroad, and one that had us in awe was Capriccioli beach in Arzachena. I think it has got to do with the fact that the beach is hidden by Mediterranean brush. As you walk towards the beach you get teasing glimpses of it and once it's revealed, you're blown away by the picturesque setting: large granite rocks, view of the islands of Soffi and Le Camere, powdery white sand, calm glistening waters with different shades of blue and lush vegetation all around. And it's no wonder the crowds flock here!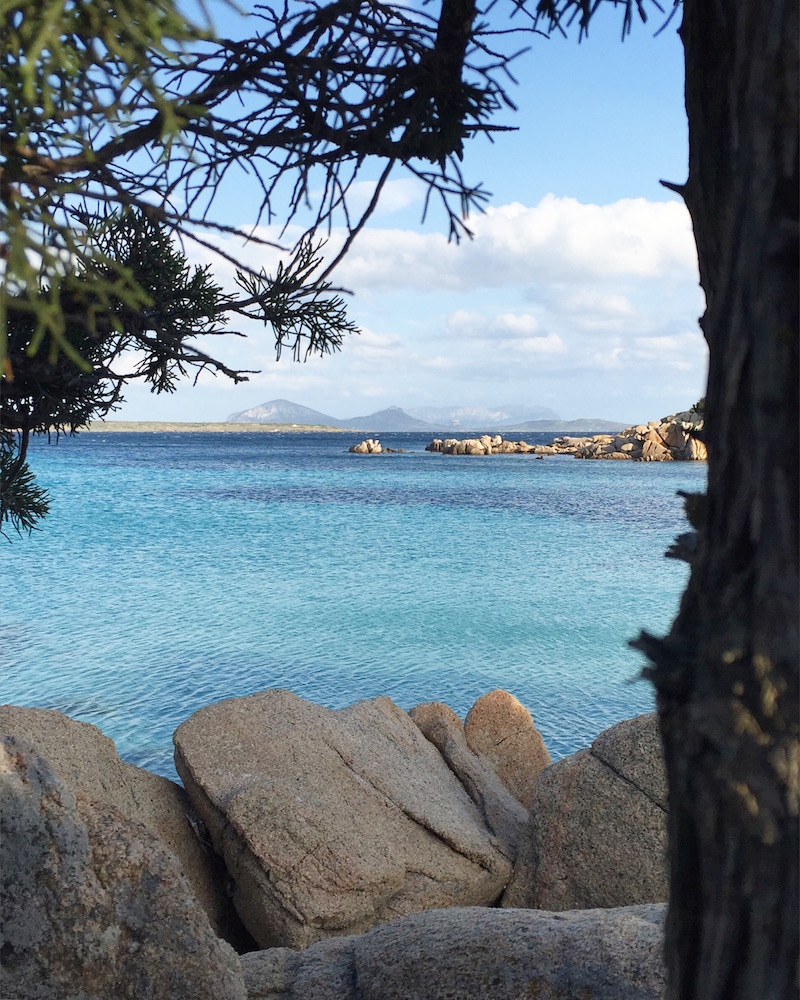 Capriccioli
Have you been to the Gallura region in Sardinia? What were the highlights of your visit?
Author's Byline:
Diana Simon is the creator of BrowsingItaly, an award winning blog that is all about sharing the best of Italy. She has lived in Rome, Italy for the past 10 years and while she can never get enough of the ravishing cities, she is always keen to travel off the beaten path to discover hidden gems in Bella Italia. Follow BrowsingItaly on Instagram, Snapchat, Twitter, and Facebook for stories, tips, videos and more. 
Location:
You may also be interested in...