The glories of Rome extend to its countryside, where magnificent gardens, many dating to the 16th century, flourish to this day. Leon Battista Alberti, the noted architect and author, famously wrote a treatise on garden design inspired by ancient Rome in his book, On the Art of Building, which influenced the development of these Renaissance wonderlands and propelled landscape design to new levels of drama and excess with elaborate parterres, fountains, and sculptures of mythical gods and creatures. Here are five to visit now as summer fades into fall.
CASTELLO RUSPOLI GARDEN
Located in Vignanello (70 kilometers from Rome) in the Tuscia region of Lazio, the gardens of the Castle Ruspoli are considered among the finest examples of Renaissance landscape design in the world. It is also home to the oldest parterres in Italy. The castle site, once a Benedcitine monastery, passed through the hands of many notable Italian families including the Farnese, Orsini (Ottavia Orsini created the garden in the 1600s), the Marescotti, and finally the Ruspoli when Vittoria Ruspoli married a Marescotti in 1704. (The Ruspolis have remained in the public eye in modern times. When making La Dolce Vita, Federico Fellini was supposedly inspired by the actor Alessndro "Dado" Ruspoli.) In the center of the intricately pattered parterres is a fountain designed by Jacopo Barozzi da Vignola, the renowned Mannerist architect. Piazza Della Repubblica, 9 Vignanello; castelloruspoli.com;  Open: March to November, Saturday and Sunday from 10 AM to 1 PM and 3 PM to 6 PM. Opening hours may change depending on private events in the castle. http://www.castelloruspoli.com/#info.html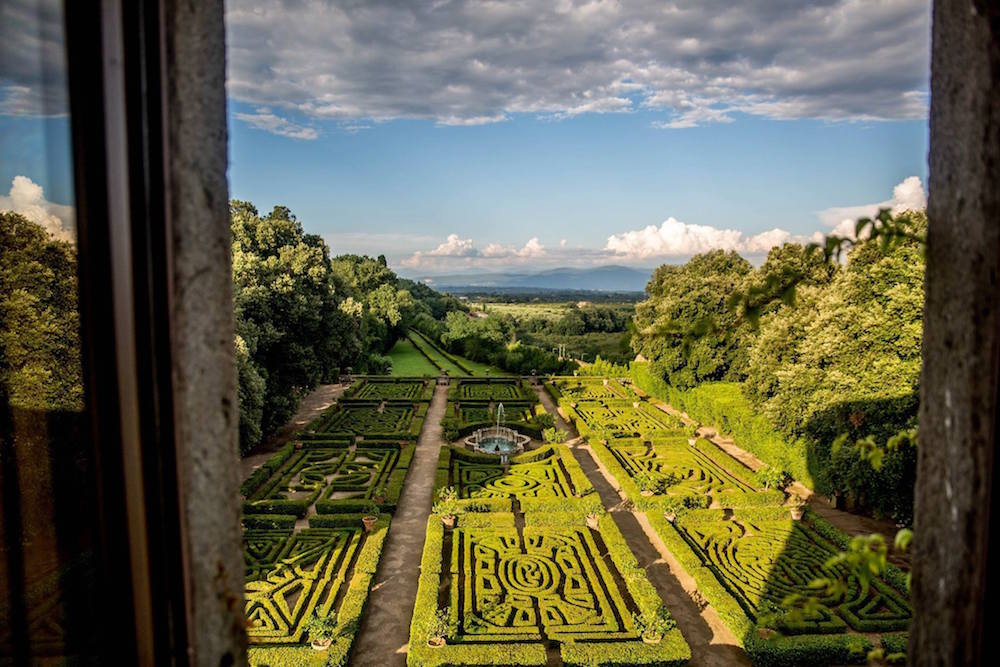 [Photo by Castello Ruspoli]
VILLA LANTE GARDENS.
Considered one of the best examples of Mannerist landscape design (a late Renaissance style defined by elaborate topiary and sensational water displays), the Villa Lante garden in Bagnaia, 83 kilometers from Rome, was created by Jacopo Barozzi da Vignola according to the principles of Palladian geometry. Amid its cascading terraces you'll find an abundance of fountains, statuary, cascades and grottoes, many referencing classical mythology. The villa and gardens were originally created for Cardinal Gambera in 1566; the ducal Lante family became owners in 1622.  Note the garden's outdoor dining table, crafted in stone, where the villa's owners dined al fresco, and its clever water-filled furrow used to keep vintages chilled—a  Renaissance-era version of a smart and effective wine cooler. Via Jacopo Barozzi, 71, Bagnaia; tel.: 39 0761 288008; www.polomusealelazio.beniculturali.it/ Open: Tuesday to Sunday. Check website for hours as they vary by season.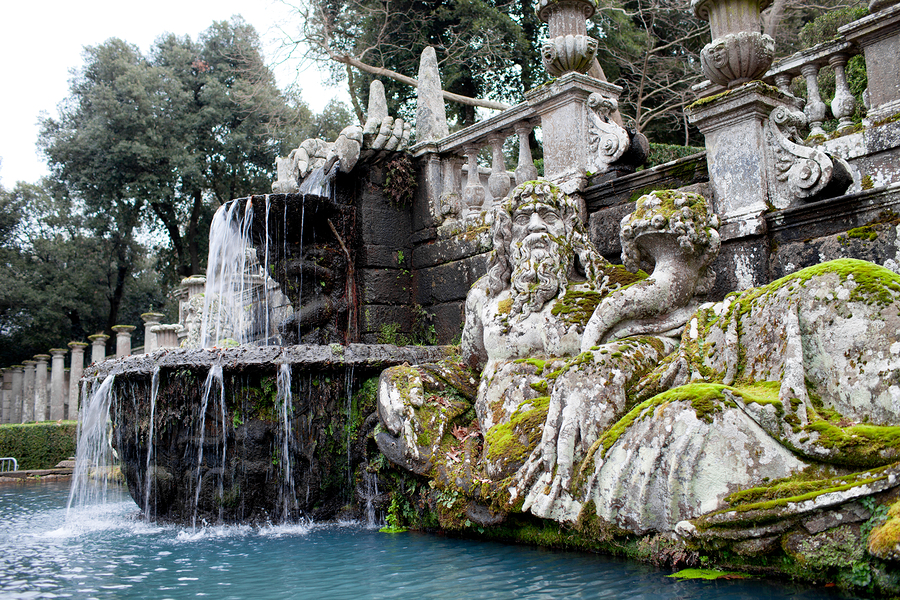 [Detail of the Giants Fountain with statue representing the personification of Tiber river.]
SACRO BOSCO/VILLA ORSINI.
When rigorously classical landscape design was at the height of fashion in the sixteenth century, Prince Vicino Orsini decided to create a very different type of garden at his villa in Bormarzo, about 92 kilometers from Rome in northern Lazio. He worked with Pirro Logorio, a noted Cincquecento architect, to develop an idiosyncratic playland laid out labyrinth style rather than with the strict precision of a Renaissance-era park, and filled it with fantastical stone creatures in the shapes of exotic animals and mythological figures. Many of the sculptures that populate the grounds were supposedly inspired by the writings of Virgil (The Aenid) and Ludovico Ariosto (Orlando Furioso). Over the centuries the garden, although falling into disprepair, inspired a range of artists, including French baroque painter Claude Lorrain and the writer Goethe. It was only in the 20th century, thanks to Salvador Dali and other cultural influencers, that the garden was restored to its former spooky glory. Località Giardino, Bomarzo; sacrobosco.it/ Open year round from 8 AM to sunset.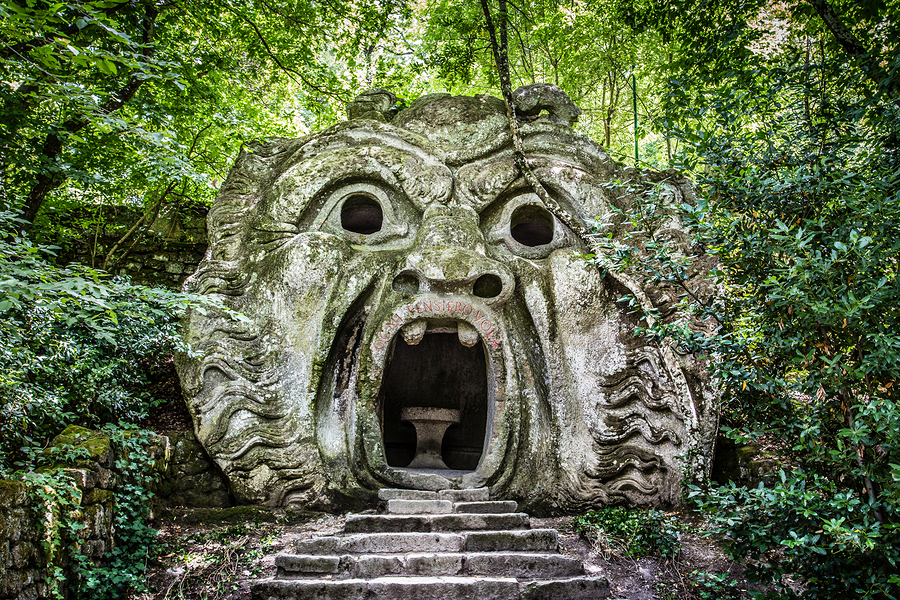 [Orcus mouth sculpture at the famous Parco dei Mostri (Park of the Monsters) also named Sacro Bosco (Sacred Grove) or Gardens of Bomarzo]
HADRIAN'S VILLA GARDEN.
Dating from the second century AD, Hadrian's Villa  (Villa Adriana), built on a site owned by the emperor Hadrian's wife, Vibia Sabina, consists of a roughly 30-building complex spread over 250 water-rich acres in Tivoli (formerly called Tibur), an area 20 miles from Rome. The vast estate was designed to accommodate a few thousand people and did, as emperors tended not to travel light, moving about with entourages that included their court, servants, and visitors seeking patronage—a retinue that could rival the size of a small town. The sprawling grounds contain numerous pools, a long canal, and streams—some are flanked by statues and temples, or by cypress and olive trees; others end in covered grottoes and arcades. Marcus Aurelius and Caracalla were among the famous Roman rulers who used the retreat. Largo Marguerite Yourcenar, Tivoli; whc.unesco.org/ Open daily from 9 AM to one hour before sunset.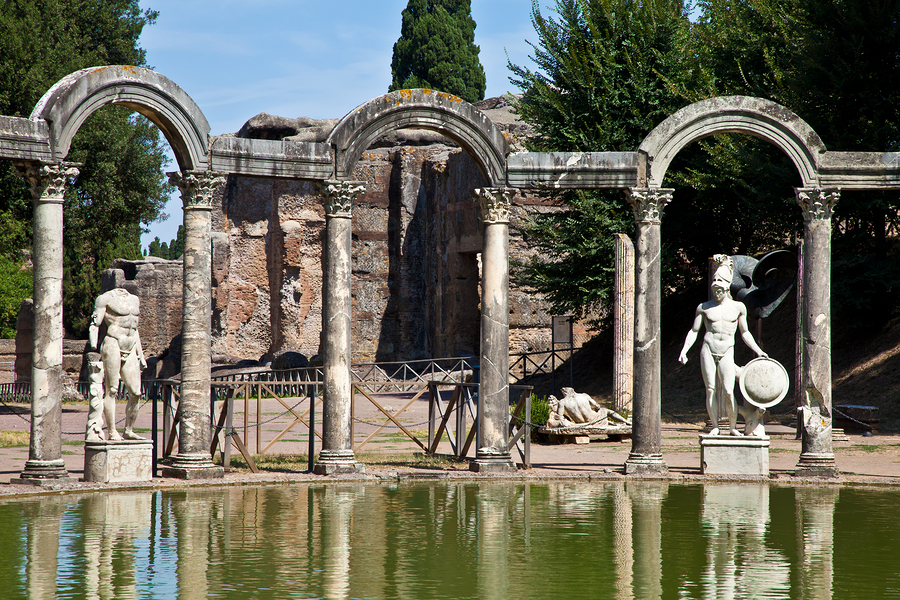 [Villa Adriana in Tivoli - Italy. Example of classic beauty in a roman villa.]
VILLA D'ESTE GARDENS.
Like Hadrian, Cardinal Ippolito D'Este, a member of the noble Este family (his mother was Lucrezia Borgia), built the splendid villa that bears his family's name in Tivoli, a sort of sixteenth century version of the Hamptons, where the city's elite spent summers far from the heat and intrigues of the Eternal City. The cardinal commissioned Pirro Logorio to transform the surrounding  landscape which became one of the most famous, not to mention copied, gardens in the world, thanks to its ingenious feats of water enginerering (using only gravity) and a seemingly endless assortment of fountains (one hundred line one promenade) nymphaeums, waterfalls, and cascades.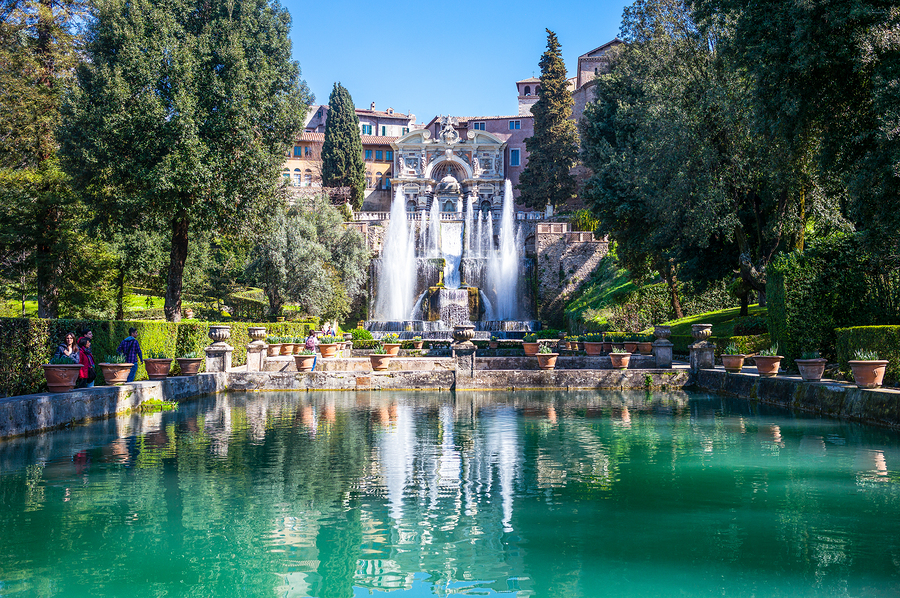 [Villa D'Este, the Neptune fishpond with the Organ fountain in the background]
So renowned were Villa D'Este's landscape marvels that Europe's best painters and artists, including Piranesi, Fragonard, Turner and Corot made pilgrammages here, their depictions spreading the fame of this extraordinary setting throughout the world. Mythological statues adorn many of the fountains, pools, and terraces. The Neptume Fountain was created by Bernini, the master architect of Baroque Rome. Piazza Trento, 1, Tivoli; villadestetivoli.info/ Open all year except January 1st.