Casa Guidi in Florence was once home to the poets Elizabeth and Robert Browning. Amanda Hodges explores the history of this connection.
It was 12 September 1847 and Elizabeth Barrett Browning was standing transfixed at the window of her first floor apartment, the Casa Guidi in Florence. It was her first wedding anniversary. Below her the street was thronged with people in celebratory mode, happily enjoying a day of revelry. Gathering in the courtyard of the nearby Pitti Palace, Italians had come to thank the Austrian Grand Duke Leopold II of Tuscany for allowing Florentines the right to form a militia, an act anticipating the sort of welcome liberality that could eventually lead to Italian unification. For Barrett Browning, newly embracing her own particular freedom, this was a cause with which she could instinctively empathise.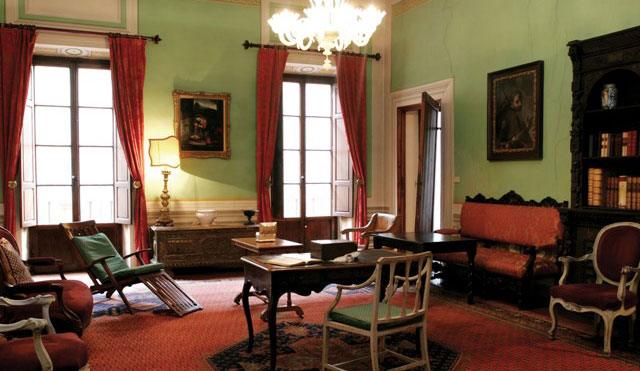 Secret Wedding
Only a year earlier life had seemed bleak. Instead of the warmth and conviviality of her current surroundings, the 40-year-old Elizabeth had been ensconced in the family home in London's Wimpole Street, a chronic invalid who spent the majority of her life confined to her room. Her illness has never been clearly diagnosed but it seems to have been bronchial in origin. A poet of wide renown, Elizabeth was described by a friend as 'a delicate figure with a shower of dark curls, most expressive face and a smile like a sunbeam'. She had a large and loving family, presided over by her authoritarian father who would not countenance marriage for any of his children. For the past 18 months she had been involved in a passionate correspondence with little known poet Robert Browning, an epistolary friendship blossoming into love upon acquaintance. Knowing her father's intransigence and hesitant about broaching the subject in person less her health collapse, she married Browning in secret in September 1846. Departing for the continent a week later, they were fully intent not just on escaping the imminent British winter, but savouring the delights of continental life too. Robert had long known and liked Italy but it was Elizabeth's first opportunity to travel abroad.
Elizabeth happily spoke of the newly acquired 'seven rooms, three of which are magnificent and the others excellent, to say nothing of our terraces…'
Casa Guidi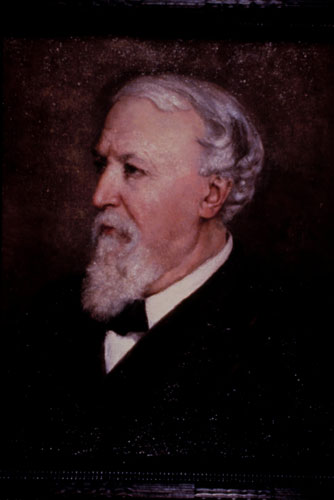 After a few months in Pisa the Brownings arrived in Florence, swiftly taking unfurnished rooms on the piano nobile of what Elizabeth would soon call the 'Casa Guidi' at 8 Piazza San Felice, a four-storey palazzo in a quiet neighbourhood easily reached from the Ponte Vecchio. The city's relative cheapness plus its liveliness and beauty appealed to them. Little did they realise that with the exceptions of a brief tenancy hiccup in 1848 and long summer visits to England and Paris (when they sublet their apartment), this would evolve as their base for the next 15 years. Writing to her sister Arabel at the time Elizabeth happily spoke of the newly acquired 'seven rooms, three of which are magnificent and the others excellent, to say nothing of our terraces… The church of San Felice is opposite so we haven't a neighbour to look through the sunlight and take observations. Isn't that pleasant altogether?'
Spacious and with high ceilings, the Casa Guidi brought out unexpected qualities in the couple. Loathing househunting, Robert discovered he actually enjoyed finding furniture whilst Elizabeth's dislike of housekeeping was superseded by her relish in choosing the colour scheme for their new home – green walls, red soft furnishings. Filled with pictures and heavy furniture, the rooms were usually in shadow because the shutters were kept fastened in the daytime. Friends like John Ruskin and Anthony Trollope visited, whilst young American Kate Field recorded her impressions of the drawing room, ' There was something about this room that made it a proper haunt for poets. The dark shadows and subdued light gave it a dreamy look, enhanced by the tapestry-covered walls.' The apartment actually features in Robert's poem The Ring and the Book:
'The book was shut and done with and laid by...
I turned to free myself and find the world,
And stepped out on the narrow terrace, built
Over the street and opposite the church
And paced its lozenge brickwork sprinkled cool.'
Casa Guidi
Nurtured by her husband and quickly responsive to the mild, sunny climate of her adopted land, Elizabeth's health was transformed beyond all recognition. Gratified by this and delighted by the country in general, she swiftly became a staunch advocate for Italian unification, perhaps feeling that the country was experiencing oppression just as she had. 'I heard last night a little child go singing
'Neath Casa Guidi windows by the church
O bella liberta, o bella…'
Whereas Robert was attracted to Italy's Renaissance past, it was the political present that enthralled Elizabeth and 1851's Casa Guidi Windows is a direct result of her strong reaction to current events, the first part optimistic and exuberant, the second disappointed by the lack of success.
Forging the Golden Ring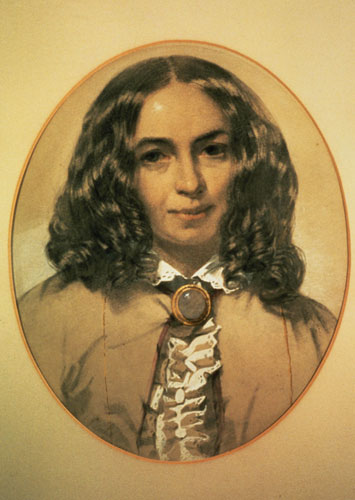 In 1849, aged 43, and against all expectation, Elizabeth, who suffered four miscarriages in total, gave birth to son Pen. She was equally productive professionally. Her habit was to write mainly in the mornings in the large drawing room whilst Robert adjourned to the small sitting room nearby before they reunited for dinner at 3pm. The famous ITALS Sonnets From the Portuguese were published, so named because 'the Portuguese' was Elizabeth's nickname, given due to her dark complexion. In 1856 her long prose poem Aurora Leigh appeared, adding further emphasis to her outspoken stance on the position of women in society. Italy suited both of them well and though they enjoyed lengthy trips elsewhere to see family and friends or escape the heat of the Florentine summer, it was always to Casa Guidi that they returned. 'When all's said and done I love Italy – I love my Florence… Florence is my chimney corner, where I can sulk and be happy, ' wrote Elizabeth.
They enjoyed 15 years of this invigorating life before Elizabeth died, in Robert's arms, on 29 June 1861, aged 56. She had been declining ever since the demise of both father and sister Henrietta and now neither husband nor country could effect yet another miracle. Buried in the English cemetery in Florence, a plaque in her memory was mounted above the door of Casa Guidi the same year, the municipality honouring a woman who had 'forged a golden ring between Italy and England.'
Bereft, Robert and his 12-year-old son left Florence within a month, returning to England. Before his departure Robert had tried to take a photograph of the drawing room but, finding the light bad, commissioned his friend George Mignaty to paint it instead.
Subsequent years saw his reputation reach its peak and by the time of his death in 1889 – whilst staying in his son's palazzo in Venice- he was acclaimed as a venerable man of letters. Both he and Elizabeth considered their happiest years to have been those spent in Florence; a debt Robert later acknowledged:
'Open my heart and you will see
Graved inside of it "Italy." (De Gustibus.)