Italian Christmas Decorations: Il Presepio
One of my fondest childhood memories is about arranging the Nativity Scene together with my parents. True to italian tradition, it was a huge scene, taking up a whole table—and spanning several days' work.
On the weekend before setting up the scene, my father and I would go to the countryside to gather some moss, and to the beach to get plenty of sand. Then, my mother, the Nativity Scene artist, would begin working.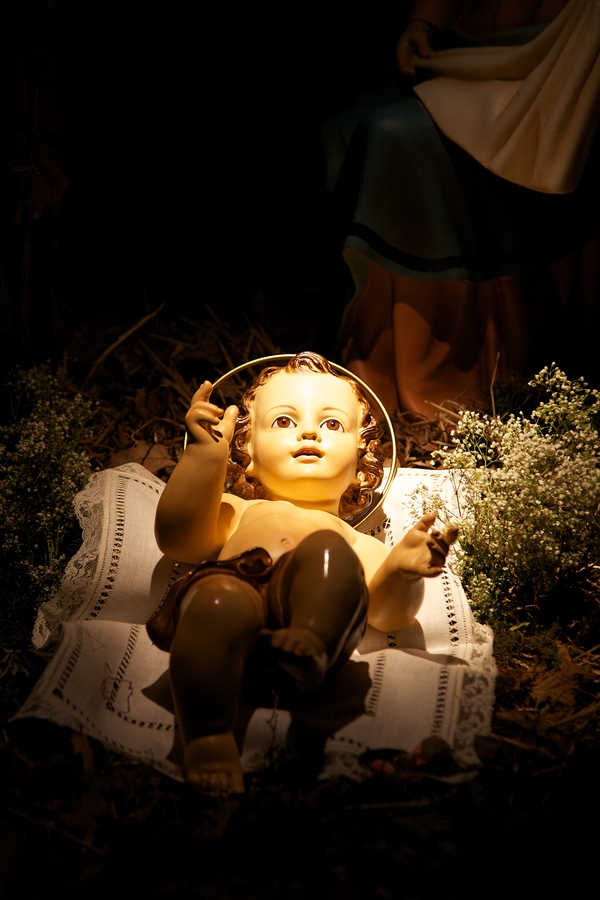 Like magic, sandy dunes and moss-encrusted hills would spring up on the table, sprinkled with tiny shepherds, sheep and camels on their way to the barn. Here and there would be a river (made with foil and cellophane) with geese and the obligatory goose girl. Down on the plain, a procession of shepherds and sheep, peasants and pipers would follow the comet to the angel-topped barn, where Mary, Joseph, the donkey and the ox patiently guarded an empty manger—because Baby Jesus only ever joined the Scene at midnight on Christmas Day.
A pesky cat with a penchant for wreaking havoc among the shepherds, moss and sand put an end to the Nativity Scene arrangement at my parents' home, but the tradition remains strong in most Italian households (where, presumably, cats are either absent or better behaved).
Virtually every public place, from stations to parks, also has its own scene, and the grandest of all are in Naples and Rome (though the best Roman one is actually in Vatican City, a country in its own right). Even more than the Christmas Tree—which arrived in Italy relatively late, as it was, for a long time, a northern European, Protestant tradition—the Nativity Scene (presepio, or presepe in Italian) is the quintessential Christmas decoration up and down the Bel Paese. And rightly so, because it was an Italian who invented it.
After he came back from a trip to Egypt and the Holy Land, Saint Francis of Assisi introduced the custom of setting up a three-dimensional Nativity Scene by placing a manger between a live ox and a donkey in a cave where he preached. But the presepio's roots are probably much older, dating back to the Roman festival of Sigillaria, a holiday celebrating the family's dead, when statuettes where arranged into a bucolic scene.
Some years after Saint Francis first created his Nativity Scene, medieval artist Arnolfo di Cambio sculpted what are considered to be the very first presepio statuettes—a marble Nativity Scene showing the Three Wise Men kneeling at Jesus' feet under the watchful eyes of Joseph, the ox and the donkey (still visible at Santa Maria Maggiore in Rome).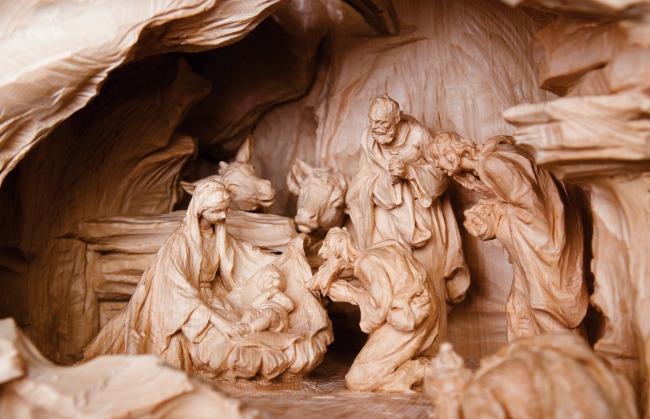 Over the centuries, terracotta, wooden and marble Nativity statues became common across Italy. In the 17th century, the Jesuits helped makethe presepio even more popular by using it as a preaching tool. It was then, in the explosively opulent Baroque era, that many of today's characters—the shepherds, the sheep, the common people—made their appearance.
But the presepio tradition reached its zenith just short of a century later, in Borbonic Naples. Setting up a Nativity Scene became popular in the best Neapolitan households, with no expense or effort spared. Statuettes, usually made of terracotta, wax or wood, were dressed in rich fabrics and placed in grandiose settings, which sometimes took up whole rooms.
With the advent of the 19th century's Romanticism, however, the presepio tradition changed again—no longer a costly, elitist art form, it reached the masses. While the presepio's regional variations remained alive—Naples' extraordinarily rich character production, Bologna's wholly sculpted statuettes, Genoa's deeply religious scenes—cheaper figurines, often made of papier mache, entered every Italian home—and there they stayed until today.
How to arrange a presepio
If you want to set up your own presepio, the Associazione Italiana Amici del Presepio has some useful tips:
Always choose a well-lit location for your scene, somewhere central in your home, preferably making sure that the main statuettes are placed at eye level. Choose statuettes of different heights, making sure that each is in the right proportion to the others and to the presepio's elements, such as houses and barns (taking perspective into account).
Choose one style and stick to it—you can go for a near-authentic representation of the Nativity (with Baby Jesus, the Virgin Mary, Joseph, the ox, the donkey, the shepherds and the Wise Men) or opt for one of the many regional or historic variations (for example, a Neapoltan presepio complete with the drinkers at the local osteria) but try not to mix the two. Mind you, I have always mixed them, and it is a lot of fun.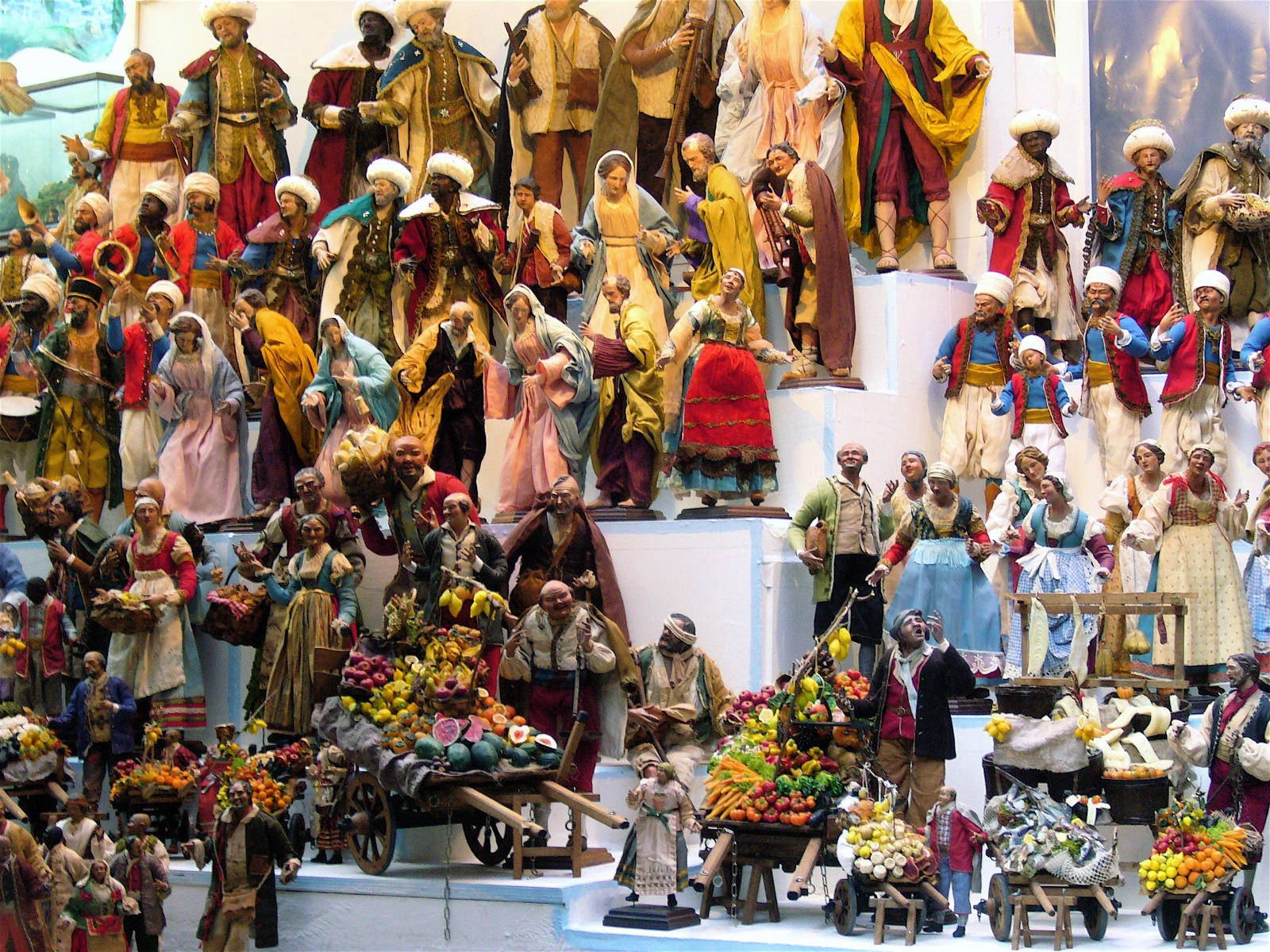 Draw a draft of what you'd like your presepio to look like, making sure you use some visual tricks to draw the eye to your focal point. Try and have two or three layers—the main one, where your principal characters are, and one or two more.
There are many more tips, including how to build a credible wall, or create a mist effect, which you can read on www.presepio.it (in Italian only). But beware, if you attempt to follow them all, your presepio can become a year-long job.
Where to buy the best statuettes
Naples is the obvious place to go and buy presepio statuettes—the stalls in San Gregorio Armeno and San Biagio dei Librai literally groan under the weight of all sorts of (usually terracotta) figurines (click here for a video tour along the stalls).
Otherwise try the Fiera di Santa Lucia, in Bologna, another city that has centuries of presepio-arranging tradition.
Where to visit the best presepi
Naples, of course. There are so many great presepi there that it is hard to choose which ones to view and which to leave out. But don't miss those at San Lorenzo Maggiore (with minuscule scenes set inside walnut shells) and the many presepi, including some beautiful porcelain ones, at the Museo di San Martino.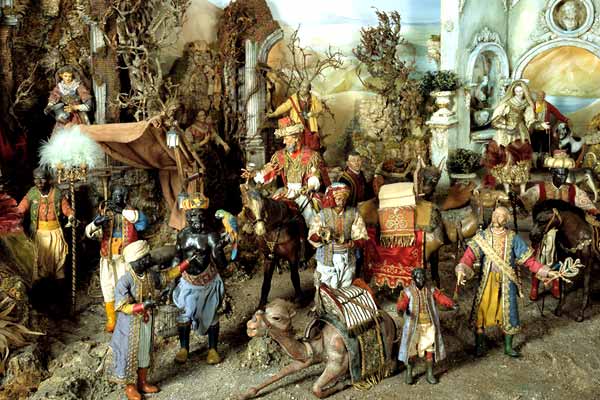 Rome also has many extraordinary presepi—the one in Piazza di Spagna, full of 19th century Roman characters, the life-size one in Piazza Navona, the grandiose one in Santa Maria Aracoeli—but the biggest and best has to be the one in Piazza San Pietro (technically in the Vatican State, but still). The statuettes are slightly larger than life size, and some of them come from an original 19th century collection. The Saint Peter's presepio opens on 24 December.
And for the presepio vivente (where actors take the place of statuettes) try Assisi, in Umbria or Cava d' Ispica in Sicily. 
You may also be interested in...