Italy's tourism industry is being badly affected by the coronavirus emergency. At ITALY Magazine, we want to help by profiling some of the businesses that are suffering now that the entire country and many parts of the world are under quarantine, with travel restrictions in place and many trips canceled. 
Working with students from around the world, and especially Anglophone countries, the Italian language school Il Sasso is one of these businesses, expecting to work at just 15-20% of what a normal year would be.
"The economic damage is enormous," says Silvia Celli, Director of Studies at the school and a teacher of Italian herself. 
Il Sasso has been operating for 37 years in Tuscany's Montepulciano, a hilltop medieval town famous for its red wine, Nobile di Montepulciano. The school is located inside a historic palace which, in the 14th century, was a convent and a hospital. Its large outdoor terrace, where students like to gather during breaks in the warm season, is right above the town's medieval walls.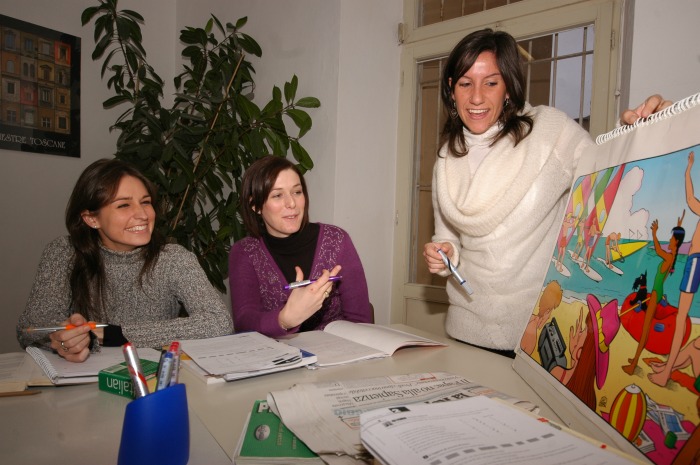 Students, who average between 35 and 70 years of age, have generally four hours classes in the morning, with a maximum of 10 students per class and an average of 4 to 8 students. The school's mission is to help them develop effective communication skills in Italian, using games, role-plays, problem solving, listening and reading comprehension from real-life situations. 
Il Sasso also offers some unique learning experiences like "Italiano Camminando" (Learn Italian while walking), a week-long course where classes are taught during walking and hiking excursions in the Montepulciano countryside, such as in Valdichiana and Unesco-inscribed Val d'Orcia; students and teacher chat in Italian, "pausing under an oak or in the midst of a vineyard to discuss a specific theme," Silvia tells me.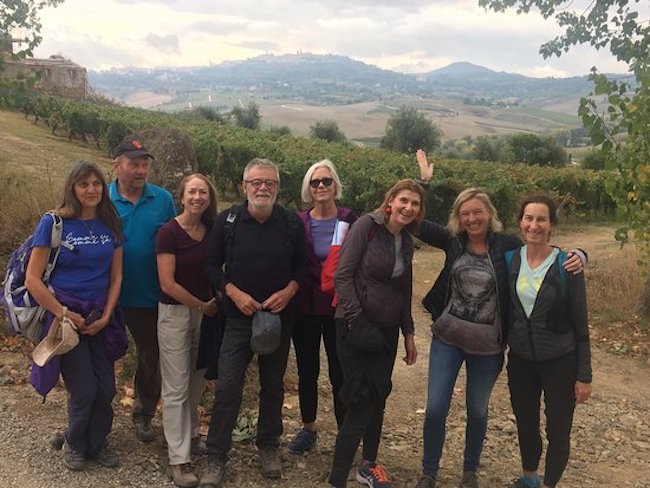 Another original offering is "Italiano & Arte", art language classes, geared at students with an intermediate-advanced level of Italian and a love for art history; in this case too, lessons are not held in a classroom, but in different locations where the study of the language is combined with visits to places that hold interesting artistic and architectural elements, starting with the historic center of Montepulciano itself, nearby Pienza, the 'ideal city' of the Renaissance, or the Abbey of Monte Oliveto Maggiore, with its cloisters containing the frescoes of the Life of St. Benedict.
Montepulciano is indeed an idyllic location where to study Italian, about 100 km south of Florence, in what is one of the most coveted Italian regions, Tuscany. When students are done with morning classes, they have a range of extra curricular activities to choose from: fresh pasta cooking classes (incidentally Montepulciano is also famous for its 'pici' pasta); watching Italian movies; walking in the beautiful surrounding countryside; conferences; and exploring the area around Montepulciano, which boasts gems like Pienza, famous for its pecorino; Montalcino, a hilltop town still surrounded by its fortified walls, renowned for its Brunello red wine; Bagno Vignoni, whose hot sulfur waters have been used since Roman times for their therapeutic properties; the Abbey of Sant'Antimo, an ancient Benedictine monastery thought to date to before the year 1000; and Trasimeno Lake, near the border with Umbria, with its picturesque villages of Castiglione del Lago and Passignano ("I can see the lake from my window," Silvia told me as we were speaking the phone).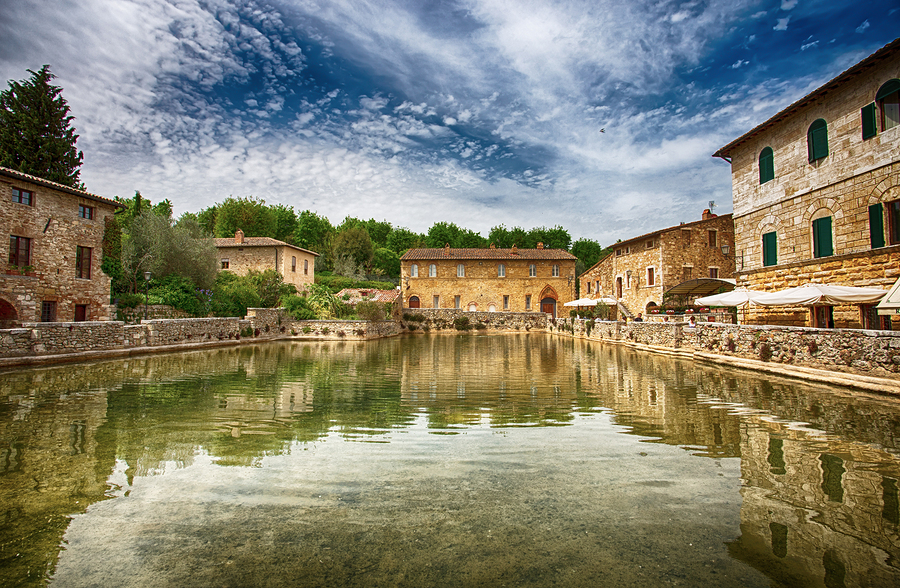 Montepulciano does not attract a young crowd looking for discos and nightlife, but rather people who want to immerse themselves in the beauty and tranquility of the Tuscan countryside, something the students of the school much appreciate. Some even opt to stay in local agriturismi and farmhouses with pool to make the most of the location. Many of them are returning students, deciding to come back to enroll in higher level courses, and to continue practicing the language.
The high percentage of customer loyalty is precisely what is keeping the school afloat. Many students who were already booked for the months ahead have left their deposit with the school, confident to use it at a later time, when travel is possible again. In the meantime, they take advantage of the school's online classes, offered via Skype, both individually and in groups.
This is an option the school was already offering as one-on-one classes, and that has now enhanced and extended to groups, which remain small in order to offer the best learning experience possible.  
Silvia herself, an adopted 'poliziana' (resident of Montepulciano) for 30 years, was getting ready to teach an online class right after we spoke. "For us, being able to maintain a connection with students is very important from a psychological perspective," she says.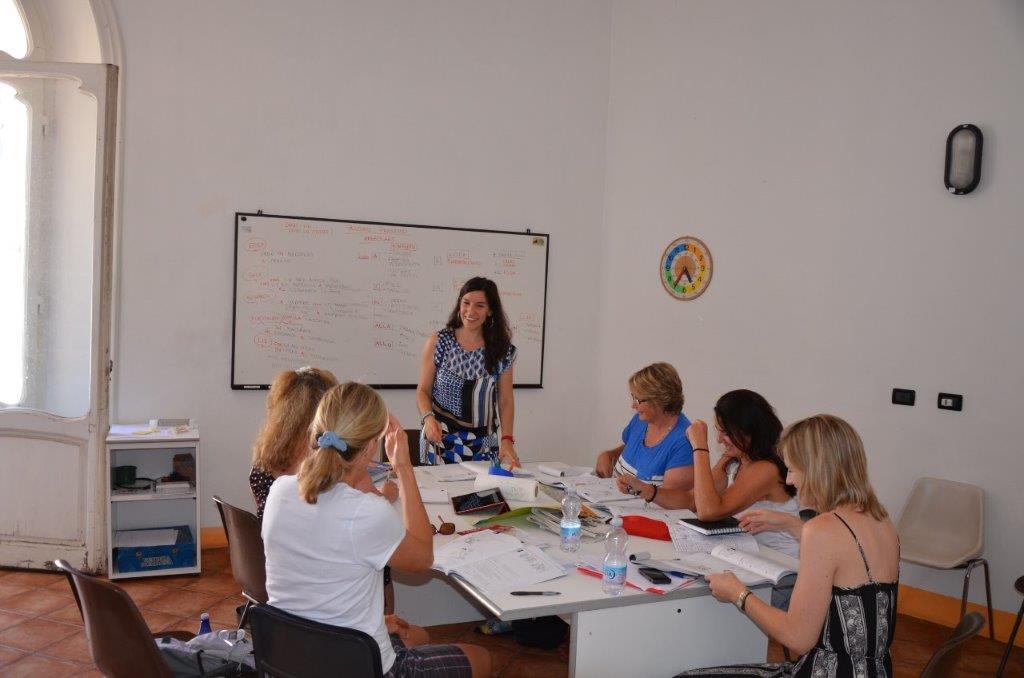 Silvia and all teachers at the school not only have a university degree, they all hold a master's for the teaching of Italian to foreigners, something she highlights with pride because, she points out, a generic degree is not enough to make someone eligible to teach another language, you need specific skills.  
I asked Silvia what message she wanted to convey on behalf of the school. 
"We are still here," she said. "Even if this is a very difficult moment, we choose to experience it as an opportunity, a time to test new techniques, to try new ways of working, so that we can start again in full when the emergency is over."
Have you been thinking about studying Italian in Italy? Now is the time to make your wish a reality! Consider Il Sasso Italian Language School in beautiful Tuscany.