The Giordano Ferrari Museum in Parma, also known as the Puppet Castle (Il Castello dei Burattini), contains one of the most important Italian collections representing theatre animation. It features the Ferrari family collection, which includes mostly carved marionettes and puppet heads.
It is named after puppeteer Giordano Ferrari (1905-1987), who, in the 1930s, collected testimonies of the lives and works of generations of puppeteers, in the form of puppets, scripts, marionettes, scenery and documents. He wrote to colleagues and enthusiasts to collect this information and many pieces were traded through his determined endeavour.
The puppets themselves are from diverse origins, some were gifts, others purchased. There are around 500 pieces, beautifully displayed in glass fronted cabinets. The characters have been made and constructed from different materials, some carved from wood, others papier-maché and rubber. Hand worked embroidered costumes with real gemstones adorn some of the puppets, imitating the fashion of centuries long gone. On display, besides the puppets, are story texts, volumes on theatre, stage objects, photos and original posters from shows. In the later collection one can even see the 'TV' puppets.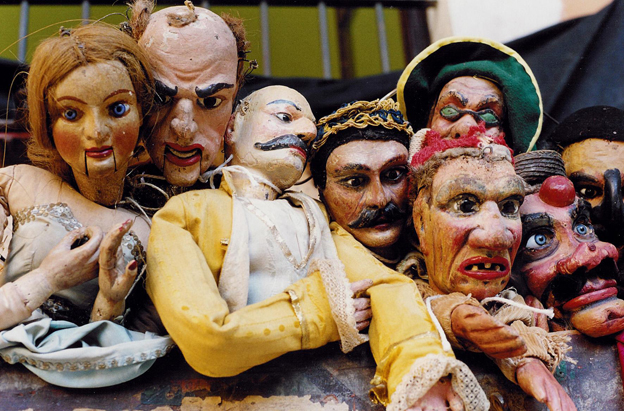 [Photo: Dama, Tiranno, Valletto, Principe, Tartaglia, Sandrone, Bargnocla]
Vine stakes, rags and an audience
Giordano took over the company from his father, Italo Ferrari, who died in 1961. Italo had begun puppeteering in 1877 with the help of his friend Giuseppe Avanzini.
Italo was the son of farmers and was influenced while young by the maestri Amaduzzi, Belli and Campogalliani when the shows came through his hometown of Sissa (Parma) or neighbouring towns. His initial puppets were made from old vine stakes and rags and his first production in 1892 was "La foresta perigliosa" (The Dangerous Forest). It was held in an old barn, Roncopascolo, which could house many farmers and animals.
Arturo Campogalliani had made Italo an assistant, but for more training he sent him to his brother Francesco Campogalliani, who was said to be the greatest puppeteer of all time. Italo married Ebe Avanzini, his friend Giuseppe's sister, who taught him to read, write and pronounce words correctly, for he was illiterate and hampered by this when he wanted to develop shows and scripts. They had four children and Giordano was the eldest. He spent his life in the 'puppet booth'. Ebe and Italo wrote a book together called "Baracca e burattini" (Puppets and their theatre).
After Italo's training with Francesco, he returned to Sissa with a new plan in mind. He began writing comedy. In 1914 he created Bargnocla, a cobbler with a bump on his head, which he called an "intelligence bump". His innovations and contribution to the puppet world are greatly valued. The first staging of the character Bargnocla was at the Garnolli café in Prague. The company performed nationally and internationally and even appeared on Italy's national TV, RAI. The war came, disrupting the continuity of performances, and it was only after the war that the puppets were again the family's main focus. Sadly, Italo died during an actual performance, after which Giordano took up the reins of the company.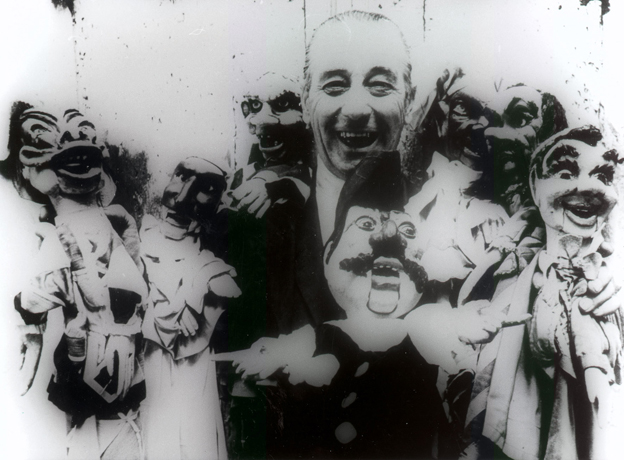 [Photo: Giordano Ferrari with some of his puppets]
Giordano's time
Giordano was well equipped for this as he was a talented designer and builder, guitarist, dance teacher, painter, choreographer, innovator and of course a skilled puppeteer .His wife Bianca Anesi was the voice behind the female characters. They had two children, Luciano and Italo Jr., who grew up in the company of the puppets. In later years, Giordano's vocal chords gave him trouble and in spite of an operation to try and fix this, he continued to direct, produce, create scenery and music, lights and costumes. In 1921 Giordano put Bargnocla (mask) back on the stage.
The Ferrari Puppets Company today
"La Compagnia dei Ferrari" works in collaboration with "Il Castello dei burattini" and was, until recently, run by the late Italo Jr., also called "Gimmi", and his wife Manuela, his son Giordano and niece Daniela (daughter of Luciano). Not only do they perform animation theatre using innovative techniques, but they also tour internationally.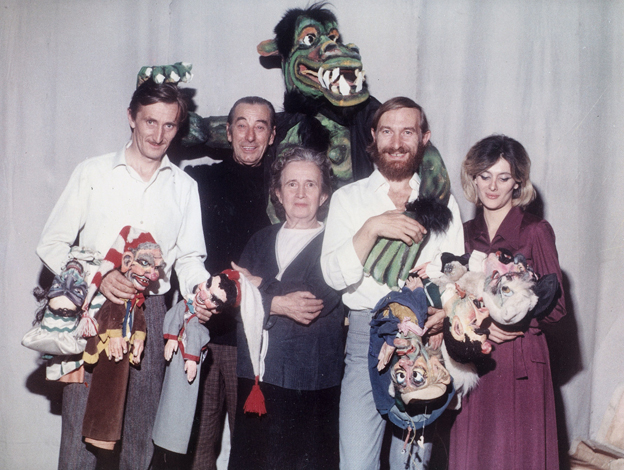 [Photo: Compagnia dei Burattini di Ferrari: Luciano, Giordano, Bianca, Gimmi and Manuela] 
The museum officially opened in 2002 in the gardens of the former convent of San Paolo in Parma. When they were trying to find the right place, the Bank of Sardinia and the Municipality of Parma came together to acquire the collection and later, the Institute of Cultural Assets for Emilia Romagna Region made a wing of the convent available to house the collection.
Puppets have long been a way to impart ideas, morals and views to an audience without implication of any retribution to the puppeteer. They can say and do what humans cannot or may not say and do. In the words of one enthusiast, Ettore Petrolini, one of the most genial and influential Italian comedians of all time, "The Puppet Theatre is an echo of peoples' soul". The puppets have real character; Bargnocla, Fagiolino, and Il Capitano are just a few of the well-known characters in the collection.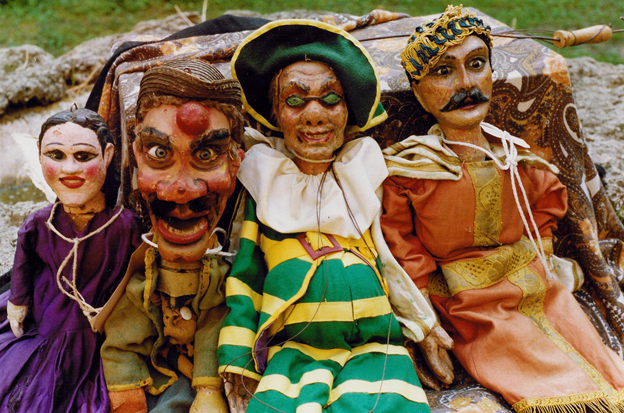 [Photo: Donnina, Bargnocla, Tartaglia, Principe]
Italy has many great and large treasures, yet this extraordinary collection of marionettes and puppets is too beautiful to be overlooked and should be regarded as one of Italy's greatest miniature treasures.  
Photos courtesy Museo Giordano Ferrari