Federico Fellini, often referred to by his colleagues as "Rimini Fellini", the filmmaker and scriptwriter who won five Academy Awards , is considered the most influential filmmaker of the 20th century.  Federico had fairly humble beginnings: he was born in the small town of Rimini on Jan 20th, 1920 to Urbano, a travelling salesman and vendor, and Ida, whose family were merchants. He had two siblings, a brother Riccardo, and a sister, Maria Maddalena, both younger than him.
He was a creative  child and spent time drawing, creating puppet shows and reading the comic "Il corriere dei piccoli," whose characters may have influenced his films later. He developed a love and fascination for the Grand Guignol, the circus, and Pierino the clown. In 1929 he attended the Ginnasio Giulio Cesare . The friends he made along the way often became the subjects upon which his movie characters were based, such as  Luigi "Titta"  Benzi, whose character he used as the model for young Titta in "Amarcord" (1973). His life was influenced greatly by being in the compulsory fascist youth group Avanguardista in Mussolini's time, though neither he nor his family were sympathetic towards fascism.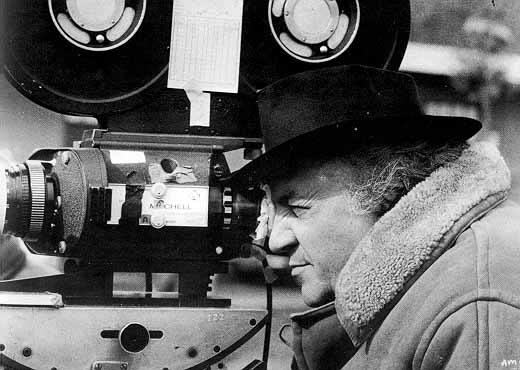 Creative opportunities
Between 1937 and 1939 he worked as a caricaturist in a portrait shop, published cartoons in the humorous magazine the "420 weekly" and wrote for "Marc'Aurelio", a popular bi-weekly humour magazine. It was through his work here that he met and collaborated with other writers which opened opportunities for him.  Bernardino Zapponi was one of these connections and Zapponi became a screenwriter for Fellini's films later.  For a short time, he was a reporter and he interviewed Aldo Fabrizi, a variety performer which led to a successful work relationship. Fellini wrote sketches and gags for Fabrizi. His work on radio led to him meeting Giulietta Masina, whom he married in 1942. Sadly they lost their first son. Giulietta was the leading star in many of his films and it was a wonderfully creative work relationship. Fellini managed to avoid being drafted to the army in 1942, but instead was sent to Libya and worked on the "Knights of the Desert' directed by Valenti."
At this time Roberto Rossellini came to see a Fellini movie which resulted in Fellini being the screenwriter and assistant director on Rossellini's "Piasa" in 1946. He also worked with him on "L'Amore." He filmed the Sicilian scenes and acted opposite Anna Magnani in the episode "The Miracle". The film received an Oscar nomination. In 1947 Amidei and Fellini were nominated for an Oscar with the film "Rome, Open City."
Fellini's style: Italian Neorealism
Rossellini films were pure Neorealism and Fellini's earlier films were in this style.  Later they became more fantastical and dreamlike, almost surreal and somewhat baroque, as now his imagination was at play. It is often said that Fellini's films are autobiographical. When asked if this was true he replied, "All art is autobiographical. The pearl is the oyster's autobiography."
Experiences and events in his childhood were reflected in his films, such as the big fish that had washed up on the beach in Rimini  in his childhood and the creation of the weird sea creature in the film "La Dolce vita." Films of this period include "Luci del varietà," (Variety Lights, 1951) in which he made his debut as a director with Lattuada. It was not a success, but it was followed by "Lo Sceicco Bianco" (White Sheik, 1951), and his first commercially successful film "I Vitelloni" (1953), which won the Silver Lion Award.
"La Strada" (The Road, 1954) with Anthony Quinn won an Academy Award for best foreign film.  The critics were not kind, resulting in it only being released in 1964. The films depicts the painful emotions endured by Gelsomina (Masina) when sold to a circus strongman Zampano (Anthony Quinn) who shows no compassion and treats her cruelly. The harsh environment in the landscapes adds to the emptiness and distance experienced as a result of Zampano's indifference. In the end the remorse is significant but too late.
"Il Bidone" (The Swindlers, 1955) reflects on the pious and the poor, how advantage is taken when morality is sidelined. Next was "Le Notti di Cabiria" (Nights of Cabiria, 1957) again starring Giulietta Masina. By the time the 1960s began, Fellini's imagination and dreams had also arrived to transform Neorealism into a more surreal expression of imagination through film.
Living his dreams
Fellini considered himself to be an artist as opposed to a 'normal' person, as he said in his interview with the BBC in 1965. He felt that as an artist he was entitled to explore the dreams and visions, the surreal and the spiritual and to dance with his imagination wherever it took him. He certainly had a curiosity, and sense of humour when it came to exploring the human emotions and observing the human behaviour, directing the camera to enlarge and exaggerate the quirkiness of human actions so that they become incredibly funny or indeed profoundly sad.
"La Dolce Vita" was released in 1960 and it starred the handsome Marcello Mastroianni, who continued to feature in Fellini's films for the next twenty years.  The film was judged immoral by some critics and was subsequently banned, yet it went on to break box office records.  The film took the Palme d'Or award at the Cannes Film Festival.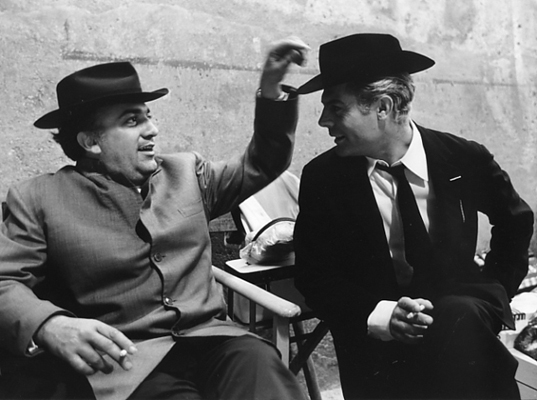 Fellini was affected by the work of psychoanalyst Jung, and was also drawn to explore the world of spirituality and boundlessness. He even tried LSD to induce hallucinations. However he decided that he was already in the world of fantasy and did not need it.
Sensual encounters, devious natures, indifference, the ridiculous and humour all weave their way through Fellini's films. Fantasy and dreams are the theme and human emotions bind them all together. The film "8 ½," (1963) won an Oscar for Best foreign language film and Best Costume and Fellini was nominated for Best Director. The plot revolves around a director who has creative paralysis and it explores his dreams and visions, just as Fellini has done within his own life. "Juliette of the spirits" (1965), "Satyrican" (1969) and "Amarcord" (1974) are all works which have received Oscars or nominations for Oscars.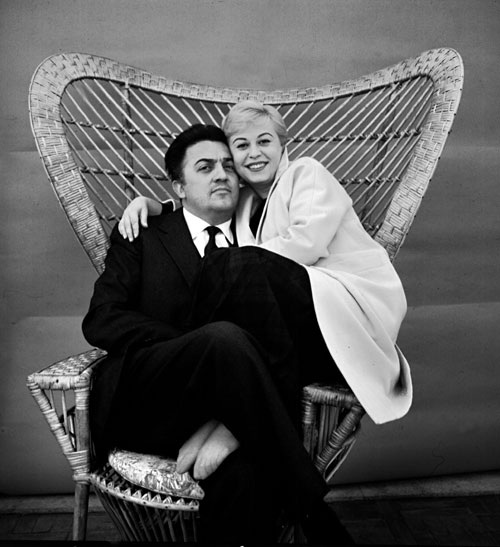 Later years
In his later period he made "Il Casanova di Fellini" (1976), "La città delle donne," "City of women," and "La voce della luna."
Fellini died on October 31st, 1993, after complications from a stroke. His wife Giulietta died just a few months later.
Fellini is admired by many contemporary filmmakers, directors and actors, and his audience. He has left a legacy of fascinating films, to remind us to think and feel and above all imagine and dream. A gift that can be viewed and experienced time and again and is indeed a treasure.