"This is going to be good" uttered the 27 year old athlete. His trainer, a man who had coached him for several years was slightly taken back, never having heard him speak like that he replied with "go for it". It was the World University Championships, Mennea felt that something special was going to happen that day, and his trainer didn't know what to expect. Born in Barletta, Puglia on the 28th of June, Pietro Mennea wasn't from Olympic athlete stock. His father, a tailor and his mother, a housewife, his early childhood destiny seemed to involve study; his parents, sticklers for making sure their son would go on to receive a good education. But sport was his passion, attending after school training and practice, learning techniques from other runners in stadia scattered around Barletta his home town, and travelling across the country for race meets.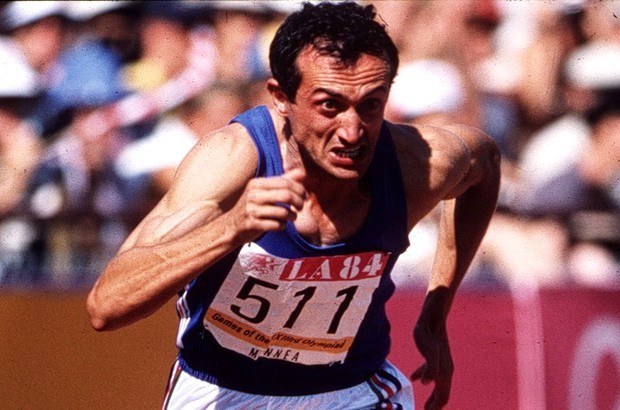 A turning point in Mennea's progress as an athlete would be the introduction of a new coach, Carlo Vittori. Vittori had seen Mennea run in the junior championships in 1968 at Ascoli Piceno. "He ran the 300 metres, and instantly I saw he had talent, he was a force of nature". It would be another two years before the two met at a training camp in Formia, Mennea would move there and train with a group of other athletes, Vittori was to be entrusted in building him and his fellow teammates into track stars. "Pietro changed the way athletes thought about training." Vittori continued "It wasn't just a case of those with 'natural ability' who'd succeed. If you were prepared to work hard, very hard, and do things meticulously, you could improve. Pietro though was like a pneumatic drill, everything done 100%. He was also stubborn. After ten years of training him, if I arrived even five minutes late, he'd be stood there tapping his wrist watch." An attitude forged on this methodology in all areas, diet, weight training and applying new scientific principles would push him, and the national team forwards. Pietro's first foray into professional athletics was the 1971 European Championships in Helsinki, debuting in the 4 x 100m relay race. Team Italia would go to claim bronze, this performance subsequently securing Mennea's first time Olympic games just a year later in the 1972 Munich games. Here, he would begin to cement a reputation as a talent of the future. Aged just 20, he would qualify for the 200 metre sprint final and secure a podium place, Bronze, in a discipline that was to become his repartee in international events. Success was to follow the Olympic result just two years later in 1974. The European Championships would be held in front of a home crowd in Rome, turning Mennea from a cult athletics figure into a household name. Competing in the 100 metre he placed second behind one of the best runners that the athletics world had seen, Valerij Borzov. But it would be the 200 metres discipline that would bring him the most joy; winning his first gold in the event and becoming a national treasure at the same time. "La Freccia del Sud" (The Arrow of the South) was born. The years following the homecoming triumph's would prove to be decisive in Mennea's development both as an athlete and as a man. A fourth place finish in the Montreal Olympics of 1976, to a successful defence of his European titles in Prague 1978 and another gold in a different discipline, the 400m indoor, saw Mennea become one of the most respected and loved figures in athletics and in Italy to a new generation. In this same period, Pietro would also enrol into University, knowing that a career in athletics wasn't going to last forever. His first degree was in Political Science, and then, as advised by Italy's Foreign Minister at the time, Aldo Moro, he went on to study a law degree at the University of Rome, La Sapienza. It would prove to be a decisive move; a career in politics, teaching, government advisory boards and developing the athletics programme in Italy would all follow his professional athletics career.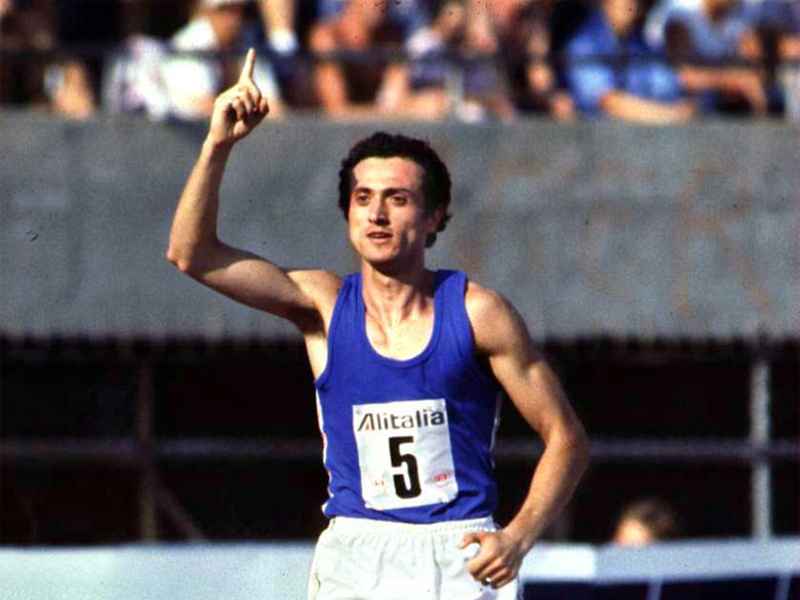 The 1979 World University games were to propel Pietro Mennea's stature as an Italian hero and international athletics superstar. Mexico City, September 12th, a few light drops of rain started to grace the field, the track was shiny but dry, dry enough to risk pushing hard in the final turn, risky enough to know a slip cost a victory. The previous days running was different; Pietro didn't push hard, he knew he had it to get through, his aim was another gold, another medal to add to a trophy cabinet. Lining up in lane 4, the athlete felt that he was going to do something extraordinary, something special. "My only point of reference" he said before the race "will be the noise of the crowd. When I get to the finish line, I'll listen, and I'll know". Athletes will talk of bends that 'catch you out' or straights that 'become tighter, like invisible walls'; tracks that make you enter 'feeling like a child, and leaving like a pensioner'. Pietro, with a 1.8 metre tailwind knew that he had to push, leaving behind his childhood, the years of work, the sacrifices, everything. Lowering his shoulder and powering through the turn, his face relaxed, his muscles contort; his competitors were anything but. They were told "look out for that Italian boy", but he was gone, six metres ahead of them, and they knew that the 200m final had changed.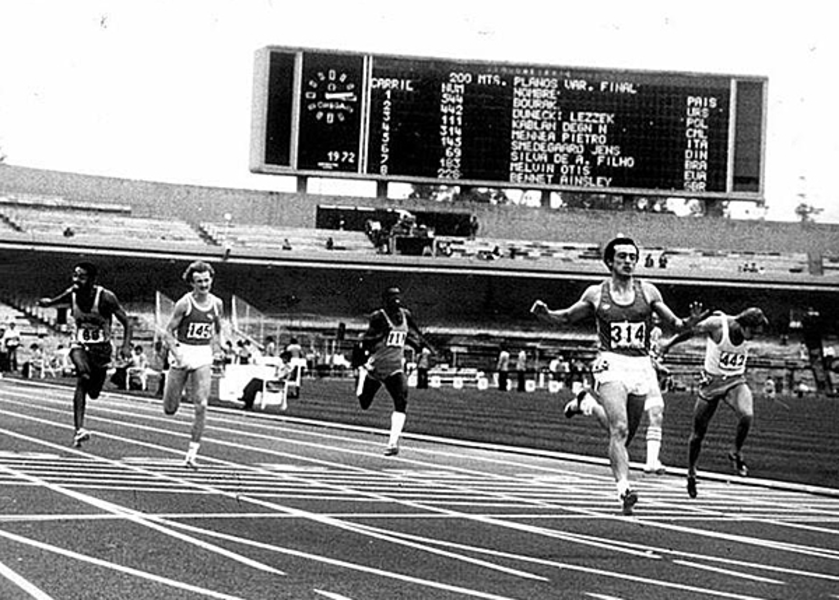 "I heard screams, the crowd were cheering, and I didn't believe it. I saw the timing index and thought, 'we're in 1979, not 1972 and I realised, I'd set a new world record." Pietro Mennea became the fastest man in the 200 metres since Donald Quarrie who had set the record eight years earlier. A time of 19''72, a record that would exist for 15 years until Michael Johnson of America broke the record in the Atlanta games of 1994.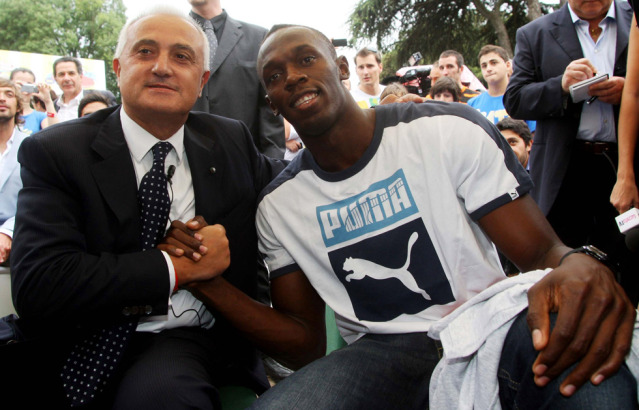 Pietro Mennea's time remains the fastest 200 metre time set by a European to date, his legacy in many common pop culture references. Following his death earlier this year, the new series of superfast Italian trains, la Freccia Rossa will carry Mennea's name, and the recent Diamond League athletics tour which passed through Rome honoured the sprinter's legacy. Usain Bolt, a man who met Mennea after his triumph in the Berlin World Championships in 2010 said "it is an honour to be running for such an athlete, I only hope that one day, people would show me the same level of respect". Sports journalist and friend to Mennea, Massimo Caputi would write "How many times as a child, or an adult of a certain age would you hear, 'don't run so fast, who do you think you are? Pietro Mennea?' He was the Usain Bolt of another time, another generation, that's what he meant to athletics, to Italy, and to Italians."