The Liguria coast has long been a popular travel destination for visitors seeking out its rugged, whimsical coastline. While most people come to see the Cinque Terre villages, made famous the world over, so much so that crowds pack into the small lanes and characteristic bays of these fishing villages, previously cut off from the rest of the world.
Instead I prefer a different sort of holiday.
The kind where we don't have to push to get on the train, sweating as we make our way to a stinky seat. Instead of the umbrellas of tour guides threatening to poke out my eyes, why not find a more hidden hamlet. Something that bears at least a slight resemblance to what it used to be. I admit, that while I do concede that Cinque Terre is unique, there are equally as pretty hideaways, you just need to find out about them.
This is why we came to Portovenere, while not unknown, the level of tourism here is certainly much less evident than its more famous sisters. A lover of Liguria myself, the key element here was relaxation. An important element of travel that is often missed when one tires themselves to see everything possible within a 20-mile radius on their holiday.
We based ourselves in the best hotel in town, the Grand Hotel Portovenere, an icon of class in itself housed in a former 13th century Franciscan convent. It is likely one of the few really nice hotels along the Ligurian coast with a truly excellent restaurant serving up local delights. I adored the beautiful terrace with high French windows where we ate breakfast every morning facing the small port and the island of Palmaria. It's the perfect marine base from which to begin a journey of quiet exploration in a perfect Italian fishing village.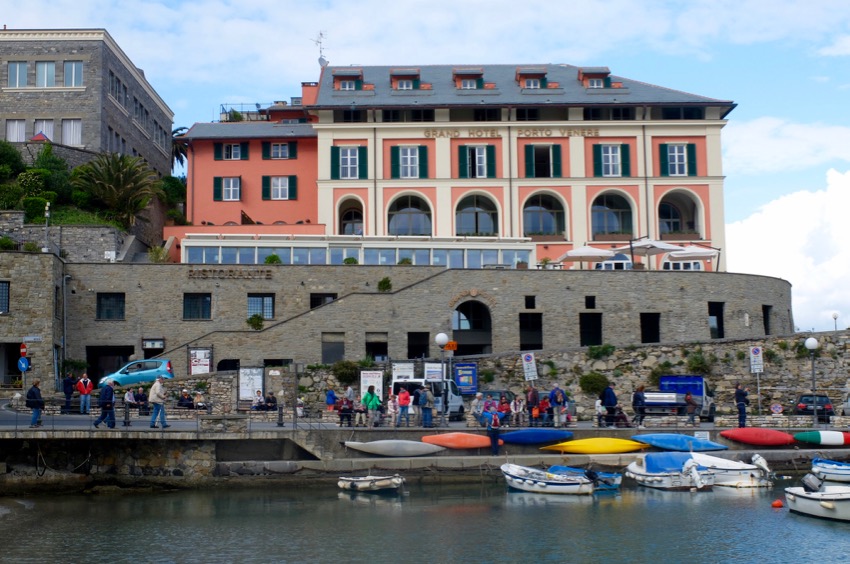 This is a place where you can access the same whispering beauty, in a breathtaking town less ravaged by mass tourism. Upon first site, you'll revel at the colorful array architecture next to the water, the "Palazzata" buildings in red, pinks and yellows that looks almost as if an ancient god squeezed them tightly together in his hands. They lie in perfect juxtaposition among the craggy churches and fortress a further down on the promontory. It is said that their unique skinny long shape was due to the buildings doubling as a defensive wall for the town's protection.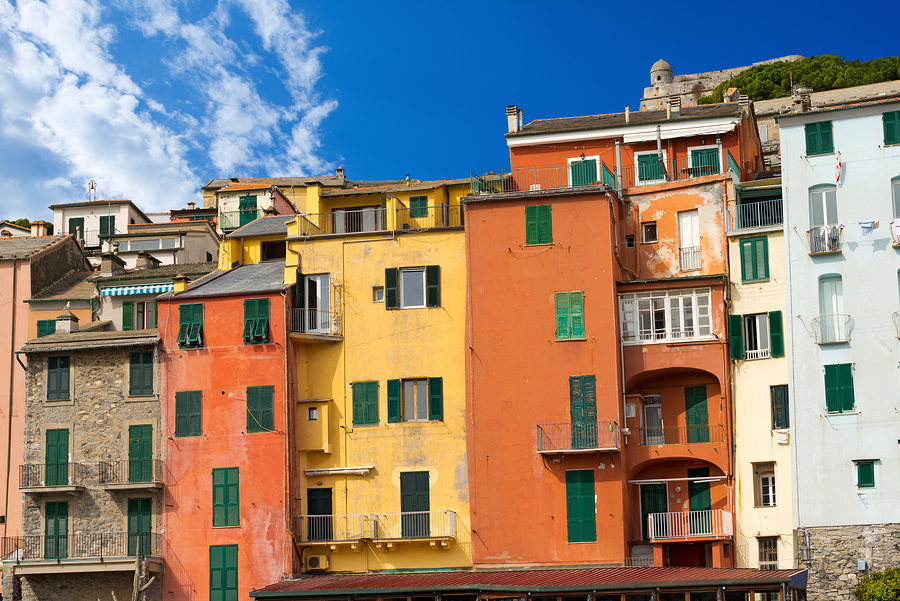 Portovenere is often referred to being one stop in the "Bay of Poets," part of three small villages and islands, declared a UNESCO World Heritage Site in 1997, located in the province of La Spezia. Back in the day, namely the first century BC, it was known as "Portus Veneris" --- the town's name stemming from an ancient temple dedicated to the goddess Venus. Which seems almost perfect as she celebrated all the fertile fun in the land which carried on the lightness of feeling one gets when visiting this place.
After the fall of the Roman empire, the Byzantines took an interest here but were overtaken by the Lombards in the 600's. Later, Portovenere was made famous due to the interest taken in its by famous poets and authors, who sought its wild bay as a place of inspiration. Namely Lord Byron who took a sybaritic interest in the place, for meditation by the sea and inspiration for his many works.  
Visiting here means to leave your stress at the bay (literally), with that first sip of aperol and prosecco a certain euphoria passes over you. I cannot imagine a better spot to feel truly at ease and the town center is as charming as they come. There is a famous saying that "all roads lead to Rome" however, in Portovenere that would likely be the Church of St. Peter. It's impossible to get lost here, everything loops together quite harmoniously.
While the town doesn't boast an abundance of sights, each one is certainly worth a visit. Several lie around its Medieval walls with compass a gate, tower and town wall.
The most notable is that of the Church of Saint Peter, its architectural style known as 'Genovese gothic.' While it dates back to 1198, in this same location was once an ancient temple and a 5th century church. The outside facade was later added in the 13th century. For me personally, while the church inside remains stoic with a quiet dignity, the place felt almost dreamlike. It takes a fair amount of steps to get there from the main square of the village, yet along the walls lies portholes into the crashing waves of Lord Byron's grotto, a sort of scenic escalation as you make your way to the top to peer through its iconic arches.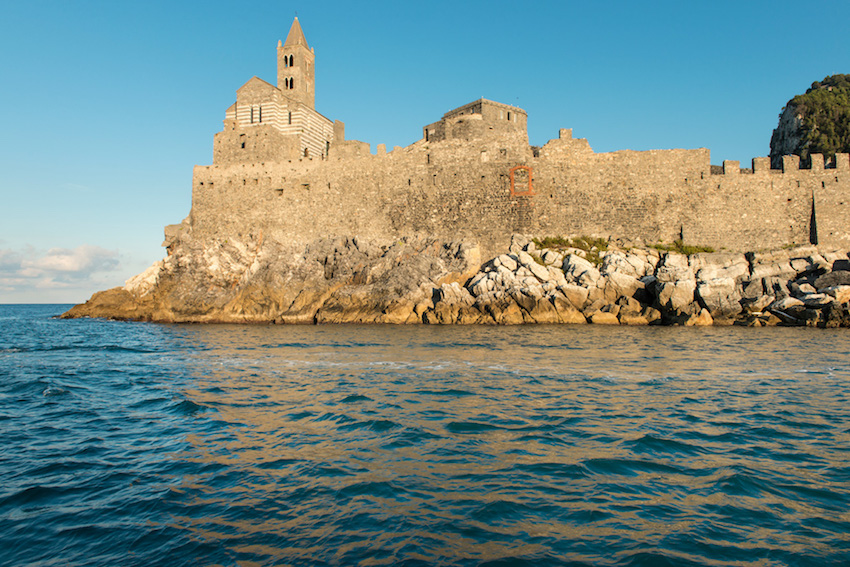 The nearby grotto dell'arpaia known as "Byron's grotto" is just below, having collapsed in the 1930's. You can still walk into the area (they have protective barriers from you and the dangerous sheetrock) and imagine why the peaceful energy of this energy inspired one of the most important poets of the 19th century. From here you can also spot the local dark, veiny Portoro marble, used to build the columns in the church of San Lorenzo.
There's only one main road in town, known as the via capellini, almost as skinny as the palazzata themselves. We trailed up and down this main road a number of different times, noticing new details at each glance. The tiny street and offset alleyways are known in Liguria as "caruggi" which are specifically built in this manner to protect from the blazing summer sun and windy winters. Passing by over eight times in just two days, we noticed curated doorways with local shells decorating the top of the door, or a string of silk inlaid with pearls sold at one of the few shops. Here you'll find freshly-made pesto, local gifts or steaming hot focaccia to satisfy any ferocious appetite. 
Other churches include the Romanesque Church of San Lorenzo (1116), which lies on yet another ancient temple, this time dedicated to the god Jupiter. It is also pledged to the patron saint of Genoa whom you can see martyred above the entrance. It was heavily damaged both in the 14th and 15th centuries due to attacks by the Aragonese and fires. A notable event takes place here every August, as it also is the Sanctuary of the "Madonna Bianca" who is carried throughout the entire town on the evening of the 17th. From what the locals tell me, you'd have to see it to believe it, and I'd take their word for it. You can see the Madonna's 13th century portrait in a side chapel in the church.
One of my favorites walks takes you to the Castle of Doria or "Castello Superiore" built for the Genovese ruling family from the 12-16th centuries. It remains the best spot for incredible panoramas of the island and Church of St. Peter, and costs 5€ to visit between April and October.
The nearby archipelago of islands are another reason that Portovenere is a wonderful summer destination, Palmaria remains the largest of the three (the other two are Tino and Tinetto) and and is screamingly close to Portovenere's bay in the area known as the Regional Natural Park of Porto Venere.
In fact, you can take a boat and arrive there in only five minutes. While small in size, about 1.6 square miles in total, visiting is highly recommended for those who enjoy hiking or want a nice fish lunch at the one restaurant located facing the bay where I highly recommend you try the marinated anchovies.
A popular walk here starts from Terrizzo or the dock, heading east towards the sea fortress which was once used a s prison until the 1950's. From here you can venture off in a path that takes you to the Mariella Point over Roccio Cave and some ancient quarries where black marble was regularly extracted until recently. Heading towards the peak takes you to a number of small caves where remains from the Neolitihic period were found at the Grotta dei Colombi.
It's clean waters beckon to locals looking for a cool respite during the summer's hottest months, and if I were you, I'd hire the Grand Hotel Portovenere's new new motoscafo to take me around this pretty island and around Portovenere itself. I can't imagine a classier way to zip around this majestic place, it's a place that should be visited by boat.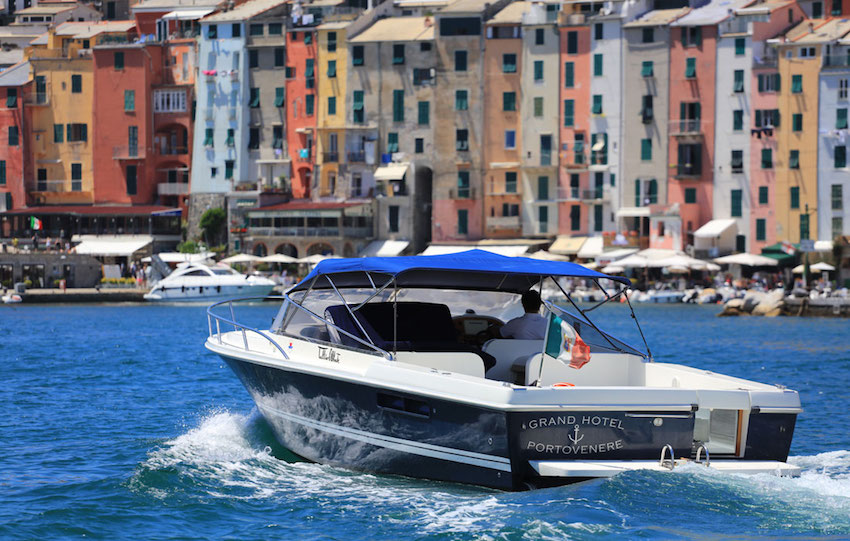 After all of that exploration, we are sure you'll work up an appetite, which we certainly did on several occasions in our brief time in this Ligurian hideaway. Quite honestly one of our best meals was in the Grand Hotel Portovenere's Palmaria restaurant undertaken by the talented Executive Chef Francesco Parravicini.
A soft candle-lit affair overlooking the sea where we were presented with a number of platters of 'piatti tipici' (local specialities) including a steaming plate of trofie al pesto. These short, fat handmade pasta are local to La Spezia and are absolutely delicious with the delicate pesto, a combination of basil leaves, parmigiana, garlic paste and pine seeds. We followed with grilled Monkfish over a sweet potato cream and taggiasche olives. It was an abundance of flavors washed down with a crisp Vermentino white wine, perfectly balanced for a fish meal, from the Cinque Terre, La Spezia area.
Other local delights that I recommend trying are stuffed anchovies, which you can sometimes find on the main street in town. I'd also grab some beautiful salty focaccia bread which can be sliced in half and stuffed with anything you want. My personal favorite is farinata. Just imagine the best chickpea pancake you'll ever have, it's baked in a huge pan in a wood oven and then cut into slices, best served warm from the oven. While not exactly a 'light' option, the nutty, crispy flavor gets me every time, plus for those who have gluten allergies -- it's a perfect solution.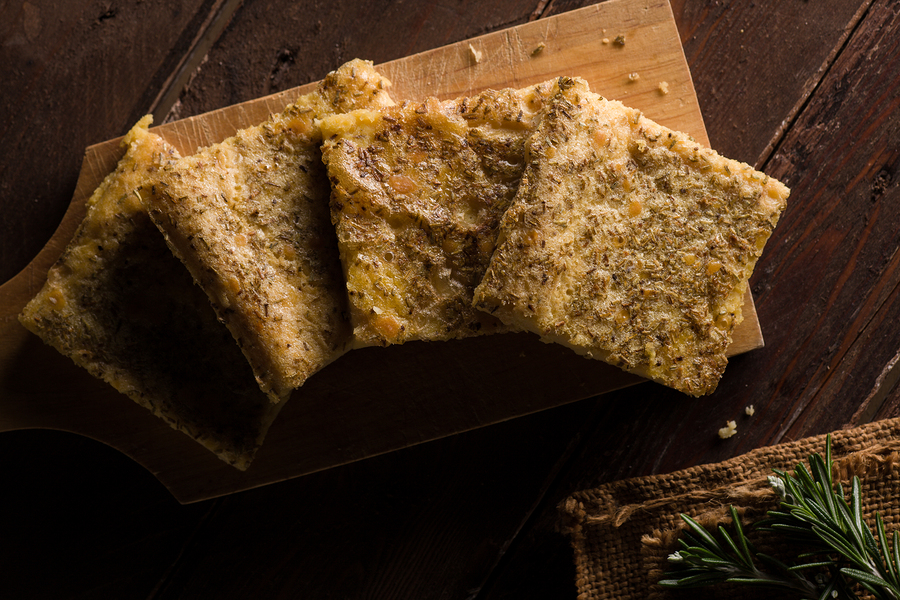 Getting there
While there is no train station to Portovenere, you can arrive at La Spezia and transfer by bus, taxi, or ferry boat, which docks right in the center of town. For more details on how to get there by bus, we recommend this article. For those driving here, keep in in mind there is a one-way loop through town and you must pay to park.
Where to stay
Grand Hotel Portovenere, a lovely luxury historical hotel recently renovated in the best place in town, with stunning views overlooking the bay. We recommend asking for a room with sea views. An added plus is that if you book direct, they throw in the parking fee for free (20€ otherwise). address: Via G. Garibaldi, 5 - 19025 | Portovenere.