Carnevale is celebrated during the 40 days before Easter and is one of Italy's biggest winter festivals with parades, special entertainments, music and masquerade balls.
All the foods for Carnevale are over the top rich because it is the last hurrah before Lent, a 40 day period where lots of favorite foods, including meat, was restricted. The phrase, "I gave up x for Lent" is common among many Catholics in Italy, even today. The word carnevale probably comes from the Latin carnem levare- "to remove meat" referring to the fact that immediately following was Lent, quaresima, a period of 40 days where meat was prohibited.
Each region has its own Carnevale foods
Cenci, "rags", are fried strips of dough that are found in various parts of Italy during Carnevale, under one cute name or another: Chiacchiere--"chatter", zacarette--"shavings" or bugie—"lies" each seasoned with the area's local specialty wine or liqueur.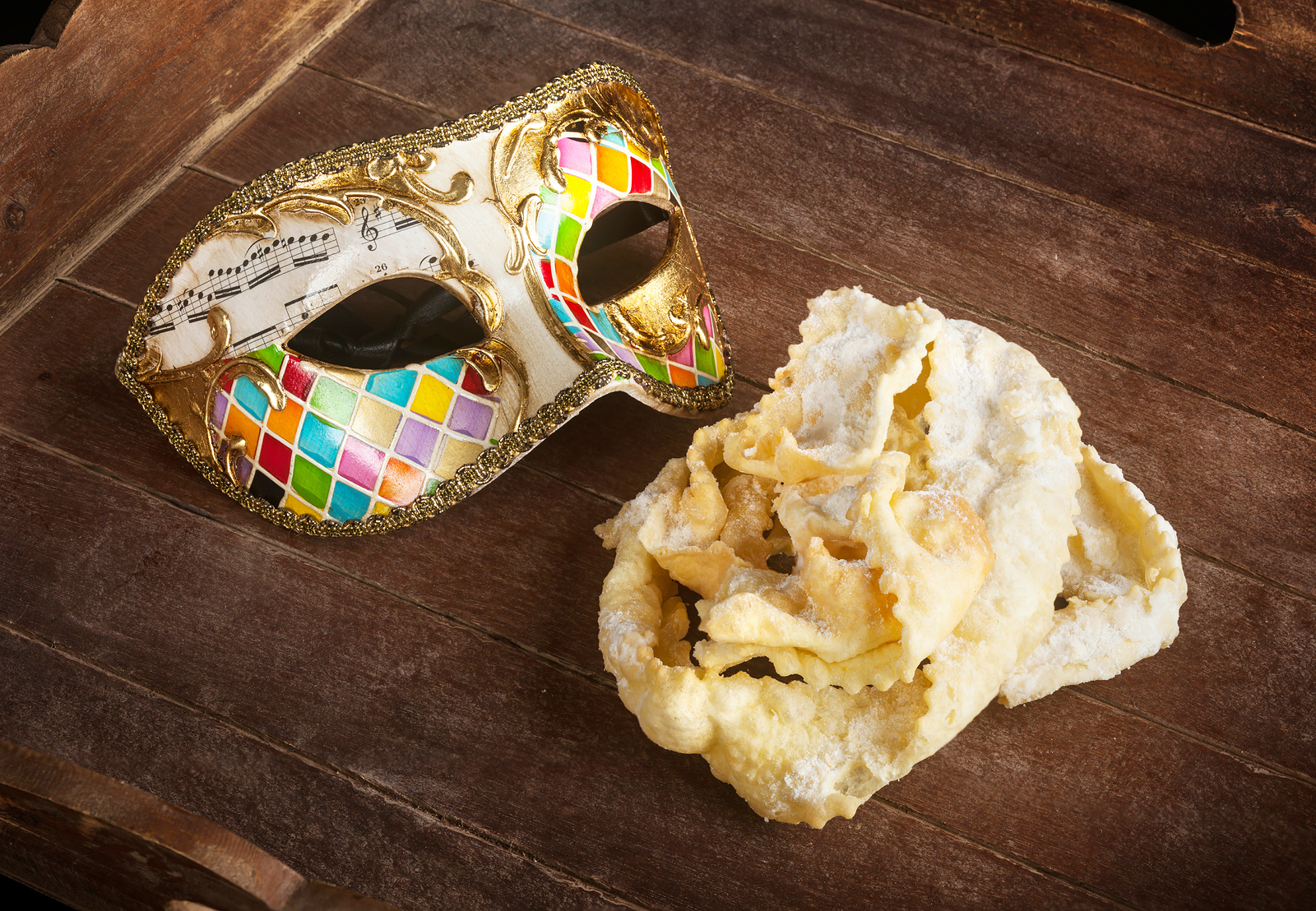 [The famous Cenci, "rags", are fried strips of dough covered with powdered sugar, traditionally served during carnival]
A must on every table in Naples for Fat Tuesday or Fat Thursday, is a rich ricotta lasagna layered with tiny meatballs, plus all sorts of extras including salami, cheese, and even sliced boiled eggs. The unofficial symbol for the end of Carnevale and start of Lent, in Naples they like to say that without it, "che Carvevale sarebbe" what sort of Carnival would it be?
Very lush and elaborate, this dish takes time and patience to prepare, beginning with the classic Neapolitan ragù, which must be cooked very very slowly- what locals call "pippiare" -- an onoatopedic word hinting at the sound of the sauce barely simmering, with one tiny bubble at a time popping. The sauce can cook forever, but its generally agreed that 4 to 6 hours will do. 
There are many versions of this ragù in Naples. Lina Wertmuller's 1990 film "Sabato, Domenica e Lunedì" starring Sophia Loren based on the play by Eduardo de Filippo, is all about this Neapolitan ragù. There's a great scene where the customers in a butcher shop get so worked up discussing this sauce that a fight breaks out over the "correct" recipe.
I love the instructions the Neapolitans give to let the lasagna rest and reflect, s'add a ripusà, for half an hour before serving. All the layers settle and you end up with gorgeous slices!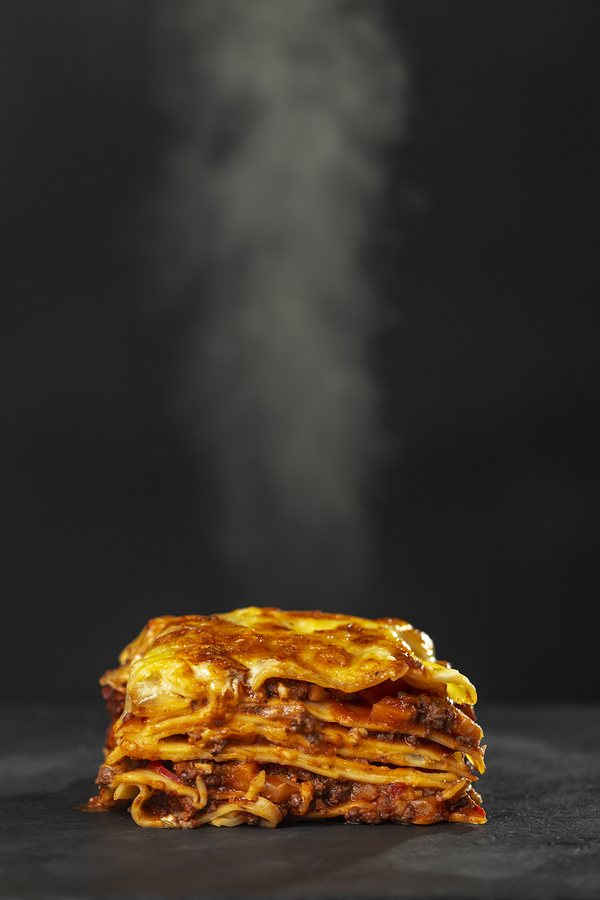 Like this article? Don't miss "5 Ways Naples Celebrates Carnevale"
Ode to Neapolitan ragù
Eduardo De Filippo, an Italian actor, playwright, screenwriter, author and poet, whose play, Sabato, domenica e lunedi--- "Saturday, Sunday and Monday"--- was performed in 1973 starring Laurence Olivier and also made into a film.  In the play there is a poem in honor of Naples ragù, in dialect called 'rraù.
'O 'rraù
'O rraù ca me piace a me
m' 'o ffaceva sulo mammà.
A che m'aggio spusato a te,
ne parlammo pè ne parlà.
io nun songo difficultuso;
ma luvàmmel' 'a miezo st'uso

Sì,va buono:cumme vuò tu.
Mò ce avéssem' appiccecà?
Tu che dice?Chest' 'è rraù?
E io m' 'o  mmagno pè m' 'o mangià...
M' ' a faja dicere na parola?...
Chesta è carne c' ' a pummarola
In the poem the speaker criticizes his wife's ragú saying that only his mother made real ragú while his wife creates only meat and tomatoes. 
Neapolitan Carnival Lasagna 
Lasagna di Carnevale Napoletana
Serves 8 to 10
For the ragu:
Lean pork, cut into 3 large chunks, 10.5 ounces/300 grams
Lean pork ribs, 4
Sweet sausages, 4
Olive oil, 4 tablespoons
Sweet onion, 1 large or 2 medium, finely sliced
Red wine, preferably from the Alianico grape, a specialty of Campania, 1 cup
Tomato puree, about 53 ounces/1 .5 kilos 
Tomato double concentrate, 3.5 ounces/100 grams
Fresh basil, 1 bunch
Salt
For the meatballs:
white sandwich bread, crusts removed, 2 slices
ground beef or pork or a combination, 7 ounces/200 grams
egg, 1
Parmesan cheese, grated, 1 to 2 tablespoons 
fresh flat-leaf parsley, finely minced, 2 tablespoons 
freshly grated nutmeg, 1/4 teaspoon
Garlic, 1 clove, finely minced
Salt and black pepper
All purpose flour
olive oil
To assemble:
Ricotta cheese, 14 ounces/400 grams
Fresh egg pasta lasagna sheets, 17.6 ounces/500 grams
Parmesan cheese, grated 
Pecorino cheese, grated
Provola* or mozzarella or fiordilatte fresco, cut into small cubes, 10.5 ounces/300 grams
Salami, any type, optional
Hard-boiled eggs, 3 sliced, optional
Ragu: In a large saucepan brown the meat, ribs and sausages on all sides in the olive oil. Add the onion, lower the heat, add  1/4 cup of the wine, cover and simmer until the wine is absorbed. Repeat adding 1/4 cup of wine at a time, until all the wine is absorbed into the meats, then add the tomato puree, tomato concentrate, a few of the basil leaves finely minced, and season with salt. Bring to a boil, then lower the heat to it's lowest, cover, and simmer for 4 to 6 hours, adding a bit of water if needed.
Meatballs:Tear the bread into tiny pieces and put in a bowl with the beef or pork, egg, onion, Parmesan, parsley, nutmeg, salt and pepper to taste and mix until combined.  
Form walnut sized meatballs, about 1 inch in diameter, and lightly coat them with flour. Heat a little oil in a large non-stick skillet and brown the meatballs on all sides, turning as necessary.   Add to the ragu at the last half hour of cooking.
To assemble: Preheat the oven to 320 F/160 C. Whisk the ricotta with 1 cup of the ragu and 8 to 10 small basil leaves. 
Boil the lasagna sheets so they are very al dente. Spread some ragu on the bottom of a baking pan and top with a layer of lasagna, leaving lots hanging over edge so you can fold it over the top. Spread with layer of ragu, then some ricotta-ragu mixture, and a generous amount of grated Parmesan and pecorino and another layer of lasagna. Top the second layer of pasta with some of the sauce, basil leaves, and the meatballs plus some of the provola and one of the sausages from the ragu thinly sliced or some salami and eggs, if using. Repeat, alternating layers with just the ricotta and ragu with those with meatballs and cheeses. Be sure to sprinkle lots of Parmesan and pecorino cheeses on every layer, plus scatter every other layer with basil leaves. 
Fold up the over hanging lasagna and top with more pasta sheets, if needed. Spread with ragu and lots of Parmesan. Bake for about 30 minutes, finishing on high so the top browns at the edges.  Let rest for 30 minutes before slicing. Serve topped with more ragu and grated cheeses.
Serve the meat from the ragu as a second course, that is, if anyone is still hungry.
*Provola, which means globe shaped, is a semisoft cow's milk cheese from Naples and southern Italy similar to mozzarella, but ripened for a longer period of time.