For ITALY Magazine's series about 'True Stories of Buying a Property in Italy', we've interviewed Chris and Eva Lock, who moved from the U.K. to Tuscany's Lunigiana 14 years ago, when they decided to buy a farmhouse to restore. Still mostly untouched by mass tourism, Lunigiana has given Chris and Eva the chance to enjoy the "real rural Italy", while setting up an online Italian-themed apparel and accessories business, which they run from home.   
Renovating the house posed some challenges, especially when it came to communication and permits, but it all worked out, and now Chris and Eva are well established into the local community and happy with their decision to live a new chapter of their lives in a new country.
Below they share how they approached the decision to buy a property in Italy, what that entailed and what it's like to live in Italy; they also offer precious tips for those interested in doing the same.
- Where are you from originally?
We are both from the UK. We met in London where we worked in banking (Chris) and advertising (Eva). But we have moved around a fair bit and our last hop-off point to Italy was The Cotswolds - a beautiful rural area which is probably what gave us our taste for 'getting away from it all.'
- How long have you lived in Italy?
We've been in Italy since 2005, but we bought our 'ruin' in 2003, having spent probably the best part of a year prior to that trying to identify the place that was right for us.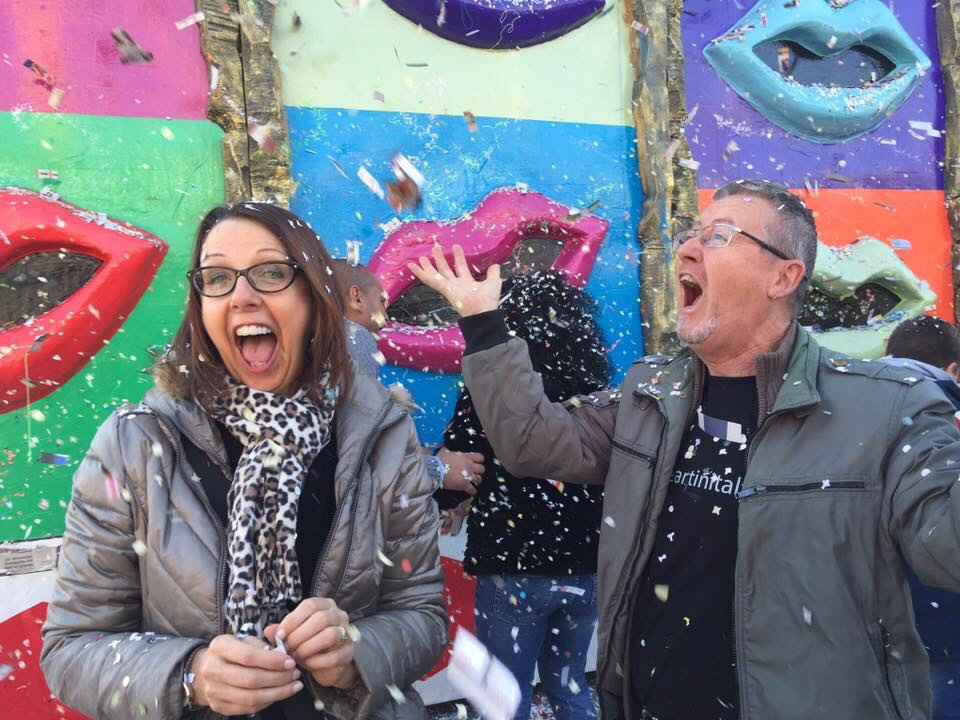 [Chris and Eva Lock moved to Italy from the U.K. 14 years ago after buying a farmhouse to restore in Lunigiana.]
- Do you live in Italy year-round or is it a holiday home?
It was our intention originally to buy a very small '2 up, 2 down' holiday home and we identified several options which would have given us a very good solution. But we are led by our hearts, not our heads, and so it was no surprise that once we started to explore the area and see more properties, we began thinking about the possibility of starting a complete new chapter of our lives by moving to Italy permanently. Eventually, we were shown an old ruined farmhouse that someone had started to renovate and then given up. We sat in the local cemetery that evening and worked out our finances literally on the back of a cigarette packet and then the next morning we made an offer.
Now, we're 'semi-retired', but we run our online Italian Themed Apparel and Accessories business Shabby Sheep Design from our home. We create all our designs and concepts from up a hill in northern Tuscany and then manage everything else digitally/online, with the actual printing of our t-shirts and other gift products like tote bags and our recently launched re-usable water bottles taking place in the UK from where we ship worldwide. Apart from the creative satisfaction which coming up with new themes, designs and products gives us, there's plenty more techie stuff to learn too which keeps us mentally stimulated.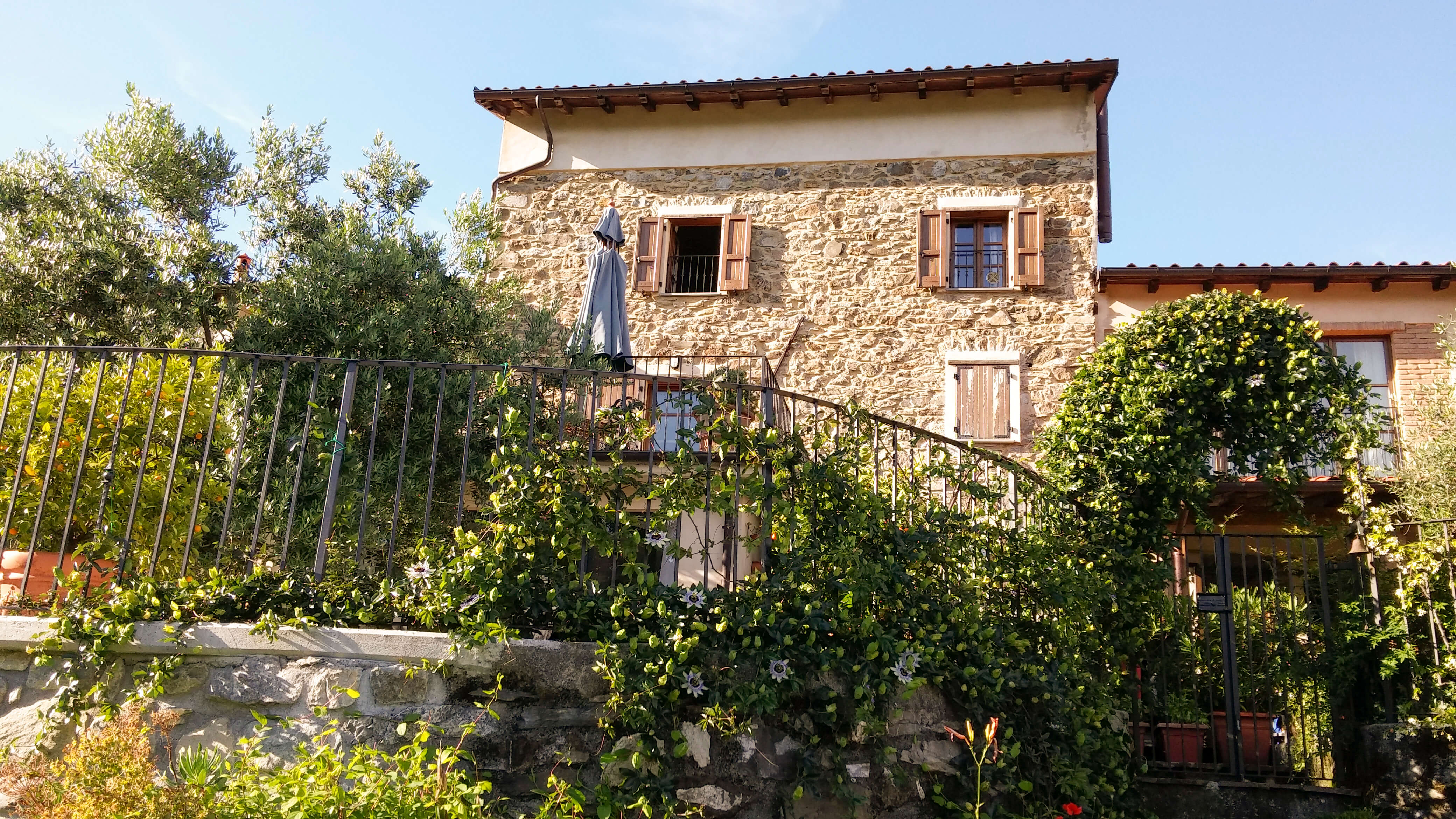 [Chris and Eva's restored farmhouse in Tuscany's Lunigiana.]
- Why did you decide to buy a house in Italy and why did you choose Lunigiana specifically? 
We had previously taken our holidays in other parts of Europe, then one day Eva entered a competition in a national newspaper and won a ski holiday to Cervinia in the Val D'Aosta. Our love affair started there and was reinforced on subsequent trips to Tuscany and, even though we were unaware of the name of the area at the time, to Lunigiana.
Over the years we have met lots of people who say they want to live in Italy, but they have seemed to let 'logic' stand in their way and have been unable to make any decisions without first having eliminated every region. A process which means they probably will never take the plunge.
We took a different approach - in la Lunigiana we saw an area that ticked all our boxes, so we didn't consider, let alone explore or research, anywhere else. Lunigiana, for those of you who don't know, sits on the northernmost border of Tuscany where it touches Liguria and Emilia-Romagna. It's situated perfectly about an hour's drive from Pisa, Genova and Parma and so has perfect airport connections to the UK. It's an area of outstanding natural beauty - wooded hills, medieval borghi, mountain views and only 40 minutes to the coast. Tourism is only really now getting established and so we have been really fortunate to enjoy years of what we'd consider to be 'real rural Italy.'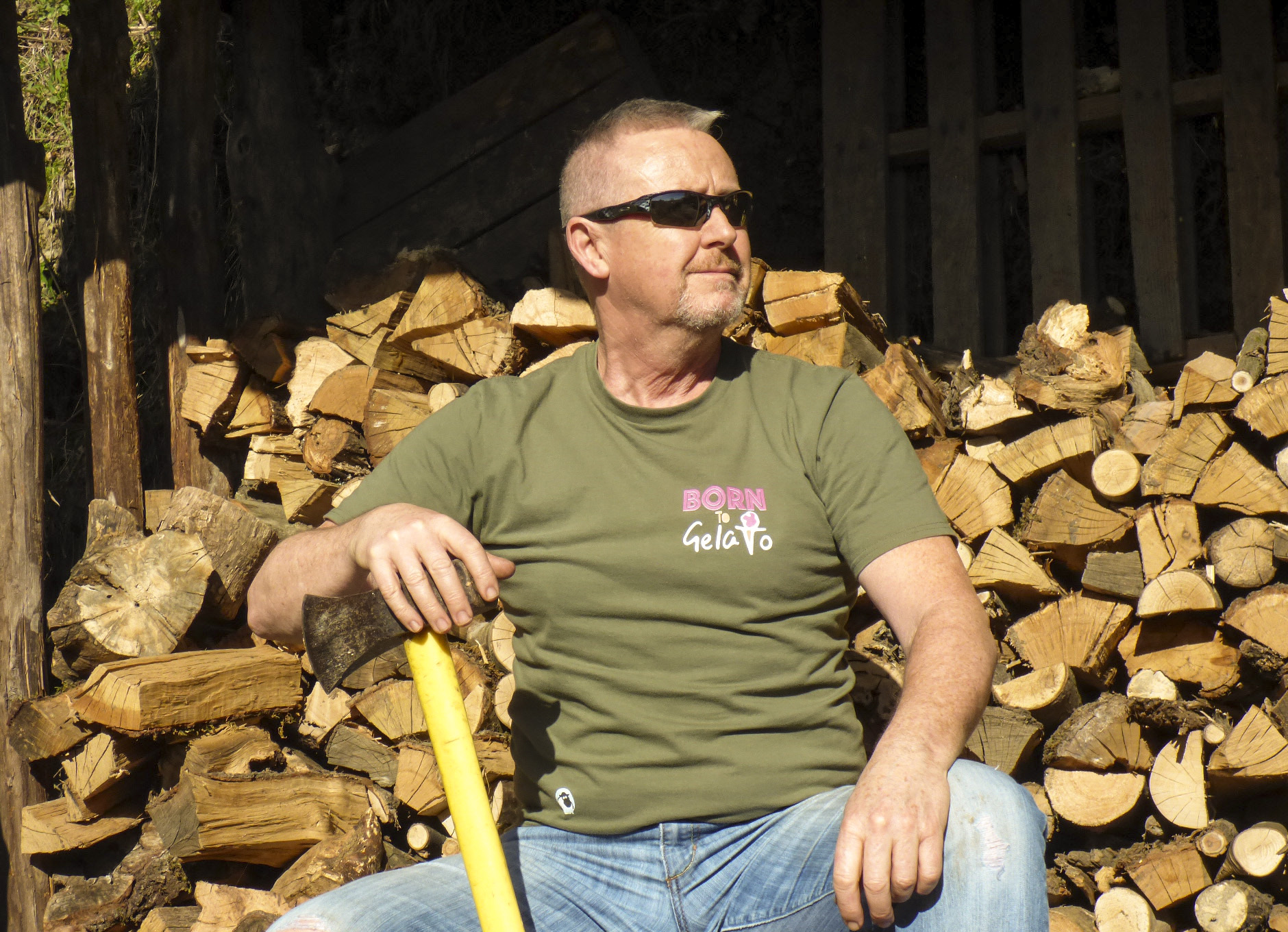 [Chris living the rural life in Tuscany.]
- How did you get started looking for a property?
Quite simply we saw an advert in a coffee table magazine while Chris was getting his car fixed in the UK (it might even have been Italy Magazine!!). The ad was for an English-speaking estate agent based in Lunigiana. Over a few beers in our local pub, we discussed the concept of buying a holiday home in Italy and quickly fixed up a visit to see the agent and view a few properties.
- What were the main difficulties during the research/purchasing phase?
Having made our mind up on looking in just one area really simplified things; it cut down massively on exhausting travelling. The principle difficulty was probably around us needing to decide what type of property we wanted and on agreeing on our priorities. As we said, we started looking for a little holiday home and ended up buying a large ruined farmhouse where we would live permanently and which offered sufficient studio space for Eva (who is also a Fine Artist) to continue painting and marketing her work. That's a monumental shift in mindset when you think about it!
- What was your experience like with Italian real estate agents?
Because the agent we used was British born, there weren't really any great difficulties and we were happy to place our trust in them to help us navigate through the process of viewing and ultimately offering on and buying our home. 
- What were the main difficulties during the renovation process?
As with everything, good communication is the key and at times let's just say we felt that aspect could have been managed better. The timescales for obtaining various permissions from various authorities also came as a bit of a surprise. 
Where we live was our first and hopefully our last major renovation project! It was undoubtedly a stressful time for both of us. We tried to stay in control of the project from the UK, making only occasional visits to sign off on key milestones. Maybe a better way to have approached it would have been to have found a way to be onsite - but living in a caravan on a building site wasn't part of our dream!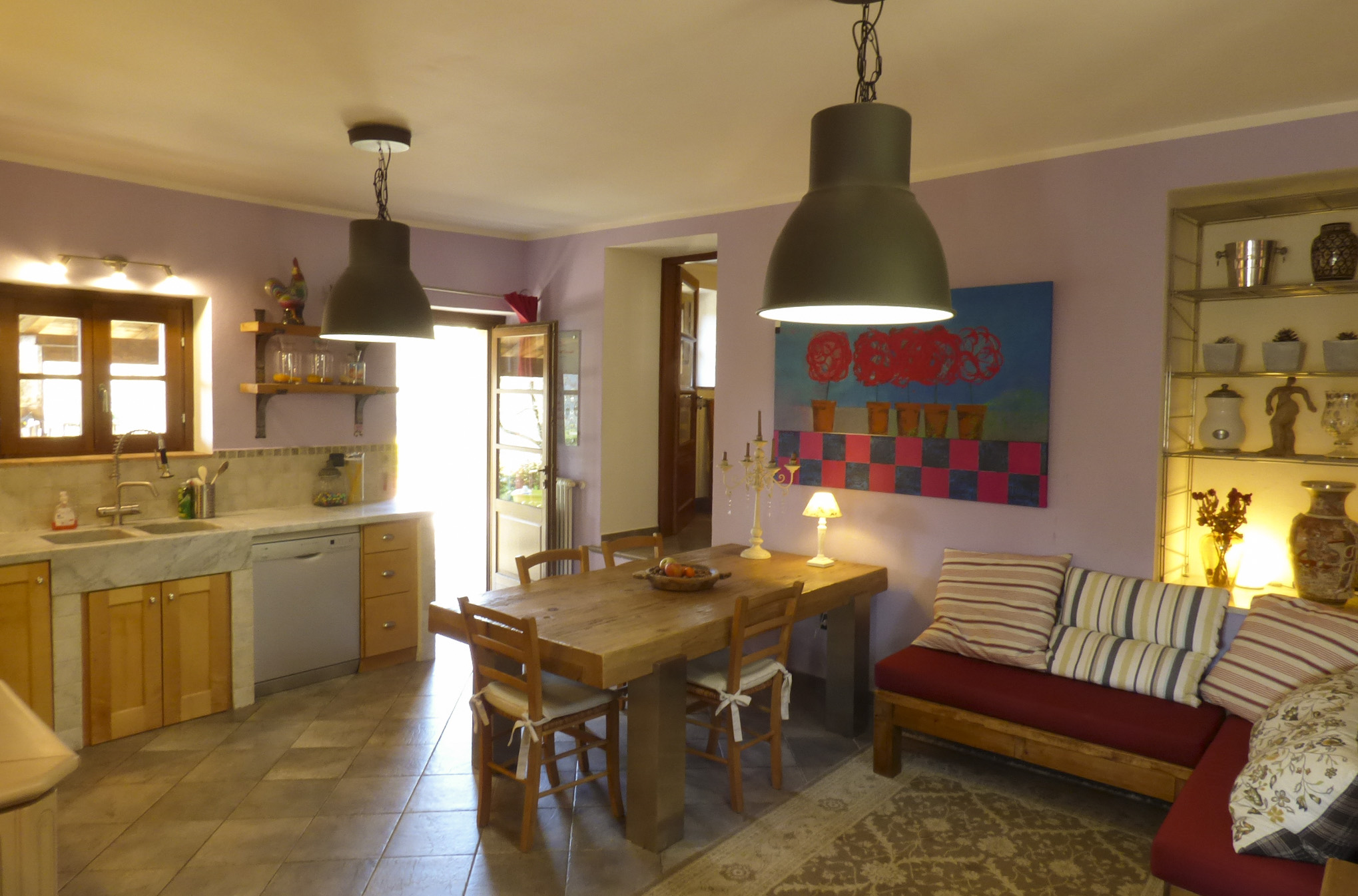 [The kitchen in Chris and Eva's farmhouse.]
- Have you made friends where you live now? Overall, what was the transition like?
We have made a good number of friends, many Italian and to our surprise (because we never sought to live an expat life) many friends from various EU countries and the US. 
In the early days (before we became 'hill people') we used to take part in various local events and even joined a Ballroom Dancing class which was a great way to meet a loads of glittery locals!
The fact that Eva, over the years, has continued to run exhibitions for her paintings has also introduced us to a lot of people, not just clients, but also new friends.
Also in the early days, we used to interact on the old Italy Magazine forum and, after many years of only knowing people 'virtually', when one of our group sadly died, young, of cancer, we organised a celebration party at our house and so about 20 or so of us all finally got to meet each other. Only one glass was broken and most of us still stay in touch!
And an unexpected benefit of running Shabby Sheep Design has been that we have met some excellent Italian and international people on social media, many of whom we now value not just as 'supporters', but as true friends. 
Plus, don't underestimate how much and how often your old friends will want to visit you when you live in Italy! And because people will generally stay a few days (top tip: keep the visits down to just a few days or you'll feel like a hotel), existing friendships we've found have been deepened and developed.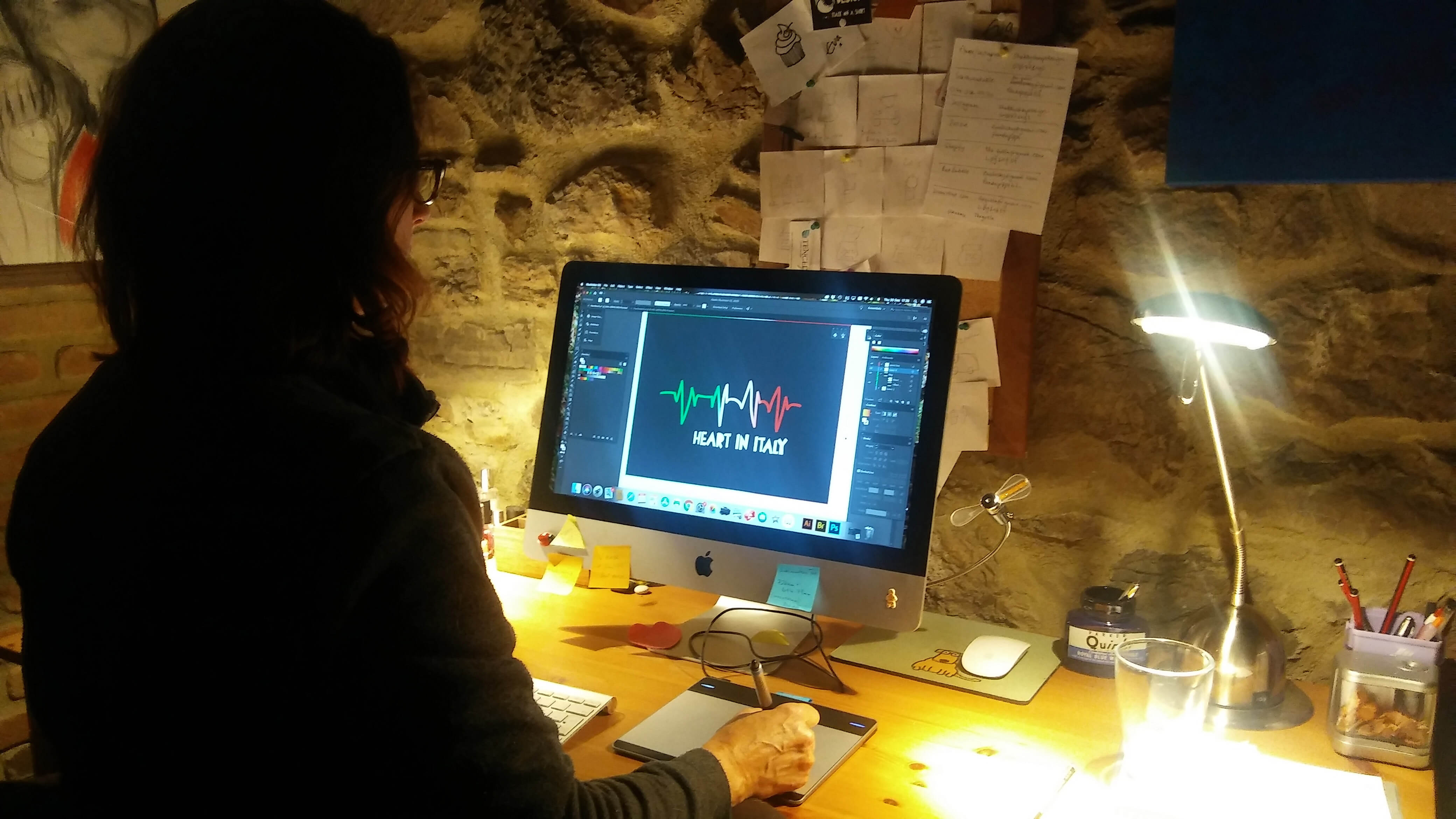 [Eva at work.]
- What are your tips for someone interested in buying a house in Italy?
1. Learn Italian as quickly as you can. It will set you apart from 'the crowd' and allow you to be yourself. This is key when developing friendships. An inane smile will only last you so long.
2. Be clear on your reasons for moving. They will be tested. Coming to Italy will not change your personality, so be clear on who you are.
3. Be aware that 'arrivo subito' (I'll be right there) means nothing!
4. Understand what currency exchange risk means for you and base all your assumptions on 'worst case'.
5. Consider renting first to give yourself a chance to 'kick the tyres' in a way which doesn't tie up your capital.
6. Remember that what appears to be ideal as a holiday home might not meet all your requirements when you come to live here permanently through all four seasons. And ask yourself what living will actually look like. You will not be physically capable of living the lifestyle of aperitivi and eating out every night, assuming you can afford to after you've experienced the utility and tax bills!
7. DO IT. Nothing is perfect in life, but Italy is about as close as we can imagine it to be. :-)
Thank you, Chris and Eva, for sharing your story with ITALY Magazine readers.
If you are interested in seeing more of Eva and Chris' Italian Themed Designs on a wide range of apparel and gift accessories then you'll find everything at Shabby Sheep Design.