Tuscany is known for its idyllic natural landscapes, rolling hills peppered with cypress trees and vineyards, dusty roads leading to ancient castles—and lovely well-preserved hilltop towns. When clients think of buying a property in Tuscany the first thought that often comes to mind are impossibly high prices and that they cannot afford to buy a property. Nothing, however, could be further from the truth. 
The secret is knowing where to buy. We asked expert agent Linda Travella, who founded "Casa Travella," an agency selling properties in Italy for over 25 years for her top tips for purchasing a property in Tuscany. Linda can also be seen on SKY Channel 198 The Overseas Property Channel presenting a programme about Tuscany and Lake Como.
Northern Tuscany
The best value is Northern Tuscany, around Bagni di Lucca, Barga and some parts of Lunigiana.
This area is thought, by some not to be 'Typically Tuscan' but with prices starting at around €50.000 it is worth a look for sure. Popular locations are Barga, Bagni di Lucca, Borgo a Mozzano and Pescaglia to name but a few. To give you an idea on what is available, a detached house for sale with a barn already restored at Molazzana with 20 acres' of land, 5 bedrooms and 3 bathrooms, costs only €245.000.
North-Eastern Tuscany
Then there is North Eastern Tuscany, the least well known area of the region and therefore great value for money whilst still having a Tuscan address. You can buy a detached farmhouse with 3 bedrooms and two acres of land for €180.000 and own a two-bedroom detached house with half an acre and ready to move into for under €100.000! The area it is a little woodier than perhaps central Tuscany but is also less busy, less touristy but with beautiful views over the Casentino valley.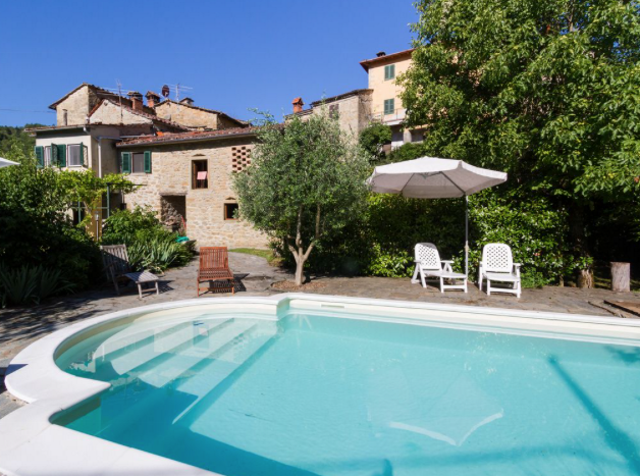 [This well-renovated 2 bedroomed village house with 1 bedroomed dependence, and swimming pool is located in the hamlet of Spalanni in the comune of Castel San Niccol]
Typical Tuscany
The Volterra, Siena and Chianti areas are what clients consider to be the typical Tuscany with the landscape you imagine. From the stunning landscape and Chianti's award-winning vineyards, it comes as no surprise that it is a popular place to buy. Even so, a two-bedroom apartment in a redeveloped hamlet with pool is on sale for €250.000 at Lajatico.
The Volterra area tends to cost less than Siena and Chianti but the landscape is still as beautiful, in fact it is an area that we personally adore. Beautiful landscapes mingle perfectly with easy access to other art cities and the beach. Only half an hour from San Gimignano you can buy a detached villa with three bedrooms, three bathrooms, ready to move into with a private garden for €410.000. The property is in a small complex and there is a shared pool.
Southern Tuscany
Southern Tuscany, around Cortona, is a little further from the main airports but is certainly worth a look. Currently for sale is a three bedroom, three bathrooms, fully furnished apartment in a beautiful gated development with rental history for €425.000. Coastal properties in Tuscany are more expensive but it is worth looking for the properties around 30 to 40 minutes from the sea for the best value.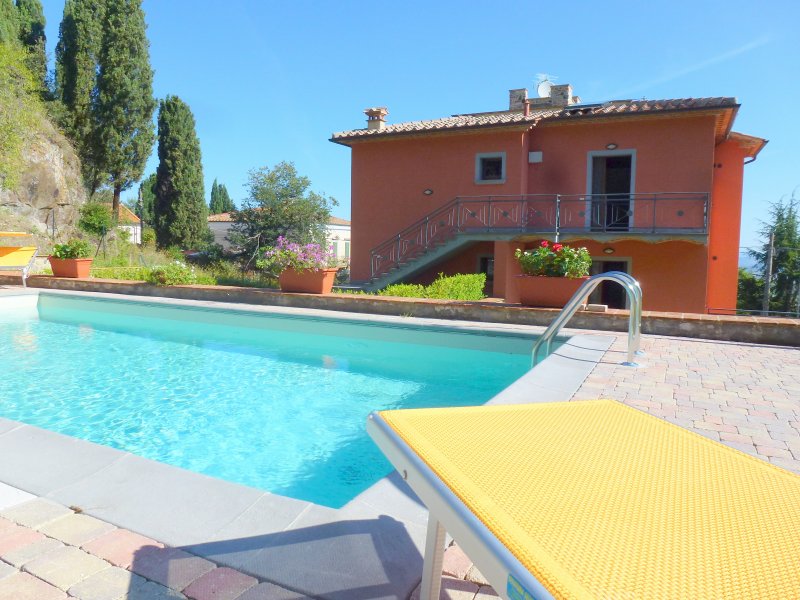 [This lovely development of 1,2 and 3 bedroomed apartments of only 4 apartments with communal swimming pool, garden and private parking space, are located in the centre of Orciatico, a hamlet some 7km from Lajatico, about 53km from Pisa airport and an hour from the coast.]
Casa Travella can send you many details about properties, but nothing is like going to view and seeing the area. Let us give you some advice on how we think you should proceed:
Look on our web site and then e mail or phone for a chat. Email is a good way to establish the first contact but there is nothing like speaking to someone to make sure we understand exactly what type of property you are looking for. If you cannot access the site, then phone and we will post details to you. There will nearly always be other properties to view as well the ones you have seen on the site. So, don't assume that the properties on the site are the only ones we have for sale.
 Let us know when you are thinking of viewing so that we can check that our people in the area are able to allocate as much time as necessary for your trip. Linda Travella will personally be present at some of the viewing trips but cannot be available for all.
Remember Sunday is not normally a viewing day and try to avoid the week in which the 15th August falls, as it is a National holiday in Italy. Many places are often closed after Christmas and until the New Year, so check with us before booking your trip.
Don't try to cram in too many appointments as it is counterproductive, if you are viewing larger properties it will take time to look around properly.
Try to keep an open mind with regard to the type of property that you say you would like to see. On many occasions people have told us that they are only interested in an older property only to purchase a new one and vice versa!
If you see a property that you like, leave enough time to go and view for a second time.
If you are buying with a partner it is better for you to both go and view. In 25 years, only on three occasions has someone purchased without his or her partner seeing the property first.
When we arrange an appointment for you with our local associates in the area you will normally see 3 to 5 properties in a morning and the same in the afternoon. This is assuming you start your appointment at 9:30 or 10 in the morning and 2:30 or 3 in the afternoon. If you are viewing larger villas or properties that are quite a distance apart the quantity of properties, you view may decrease.
Don't assume that you will not find a property on your first trip, as you sometimes you will!
If you go and view in an area and decide it is not for you don't hesitate to let us know and we can discuss a more suitable area with you and organise another trip to suit your needs.
Wherever you choose we do not think the properties and the scenery will disappoint you, Contact Casa Travella today for further information and help on Tuscan and any other properties in Italy.