Of Italy's 20 regions, Le Marche is an unofficial frontrunner for "most underrated of all." Nestled between the Adriatic Sea and the Apennine Mountains on Italy's east coast, you'll find medieval villages to rival those of Tuscany, beaches to best Sardinia's shores and food that's on par with Emilia Romagna's finest — but none of the crowds of any of those better-known regions. Davide and Gary of D&G Design let us in on their local secrets, and share why relocating to Le Marche might just be the best decision you ever make.
"They call Le Marche 'Italy in one region' and it's completely true," Gary enthuses the first time we speak. He and Davide moved here in 2016, buying a house and renovating it from scratch. They loved the process so much that they've since decided to go into business doing the same for others — exclusively in the region. "We couldn't quite believe the number of homes that had fallen into disrepair and were for sale across the eastern region of Le Marche in Italy when we began searching to buy," says Gary.
Although Davide was born and raised in Puglia, he'd never heard of Le Marche until he and Gary were given the opportunity to work on a restoration project there. "We instantly fell in love with the rolling hills, medieval towns and villages, beautiful beaches, and really friendly people," Davide recalls. "The low property prices were also a massive bonus! One Sunday while we were out exploring when we arrived in a small hilltop town and saw a house for sale. Long story short — we ended up buying it!"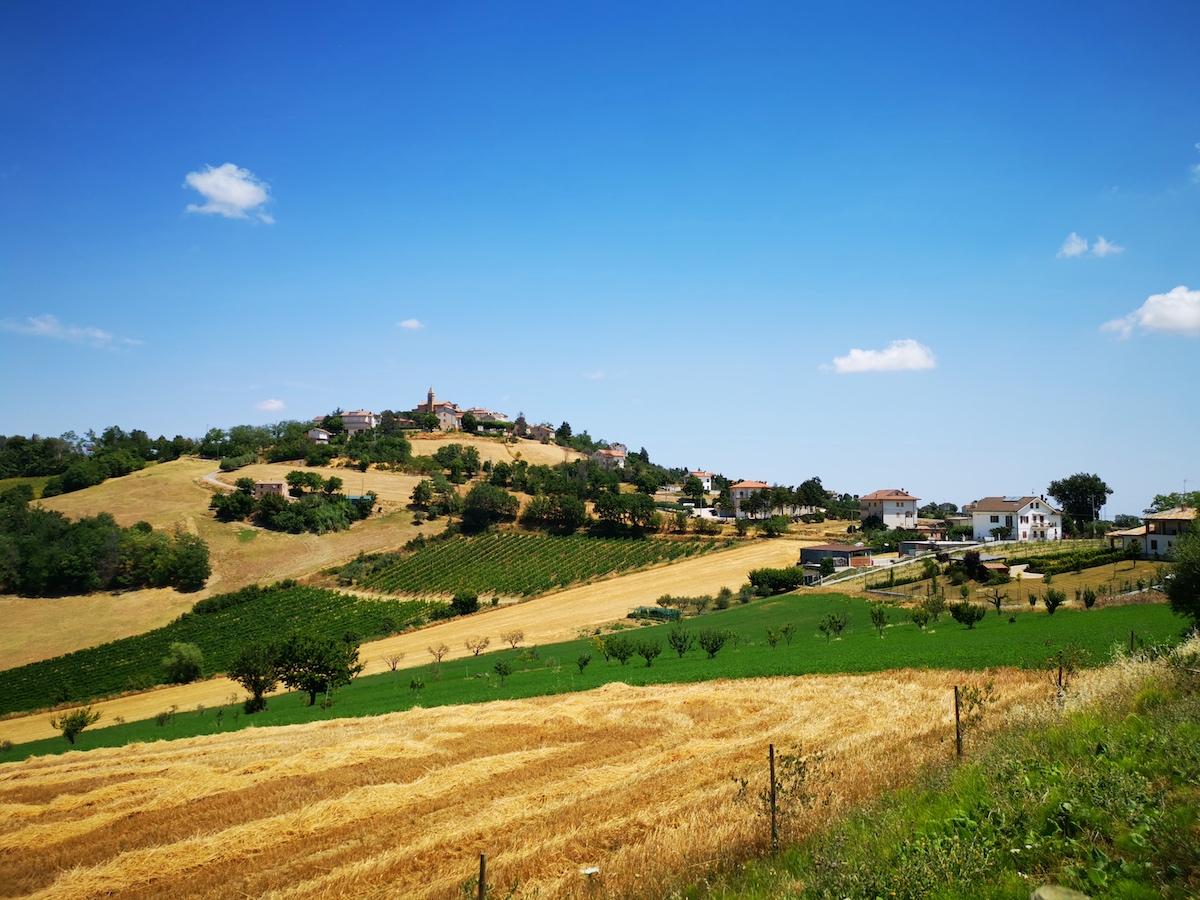 They explain that, unlike in overcrowded tourist cities like Florence or Rome, witnessing and taking part in the ways that most everyday Italians live day-to-day is a guarantee in Le Marche; English isn't spoken by everyone, which helps when you're trying to get a handle on the language and immerse yourself in local life. 
"Le Marche is off the tourist trail, which means you rarely sit in traffic or have to wait in a long line to get into a museum or attraction. And unlike other Italian hotspots, you always have plenty of space around you at the beach as well!"
Given that visitors are rarer here, on the whole, Gary notes that people are generally very friendly and welcoming. "We live in a tiny town where everyone knows everyone, and people have welcomed us completely. Since day one, our next-door neighbors have invited us over for huge dinners at least once a week."
"We have Roman amphitheaters and ancient sites; an abundance of beautiful, elaborately decorated theaters; the Sibillini Mountain range with walking and hiking trails; a stunning coastline with plenty of beaches; numerous lakes to walk around or swim in; fields lined with sunflowers and olive trees; and really amazing local cuisine." If it sounds too good to be true, check out Lonely Planet's list of Best Regions to Visit in the World in 2020: Le Marche came in a cool second place.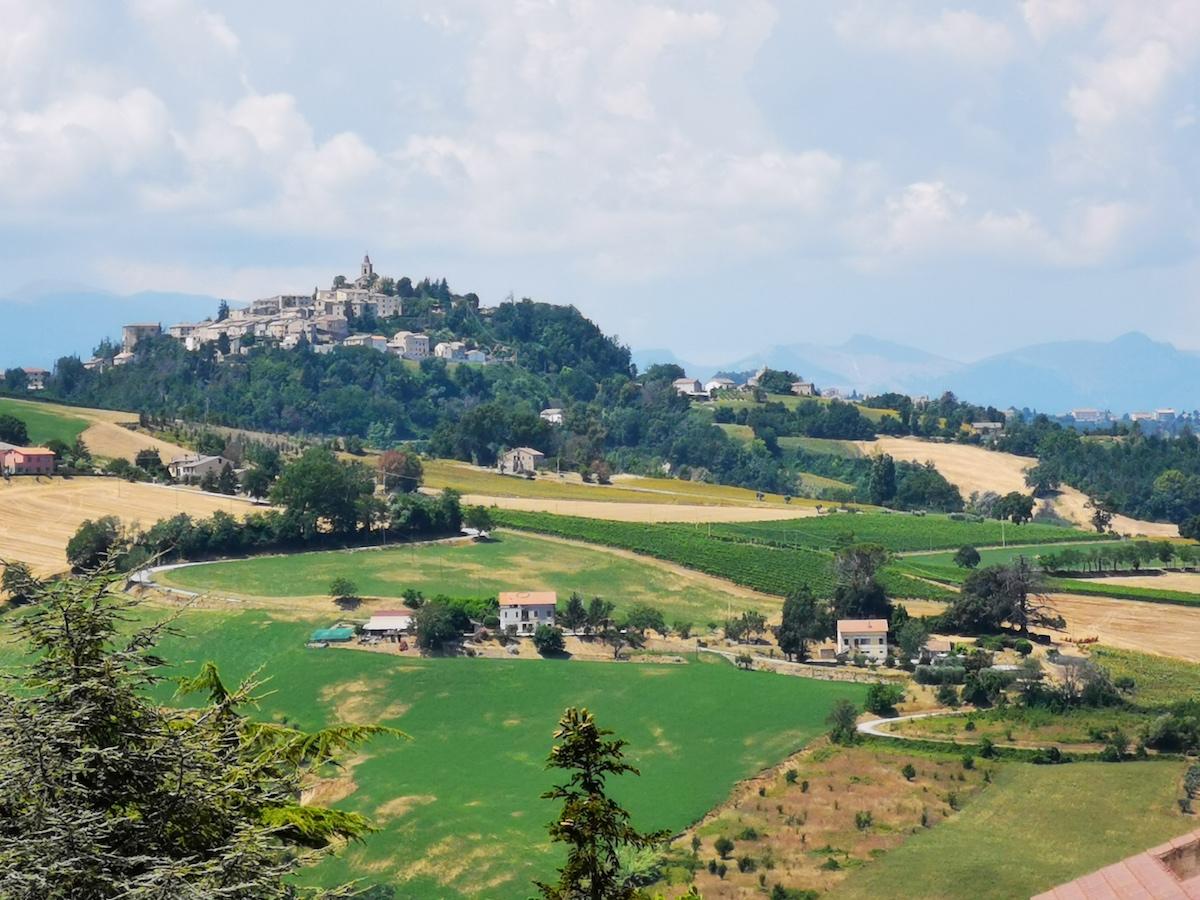 For first-time visitors, Gary and Davide always recommend going and checking out a couple of small medieval hilltop towns (the region counts more than 200). Gary paints a charming picture, describing pretty walled citadels with cobbled streets and honey-colored houses garlanded with flowers. Even the tiniest towns will usually have a theater or museum to enjoy, as well as magnificent views over the countryside, mountains and sea. Gary's picks are Fermo, a mid-sized town with underground Roman cisterns, and Loreto, which has a domed church that holds the home where the Virgin Mary is said to have lived — all in a gorgeous piazza.
For larger towns, Davide insists his guests visit Ascoli Piceno. "The Piazza del Popolo is made entirely of travertine stone and is breathtaking. Visit Caffè Meletti, a grand building that blends classic Italian style with nods to Art Deco. Overlooking the piazza, it's a great spot to people-watch. Macerata has a large outdoor amphitheater, the Sferisterio, which offers tours, and it also hosts its own opera festival during the summer."
Aside from hilltop towns, there are countless wine-tastings, walks and hikes to enjoy, and freshwater lakes to swim in or stroll around. The Conero Coast is a stunning stretch of coastline, with brightly colored seaside villages and 20-plus Blue Flag beaches. Down the coast, the long stretch of beaches is protected by a sea barrier which ensures the waters aren't too deep, making them great for families.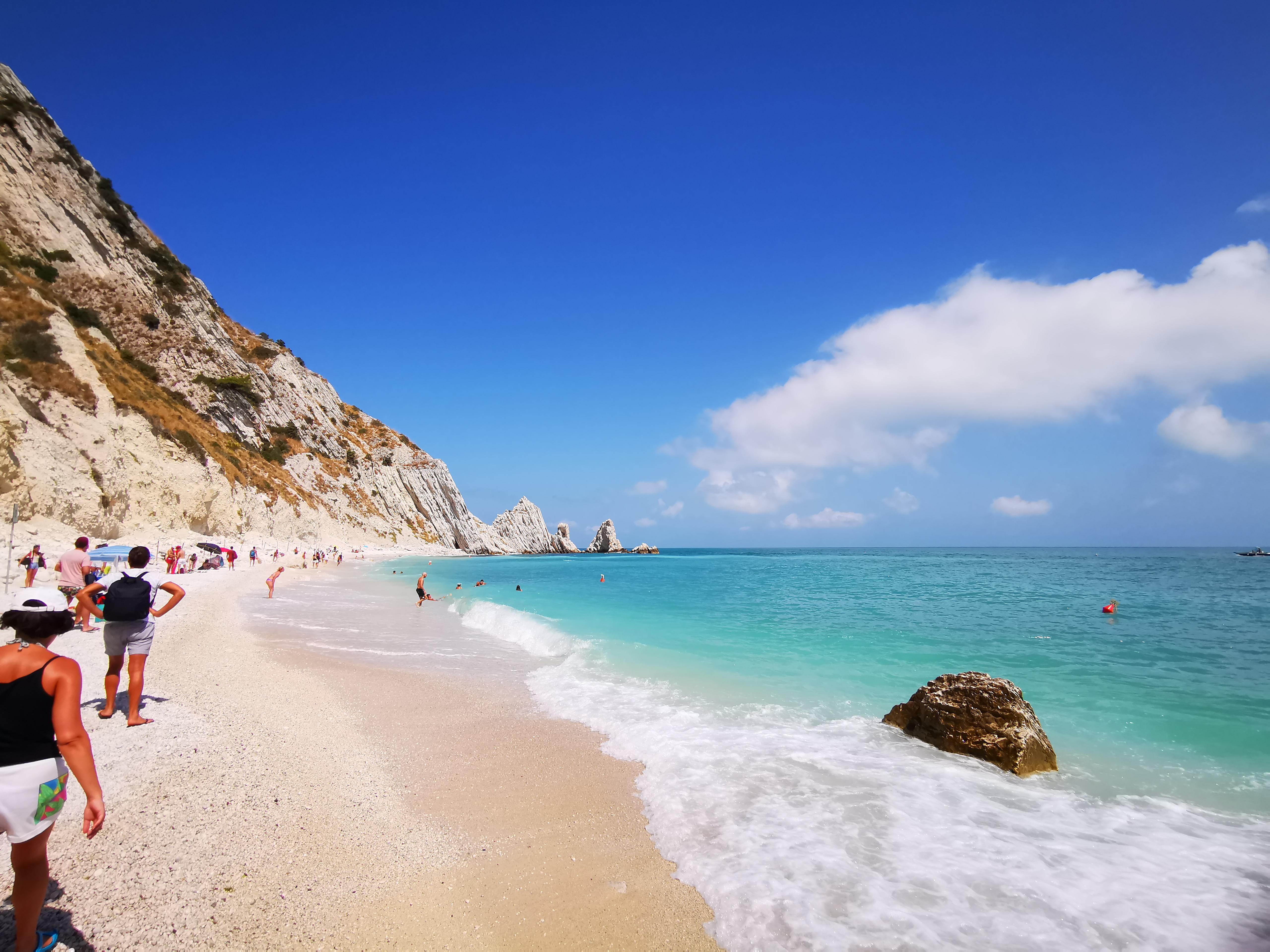 And then there are the culinary delights that you won't find elsewhere: olive ascolane — fried olives stuffed with pork or beef and ciauscolo sausage. The region also produces 20 DOC or DOCG wines, which you can sample in local cantine, and which cost a fraction of the bigger wine-making regions. 
 
Location-wise, Le Marche can also be a dreamy jumping off point for other more famous Italian destinations. You can drive or take the bus to Rome and be there in under three hours, for example, and there is also a railway line that runs along the coast all the way to the south of the country. The regional airport in Ancona offers mostly flights to European destinations, and there is also a daily flight to and from London.
Want your own slice of Le Marche?
If Gary and Davide's story inspires you not only to visit Le Marche on a holiday, but to think about moving there, you're not alone. Since they first renovated their house in 2016, their business D&G designs has helped dozens of British and international buyers along every step of the way in renovating their own home. 
One of their biggest advantages is having that dual background, with Gary being from the UK and Davide being Italian, meaning they've got plenty of experience understanding both the perspectives of both sides, culturally and interpersonally.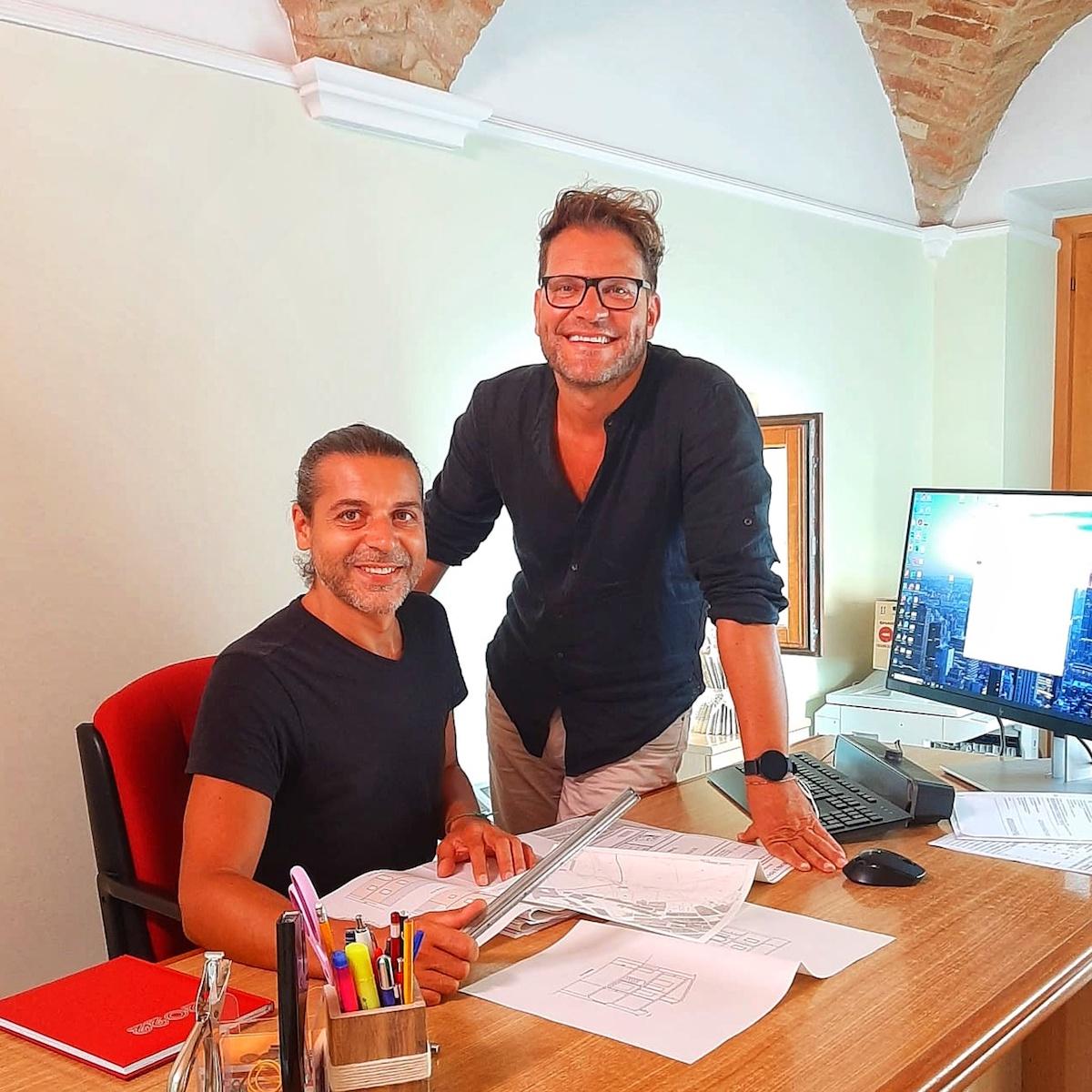 As Davide is a restorer specializing in historic buildings, he is in his element in Le Marche. He's brought back to life old tiled and stone floors in many vacation homes which clients have assumed will need to be completely replaced. Davide's motto is always to repair rather than replace.
 
When asked about what kinds of homes you can find on the market in Le Marche, Davide explains that there really is something for everyone. "We live in a townhouse within a city wall, but many people favor a country-style home within walking distance to a small town or village. Many ruins are available at very low prices, and there are plenty for sale which need smaller renovations or updating — these are the best buys as you can quickly make them habitable and then carry out works in phases."
 
Le Marche offers opportunities for both permanent residences and vacation homes. "It depends on the needs of the buyer," says Gary, "but both options are rewarding and allow you to immerse yourself into Italian life."
 
If you'd like to find out more about owning your own home in the beautiful region of Le Marche or taking on a home renovation project, e-mail ciao@dandgdesign.com to get in touch.
More information