I keep coming across articles intensively debating whether the Seven Fish Feast, where seven different fish-based dishes are served on Christmas Eve,  is  an authentic Italian or  Italian-American tradition.
As an Italian, I must admit I hadn't heard about it until eight years ago and most of my Italian friends haven't either. Some of my Italian-American friends told me that their families do not follow this tradition at all, while others exclaimed 'Of course we eat seven different fish courses on Christmas Eve, don't you know?! Aren't you Italian too!'
I must confess that I do not find this debate particularly interesting. Ultimately migrations inevitably lead to such wonderful 'accidents'.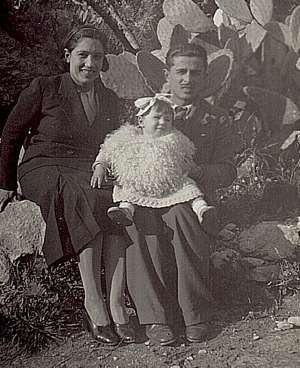 It could be that a particular group of Italians coming from a specific area of Italy turned what was a local practice, or maybe even just a family tradition, into something that became popular all over the United States. As I keep stumbling across articles about the Seven Fish Dinner, what I find most entertaining is to speculate what would have happened if my family had exported my grandmother's Christmas tradition! 
Forget the Seven Fishes, you would have the Twentyfour Treats Feast, yes 24 different things to eat on Christmas Eve.
I was born and grew up in Modica, in south-east Sicily, to a family obsessed with food. 'Aren't all Italians obsessed with food?' you may ask....yes, of course, but my grandparents belong to a minority of 'even-more-obsessed-about-food-than-usual-Italians' and I think this says it all. It's no wonder I now run a cooking school in my grandmother's house in the historical centre of Modica.
Nonna Elvira's Christmas was an elaborate affair with precise rituals. It started in early November with the preparation of all sorts of nougats and she kept the pace throughout by unveiling traditional biscuits and other sweets regularly. She cooked for the family, her friends,  the neighborhood, the parish, the passersby and if time and money allowed she would have cooked for all of Sicily with passion and devotion. The regular stars of the show were aranciata (a nougat of arab origin with orange peel and honey), qubbayta (another arab style nougat with sesame seeds and almonds), almond croccante, torrone bianco,  mustazzola (honey and must biscuits), scorzette d'arancia zuccherate (sugar iced orange peel) nucatuli (biscuits with a dry figs and nuts fillings), 'mpanatigghi (Modica's special dessert with meat and chocolate), viscotta ri miennula (almond biscuits) with many other variations and treats making guest appearances.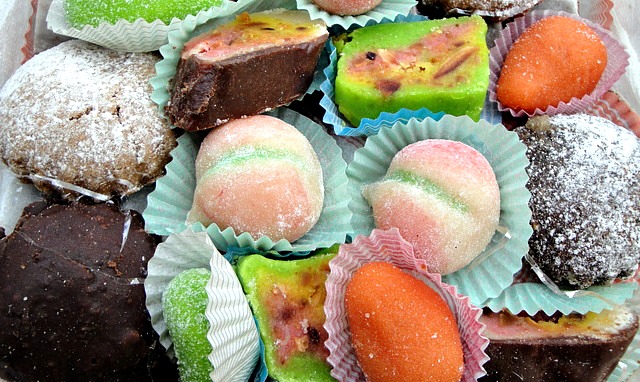 Amazing aromas invited you to follow the steps up to the house which felt like it has abandoned its function of family home and transformed instead into the best pastry shop in the world. It was not uncommon to hear the neighbours debating in Sicilian: 
'Ronna Elvira sta faciennu a qubbayta!' (Lady Elvira is making nougat!)
'No, vi sbagghiati, chistu è ciauru ri meli, sta faciennu i mustazzola!' (No, you are wrong, this smells like honey so she is making mostaccioli!)
At the beginning of December, she started to work on the Presepe which, in an exceptional show of deference to the festivity, was just as important to her as the food.  There is a grand piano in the house which became the setting for the nativity scene. Those who have come to my cooking school know what I am talking about since  it is still there in the same exact position in the livingroom.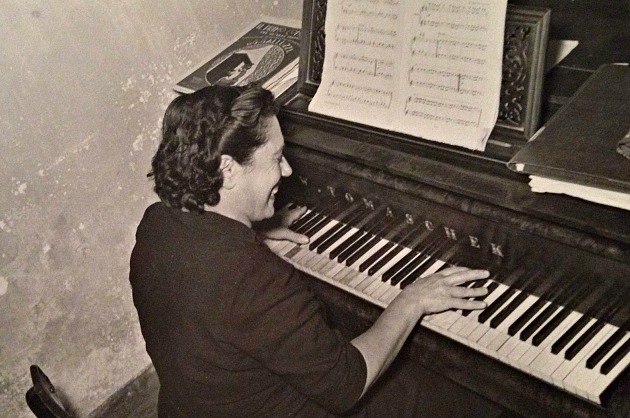 Nonna Elvira plays Christmas carols on her grand piano.
She covered it with big pieces of cardboard to create an even bigger surface and started setting all the grottos up. My grandfather was in charge of collecting real moss, branches of olive trees and citrus trees which were added to the scene. Finally, she placed the terracotta figurines her father, who was an artist, had made and finished decorating with real mandarin, oranges and lemons. This is one of my earliest memories, and everyone in the family thinks back to Nonna Elvira's Presepe with nostalgia. It was simply spectacular. 
With two months of preparation and practice we arrive at the grand moment. Christmas Eve dinner and the tradition of eating 24 different things. A food advent calendar if you will,  compressed in a marathon session of 4-5 hours.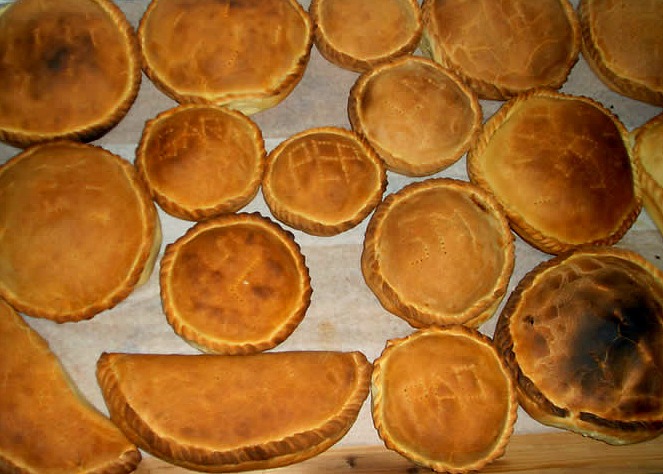 Mpanate Natalizie - Christmas Traditional Savoury Pies
Now, if you are going to get to 24 things you have to open up the menu considerably. So, unlike most other parts of Italy, we did not limit it to just fish. Everything was fair game! We started with a series of antipasti which included incredible green olives from Ragusa, fennel, dry sausage, roasted chickpeas, sautè vegetables, a rich selection of Sicilian cheeses, and more. Then came the traditional 'mpanate, a sort of savoury pie with either baccalà (salt cod) and potatoes, or broccoli, or spinach and fried fish.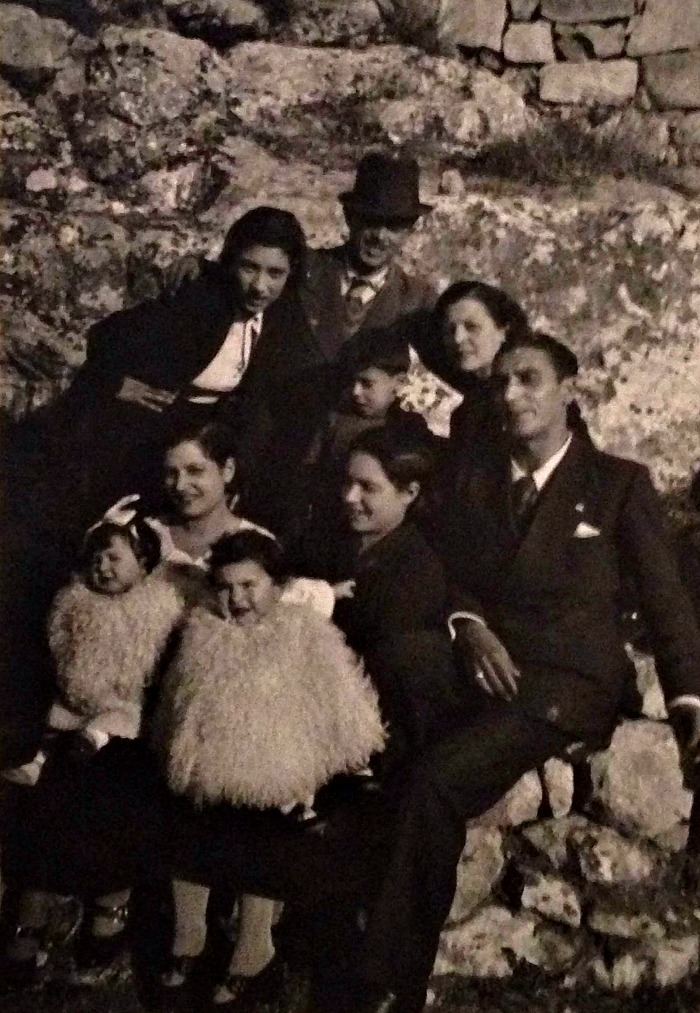 By now we were inevitably feeling the strain so the next dishes had to up the ante and be completely irresistible.  The local winter classic, sausizza e sinapu, sausage served with wild mustard (sinapis arvensis) did just that. Fruit, dry fruit, nuts and sweets all added up to reach the magical number TWENTYFOUR! Now - pay attention. Not 23, not 25. It needs to be exactly twenty four.
My mother and my aunt keep saying this is a local tradition, but other born and bred Modicani I asked haven't got the faintest clue of what I am talking about. So the real question is: is this a typical Sicilian Tradition, a tradition of just Modica or my grandmother's ingenious trick to make us eat even more food on Christmas Eve? 
In the meantime I cannot stop thinking what it would have been like if my family had migrated to America and spread the Feast of 24 Delicacies to the rest of the world! 
Buon Natale e Buon Appetito!