2020 is drawing to a close, and it is safe to say that this year has seen the travel industry as we known it, come to a halt almost overnight. As a new decade approaches, lessons are being learned, with hoteliers and resorts rapidly adopting new ways to welcome back visitors. But are they doing enough?
With lockdowns and restrictions placed on us this year, it would be hard to have missed the numerous programmes streamed to us via various networks on the state of the environment as a whole, and how humankind has been unconsciously damaging the Earth over the last few decades. 
This is why now more than ever it is time to be aware and become involved in deciding where you travel, what you do when you're there, how this impacts the local environment and community, and when you choose to visit?
What is sustainable tourism, and how will this impact future travel?
We've all heard the phrase sustainable travel and tourism used online and in the media. With even just a basic understanding of the term, one can assume that the accommodation or choice of a company labelled as such, have been doing their bit for the environment. But what does this look like?
Nigel Carley and his wife Dawn are the couple behind the Pinelli brand. Their Italian dream began when they purchased a 300-year-old farmhouse in the mesmerising countryside of Campania facing the Cilento National park. An exquisitely restored property taking into account the three pillars of sustainability (environmental, social, and economic), led to this property selling out via their collective ownership model, in record time.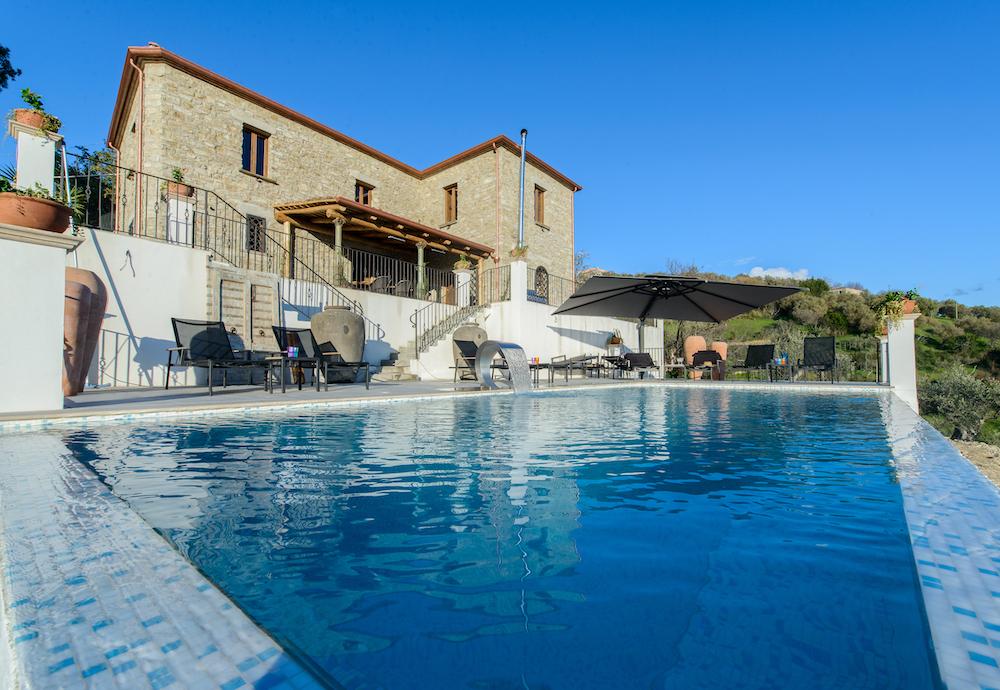 "The appetite for something special, yet familiar; relaxing and yet completely immersive in local culture – was as we expected. Quality family time is precious and is something we hear again and again" Dawn explains. "People are less inclined to take a chance these days on being disappointed with their accommodation and all it offers. Exploring a community and immersing yourself in the culture gives you a sense of belonging, along with supporting the local community, rather than negatively impacting it like some of the larger resorts" Nigel adds.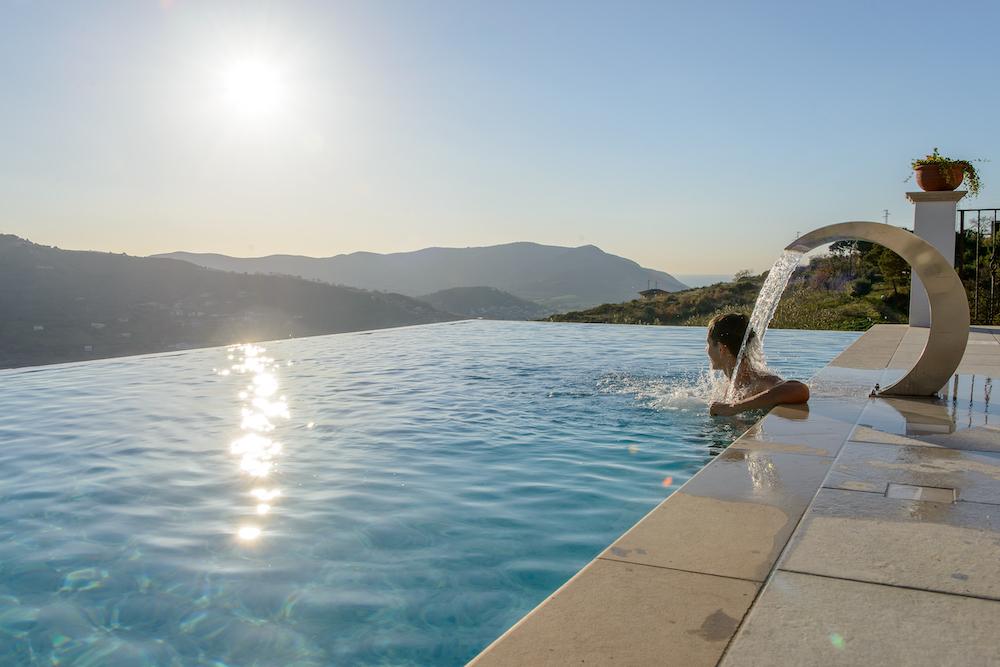 One of their properties – Il Rifugio, translates to "The Refuge" and is precisely that. The perfect retreat after a day exploring the nearby sights of Paestum, Amalfi and the Cilento coastline. Visitors can return to the tranquil surroundings, swim in the saline swimming pool – heated by air-source heat pumps. Private Dining by Pinelli – advocates of the local 'slow food' movement, will have you salivating over the organically grown seasonal produce and newly discovered wild truffles! The Estate even produces its own local red wine, with 2017 being a good wine harvest. Nigel says, "The past two years have been a learning curve in viniculture, and we hope in 2021 to reap the rewards of our efforts and share both the grape (in late August), and olive harvest (in late October) with the owners, collectively joining in the experience." 
"…We enjoyed a fabulous BBQ and even sampled the Pinelli red wine. It's the best I have ever tasted. We had the pleasure of visiting their vineyard and Olive groves too..."  Pinelli guest – Sarah Tait
The meticulous two-year renovation began in 2017 and included many eco-sustainable measures. Nigel and Dawn held a clear vision of their Italian dream. "Campania captured our hearts as soon as we set eyes on the region, and while creating our property, we knew we wanted to share our dream with others. We also want to protect the environment and do what we can to promote the community that has become our home" Nigel explains.
Measures taken during this low carbon footprint restoration include: 
−    Zero offsite waste during restoration.
−    Recycling of 100% of building materials from original stone to chestnut beams.
−    Septic tanks that rely on a completely natural process. When flushing the toilet, waste is broken down by healthy bacteria, rendering its products harmless, therefore avoiding environmental contamination.
−    LED lower power lighting. 
−    Solar power where permitted.
−    Natural well water supply. 
−    Air-source heat pumps for heating the swimming pool.
−    The movement to a saline swimming pool water to become chemical-free.
−    Organically grown fruit and vegetable production comprising olive oil, grapes, lemons, mandarins, a variety of nuts, and newly discovered wild truffles.
−    Employees of only local specialists. 
−    Promotion of local 'slow food' movement through Pinelli Private Dining. 
As a result of their endeavours, owner Nigel Carley is invited to become a guest lecturer, at both Rome and Salerno Universities, in a new Sustainable Tourism degree course in 2021, by the president of the UniVerde Foundation and former Minister of the Environment – Alfonso Pecorano Scanio.
What is regenerative tourism, and how does this differ from sustainable tourism?
Until now, the main focus of both sustainable and eco-tourism has been to respect the local culture, benefitting the local people, and maximising satisfaction to visitors to the area – while minimising the impact environmentally for future generations. There is now a further need to move beyond this thought-process and not only place the environment first, but actively seek out ways in which to make it better. 
How can I do this, you may ask? 
As with any large-scale measure, if everyone dynamically chooses to do something – the change will be massive. Regenerative tourism is about pursuing new methods in which to improve the environment through the supporting of local communities, in the places you elect to visit. These actions might include supporting local businesses: local shops and restaurants etc. Dawn and Nigel have spoken first-hand about how the local community of Agropoli – home to the Pinelli Estate – is a welcoming community and one that made them feel instantly at home. Working collaboratively to bring together a collective mix of local, sustainable experiences, Pinelli guests can enjoy the full Campania experience. 
Pinelli Private Tours take small groups to taste renowned and locally produced Mozzarella di Bufala while inviting you to step back in time with the 3,000-year-old Greek Temples of nearby Paestum. Italy's delicious fare is best enjoyed through tried and tested restaurant recommendations courtesy of Nigel and Dawn, or from fresh produce grown on the Estate and cooked in the privacy of your property through Pinelli Private Dining.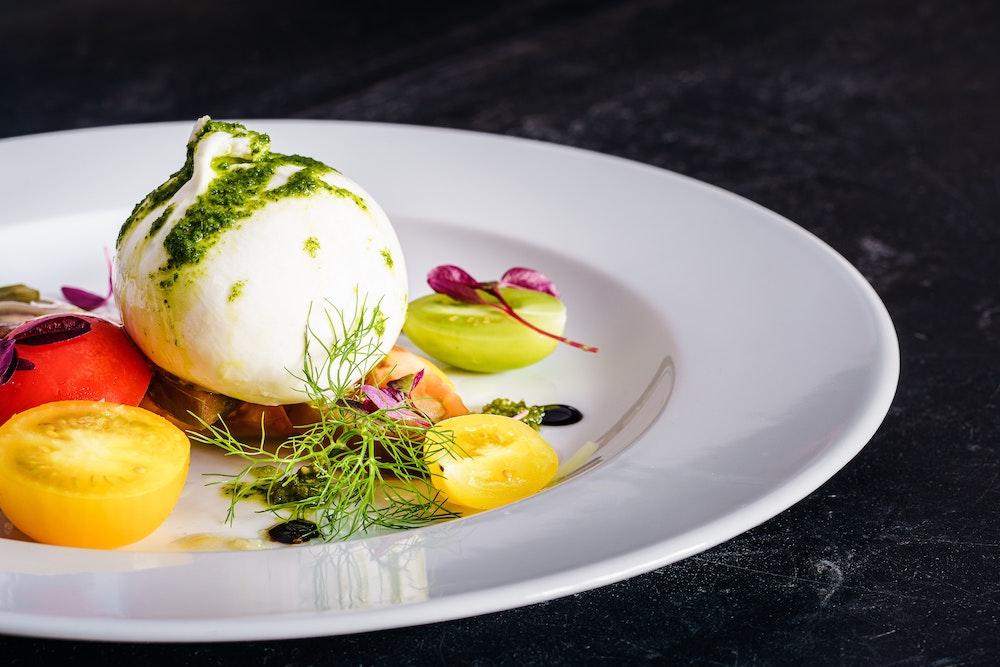 "…Buffalo mozzarella, fresh fish, pasta, tomatoes and the local Marino wines make it easy to stay on the estate and cook in the wonderful kitchen using their home-produced olive oil…" Pinelli guest – Jayne
Travelling out of season is another regenerative travel choice. The Pinelli Group's collective ownership product consists of 12 shareowners for each property. Every shareowner owns an equal share in the UK Limited company – which owns the property title deeds. Each shareowner's entitlement is 4-weeks exclusive use of the property, allocated on a fair rotational occupation calendar. This system allows visiting Italy through different seasons, witnessing the stunning changing landscapes and annual cultural events, offering you an immersive experience into the local life and traditions of hospitable southern Italy.
Italy's hope for 2021
Italy is best known for its temperate climate, delectable food, world-class wine, and lively tradition of music and dance stemming from its folk music roots. Supporting the local community that welcomed them so openly is something close to the couple's hearts. With their love of music, Nigel and Dawn began developing a strong friendship with local band Maieutikè (my-yoo-ti-kay) – named after the Socratic method of eliciting new ideas from one another. Formed over a decade ago by two childhood friends, this local band of four matured into a much-celebrated, but still predominately 'covers' band. Nigel, recognising their talents, encouraged lead singer Luigi Errico to write their own song.
They listened, resulting in the recently released single: "Proud of My Land". This composition is a culmination of the band's profound belief in the land of Cilento, and encouragement to the local young generation to believe in the future of tourism for this beautiful region of Italy – showcased in the lyrics "Proud of my land; I stay here".

The song launched on national television and radio and the band members immediately invited to meet the mayor ("Sindaco") of their hometown – Agropoli, who adored the song. Plans immediately began to adopt the song and make it the anthem for 2021's tourism and marketing for this stunning location.

"Maieutikè are rightly proud of their land, and we are even more proud to have helped them in the production of their song and its incredibly poignant video," says Nigel. Follow them on Facebook and YouTube!
As we conclude 2020 and look back over this unsettled year for travel, we can see that the passion for owning a piece of Italy definitely hasn't waned. Pinelli's initial property offering – Il Rifugio, recently selling out is proof of this. The newly released Casa Tramonto is proving just as popular with sales already going through. 
If you'd like to find out more about the properties or to register your interest for a no-obligation visit in 2021 contact us for information regarding the 4-night (5-day), personalised Discovery Visits offering luxury accommodation and an authentic flavour of southern Italy.