To mark the 100-year anniversary of the birth of Italo Calvino, which lands on October 15, 2023, the Scuderie del Quirinale in Rome is hosting the exhibition "Favoloso Calvino: The World as a Work of Art. Carpaccio, de Chirico, Gnoli, Melotti and the others." 
Paying tribute to one of the leading figures of 20th century Italian literature for his works like If on a winter's night a traveler (1979) and Invisible Cities (1972), the show is the highest-profile event in the official schedule of Calvino celebrations that have been taking place throughout 2023, ending the centenary year on a high note.
Inaugurated on Thursday by the President of the Italian Republic Sergio Mattarella, "Favoloso Calvino" opens to the public today.
About the exhibition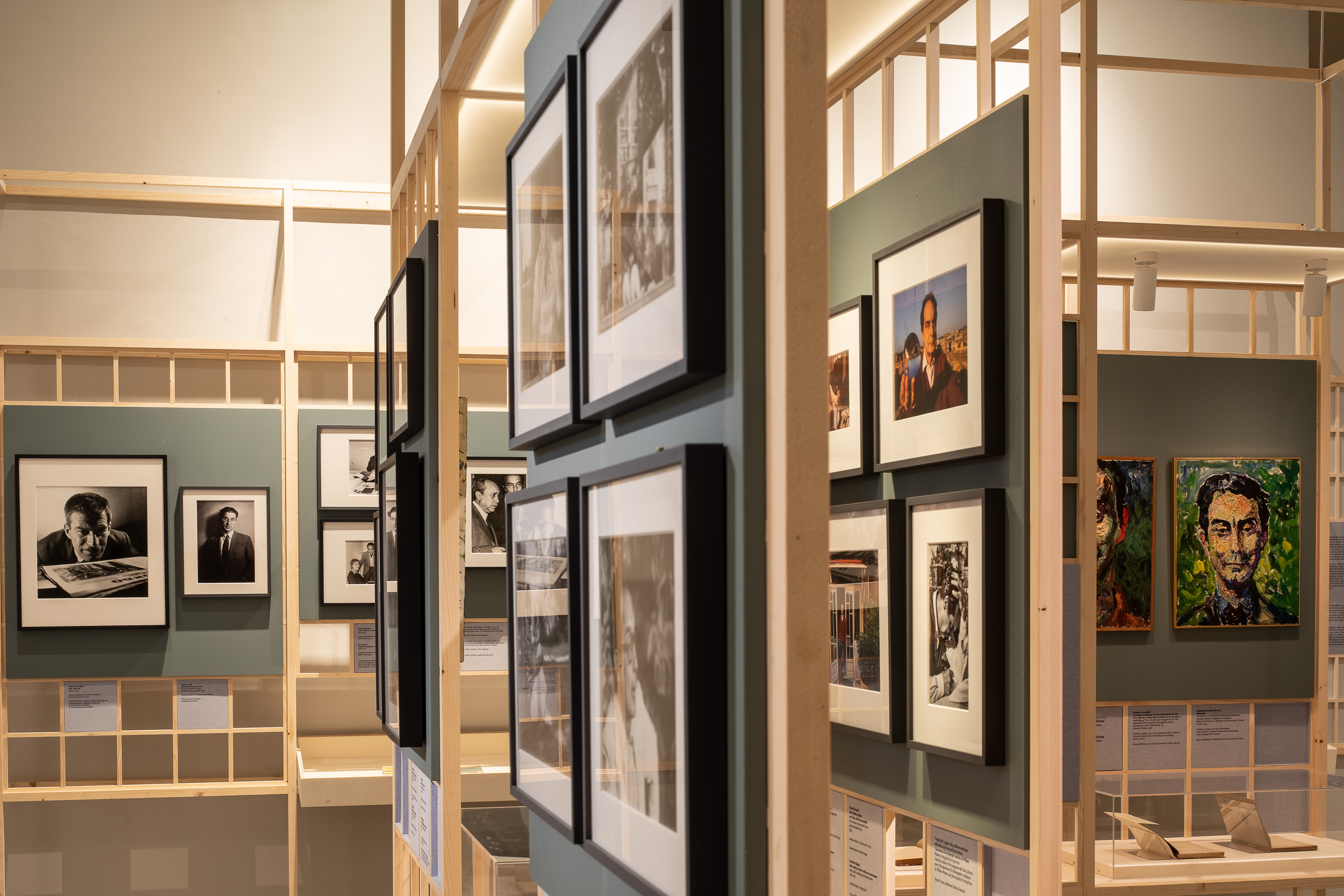 "Favoloso Calvino" contains more than 400 works relating to Calvino and his legacy, on loan from private and public collections. 
Organized chronologically, in 10 sections and across two floors, the exhibits — which span photography, painting, sculpture, first edition books, family documents, correspondence and more — are designed to reflect the writer's interests and influences across different periods of his life, and particularly, the evolution of his character and authorship in the public imagination.
"This is not a biographical exhibition, nor is it about Calvino's manuscripts, nor is it about Calvino's relationship with art, although there are [elements of] all that," said curator Mario Barenghi, a leading Calvino scholar and professor at the Università di Milano Bicocca. "This exhibition aims to examine Calvino in the collective consciousness."
While some of the memorabilia is indeed explicitly connected to the author and his family — such as personal portraits and documents illuminating aspects of his parents' work as botanists — much of what's on display relates to Calvino's image and interests more conceptually. 
A portion of the show, for example, focuses on Invisible Cities, and features a sculpture by Fausto Melotti, who Calvino directly cited as an influence. In another section, the harshness and intensity of the writer's experience in the Italian Resistance is evoked through sculpture by Giuseppe Penone.
Other highlights include a section inspired by the Cosmicosmics short story collection (1965) and Calvino's interest in astronomy more broadly, and a collection of works showcasing the youthful Calvino's passion for 1930s cinema. 
The exhibition is organized by by Ales SpA/Scuderie del Quirinale in collaboration with the publishing house Electa.
Calvino, from Cuba to Italy
Born in Santiago de Las Vegas, Cuba on October 15, 1923, to Italian parents, Calvino spent his formative years in Sanremo, his father's hometown on the Ligurian coast. 
He attended the University of Turin, and, though critical of what he saw as a provincial environment and population, Calvino later ended up settling in the city. In the intervening years, he joined the Italian Resistance after fleeing from mandatory conscription in the Fascist military — for which his parents paid a handsome price and were held hostage by the Nazis for several months. Calvino's political leanings were reflected in his early works, but upon hearing stories of his fellow resistance fighters, Calvino's interest in oral storytelling was sparked, inspiring his first novel, The Path to the Nest of Spiders (1957). 
Calvino's infatuation with folklore grew, eventually pulling him away from more politically motivated musing and toward otherworldly, fable-like, mirthful and satirical fiction. As his career progressed, Calvino often expressed in interviews that he still considered himself more of a short story writer than a novelist. In his lifetime, Calvino would pen and publish some 30 books, making him one of the most prolific Italian authors in the country's history. 

On September 19, 1985, Calvino died of a cerebral hemorrhage in Siena, Italy, just shy of his 62nd birthday. At the time of his death, he was the most widely translated Italian writer globally.
If you go
Favoloso Calvino
Scuderie del Quirinale
Via XXIV Maggio 16, Rome
Open daily 10am-8pm (last admission at 7pm)
October 13, 2023-February 4, 2024
Tel. +39 02 92897722 
Website (advance booking recommended)