Rome is an "all year round" destination and is considered an open air museum thanks to its many parks and other great outdoor venues and attractions, as well for its charming historical buildings. In summer, this can lead to tourists ignoring the many interesting museums in order to avoid missing even one valuable minute of sunlight and stunning views. Fall, though, seems to be the perfect time of the year to enjoy a little bit of everything, making the most of the city's cultural opportunities both inside and outdoors. The next few months will be jam-packed with exhibits and events, from big shows – many of which about the city itself – to small gems, and truly unmissable tours.
We put together a number of suggestions about what not to miss on your next visit to Rome this Fall 2016.
#ADAYINITALY – a one-day journey in Italy through Instagram's lenses
Sale del Bramante
until 13 November 2016
The evocative space of the Bramante's Halls, a few steps away from piazza del Popolo, hosts this peculiar exhibition collecting more than 80 images taken by more or less famous Instagramers from Italy and abroad. Divided into five different areas, it creates an ideal 24-hour travel itinerary throughout the country from early morning to night. The pictures display the breathtaking beauty of Italy's urban, nature and archeological landscape mixing art, design, architecture, food, habits and trends of the Italian lifestyle.
Among the authors/profiles: SymmetryBreakfast, the popular Instagram account created by Michael Zee, matching food and design in his beautiful images showing the breakfast he shares and prepares for his partner; The Curious Pear, a long-established duo made by photographer Issy Croker and writer Megan Abbott, combining food and local culture; Mal de Mar, where Mexican-born Mauricio de la Garza shares his view on architecture, interior design, photography and traveling; ExplorEye, an association created by photographer Fabio Massimo Zappulla and his sparring partner Paolo Rubeo to promote and share Lazio's rich architectonic and archeological heritage; and others.
Visitors can provide their own contribution by posting pictures with the #ADAYINITALY hashtag, which will be displayed on a screen in the multimedia section.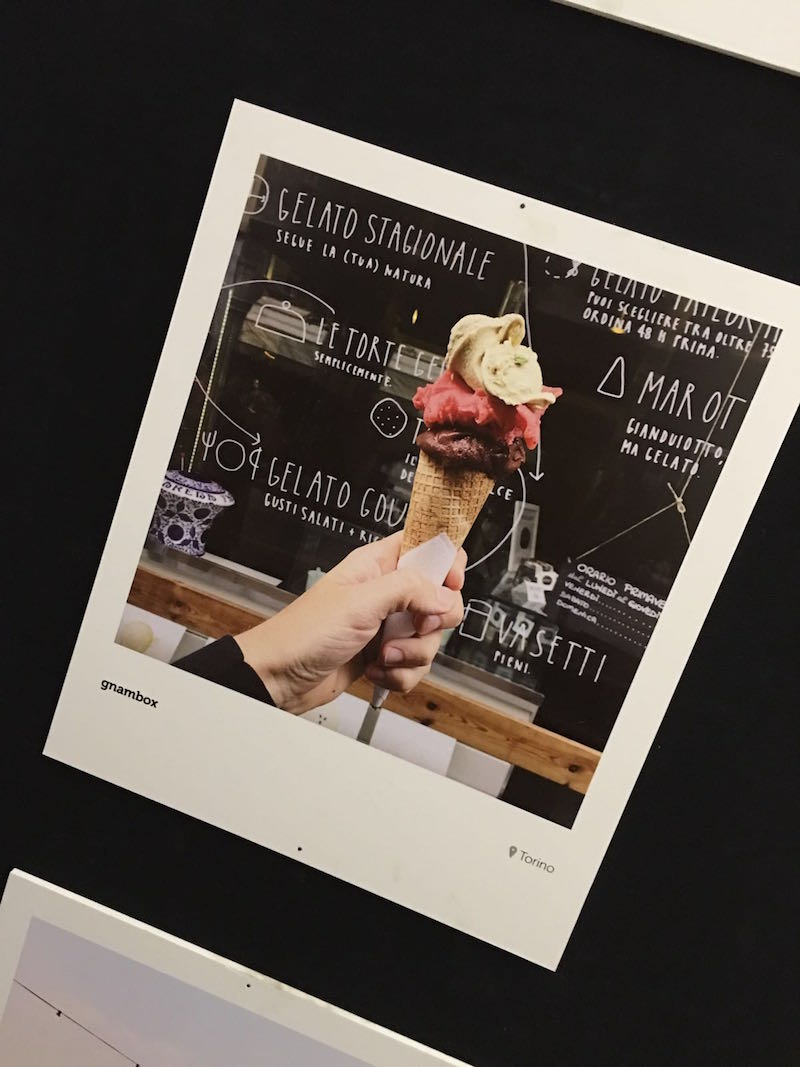 La Spina. Dall'Agro Vaticano a Via della Conciliazione
Musei Capitolini
until 20 November 2016
A journey backwards through time in the places and roads surrounding Saint Peter's Cathedral, from ancient times to the 1950's Jubilee when the whole project, including the street furnishing, was completed. An interesting way to catch a glimpse of the city's deep transformation throughout the centuries.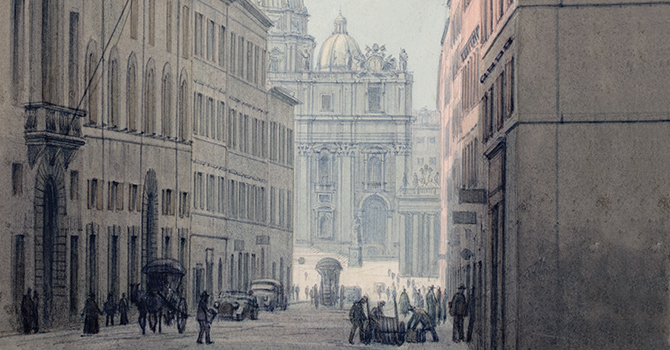 Roma Pop City 60-67
MACRO Via Nizza
until 27 November 2016
The foyer and the main hall of the post-industrial exhibition location displays more than 100 works – paintings, pictures, artistic installations, documentaries and movies – featuring the early 60s' in Rome as their main subject. Reinterpreted by the iconographic imagination of the so-called "piazza del Popolo school", they show the local take on  "pop art". Guided tours and meetings with authors and experts are planned throughout September.
MADE in Roma - Brands and trademarks in ancient times
Mercati di Traiano
until 20 November 2016

This peculiar exhibit displays a number of  trademarks, logotypes and ownership symbols belonging to Ancient Rome, hailing from many Roman, Italian and international museums. Also on schedule is a series of educational meetings and guided tours. Watch the funny teaser video online and follow the hashtag #madeinroma on Twitter to know more.
William Kentridge - Triumphs and Laments: a project for Rome 
Lungotevere
and MACRO Via Nizza until 2 October 2016
After the removal of the stalls of the summer events along the river Tiber, from Ponte Sisto to Ponte Mazzini it will be possible again to admire in its entirety William Kentridge's Triumphs and Laments: a massive, vanishing mural on the river's walls displaying a non-chronological history in 90 figures representing Rome's greatest victories and defeats from mythological time to present. The 500 meter-long frieze was made by the artist erasing shapes and lines from the natural patina on the travertine embankment walls of Rome's waterfront.
Until 2 October, Project Room #1 and #2 at MACRO via Nizza also host an interesting exhibition featuring 80 pieces of sketches for the huge mural work of art and other drawings (including an unreleased paper freeze) displayed following the set-up expressly created by the South African artist.
Imperial Fora area
until 30 October 2016 (from 7pm to 10pm)
Don't miss out om the last few months of this evocative, unforgettable experience halfway between a show and a guided tour. This is a unique chance to visit the stunning remains of both the Forum of Caesar and the Forum of Augustus (the latter more interactive and itinerant) at night, letting the ancient stones, statues and temples "speak" for themselves. Or, to be more precise, speaking with the voice of Piero Angela (also in English, French, Russian, Spanish and Japanese, German and Chinese), the anchorman of the leading Italian science television program Quark. Accompanied by his voice and by clever videos and reconstructions showing these extraordinary places just as they must have looked like at the time of the Roman Emperors, the two different tours are interesting, informative and entertaining, offering an unusually vivid glance of the emperors' historical exploits as well as of the daily life of Roman people.
More going on in Rome... the Jubilee of Mercy
2016 has been declared by Pope Francis the year of an Extraordinary Jubilee (usually ordinary jubilees take place every 25 years, while this was shortly predetermined given the deep troubles affecting the whole world in the current time) devoted to the mercy of God.
The Holy Year of Mercy was indicted with the Misericordiae Vultus bull; it was launched on 8 December 2015 with the opening of the Holy Door of Saint Peter's, and it will officially close on 20 November 2016. The Jubilee is a worldwide event involving Catholic communities in every country and every single church in Italy, yet Rome is obviously its main centre. Pilgrims and visitors can take part to masses and events in calendar, including passing through the Holy Door of Saint Peter's Basilica, registering through the "Pilgrim Registration" page.
Amongst the main events set up in the next few months, there is the Marian Jubilee on 8 October, dedicated to the Holy Mary: a pilgrimage through the Holy Door of Rome's four Major Basilicas (St. John Lateran, St. Peter's, Saint Paul Outside the Walls, Saint Mary Major) and the collective prayer in St. Peter's square with representatives of the Marian cult from all over the world. The day will be closed by a wake attended by Pope Francis.