ESA astronaut Samantha Cristoforetti on the International Space Station 3 February 2015 during her Futura mission - Copyright ESA/NASA - www.esa.int
Samantha Christoforetti has indeed been on a mission! A space mission. Not only has she broken the record for a woman spending the longest time in space, an incredible 199 days and 16 hours to be precise, but also having shared her space world with approximately a million 'earthlings'! With more than half a million followers on Twitter (@AstroSamantha) and Facebook friends and followers, she has given a virtual account and taken them along with her, sharing over 2,500 photos and describing her experiences including how to make and drink an espresso coffee in space!
Her Background, and more than a bit of preparation!
Samantha was born in Milan, Italy, 26th April 1977 (which means she spent her 38th birthday in space!)In 1996 she attended the Liceo Scientifico in Trento, Italy. Samantha then went on to graduate from Technische Universitat in Munich with a Masters Degree specialising in aerospace propulsion and lightweight structures. Further, she had four months training at Ecole Nationale Superieure de L'aeronautique et de L'espace in Toulouse, France. She did her Masters thesis in solid rocket propellants while attending a ten months research stay in Moscow at the Medeleev University of Chemical Technologies.
ESA astronaut Samantha Cristoforetti is seen at the State Commission meeting to approve the Soyuz launch of Expedition 42/43 to the International Space Station in Baikonur, on 22 November, 2014, at Baikonour - Copyright ESA–S. Corvaja, 2014 - www.esa.int
The mind boggles at the technical comprehension of this woman's mind! This was not all she achieved. Samantha has a BA in Aeronautical Sciences from the University in Naples, Federico II achieved in 2005. Alongside this, she joined the Italian air force academy in Pozzuoli, Italy and graduated in 2005, after which she was based at Sheppard Air Force Base in Texas USA.
And it doesn't end here! She then did the training as a Euro NATO Joint Jet Pilot, joined the 132 Squadron of the 51st Bomber wing as a fighter Pilot in Istrana, Italy. In 2007 to 2008 she flew the MB-339 for the 51st Bomber Wing in Istrana. 2008 also saw Samantha on the 101st Squadron at Foggia, Italy and a Captain in the Italian Air force.
Samantha Christoforetti was selected as an ESA Astronaut in 2009 and embarked on five years of training before being assigned to the Italian ASI mission aboard the International Space Station in 2012. She trained at ESA's Astronaut Centre in Cologne, Germany, and is fluent in English, Italian. German. French and Russian.
The Futura Mission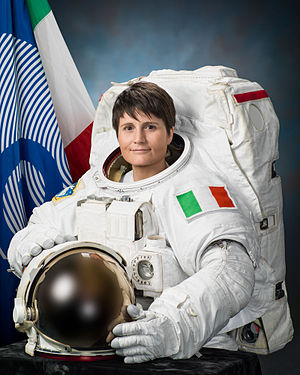 Samantha Cristoforetti - Copyright NASA - www.esa.int
Launched on a Soyuz spacecraft from Baikonur Cosmodrome in Kazakhstan on 23rd November 2014 to live on the International Space station, Samantha was realising her childhood dream to be in space.
Her responsibilities were to take over the duties from ESA astronaut Alexander Gerst for the cargo on ESA's automated Transfer vehicle 'Georges Lemaitre'. Samantha also packed the vehicle and monitored its final undocking.
The Space Station is constantly inhabited by six astronauts and four times a year three new ones arrive to replace three of the crew on the station who will go back to earth. The station has been inhabited for 15 years, the longest time for any space station to be manned.
Where Samantha has made a difference is that she has taken her social media followers with her in a virtual tour to share her mission. She has been a great communicator about the activities on the Futura Mission.
What experiments were being carried out on the space station you may ask? Monitoring magnetic fields, radiation, genetics, biology, keeping worms and insects to watch their development over more than one generation in space and researching growing food  'The Seedling Growth-2' experiment to discover the effect of different light sources on the growth of plants is on that long list of 40, planned experiments. Fitness, health, nutrition and recycling in microgravity are all part of the programme, and there are experiments to improve Wireless Sensing Technology. The wrist watch experiment (monitoring Circadian Rhythms) checks her body clock and temperature and changes in the hormone melatonin that regulates sleep patterns. The experiments will hopefully assist us on earth.
The space station is in direct contact with the Columbus Control Centre in Germany. The station itself has the Vessel-id system for Maritime control, monitoring over 22,000 ships in the oceans.
Samantha returned to Earth on June 11th, 2015, and has been in a recovery programme. All that time in weightlessness means that the muscles in the body, which had not had to work hard without the effects of gravity, were much weakened. Samantha found it took her a week to walk properly and she has had to work consistently to build up her strength.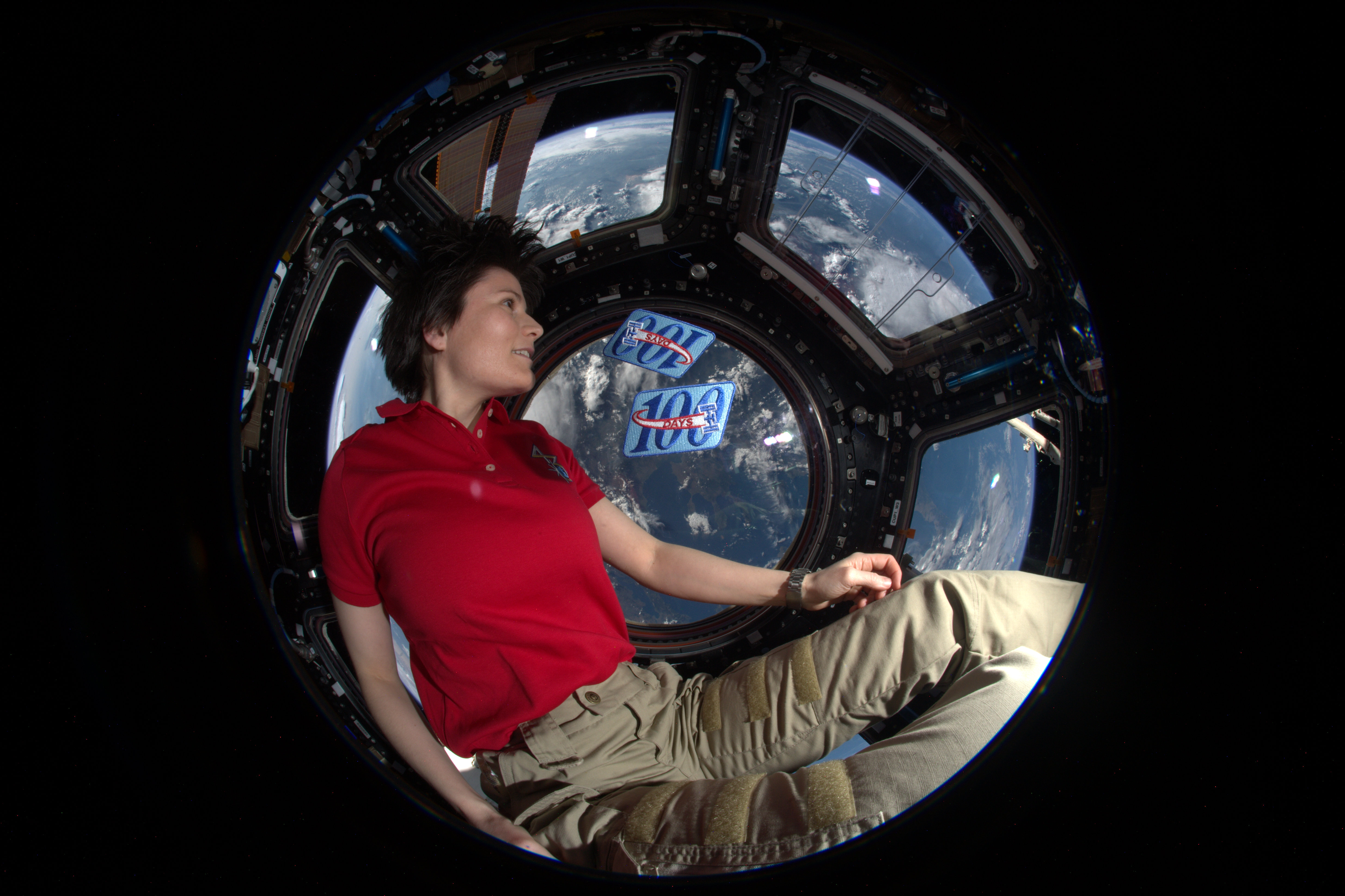 Samantha Cristoforetti enjoying the view on her 200th day in space on the International Space Station - Copyright ESA/NASA - www.esa.int 
Future Education in Space Science.
Samantha wants to share the space science world with children too in an ESA programme: Go Fit, Go Green and Go healthy, three of the ways through which children can learn.
Go Fit: Mission- X 'Train like an Astronaut' is a nine week training course for 8 to 12 year olds which has become really popular in 25 countries around the world.
Go Green: learning about photosynthesis by blowing carbon dioxide on spirulina algae and so recycling carbon dioxide producing food and oxygen.
Go healthy: choosing the right food especially in space!
This extraordinary woman has already had an influence on children and in fact at the same time on all of us, making us realise that not only can dreams come true but in Samantha's own words: Quote 'The sky is not the limit'.