Giovanna Carla Coppola was the first of her large family of Italian Americans to make the decision to move back to Italy, the home country of her parents. Giovanna was born in New York, the daughter of Neapolitan immigrants – her mother from the island of Ischia, her father from the mainland.
Giovanna says she had wanted to live in Italy since she was little. She visited Italy every summer growing up, and continued to travel to il bel paese on her own during her 20s and 30s. It took her decades however to make the definite move.
Two years ago, with her Italian husband, she settled on Ischia, the island where her mother was born.
"It's been a crazy and fulfilling experience so far, replete with all the difficulties and uncertainty you can imagine that come with living in southern Italy and on a small island," Giovanna says. "But we're settling in and really feel like this is home."
Let's hear more from Giovanna herself what it's like to finally live in Italy.
Why did you choose to move to Italy?
I've wanted to live in Italy since I was little. My parents are both from Italy and growing up I would come to visit every summer. I was told by older family members in the States that I would eventually grow out of my love for Italy and that I would one day decide it wasn't the greatest place in the world. I believed them and kind of waited to hate it, but as I grew older it never happened. I continued to visit Italy on my own during my 20s and 30s, the feeling I had when I was a young child was still there, the feeling that this was where I wanted to be. But being American with no possibility of getting Italian citizenship through ancestry (both my parents naturalized before I was born), it was really difficult to move to Europe. In 2008, I moved to London to do a Masters in contemporary art with the idea that I would figure out a way to move to Italy. I spent about 5 years strategizing with visas and work possibilities and I managed to make it work and even lived in Rome for a while to do an internship and then moved back to London for work. I married my husband in London, who is an Italian from Venice, back in 2013 and that made life easier, immigration-wise, but then Brexit happened and my status in the UK was uncertain all over again. It was our goal to move back to Italy at some point, so Brexit made the decision a lot easier and we decided to pack up and leave in 2017.
Where have you relocated to and why did you choose this particular part of Italy?
We live in Ischia, an island off the coast of Naples, with our five cats that we adopted while we were here. My mother is from the island so I know the place well. I took my partner to visit here when we first got together and he thought it would be a wonderful place to live. It didn't occur to me that I could live anywhere else other than a city, but since he's a massage therapist and the volcanic island is full of natural hot springs, he thought he could find a job in a spa. I love living in the place where my mother was born. My father comes from a town on the mainland visible from the island where I still have my aunts and cousins, so I feel close to family here. Living on an island isn't exactly easy, especially in the winter when ferry services can be delayed or canceled because of rough seas, but life is peaceful here.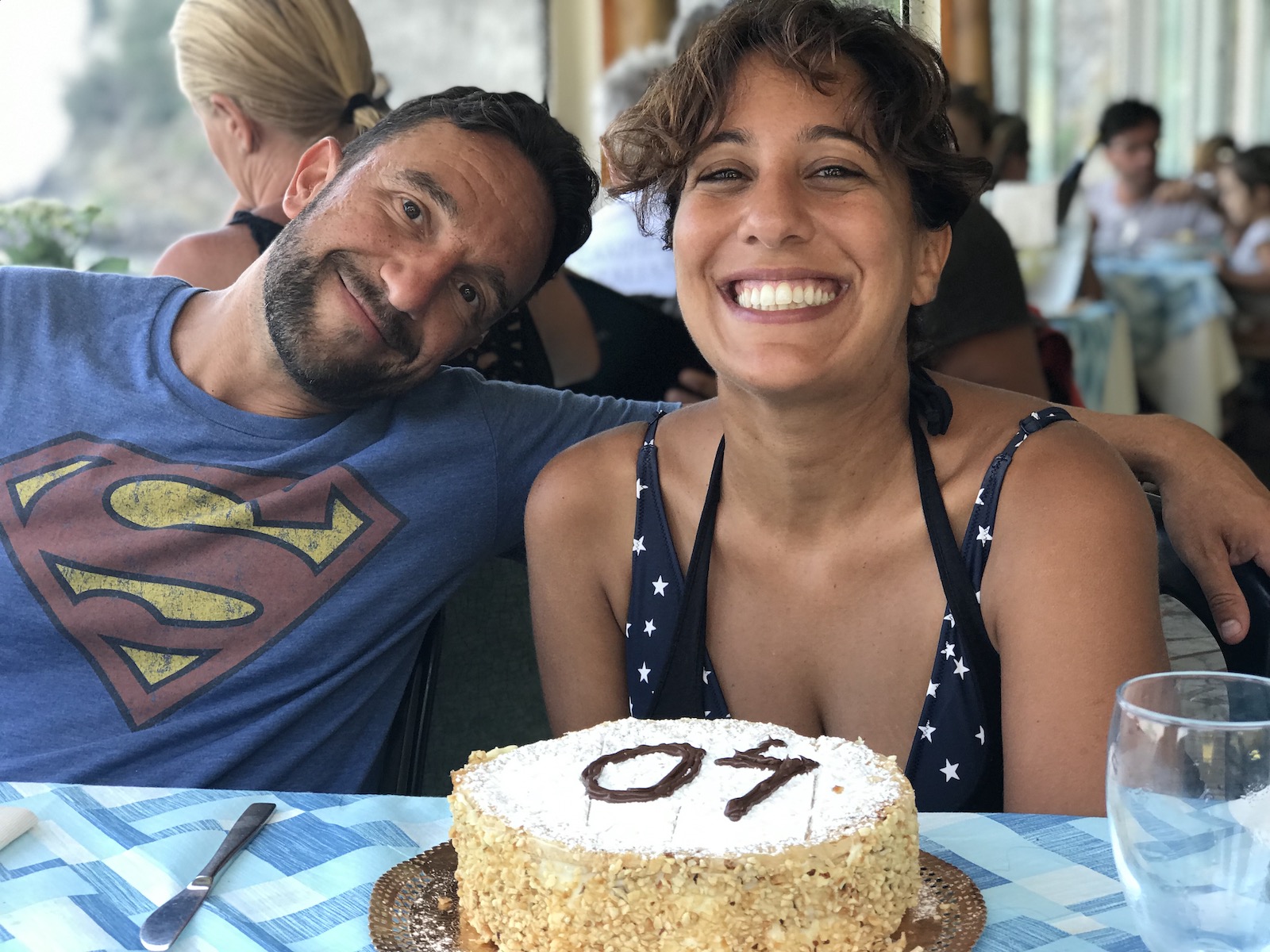 [Giovanna and her husband Davide at Ristorante Da Maria at Cartaromana Beach in Ischia on her 40th birthday.]
What was most challenging to adjust to in your new life in Italy?
I think the most challenging thing was more psychological. For the first 6 months, I felt paralyzed with fear waiting for something to go wrong. I felt guilty for moving back to Italy when my parents and aunts and uncles made so many sacrifices to create a better life for us in the U.S. When I was younger and talked to them about how much I loved Italy and wanted to move there, they would always try to discourage me and tell me how difficult Italy is and how much better I have it in the States. I mean, I moved to the place they had left because life was so hard for them here. When I first arrived in Ischia, I kept on hearing their voices in my head and I kept on waiting for something bad to happen to prove them right. There were plenty of difficulties and lots of anguish and frustration as we went along, but nothing happened that told us that we had made the wrong decision. Once I calmed down, I realized I'm not responsible for the decisions that they had made, it was a different time back then, and I'm making decisions now for what's right for me.
How have you coped with the language?
I grew up with the Neapolitan dialect at home so I was already familiar with Italian. I mostly answered in English, but I understood everything that was said to me. But the dialect, while it still has its roots in Latin, is much different than Italian and I needed to study Italian in order to speak, read and write. I started studying it formally in my 20s by taking an immersive language course in Florence and then I just practiced on my own. When I was still living in New York, I had a boyfriend who lived in Italy that I wrote to almost every day for over a year. That helped my Italian immensely. My Italian has improved a lot since I moved to Ischia, but I always want to get better and have more intense conversations in Italian that don't just revolve around me talking about myself and why I moved to Italy.
Have you made friends where you live now? Overall, what was the transition like?
Yes! I've lived in cities for a large portion of my life and I was used to feeling anonymous, and I thought making friends here would be harder. People here have been genuinely kind and really want to make us feel at home. Our landlords, both for the first place we lived in and where we live now, invite us over for birthdays and holidays, introduce us to people, give us fresh fruit and vegetables from their gardens, and generally want to get to know us. So different from my landlords in New York City and London. The longer we live, the larger our circle of friends becomes. I can walk to the supermarket, two minutes from my house, and say hi to five people along the way. They're just short interactions, but it gives me a lot of energy and I feel good for the rest of the day. Sometimes I wonder, is this what I had been looking for all of my life? I moved to so many different countries and put off having a career to find this? It's so simple, but I feel at home here.
What are the aspects of Italian culture and lifestyle you love the most?
This may be more about living in a small town, but I love how warm people can be, how they recognize you as a human being, how helpful they can be. There are jerks everywhere, but I've found that there is a sense of collective living more than I felt when I lived in the States. You talk to people wherever you go. You say hello and goodbye when you walk into and leave a shop or bar, regardless of whether someone is looking at you or not. You just shout to the room to say 'I'm here, I'm in your place'. I have a tendency to be shy, but I love making myself known like that. You make eye contact with people you interact with, the person at the shop who gives you change, the barista making your coffee, the car who stops at the pedestrian crossing and lets you pass, and the bus driver as you get on the bus as well as all the people already on. There's a sense that we're all living together and since moving to Ischia, I feel closer to life here than I ever did when I was living in New York, London or Rome.
A visiting friend once commented on the death notices that you see all over Naples, plastered on billboards, light boxes and walls. She thought it was morbid, to be faced with all of these names of people who had died, but I find it comforting that these people haven't passed away unnoticed. They were part of the community before and are still part of the community after they've passed away.
What are the aspects of Italian culture and lifestyle that drive you crazy?
I've found that Italians can be risk-averse and they take a long time to make a decision. This is especially frustrating when you want to do business with them or just want to make plans for Saturday night. There is a lot of 'wait and see'. It also drives me crazy that people don't admit when something is their fault, there's a lot of blaming other people for problems instead of admitting fault and working together to find a solution. It's heartbreaking to see how animals are treated here and there are a lot of abandoned cats and dogs on the island. Many don't treat their pets as part of the family and don't take the responsibility to spay and neuter them, bring them to the vet, or keep them in a safe place so they don't run off into the streets. There are animal lovers here and a few volunteer groups that rescue animals, but they have very little support from the institutions.
What's your experience of the ex-pat community?
There isn't much of a community on the island and I haven't had a chance to go to any expat events in Naples. There are a lot of us that come from other places and continents, but there's no organization that brings us together and I think we all find our own groups.
Tell me about any goals or desires you have for your new life in Italy.
That's a good question. I feel like I spent most of my life trying to live where I wanted to live and now that I'm here I'm thinking, okay, what's next? Where does all that energy I put into fulfilling my dream goes next? I hope I can put that into writing. I have a blog, The Limonata Lounge, in which I talk about life in Italy and in Ischia. I want to publish more stories and poems and hopefully write a book. I'd love to write in Italian one day, too. I'd love to take an Italian literature class at the university in Naples or some other kind of continuing education course.
What advice would you give to someone thinking of making the move?
Unless you're a EU citizen, there will be some obstacles that will make moving to Italy difficult. But don't give up, if you really want to move here, you'll find a way – whether it's through school, work, marriage or retirement. It may take a long time and you may feel really frustrated and like it's impossible, but if someone says no, find another way. I think living in Italy takes a lot of patience and creative thinking. Some days I still feel defeated, but there's no other option than to keep going. And that defeated feeling doesn't last for very long. In the meantime, learn Italian. Take classes, watch movies, listen to music, read books in English about Italy. Get familiar with the journalists that are writing about Italy and read Italian news in English in the major newspapers. You'll get a sense of living in Italy, even if you're far away and it'll feed your determination and make you feel like you're on your way.