Have you ever been on a trip that was so perfect that you avoided going back just in case another visit might not turn out as good? This sums up my experience with Le Cinque Terre.  I visited the area many years ago, long before it joined Venice and Florence on the list of 'must-see-places' in Italy, and refrained ever since from going back worried that the new 'touristy version' of that magic stretch of coastline  might spoil my wonderful memories. When I was recently invited to go back by Emanuela and Anna of BeautifuLiguria, I knew this was a great chance to prove myself wrong.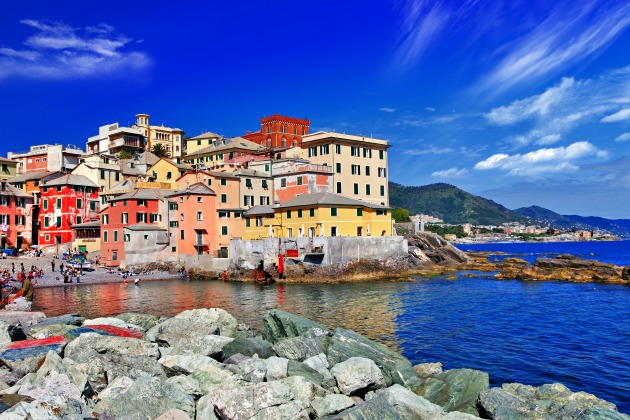 When I finished high school, my friends and I decided to devote those couple of months before university to traveling around Europe and chose Liguria as the first stop in the itinerary. There were no smart phones, no internet, no travel blogs, we bought a small printed guidebook and were ready to go.
I remember reaching the area by train and walking through a tunnel to get from the station to the first little town. When we suddenly emerged from it into the first colourful village of le Cinque Terre, we stood before a unique spectacle, a magic scenery with villages clinging to the beetling limestone mountains that heaved themselves up from the Prussian-blue waters of the Mar Ligure.
We went from one village to the other by feet, there was no one else along the path connecting Vernazza, Corniglia, Monterosso, Riomaggiore and Manarola, we simply had the place to ourselves. Every time we moved to the next village, we started quarreling about which village was the most stunning one.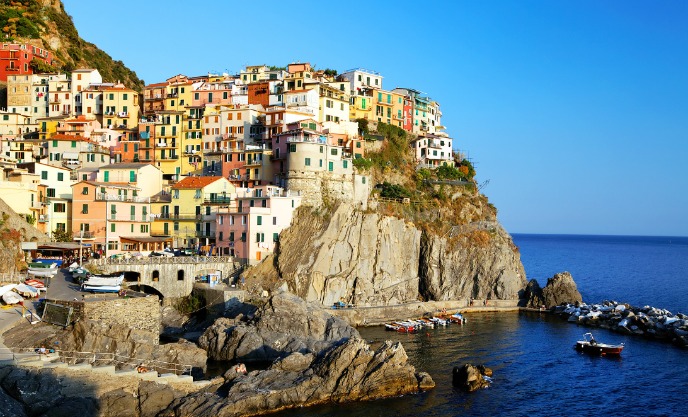 My favorite one was Manarola, I loved its colorful houses wedged above the tiny 'harbour' with terraced vineyards hewn from the cliffs behind it.  As teenagers on a limited budget, we were also able to afford a fresh, local seafood in a small trattoria in the 'Marina Piccola' sitting on a veranda overlooking the harbour, it was just perfect!
As more and more people discovered the beauty of Le Cinque Terre over the past few years and tourism started to increase sharply,  I feared that it would be impossible to find that same special atmosphere again,  to enjoy the long walk between one village and the other in religious silence, to be the only non-Liguri in Vernazza's square or in Manarola's harbour.  However, my recent trip showed me it is still possible to enjoy the true spirit of Le Cinque Terre if you are in the right 'ligurian-hands'.
Before I met Emanuela and Anna of Beautifuliguria, I had warned them about my concerns and they reassured me: "this is a very special and fragile territory: everything is small, everything is uphill, everything is "handmade" with great difficulty.  And you are right, it is not suitable to receive large numbers of tourists. It should be savored and discovered slowly, adapting to local rhythms, wandering through the side streets, walking through the vineyards. We want to show you that this is still possible." I understood we were talking the same 'travel language' as they added:  "We always say 'take your time in Cinque Terre' and do not miss the incredible beauty of the less known surrounding areas."
The first place I wanted to visit were indeed the "famous five". I was told the trick was picking the right time, so one morning,  while the villages were overwhelmed by cruise passengers, we went to visit  a vineyard to taste the famous Sciacchetrà wine instead. I talked to the producer, tried the wine and enjoyed a breathtaking view of the seaside.  Late in the evening, we went to Vernazza and joined the locals for an 'aperitivo' in the beautiful square.  It was wonderful, I was experiencing that same authentic atmosphere of my first visit to the area.  Anna and Emanuela had succeeded in proving me wrong, if you plan your trip carefully or put yourself into the right hands of local experts, you can still enjoy Le Cinque Terre as I did before they became so famous.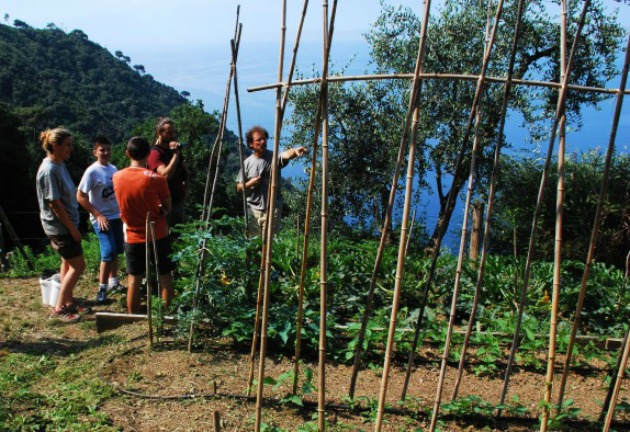 However, the two 'beautifuLigurians' cared very much about showing me other parts of their region which get less press than Le Cinque Terre but are as stunning.  We started with a journey through the Italian northern Riviera, from the Gulf of Poets with Portovenere and its islands (fantastic for hiking and swimming) to the beautiful coastal borghi and Blue Flag beaches of Lerici and Tellaro.
We stopped in the fashionable harbour of Portofino, regarded by many as the most exclusive location on earth to moor multi-million pound yachts. It was originally a small fishing village and was first discovered by artists, then the sailing crowds and lastly the rich and fashionable, ensuring its position as one of the places to see and be seen. Having wandered around the square for some VIPs spotting and shopping, we reached a 'rifugio' with a fantastic garden overlooking the sea where we collected fresh, seasonal vegetables and had fun cooking local recipes and eating al fresco.
Over lunch I talked about ITALY Magazine's mission to find good examples of real 'made-in-Italy' and traditional artigianato (craftmanship),  few minutes later Emanuela was on the phone to set up a visit to one of Zoagli's velvet atelier for me. "We love to show people this amazing place where few artisans still make velvet by hand using ancient looms, I am sure your readers will love it too".  
The encounter with Zoagli's silk, brocade and velvet masters was more that an exclusive experience, it was a journey through time. This tradition in Liguria goes back to the XII century and developed fully in the XVI century contributing greatly to turning Italy into the West's greatest maker of silk velvets.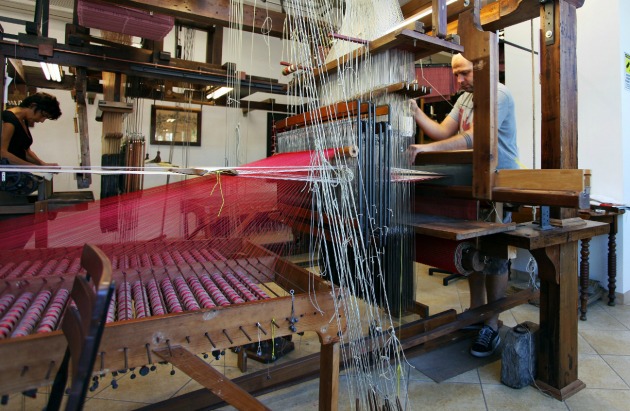 Photo courtesy DMakey
I cannot explain how fascinating it was to see master velvet weavers at work at their manual 300 years old looms. They still use the same techniques that were developed in the XVI century  to produce exquisite fabrics that were worth their weight in gold, and dressed popes, kings and their courts for centuries.  Today, they work for top Italian fashion designers and brands.
In the past the fortunes made from this important trade helped to fuel the Renaissance and to finance the opulence of Italy's greatest cities, today they contribute to the great reputation of Italian fashion and made-in-Italy.
"There is another workshop we would like to show you." Anna told me as we got out of the silk atelier while I tried to wake up from my renaissance fabric dreamland.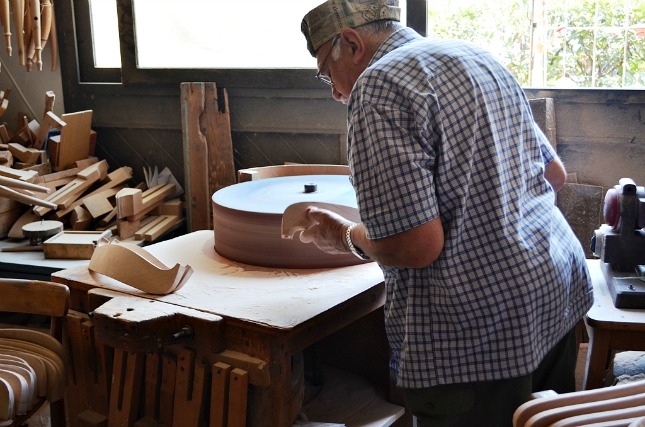 "Did you know that the chairs they use at the White House for many official dinners are made in Liguria too?"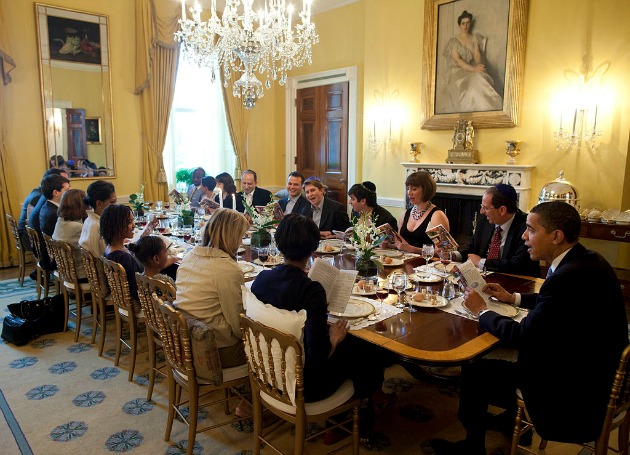 She referred to the Chiavari Chairs named after the town where a cabinetmaker, Giuseppe Gaetano Descalzi, created the design of these famous chairs in 1807.  He simplified the decorative elements of French empire style chairs, lightening the structural elements and creating an elegant, extremely light hand-made chair that can be lifted with a finger. You have to be prepared to do some chair-lifting during the visit to the workshop, it is just part of the deal,  and I can assure you that the smile on the old carpenter's face nodding as to say 'I told you it was light!' is totally worth it!
Finally, I had just enough time to pay my homage to the capital of the region, Genoa. In the 16th and 17th century, the Republic of Genoa was a thriving commercial centre, which drew dignitaries and princes from around the world. The local aristocratic and financial elite hosted these important visitors in lavish Renaissance and Baroque palazzi, which lined the city's strade nuove, literally new streets that broke the old town's intricate maze of alleys.
The palazzi took the name of Rolli (as in roll) because dignitaries were assigned to each palazzo with the lotto system in what was an original form of public lodging. At each visit, the Doge drew the names of the Genoese family tasked with housing the foreign prince, duke or ambassador. There is no doubt that the visitors were duly impressed with their accommodation - especially Flemish painter Pieter Paul Rubens, who went on to draw, etch and promote the palazzi dei Rolli as a form of exemplary architecture.
Today, some mansions have been turned into museums and are open to the public - Palazzo Rosso, Palazzo Bianco, Palazzo Spinola di Pellicceria, Palazzo Reale. A visit there reveals how the architects of the time made clever use of limited space, developing the buildings vertically around courtyards and garden loggias. Many more palazzos have been turned into private flats, but their façades are worth admiring. As Emanuela suggested, the best way to visit Genoa is camminando con il naso all'insù'- literally walking with your nose looking up. So I did, but  my nose was actually attracted by the great farinata, a local chickpea specialty, food seemed again like my favourite way to really delve into the city life.
We took a walk along the vicoli (alleys) and try some street food, then went for a special meal prepared by a local family and, finally, I took a challenging 'pesto-making' class. "You never know,  you might want to enter the famous Genoa pesto world championship" I was told.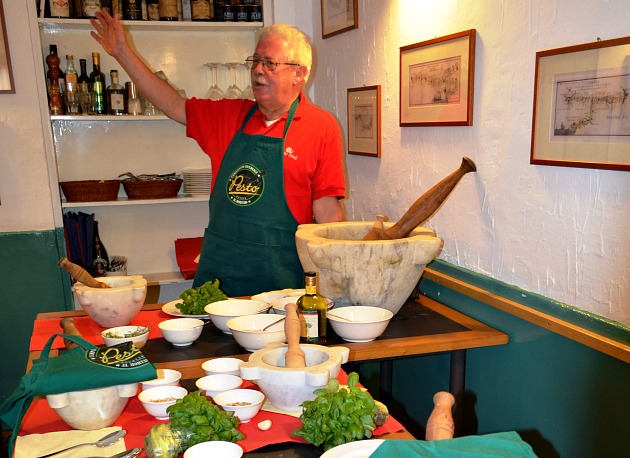 Launched in 2007, the competition draws chefs, cooks and amateurs from all over the world. In the grand setting of Palazzo Ducale, they vie to make the very best pesto using only authentic ingredients (Ligurian basil, extra virgin olive oil, garlic, pine nuts, Parmigiano Reggiano, Pecorino Sardo and sea salt) according to the traditional Ligurian recipe - and yes, this means competitors have to forego food processors and do all the hard work with pestle and mortar.
Anyone can participate (so long as you make it through the preliminary contests), but visiting the city during the pesto week is worthwhile even for those who don't have great culinary talents. There are plenty of events devoted to pesto and the city's restaurants have special pesto menus.
As I sweated with a heavy stone pestle and mortar to make a perfect pesto, I couldn't stop thinking that the 'Chiavari chairs lifting' had been of no help, but in the end my emerald Ligurian sauce on  home-made pasta made the effort really worth it. As I savored the fruit of my labour, I thanked my expert guides for the wonderful time, not only had they showed me that Le Cinque Terre still retain their original charm, they also took me to corners of Liguria I had never seen before.
"But you have to promise you will be back soon" Emanuela said, "We didn't take you to the western part of the Riviera, Albenga, Noli, Finalborgo, the Rossese vineyards…' Anna added.
In five minutes, the ideal itinerary for my next visit to 'la bella Liguria' was ready and I look forward to it!  
-----------------
You can get in touch with Emanuela and Anna through the BeutifuLiguria's Website